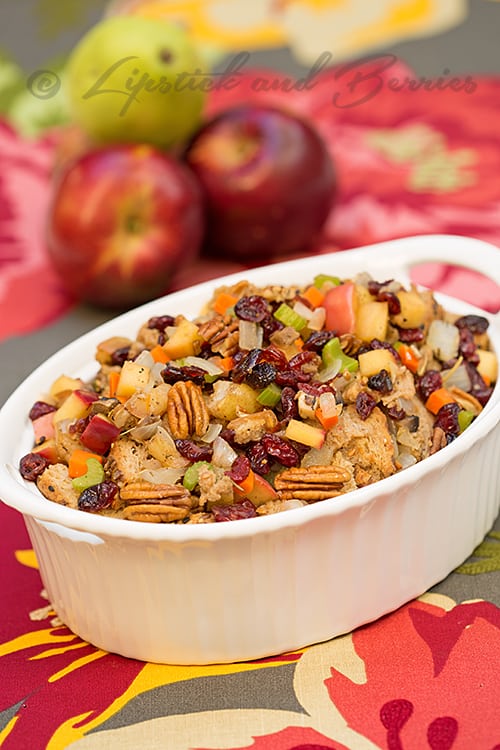 This was a recipe that I made during the holiday of 2014.  This stuffing is so unique and cool.  I love it!!  This is a sweet style stuffing with a touch of savory.  Typical holiday stuffing is loaded with unhealthy carbs and animal products.  This stuffing is low fat, vegan, full of healthy carbs and delicious!!!
I make my stuffing with Ezekiel bread which is full of complete proteins, amino acids, minerals, and its easily digestible.  Speaking of digestion, sprouted grain breads are the best breads you can eat for a healthy diet.  Because they re not made of flour, and the grains are still whole, your body digests them slowy, which keeps you satiated longer as well as maintains blood sugar levels.
If you think whole wheat bread is the same thing as whole grains, you would be incorrect. The process of making flour (any type) involves beating/processing the whole grain more than 1000 times converting it into a powder. The cell wall of the grain kernel is destroyed, and the flour has a much larger surface area than did the whole grain initially….because of the increased surface area, digestion and absorption happen much more rapidly. Basically what this means is that flours can contribute to weight gain and blood sugar spikes (as opposed to eating the whole grain itself).
The great thing is that Ezekiel bread is flour-less!  It is made of whole grains, so this stuffing is even more AWESOME!!
Cinnamon Apple Stuffing
INGREDIENTS
1

Loaf Ezekiel Bread

diced

2/3

Cup

Pecans

toasted

1 ½

Cup

Sweet Onion

diced

½

Cup

Celery

diced

½

Cup

Carrot

diced

1

C

Mushrooms

small diced

1

Teaspoon

Thyme

dry

1

Teaspoon

Rosemary

dry

½

Teaspoon

Rubbed Sage

dry

1/2

Cup

Vegetable Broth

1/4

Cup

Brown Sugar or Date Sugar

2

Apples

diced

1

Pear

diced

1

Tablespoon

Maple Syrup

1

Teaspoon

Cinnamon

½

Teaspoon

Nutmeg

4

Cups

Apple Juice

1 ½

Cup

Dried Cranberries
DIRECTIONS
Preheat oven to 350 degrees.

Toast pecans at 350 for 5 minutes. (keep a close eye on them so they don't burn)

Cut bread into one inch cubes and place in a large mixing bowl. Set aside.

Sauté onions, celery, and carrots in water broth over medium heat for 10 minutes or until softened.

Add diced mushroom to sauté pan and continue to cook over medium-heat for addition 5 minutes. Add Thyme, Rosemary, and Sage to pan.

In a separate small saucepan combine ½ cup broth, apples, sugar, syrup, cinnamon and nutmeg, sauté for 5 minutes. Add pears to pan.

In a large bowl combine all ingredients (including the apple juice and cranberries).

Mix and let mixture sit for 10 minutes before placing in pan.

Place stuffing into a 9x13 baking dish. Bake at 350 for 30-40 minutes.