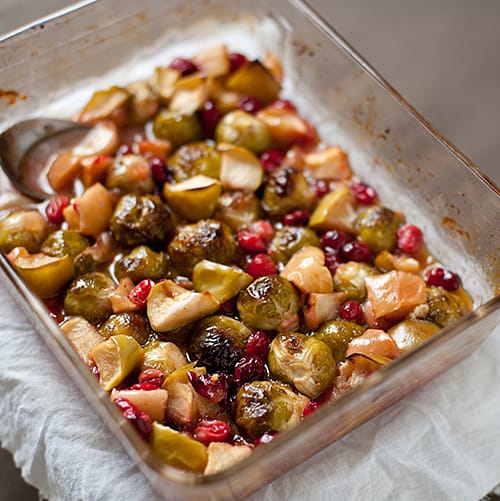 A perfect side dish for the holidays!  Brussel sprouts have always been one of my favorite foods.  I used to eat them all the time when I was younger!  (brussel sprouts and prunes were my favorites snacks haha, I was a funny kid!)
On the Lipstick and Berries blog, I have this recipe paired beside my Mac & Cheeze Stuffed Acorn Squash.  I really love the flavor combination of the sweet maple sprouts and creamy cheese!
Why should you love this dish, other than the fact that it's delish?!?
*Brussel Sprouts are Low Calorie – High Nutrient!  
*Half a Cup of Brussels sprouts supplies us with 20 Essential Vitamins!
*Brussel Sprouts are high in Glucosinolates (a type of phytochemical).  Glucosinolates are proven to help eliminate potential carcinogens from the body!
This is an awesome recipe to serve to any family member…even those who are skeptical of Brussel Sprouts!
Maple Glazed Brussel Sprouts
INGREDIENTS
3

Pounds

Fresh Brussel Sprouts

trimmed and halved

8

Cups

Vegetable Stock

1/2

Cup

Fresh Orange Juice

1/2

Tablespoon

Orange Zest

1/2

Cup

Red Wine

1/2

Cup

Maple Syrup

1/4

Cup

Walnuts

chopped

1/4

Cup

Chestnuts

chopped

1/4

Cup

Dried Organic Cranberries

Coarse Maple Sugar

to taste
DIRECTIONS
Start with 3 cups stock, 1/2 Cup orange juice and zest, 1/2 cup wine, and 1/2 Cup maple syrup. Heat in a large saucepan over medium heat. Once sauce is warmed, add brussel sprouts.

Simmer over medium heat for 20 minutes, adding 1 cup of stock at a time as the liquid starts to evaporate.

Once the sauce has reduced, Reserve sauce in pan and set aside.

Remove sprouts from pan and place on a baking dish. Generously sprinkle with walnuts, chestnuts, and cranberries.

Place sprouts in oven, and broil for 5-10 minutes until slightly brown and crispy.

Serve brussel sprouts with warm sauce.