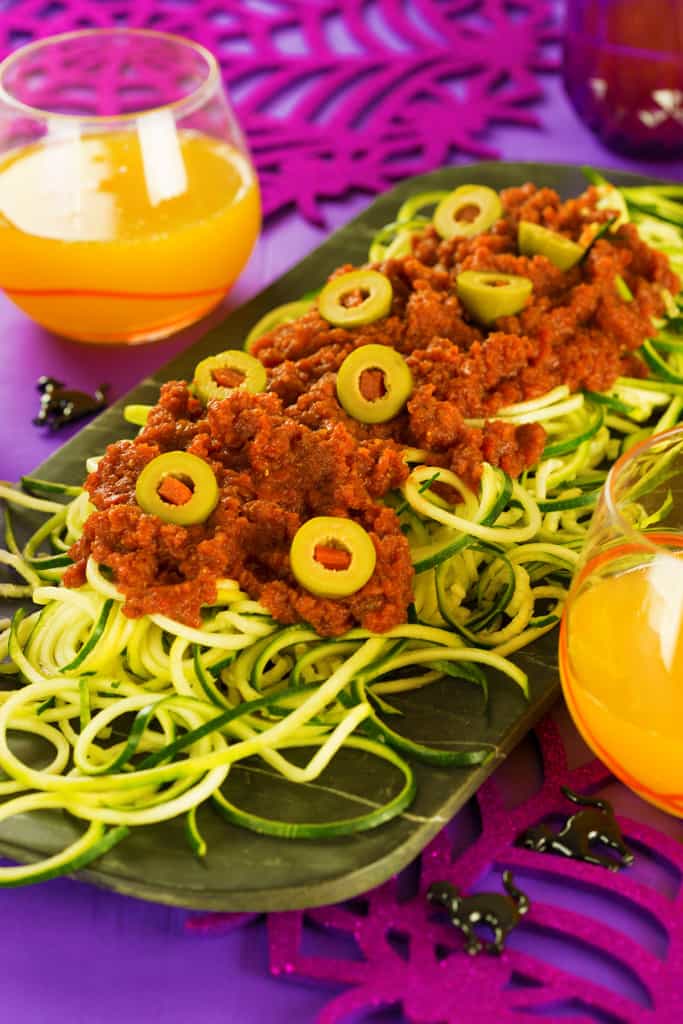 Those that were readers of my blog, Lipstick and Berries, last year, may recall my Halloween series of recipes that I created with my good friend Yvonne Ardestani of My Eclectic Kitchen.  We had SO much fun last year creating these recipes and photos, that we decided to turn it into an annual extravaganza! (You can see our previous recipes HERE)
This year, when Yvonne visited me, she brought along her friend Cindy Jakubowski; Cindy and I became instant friends and the three of us collaborated to create this series of plant based, Healthy Halloween recipes! Here is what we came up with this year:
Crime Scene Chocolate Cake with Raspberry Blood Splatter
Mysterious Marinara
Green Monster Dip (aka Avocado Hummus!)
Witches Drizzle Candy Apples
First up is our Mysterious Marinara!  (I was trying to think of a spooky work to go with "marinara" and the only 'M' word I could think of was 'mysterious' lol!) This marinara sauce tastes almost identical to traditional marinara sauce but with no sugar, fat or dairy added. It's so good for you!! The best part is that is so easy to make and it takes just a few minutes to prepare. It's a go to sauce that you can use for anything and can be enjoyed raw or warm.
I enjoy making raw dishes from time to time, and a recipe as this is an easy addition to any party menu because….well, you don't have to cook anything…its raw! 🙂
If you do not have a vegetable spiralizer, I highly recommend this one.  It's fairly priced and it works fantastic!  Spiralizing your veggies is a fun and easy way to get creative with your food, and kids will think its pretty cool too!
We placed the Olive "Eyeballs" on the dish to make it spooooooooooky for Halloween!
Mysterious Marinara Sauce
INGREDIENTS
4

Zucchinis

spiralized

1

Cup

Bell Pepper

chopped

1

Cup

Sundried Tomatoes

soaked, no oil

1

Ripe Tomato

chopped

2

Teaspoons

Dried Oregano

2

Teaspoons

Dried Basil

1

Medjool Date

pitted

Small Dash of Cayenne

Pink Salt to taste
DIRECTIONS
Place all ingredients in a food processor and process until smooth.

Pour over raw zucchini noodles (zoodleand process until smooth!

This marinara sauce can be served warm and lasts up to 3 days in refrigerator.