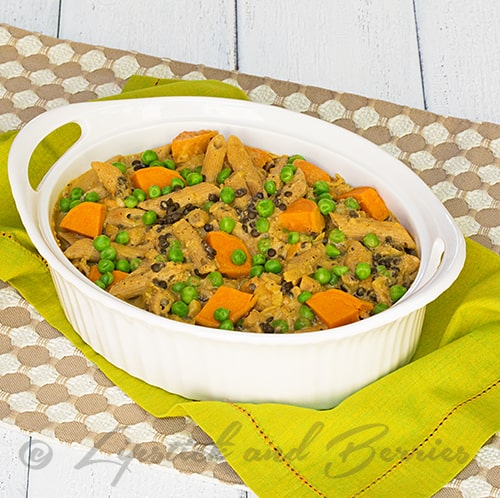 This recipe has a few steps, but it is actually quite easy. I cook the pasta, lentils, and sweet potatoes first, and then I combine those with the chopped squash and tomatoes in a big bowl, which I cover and refrigerate until ready to put in baking dish. I really enjoy making this dish because I can make it all earlier in the day, and just pop it in the oven before dinner.
Pasta Bake with Almond Oregano Sauce
INGREDIENTS
2

Cups

100% Whole Grain Whole Wheat (or any gluten-free versioPenne Pasta

cooked to just under al dente

1

Cup

of cooked Black Lentils

1

Cup

Frozen Green Peas

thawed

2

Small Yams

cooked and cut into chunks

1

Yellow Squash

coarsely chopped

2

Small Tomatoes

coarsely chopped

Fresh Basil

chopped (reserved for topping)
DIRECTIONS
Toss all the Pasta Bake ingredients in a large bowl. Set aside.

For the sauce, sauté the leeks and garlic in a few tablespoons vegetable broth for 3-5 minutes over medium heat in a small pot.

Add oregano and stir for another minute until fragrant.

Add remaining sauce ingredients. Cover and cook for 10 minutes.

Place all Pasta Bake ingredients into a covered baking dish and pour sauce over the top. Sprinkle with fresh chopped basil. Cover and cook for 15-20 minutes at 350 degrees.