My ultimate goal when I started the Ashley Diana blog was to create a platform where health and beauty meet. I envisioned this place to be an intersection of health and beauty, where one doesn't have to be compromised for the other. Goodbye granola blogs, hello to the glam corner of the internet we've all been searching for! Back in 2013 I couldn't really find it… so I thought I'd create it. Besides, it was high time that health and beauty became part of the same conversation. Physical, aesthetic beauty is so influenced, if not determined by, cellular health, internal balance, and overall wellness. And one aspect of physical beauty that is inextricably tied to health is your HAIR.

When it comes to strong, glossy strands and luscious locks, it's all about scalp health baby. Whether you want to prevent or stop hair loss, or simply bring life back to a dull mane, you have GOT to start thinking about the beautiful, delicate ecosystem that is your scalp.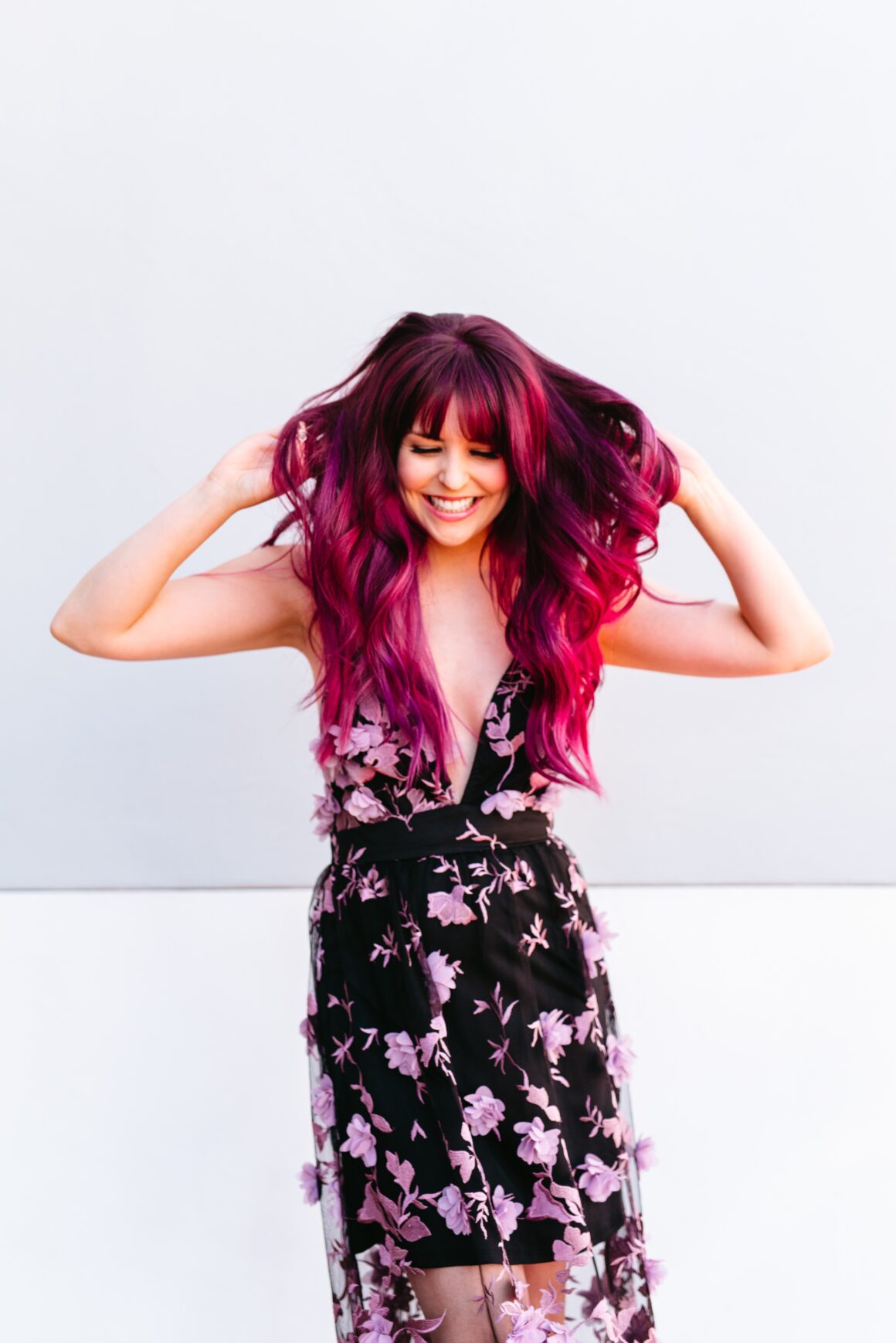 I share all of my top rituals for hair growth in THIS blog, but the one hair hack we'll dive into here is EO's (essential oils).
Essential Oils are highly aromatic oils extracted from various types of botanical matter including plants, flowers, leaves, peels, barks, roots, and rinds. Each plant has its own form of inherent intelligence, and each plant has its own complicated systems of communication. These communications are made possible by chemical messengers within the plant. These plant chemicals each have their own distinct tastes, colors, and aromas- and they all serve a purpose. Some chemicals smell sweet in order to attract pollinators- think flowers and bees. Some chemicals are released by plants to defend their territory.
The various chemical (often protective) properties in plants are the fundamental reason why essential oils promote healing and work so effectively as natural remedies.
Essential oils are full of vitamins and nutrients that can nourish the hair and scalp. EO's can stimulate hair growth, calm an inflamed scalp, and help remove product buildup.
These are the Top 10 essential oils you'll want to start working with stat! Stock up on them (I get mine from Young Living), then scroll past the quick list to learn how to use each oil for lengthening, strengthening, clearing product build up + more! It's gonna be fun.

10 Best Essential Oils For Hair Growth
Rosemary essential oil
Tea tree essential oil
Lavender essential oil
Lemon essential oil
Thyme essential oil
Cedarwood essential oil
Ylang Ylang essential oil
Peppermint essential oil
Lemongrass essential oil
Clary Sage essential oil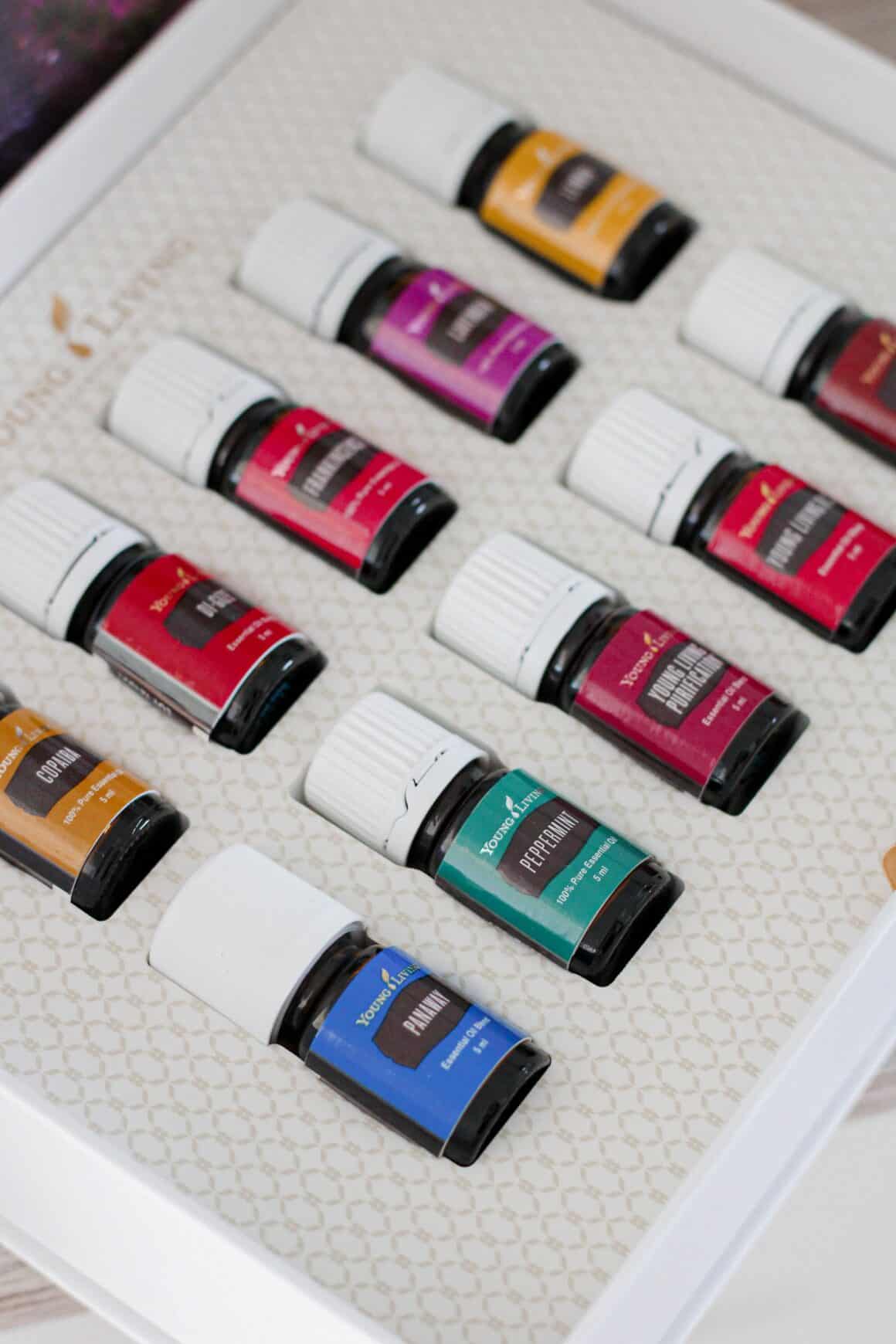 Important notes about essential oils for hair:
EO's and Scalp Application + Safety + Massage Techniques
Application & Safety:
For most people, the scalp contains a ton of hair follicles- and where there are more hair follicles, there are more opportunities for the oils and their molecules to enter our blood vessels. Always conduct a patch test before applying any EO mixture to your skin and/or scalp.
EO's make a powerful scalp treatment, but for many people, you may want to make sure to mix them with a carrier oil before applying (whatever you prefer- jojoba, olive, etc.). This diluted concoction is more gentle AND more moisturizing! A general rule of thumb is five to eight drops of essential oils for every tablespoon of carrier oil.
Scalp Massage Techniques:
To optimize the effectiveness and benefits of your EO treatments, massage your oil combo in a gentle circular motion on the scalp. This technique may enhance your skin's ability to absorb the delicious EO cocktail you've made. Taking the time to do a proper head massage can also help reduce stress, promote hair growth and potentially increase hair thickness in and of itself. So don't rush through or skimp on the ritual!
If you aren't wearing extensions, you could also use a handy head massager tool to stimulate the scalp and hair follicle.
Also, I have to let you in on THE BEST brush on the planet. It is lightweight, will detangle through anything, and it's super luxe. It's not your average brush, and certainly is it priced as such lol, but I figured you really needed to be aware of this hairdresser insider knowledge. My gf Chelsea used it on my hair in the salon the other day and I was like omfg girl you're right, this actually IS the best brush I've ever used. So anyways, now you're in the know.
OK time to get into the details of the best EO's for your hair & scalp!
---
Rockstar Rosemary: Hair Thickness, Hair Growth, and Hair Loss Prevention
Rosemary: ROSMARINUS OFFICINALIS
Therapeutic Compounds: Linalool, Terpinen-4-ol, 1.8-cineole
Rosemary is one of the most powerful essential oils for hair health thanks to its ability to improve cellular generation and rebalance hair follicles. For these reasons, rosemary essential oil has been linked to improving hair thickness, stimulating hair growth, and helping to prevent baldness.
Recommended Uses:
Add 5-10 drops of Rosemary essential oil to your shampoo or conditioner
Mix several drops of rosemary oil with a carrier oil and apply it to your scalp. Let it sit and work its magic for at least 10 minutes before rinsing and shampooing. Does this 2x / week for best results!
---
Treat Your Scalp with Tea Tree: Unplug Hair Follicles & Prevent Dandruff
Tea Tree: MELALEUCA ALTERNIFOLIA
Therapeutic Compounds: Terpinen-4-ol, γ-terpinene, 1,8-cineole, α-terpinene, α-terpineol, p-cymene, and α-pinene
Tea Tree has powerful cleansing properties. When applied topically, Tea Tree can help soothe the skin and unplug hair follicles which may lead to hair growth. That's why you often see Tea Tree as the active ingredient in anti-dandruff treatment products. When it comes to the best essential oils for hair, this is a crowd fave!
Recommended Uses:
Mix 10 drops of Tea Tree oil into your shampoo or conditioner and use it with each wash.
Mix 3 drops of Tea Tree with a carrier oil and slather it on your scalp. Let it sit and work its magic for 15 min. before rinsing out completely.
---
Lavender for Luscious Locks: Speed Up Hair Growth & Improve Scalp Health
Lavender: LAVANDULA ANGUSTIFOLIA
Therapeutic Compounds: Alpha-Terpineol, Beta-Ocimene, Linalool, Linalyl acetate
Lavender oil may help speed up hair growth, thanks to its properties that help generate the growth of cells. Its cleansing properties can also improve overall scalp health!
Recommended Uses:
Mix several drops of Lavender oil into 3 tbs of a carrier oil and apply it directly to your scalp. Let it sit and work its magic for 10 min. then wash out and shampoo as normal. Feel free to do this a few times a week for optimal results (frequency should be based on your usual shampoo routine).
You can also make things super easy and use this Lavender Mint Shampoo & conditioner. (im obsessed with it, but I also love anything revitalizing like mint on my bod)
---
Lemony Refresh: Stimulate Circulation, Reduce Dandruff, and Absorb Extra Oils
LEMON ESSENTIAL OIL: CITRUS LIMON
Therapeutic Compounds: Alpha-Pinenes, Beta-Pinenes, D-Limonene, Gamma-terpinene, Sabinene
The citrus oil in Lemon can help clarify the scalp and reduce the chance of dandruff by stimulating circulation and absorbing excess oils. This is a great EO for individuals with overly greasy hair.
Recommended Uses:
Mix several drops of lemon into your shampoo and wash as usual
---
Turn Back the Clock with Thyme: Address & Prevent Hair Loss
Thyme: THYMUS VULGARIS
Therapeutic Compounds: Terpinen-4-ol, Carvacrol, Thymol
Thyme is thought to help promote hair growth by stimulating the scalp and actively preventing hair loss. Like Cedarwood oil, it's a favorite amongst those with alopecia for addressing hair loss.
Recommended Uses:
This oil is particularly potent and has a strong herby aroma. Use just 2 drops in 2 tbs of carrier oil before applying it to your scalp. Let it sit and works its magic for 10 min, then wash it out completely.
---
Balancing Cedarwood: Hair Growth, Reducing Hair Loss, Scalp Health
Cedarwood: CEDRUS ATLANTICA
Therapeutic Compounds: Alpha-cedrene, Beta-cedrene, Cedrol, Thujopsene
Cedarwood is a potent oil that is thought to improve overall hair health by helping to balance the oil-producing glands in the scalp.
Recommended Uses:
Mix a few drops of cedarwood essential oil with 2 tts of a carrier oil. Massage it into your scalp, and let it work its magic for 10 minutes before washing it out.
Create a mixture of lavender, rosemary, and cedarwood oil (diluted in a carrier oil) and massage it into your scalp, letting it soak in for 10 min. before washing out. This combo is a favorite amongst those with alopecia areata.
---
Restorative Ylang Ylang: Stimulate Sebum Production & Reduce Hair Breakage
Ylang Ylang: CANANGA ADORATA
Therapeutic Compounds: Alpha-Farnesene, Beta-Caryophyllene, Caryophyllene, Germacrene
Ylang Ylang as a hair treatment is ideal for those with dry and brittle hair that's prone to hair breakage. This exotic EO is thought to help stimulate sebum production – and by the way, it smells divine!
Recommended Uses:
Mix 5 drops of Ylang Ylang oil with 2 tbs of a warm carrier oil and massage into your scalp. Wrap your head with a warm towel and leave it on for 30 min. before washing out.
---
Pep Up with Peppermint: Circulation & Blood Flow with a Tingling Sensation
PEPPERMINT ESSENTIAL OIL: Mentha piperita
Therapeutic Compounds: Menthol, Menthone
When applied topically, peppermint offers a cold and tingling sensation that is thought to increase circulation and promote hair growth during the anagen (or growing) phase.
Recommended Uses:
Mix 2 drops of peppermint oil with a carrier oil and massage it into your scalp. Leave on for 5 min. before washing out thoroughly with shampoo and conditioner.
You can also make things super easy and use this Lavender Mint Shampoo & conditioner. (im obsessed with it, but I also love anything revitalizing like mint on my bod)
——————————————————————————-
Love your Scalp with Lemongrass: Ward off Dandruff for Good
Lemongrass: CYMBOPOGON FLEXUOSUS
Therapeutic Compounds: Farnesol, Geranial, Geraniol, Neral
Promote a flake-free scalp by applying citrusy Lemongrass oil daily. Best results come with consistency!
Recommended Uses:
Mix a few drops of Lemongrass oil into your shampoo or conditioner and massage it into your scalp before rinsing
——————————————————————————-
Strengthening Clary Sage: Improve Hair Strength
Clary Sage: SALVIA SCLAREA
Therapeutic Compounds: Germacrene-D, Linalool, Linalyl acetate
Clary Sage is a deeply relaxing, soothing, and balancing essential oil; and it's actually considered to be one of the top essential oils for promoting hormone balance in women! It contains the same compound as lavender that is attributed to increasing hair length + strength.
Recommended Uses:
Mix 3 drops of Clary Sage in with your favorite conditioner, let it sit for 2 min. then rinse. If you only shampoo and condition once a week, leave it on the 10 min before rinsing.
---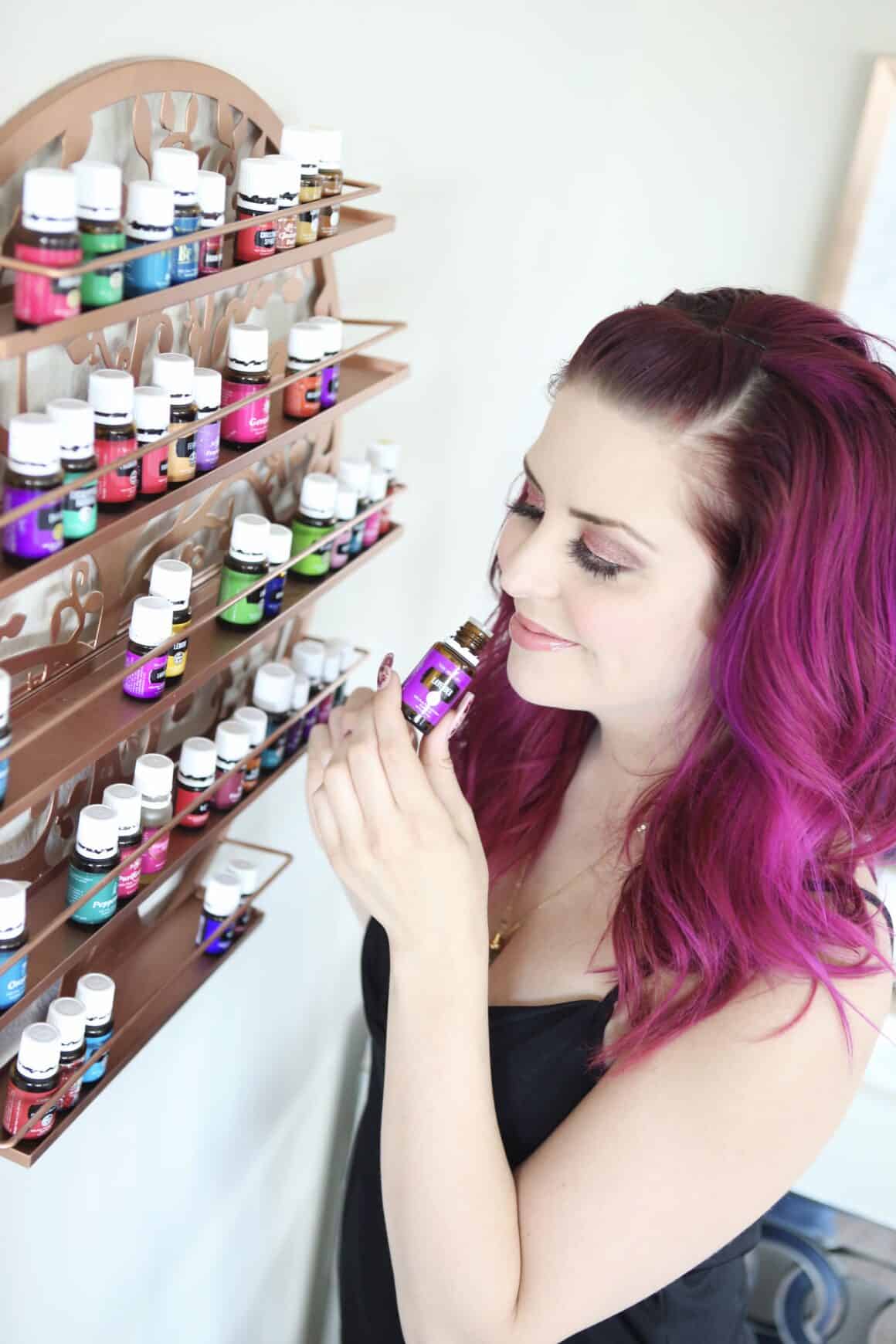 As you get more comfortable and confident using EO's, you can start creating your own cocktail mix of carrier oils and essential oils to address your unique needs + preferences.
Quick (and super important) Guide to Buying The Right Kind of Essential Oils
Natural vs. 100% Pure, High Therapeutic Grade vs. Synthetic – Don't skip this!
It's important to buy only high-quality oils. You want to look for essential oils that are 100% pure, high therapeutic-grade (that's why I always go with Young Living!).
Synthetic reconstitutions of essential oils, often marketed as "fragrances," use synthetically reproduced chemicals (usually petroleum derived) to recreate some of the properties found in nature. Usually, price is a good indication of quality. Significantly cheaper oils are often synthetically derived. You do not want to diffuse these or use them in any capacity, as artificial fragrances can be high in toxicity and can emit toxins into your direct environment.
Natural essential oils, while slightly better than synthetic fragrances, are often cut with chemical dilutants, alcohols or other fillers. Many companies do this in order to have a lower price point, so again the price of an oil is often good indication of quality. Additives and adulteration can be harmful to the body and greatly reduce the effectiveness of the oil. These are also not recommended for therapeutic use.

100% Pure, High Therapeutic Grade Oils are where it's at! These are what bring the benefits.
Essential Oils that are 100% Pure and High, Therapeutic Grade are the gold standard for purity and potency. This standard requires precise care and effort to protect what nature has created, which correlates directly with the health-enhancing benefits you expect from essential oils. Only this level of quality can ensure the correct composition of the active natural compounds that give the essential oils the therapeutic properties. A 100% Pure, High-Therapeutic Grade essential oil is sourced directly from its native, natural habitat and is not contaminated from polluted soil or pesticides. It does not contain any fillers or artificial ingredients, as companies producing high grade therapeutic essential oils have very strict quality control.
Dr. Axe explains that, "…because the chemistry of pure essential oils retains the healing intent of the plants from which they originated, they manifest an ability to organize and balance our energies as well…"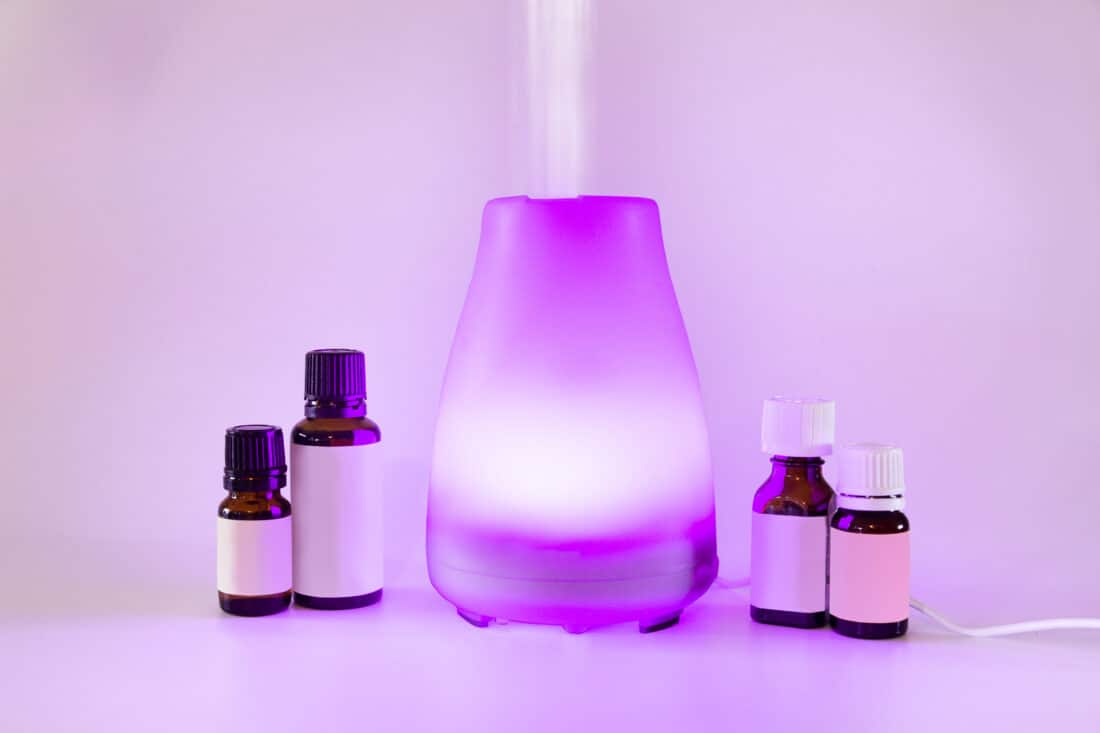 Takeaway: In order for the human body to receive and retain the benefits of essential oils, we need the oils to be a pure transfer of their natural chemical properties. Makes sense, right?
It's no surprise that I use Young Living oils. I've literally been using them for almost 10 years. They are simply the cherry on top of my daily wellness routine, and I use for all areas of life. You're always welcome to message me on instagram with any YL product questions you have. I recommend grabbing a Premium Starter Kit (with the Desert Mist Diffuser) and becoming a member so you get 24% off. I love it all and have a feeling you'll love it too.
I also think you'll enjoy these blogs all about healthy hair:
8 Daily Rituals For Hair Growth
…and if you're hair is highlighted, Keeping Bleached Hair Healthy