One of the most amazing beauty treatments you an make at home are body scrubs.  They are so inexpensive and easy to make! You just need sugar or salt, oil, and fragrance.  These treatments would be wonderful holiday gifts.  I always love receiving hand made gifts; they are so heartfelt and unique.
I found these small jars at my local Dollar Tree store. Great find for $1, especially because they have a lid! Perfect for gifts.  I found these tags and the "Handmade with Love" stamp at Hobby Lobby.  If you're not familiar with Hobby Lobby, I am really sorry; you are truly missing out! 🙂 It's similar to a Michael's Arts and Crafts store.
Keep one of these by your sink or store one in the shower for a full body scrub down!
Your body is going to be so supple, smooth, and festive with these luxurious scrubs! You didn't know your skin could feel "festive" did you? Well now it can!!
Basic Formula for Scrubs are this: 2 parts sugar/salt + 1 part oil + fragrance drops
Vanilla Peppermint Scrub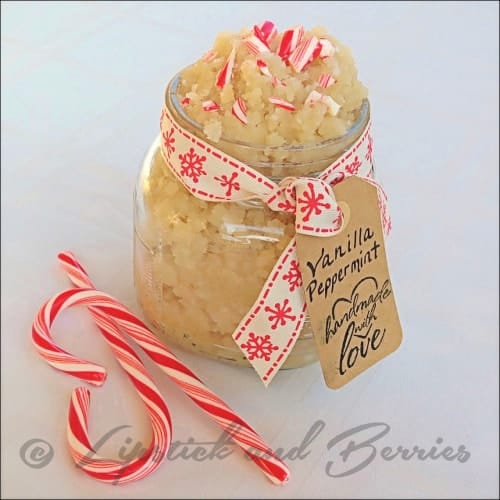 Vanilla Peppermint Scrub
INGREDIENTS
3

Cups

Cane Sugar

1

Cup

& 1/2 Coconut Oil

10

Drops Peppermint Leaf Essential Oil

10

Drops Vanilla Essential Oil
Pumpkin Pie Sugar Scrub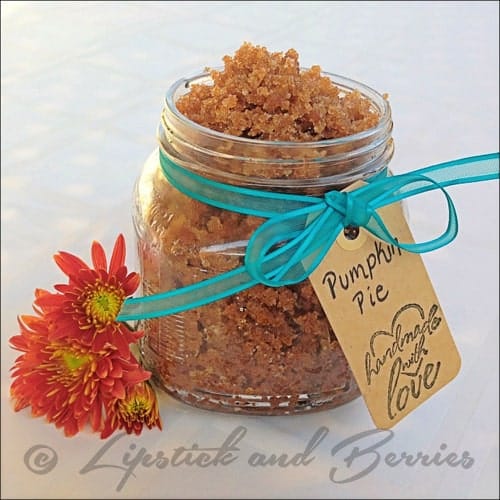 Pumpkin Pie Sugar Scrub
INGREDIENTS
3

Cups

Brown Sugar

1

Cups

& 1/2 Apricot Oil

1

Teaspoon

Pumpkin Pie Spice

8

Drops Cinnamon Leaf Essential Oil

8

Drops Vanilla Essential Oil

5

Drops Allspice Leaf Essential Oil

optional
Ingredients 
Orange Cinnamon Chai Scrub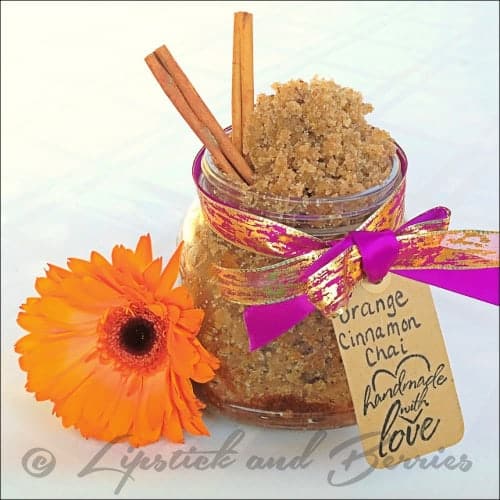 Ingredients
1 & 1/2 Cups Cane Sugar
1 & 1/2 Cups Brown Sugar
1 Cup Almond Oil
1/2 Cup Jojoba Oil
3 Chai Tea Bags (opened and contents poured into mixing bowl)
10 Drops Orange Essential Oil
8 Drops Cinnamon Leaf Oil