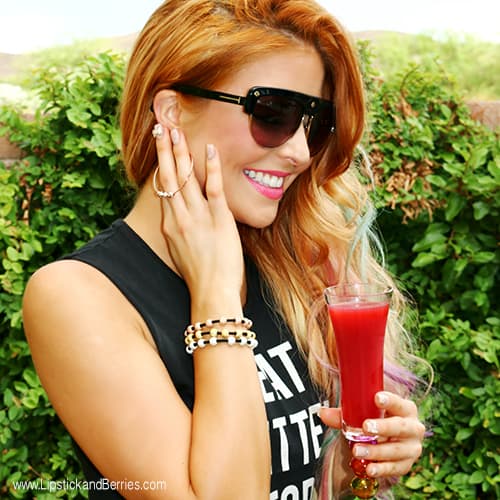 You have heard of Food Diaries and Fitness Logs, but have you heard of jewelry that becomes your personal health motivation?  I am talking about my friend Chelsea Charles and her line of Count Me Healthy Bracelets.  These stunning bracelets serve as motivation for your daily health goals.  You track your goals by moving the beads from one side of the bracelet to another.
Lets say you want to track how many glasses of water you drink in a day.  Take your goal and turn it into a bead count…In the morning move all the beads to one side and for each glass of water you drink, move one bead to the other side.  It's brilliant!  What a chic way to stay motivated to make healthy choices! (Use code LIPSTICKANDBERRIES30 for a 30% discount through 7/27)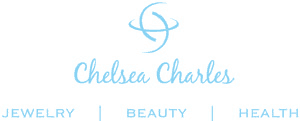 What I love about Chelsea's jewelry is that it's timeless and the designs go with any outfit!  I have two separate looks from different days wearing Chelsea Charles Jewelry to share with you.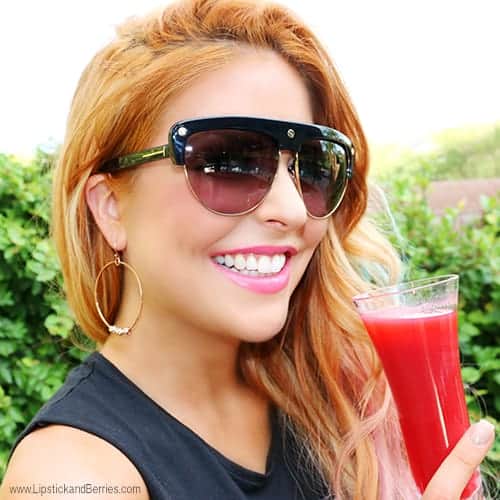 I am wearing Chelsea's Rose Gold Hoop Earrings which are lovely and so comfortable.  Often I find myself not wearing earrings, partly because my big hair covers them, and I normally have on rings and bracelets.  I figure all the jewelry bling + the long hair in addition to earrings may be a bit too much.  (I know, "too much?" not in my vocabulary often)  I am SO pleased with Chelsea's earrings though, and they are even more stunning in person – dainty and very classy!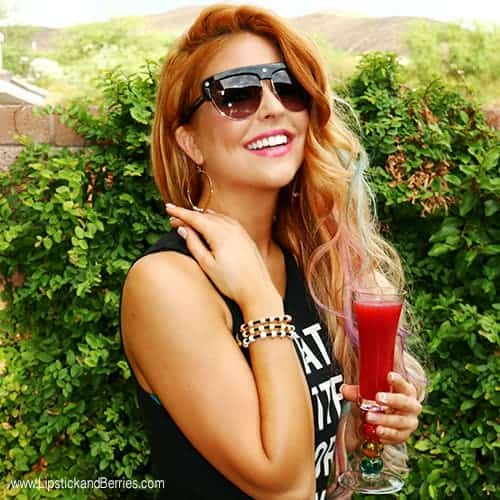 Don't worry about mixing metals anymore, by the way!  I wear the silver, gold, and rose gold interchangeably and together all the time!  There are no rules anymore on style.  YOU create your style!  I personally prefer the mixed metal look! See what my girlfriend, Sayeh, says about Mixed Metals here.
My Fahhhbulous shades are Tom Ford. They are from a chic eyewear boutique in Charlotte, North Carolina (my hometown!) called Sally's Optical Secrets. If you live in or are visiting the Charlotte area, you MUST go to Sally's. She has the coolest and most fashionable sunglasses and eyeglasses of anywhere – way better than other boutiques and way better than Nordstrom and Neimans. Tell her Ashley from L&B sent you 🙂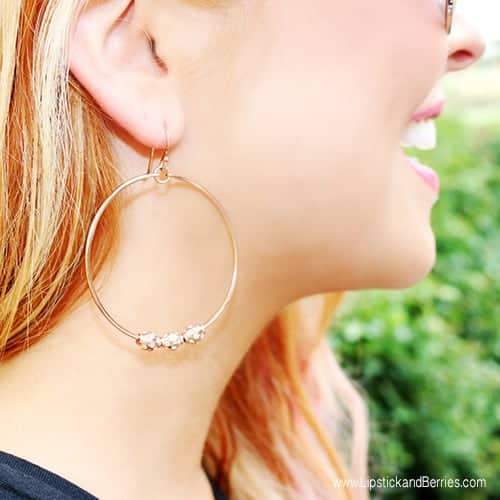 My friend Melanie of Melanie J Black Photography was kind enough to spend the afternoon and take these photos for me.  Love her, thank you!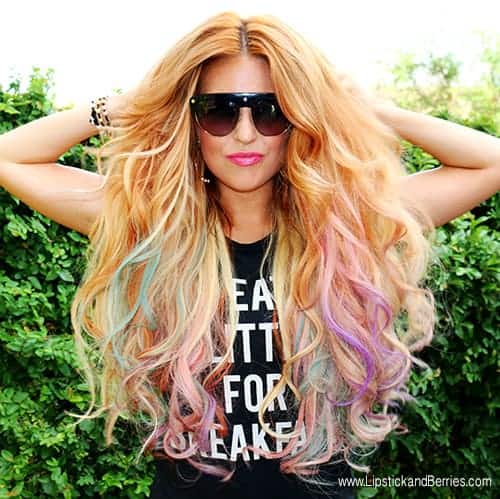 This photo set could not be complete without at least one legendary photo of the hair.  I am a hair stylist; I can get away with an exorbitant amount of hair.  In my world, there is no such thing as too much hair, just ask my friend Allison or Ana and they will vouch for me.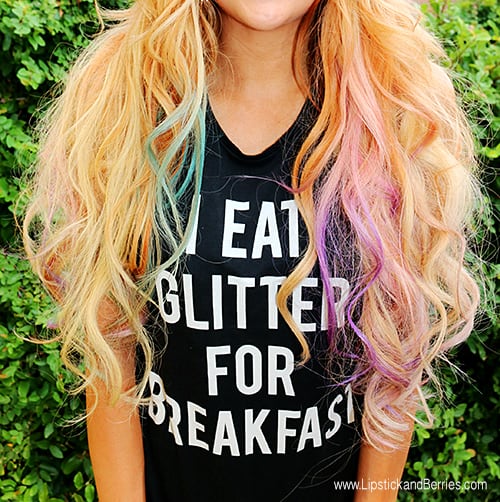 My fruit is my breakfast glitter!  What's yours?  Muscle Shirt by Dream Monstar.
On another day, Melanie and I took some fun pictures with my rainbow Count Me Healthy Bracelets!  Of course, I am a huge fan of color, so these were perfect for me!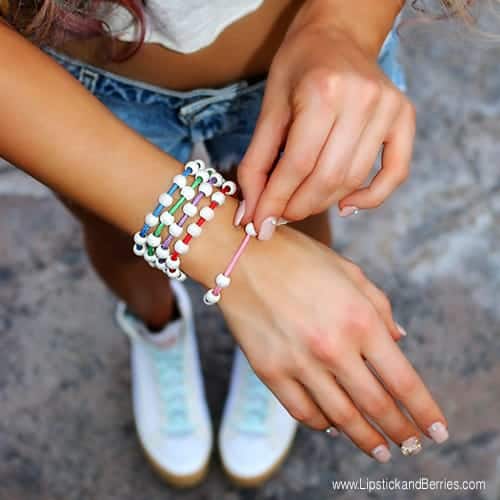 You can easily slide the beads from one side of the bracelet to another without having to remove the bracelet!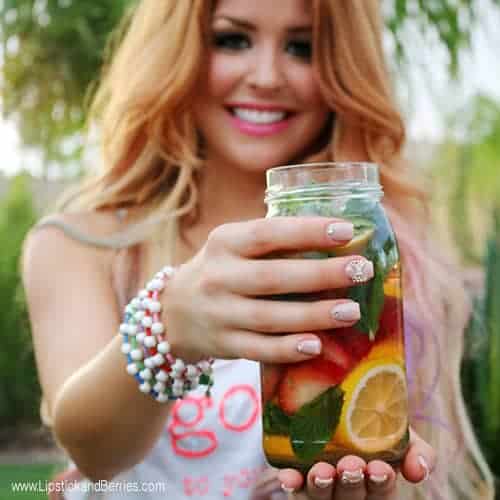 It was about 110 degrees (and humid) while we were taking these pictures! Needless to say, we took a break and I made Melanie some of my Spa Water!  Ultimate hydration for an unexpected very humid afternoon in Las Vegas.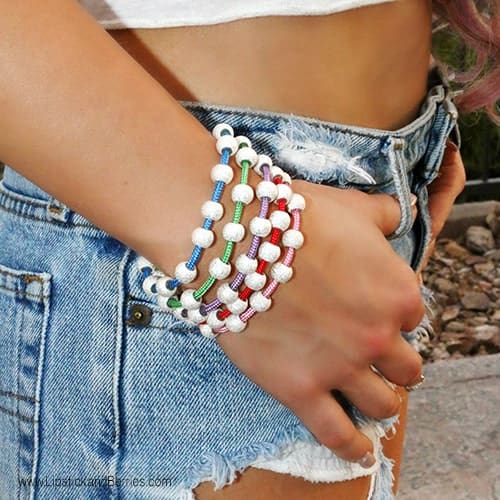 Thanks for joining me in my new Style Recipe chapter of my blog! I truly believe that healthy living is not just about what you eat.  A healthy lifestyle is about balancing the Body, Mind, and Soul! Feed nourishing food to your body, enjoy the quiet moments, and fill your life with all the things along the way that make you smile! Whether is reading a book, wearing your favorite lipstick, exercising, buying a new outfit, or just taking a walk on the beach… ENJOY every moment and don't worry about what other people think. Be uniquely you, and create your own STYLE!