Hi Y'all! Are you freaking out that it's basically the middle of December?! I kinda am. This month is unusually crazy AND special. It's Lily's 1st birthday, and we are having her party on the 17th, and then my mom is celebrating her 60th birthday here in Las Vegas on the 27th! Talk about an action packed holiday season.
Today I am finally getting back into the swing of blog life. I had to take a few weeks off my regular schedule as I moved into our new house. I am SOO fortunate to have my girlfriend, Amber, staying with me for a few weeks helping me with the move. Since we don't have any family here, it's so helpful to have close friends around. Amber and I have been friends for close to 10 years, so she's basically family. 🙂
Today we got back on our smoothie routine! This morning we had avocado toast and a basil green smoothie for breakfast, and I made this holiday inspired smoothie this afternoon.
This smoothie is basically a gingersnap smoothie with a few berries thrown in! I like to add in berries or greens whenever possible to boost the antioxidant count. Antioxidants are your "anti-rusting" ingredients – they keep your body young, youthful, and glowing.
FYI, I totally forgot to put molasses into this smoothie for the photo. It wasn't until much later, that I realized that had messed up and this smoothie is actually a mocha color, and I had left out a very important color ingredient. ???? #momlife fail.
Smoothies are a great way to stay healthy during the business of the holiday season. I mean seriously, what is easier to whip together than a smoothie?
Enjoy! Xo!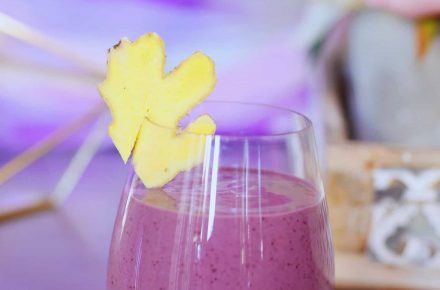 Berry Gingersnap Smoothie
INGREDIENTS
1

Cup

Non-Dairy Milk

1/2

Cup

Vanilla Non-Dairy Yogurt

1/2

Cup

Frozen Strawberries or Mixed Berries

1

T

Barbados Molasses

3-4

Medjool Dates

pitted

1/4

Cup

Almonds

1/2

Tsp

Vanilla Extract

3/4

Tsp

Ginger

ground

1/2

Tsp

Cinnamon

ground

1/4

Tsp

Cloves

ground

Ice
SaveSave
SaveSave
SaveSave