Hello holidays! Tuck in & enjoy this cozy (caffeine-free!) Starbucks Copycat Gingerbread Latte.
It's so delicious and made with Teeccino.
I've been drinking Teeccino for 8+ years. It's delish! Have you ever heard of it?
Teeccino is an herbal coffee. Some call it alkaline coffee.
It's not coffee. It's not tea. It's Teeccino.
It has definitely earned it's place in our home. We are obsessed with this stuff. TBH I have no idea why I've never written about it as I've had many a blog post idea to tell you all about Teeccino, but nonetheless, we've made it! I used to make it cooled & blended caffeine-free Frappuccino-style drinks, and also for cozy, drinks like this Gingerbread Latte one.
TO make this really simple, I used Teeccino's Gingerbread Herbal Coffee for the recipe, and I simply added some extra spices to jazz it up. Not that it needed jazzing up, but I always like to add more spices to raise the antioxidant level when I can!
Teeccino is a coffee alternative that people LOVE & use for many reasons. Some use it to lower the caffein content of their regular coffee by using 1:1 ratio of coffee to Teeccino. Some people swap out their coffee completely for this healthier coffee-esque beverage.
I rarely drink regular coffee (like maybe 5x a year) because the caffeine from coffee beans doesn't make me feel great, but I do enjoy the flavor of a coffee drink, so this is perfect. PLUS, I prefer my warm cozy beverages at night time. This being caffeine-free is something I can drink at nighttime and it's the ultimate evening cozy drink.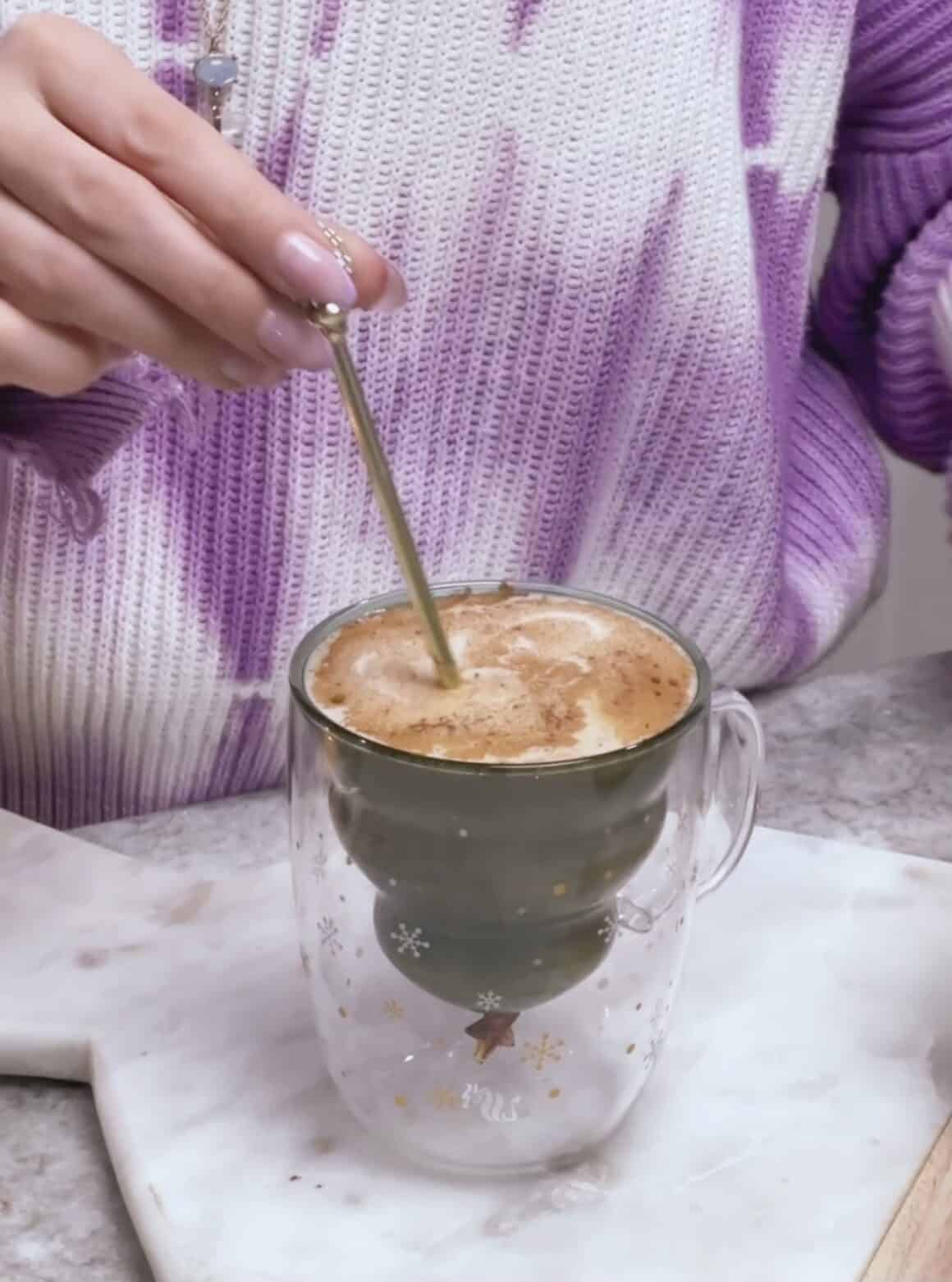 Let's get specific and talk about this Starbucks Gingerbread Latte though!
Starbucks discontinued their Gingerbread Latte a couple years ago, but who cares when you can make something like this that's so much better. (seriously)
I've had their Gingerbread latte before, and it was mediocre (not surprised it was discontinued tbh), so this one seriously blows it away. This Teeccino style Latte has so much more flavor, and the flavor profile goes through the roof when you know how damn healthy it is. It's not full of weird ingredients and unhealthy sweeteners. And while I like a sweetened beverage, Starbucks goes way too overboard on their sweetness – like I cannot even handle it.
Anyways, I hope this is your new fave holiday drink! Send me a DM on instagram and tag me if you make it!
Watch the RECIPE REEL here!
Teeccino Gingerbread Latte
INGREDIENTS
1

T

Gingerbread Teeccino

1

Cup

Boiling Water

1

T

Sweetener

I use Erythritol

pinch

Nutmeg

pinch

Cinnamon

pinch

Cinnamon

Milk of choice

frothed (I frothed oat milk in blender)
DIRECTIONS
Brew Teecccino. Teeccno grounds + boiling water. I like to use their non-disposable filter cone. (see video linked for reference)

Add in sweetener & spices. Dissolve/mix with spoon or frother.