It's that time of year, so I had to make a very special gift guide for all my hairstylist babes out there. Whether you are a stylist yourself, or you want to find your stylist the perfect holiday gift, look no further.
If you are new to the blog, you may be wondering why I created a gift guide fort hairstylists – that may sound kind of random huh?
Well, not so random, I've actually been a hairstylist since 2006, and while I am not in the salon full time anymore, one my big missions is continue to support hairstylists in their life and business to be happy, healthy, wealthy, and wildly successful. My hair IG is here.
So what would a hairstylist LOVE to receive for the holidays? Well, I added all my favorite trending products, and all the things that Alex better have wrapped under the tree for me this year. 😉
To make your shopping easier, I put together a few gift guides, using a super cool platform called KIT. Below you'll find the gift guide for hairstylists.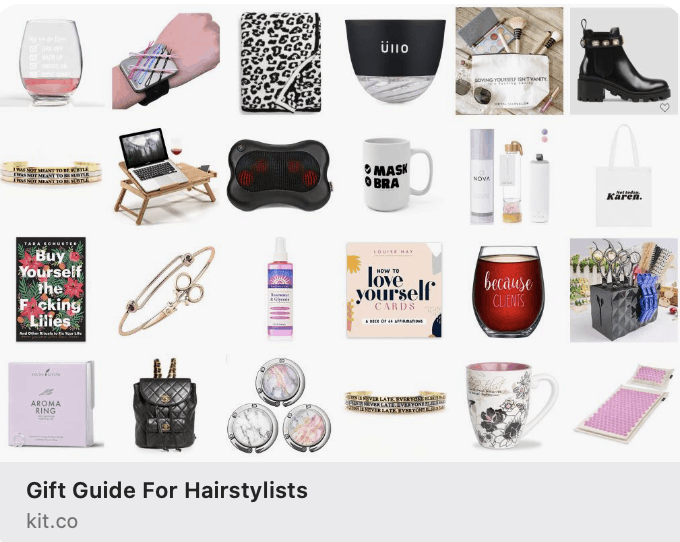 I gathered products with myself and my stylist friends in mind. For the hairstylist who is fully booked and needs a drink asap, to the brand new babe on the floor, to the spiritual hair pro, to the boujee babe, the sassy, the laid back, the hairstylist into wellness, or the stylist who is taking some time to build their empire online – This guide covers it all!
Please share this gift guide with a friend!
Enjoy! Love you. Also check out the gift guides for Wellness, Spiritual babes, and for the chick that loves all things shiny (YES I made a gift guide for that). 💎
xo, Ash.