OMGeeeeee I am so stoked.
I know you've heard me mention Derma E here, here, here, here, and here. To name a few!
Yesterday, I launched my own FAVES BOX partnering with Derma E and Sprouts.
Let me tell ya what that means exactly!
I picked out my favorite things from Sprouts + a couple Derma E products and we curated the BEST faves box that is a SUPER CRAZY AWESOME UNBELIEVABLE DEAL.
+ it benefits charity.
This box is only $25 for over $70 worth of products, with a portion of proceeds benefiting Vitamin Angels.
Vitamin Angels is a non-profit that offers life-saving vitamins to mothers and their babies in need.
Malnutrition is the #1 cause of preventable child death and through donations with Vitamin Angels you have the power to save a child's life.  (crying while I type this fyi) It's such a beautiful cause.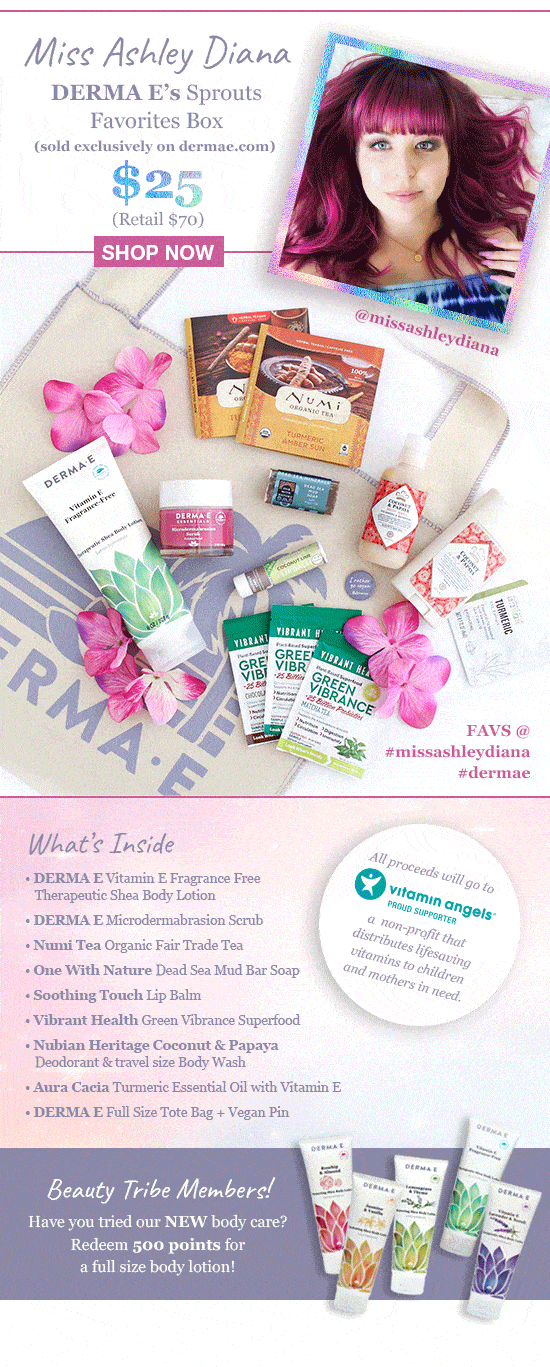 Included in each box are full sizes of
DERMA E Microdermabrasion Scrub (
Vitamin E Fragrance-Free Body Lotion
DERMA E tote, plus:
@numiorganictea Organic Fair Trade Tea⠀
@onewithnature_o.w.n Dead Sea Mud Bar Soap
@auracacia Turmeric Essential Oil with Sweet Almond Skin Care Oil⠀
@vibranthealth Green Vibrance Superfood⠀
@soothingtouch10 Lip Balm⠀
@nubianheritage Coconut & Papaya Deodorant & travel size Papaya Body Wash
We have already sold out 1/2 of the boxes, so be sure to grab yours asap!
This would be a great holiday gift for anyone on your list, and it's the best deal!
Here is the link to get yours: https://dermae.com/products/miss-ashley-diana-s-sprouts-favorites-box
The first 10 people who grab their box and send me a pic of their receipt, I will send you a free selfie light!