I used to be a certified Tanorexic, and an active member in Tan-a-holics anonymous. I tanned in tanning beds, sunbathed outdoors, and I even coated myself with orange spray tan. This madness lasted for 8 solid years.
Good news; my Oompah Loompah days are over.
I finally came to my senses.
Not only did I look ridiculous, but I definitely was on my way to leather skin (and skin cancer) by the time I was 30. (which is next week btw! Eeeeek!)
I am very happy that my face doesn't look like a leather boot. Now I can celebrate my birthday, next week, in style!
Given that I'm preggy right now, everyone is asking me what kind of foods I have been craving. Actually all I have been craving is to be in the WATER! I just want to float around…beached-whale style. 🙂
We are right in the middle of summer (those of us in the States, that is) so this is no time to start skimping on the sunscreen. I am very careful about what I put on my skin, especially now, since I am pregnant. Choosing the right sunscreen is very important. Ordinary sunscreens are loaded with chemicals, and even though they block the sun, they can cause other problems. As always, it's best to stick with a less-toxic option.
I have been using Dermae's facial sunscreen for quite a while and I absolutely love it! This summer I added their body lotion sunscreen to my repertoire, and it's just as fab.
Dermae uses a clear, nanoparticle-free Zinc Oxide, in their sunscreen formula to provide safe, chemical-free broad spectrum UVA/UVB protection. Fortified with antioxidants Vitamin C and Green Tea — nutrients that have been shown to offer an additional layer of UV protection.
I feel 100% comfortable using Dermae's products during my pregnancy. In fact, I mentioned a few of their other products (that are great during pregnancy) that I took on my trip to North Carolina last week.
When I think back, It's so funny to me that years ago all I wanted to do was be brown! Now I'm obsessed with keeping my skin milky white! It's so interesting to see how our tastes change as we age.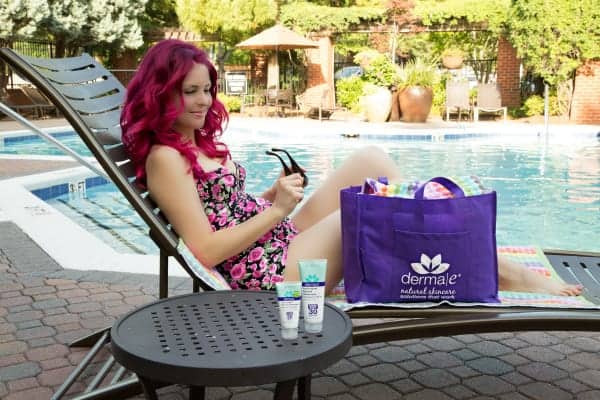 Here are my 5 ways to start protecting your skin from damage:
Sunscreen (of course!) Use it daily and reapply whenever you're in the sun for long period of time.
Limit sun exposure. Stay indoors when the sun is the most intense.
Wear a wide brimmed hat. Why not bring the big out the big hat? I LOOOOVE a big beach hat; stylish & functional.
Put sunscreen on the tops of your hands to prevent premature aging. This is the one unexpected place that I always put sunscreen. Our hands get sun exposure all the time, yet we overlook protecting them. The sun damage on your hands is a dead giveaway of your age! If you are protecting your face, take an extra moment and be sure to protect the tops of your hands!
Stroll around with an umbrella. Actually I am only halfway serious here. Living in vegas, I see a lot of different people and cultures. Many female asian tourists will walk the strip with a pretty umbrella to protect their skin from the sun. 🙂 I know this is not customary in the states, but I do have to give these ladies major credit!
Ahhhh…..here it is below!! This is exactly what you do NOT want to do! I'm the orange one on the left!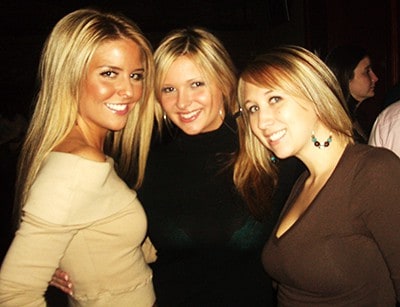 Can you imagine what my skin would have looked like if I wouldn't have started attending Tan-a-holics Anonymous?! 🙂 This picture was taken 9 years ago, when I was 21.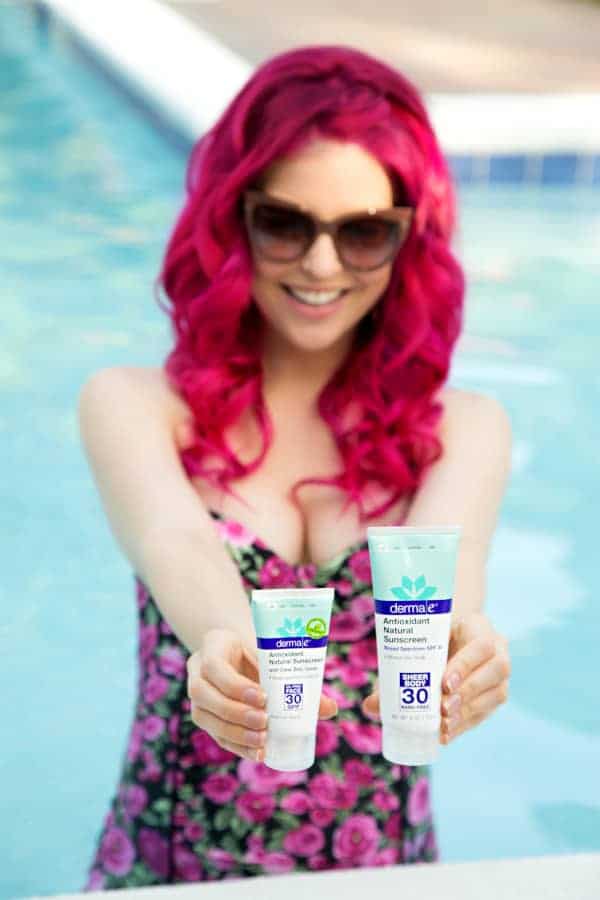 Giveaway Time! (CLOSED)
I'll be sending out Dermae's Antioxidant Facial Sunscreen to THREE lucky readers!
All you need to do is this:
1. Follow Dermae on Instagram (@dermae)!
2. Leave a comment for me below and tell me your favorite place to vacation in the summer!
I'll pick three winners randomly, and will announce Thursday morning!
To the winners, I will mail your present out this weekend, and I'll also send you a free download of my eBook Marvelous Milkshakes! (Yay!