At 3.5 million podcast downloads strong, it's safe to say Affirmation Babe deserved it's own gift guide this holiday season!
If you haven't yet heard the word on the street, Affirmation Babe podcast is changing lives all over the globe by encouraging people to change the way they talk to themselves. And if you're wondering WTF are affirmations.. well, I got you 100% covered in a previous blog post WTF Are Affirmations 😉
Go ahead and check it out here on Spotify, and also our instagram.
I am so obsessed with our Affirmation Babe brand and beyond proud of our team that helps make the magic happen. It is such a gift to do this work.
So to help you find something special for the babe on your list, we put together a curated holiday gift guide, and I think you'll find something pretty special.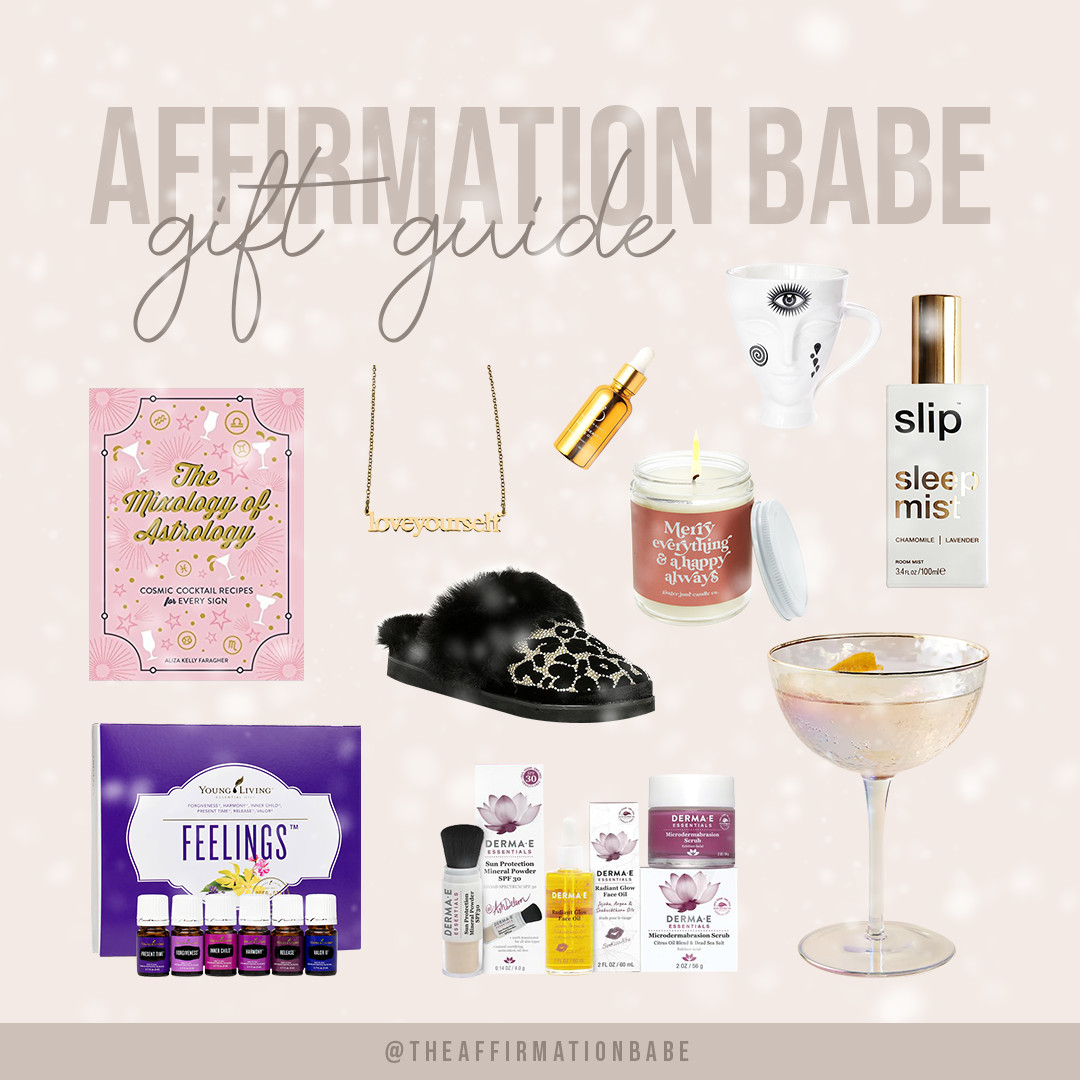 ♡ If someone on your list (or you!) loves a cute cocktail AND the cosmos, then The Mixology of Astrology cocktail book may be the perfect gift. IT'S AHHH-DORABLE. (I have it and I 💜 it)
♡ The Golden Secrets Youth Beauty Face Oil is the whole package when it comes to a facial oil. If you are a facial oil junkie, or if you are new to facial oils…THIS OIL is a must-have on your skin care shelf. It contains powerful essential oils that are known to enhance your skin's appearance naturally. Combined with other botanicals this oil is elevated to the status of holy grail of oils. Youth Beauty Face Oil refines, smoothes, and tones your skin all at once. USE CODE: ASHLEYDIANA10 for 10% off! (And if you need more reassurance for a confident purchase, just take a look at Jesse Golden's Instagram, the founder of the brand. Need I say more!)
♡ Metal Marvels Love Yourself Necklace is the cutest accompaniment to your Affirmation babe lifestyle.
♡ Derma E is one of our ride or die brands, and this holiday set is the ULTIMATE fave products bundle. I've blogged about Derma E time and time again, and have been a fan of their ever since I discovered them on IG 7 years ago.
♡ Young Living Feelings Kit is a curated collection of oils to release emotions and attract inner peace PLUS each oil is paired with affirmations.
♡ Slip Sleep Mist is a chic sleep spritzer to pair with this sleep affirmation (and this sleep mask).
♡ Because who doesn't love a candle! Pair this Merry Everything Candle with this affirmation all about the holidays.
♡ We love a good holiday set from Anthropologie, and this wine glass set does not disappoint.
♡ A Barefoot Dreams Blanket is the ultimate cozy gift for someone at the top of your list, or even better, to gift to yourself. These are the softest and dreamiest blankets out there. Cuddle up and cozy down 🎶 for the holidays. (as Dolly would say).
♡ Also obsessed with these rhinestone leopard print fuzzy slippers (but actually you can wear these out of the house – I do!) They come in 3 of color tones. Pair it with matching sweats and hoodie for the ultimate chic monochromatic look w/ a pop of bling.
♡ Jonathan Adler Gilded Mug is currently my fave way to drink tea, and if you need a a nice set to gift, this Weekend in Paris Tea Set is gorgeous.
Happy Holidays
XOXO, Ashley.