Hello Fall. This is the perfect time whip out the blender and make this yummy Oatmeal Raisin Cookie Smoothie.
I absolutely love the weather in Vegas right now. Not only is it the kind of weather where you can leave the windows open, turn the fans on, and enjoy the breeze but it's also absolute heaven!
I am very happy that spices are in season now! With fall officially upon us this weekend, I wanted to make a smoothie that wasn't fruity, but also not pumpkiny…not just yet anyway. ???? So a dessert smoothie with spices seemed perfect, and honestly I couldn't think of anything better than my Oatmeal Raisin Cookie Smoothie.
This recipes is one from my Marvelous Milkshakes ebook. I normally don't share the recipes from the book because…well, they are special recipes in the cookbook, BUT today I felt like giving you a tasty sample of the deliciousness. Many of you have my Marvelous Milkshake ebook, and I am so happy that you LOVE it! The milkshakes in the book are my favorites (20 desserts turned into healthy milkshakes)!
When you make the shakes from the book, I would love it if you post of picture of it on Instagram and use the hashtag #MarvelousMilkshakesBook.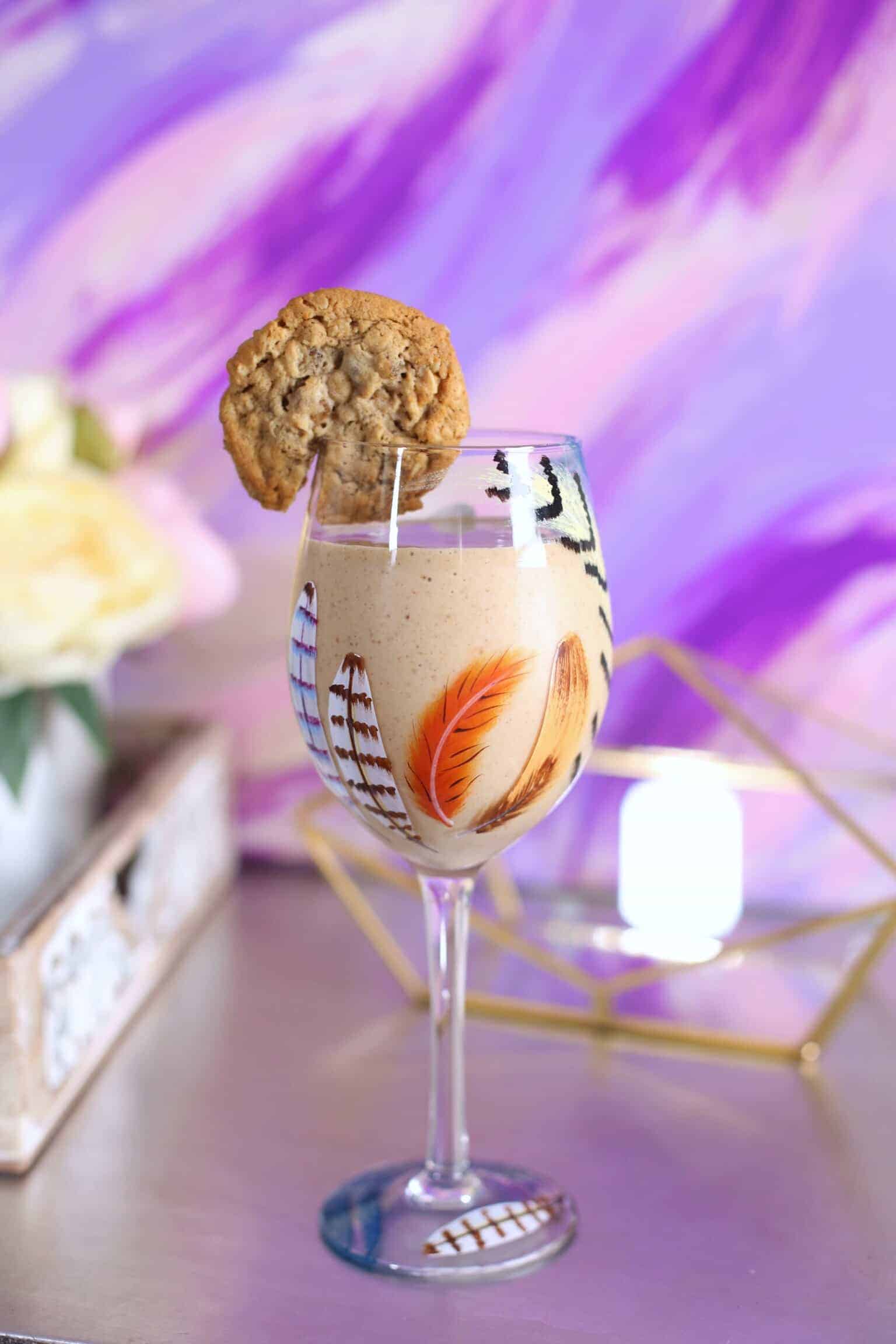 Anyways, lets chat about this cute AF glass. I popped into Pier 1 this week, and I found this wine glass. You would be shocked to know that I only bought THIS and two other plain martini glasses. My total bill was under $20 and that never happens! (Doesn't mean I don't have my eye on some other goodies though) ????
Are you guys into decorating for the fall? I usually go pretty crazy! I LOVE decorating for the seasons. Fall is my favorite season decorate for because I can leave the decor out for 3 months. Every season a few really special items to build my holiday collection. Two years ago I found a gorgeous teal pumpkin that lights up from Pier 1, and last year I found an embellished spider web table runner. They are perfect pieces in my fall collection.
If you need some fall decor inspo make sure to check out my Fresh Finds post!
Enjoy this smoothie!
Btw, LOTS happening on the blog over the next few months. I've planned out ALL of the content for Oct-Dec. Get excited! I'm so excited to share it with you!
Xo, Ash.
Oatmeal Raisin Cookie Smoothie
INGREDIENTS
1

Cup

Non-Dairy Milk

unsweetened

2

Frozen Bananas

ripe

2-4

Medjool Dates

pitted

1/4

Cup

Old Fashioned Oats

2

Tbsp

Cashews

unsalted

1

Tbsp

Raisins

1/2

Tsp

Cinnamon

ground

1

Tsp

Vanilla Extract

pinch salt

optional
SaveSave
SaveSave
SaveSave
SaveSave
SaveSave