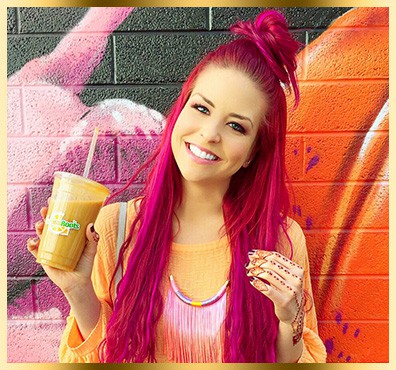 Hi Darlins'!
Welcome to my vivacious and colorful world! I'm Ashley; beauty professional, pink hair addict, plant based nutritionista, and writer. Through blogs, books, and videos, this is the place where I share my professional beauty secrets, greatest culinary masterpieces, and all my knowledge of living and thriving in a conscious lifestyle.
You may be asking yourself…What exactly is a conscious lifestyle?
Well, in the simplest terms, a conscious lifestyle is about increasing awareness and taking control of your life! Sounds great right? Who doesn't want to live a fulfilled life?! I know I do! Even though living an abundant life sounds simple, our minds are so accustomed to living in auto pilot, we often find ourselves just existing.
Take a moment and ask yourself this simple question: Are you alive, or are you actually living?
At some point in your life, you will come to a turning point where your authentic self will force you to reflect within. You will become aware, and you will begin the journey of living YOUR authentic life. This is a very exciting crossroads, and this is where I want to help guide you!
A conscious lifestyle is about making educated choices that help improve your life, better your environment, and help you live compassionately! Choosing to live consciously will make you look and feel amazing on the inside and out; I promise!
I came to a point in my life where I wanted to start living in a healthier manner, but I didn't want to sacrifice the things that I considered fun. I wanted my cake and to eat it too!
Guess what?  I got it! (It's just cake without eggs, and hair products that don't kill animals! Woohoo, not such a bad trade off!) I stepped outside of my comfort zone, and in beautiful ways, I received more than I could have bargained for! 🙂
Now, don't let the "conscious lifestyle" trick ya! Let's get a few things straight…
I am a self-proclaimed hair & makeup product junkie.  My BFF is my teasing comb.  I make love to my hair spray, and I say Dolly for president.
What I am saying is that a healthy lifestyle can be as quirky, and fun, and GLAM as you desire!  (My desires may be a little more glamazon that the rest, hey, but to each their own! lol!)
With all that being said, I believe that a no animal should have to suffer for the sake of our beauty, AND that we should not have to sacrifice our beauty wishes for under-performing products.
There is a beautiful place where health and beauty meet, and I have found it! Allow me to share it with you.
My passion is to share my health and beauty secrets so that you can consciously create healthier habits in your life.
I will show you how to make age-defying hot teas at home, I'll teach you my tricks for growing thicker hair naturally, and I'll show you how to make delicious, scrumptious, rock-your-socks meals with a plant based twist! Oh yes, AND I'll show you how to make your own beauty treatments, and show you the BEST products on the market!
The conscious culture you and I create here will promote physical well-being, it will have a positive affect on your planet and animals, and it will enhance your spirituality! Last but not least, it will give you the tools to create the body you want and the life you deserve!
I am SO excited to have you here…come on in and join me!
Where It Begins
Since we all love food, let me get started by telling you how my love affair with delicious veggies and my journey toward a conscious lifestyle began…
I NEVER thought I would be munching on all these greens everyday. I grew up in North Carolina and later lived in Texas (that should pretty much explain my previous perspective on food). I, like all other southern gals, grew up on comfort food classics like Chicken 'n' Dumplins, Barbeque Sandwiches, Meatloaf, Peach Cobbler, Apple Pie, Egg Custard… (By the way, if you know what Egg Custard pie is, then I have officially made you my Southern BFF)
The idea of eating a fully plant based diet back then…well…wasn't even a thought, much less an idea!
Ironically enough, I did have one a vegetarian friend growing up. She recently enlightened me to the fact that I had made fun of her diet back in the day. (SO sorry, Laura!) Apparently, I had told her that there was absolutely no way I could never give up chicken nuggets therefore I could never be vegetarian or vegan!! Ha! Soooo…the point of this story is: Never Say Never!! I am now here passionately promoting a Conscious, Plant Based Diet!
My Story
For a moment, let's dive a bit deeper into the food… (we all want to know how to look great, feel great, and still eat all our favorite foods, right?)
Well, I have never been overweight, but I have definitely dealt with weight fluctuation. I have dealt with the WORST acne and I have Rheumatoid Arthritis. A few years ago I became sick and tired of calorie counting, and I wondered if there was a better way to eat and live.
I came across life-changing information on a Nutrient Dense, Low Fat, Whole Foods, Plant Based Diet. It turns out that what I was missing had been right before me all along. Mother Nature abundantly provides an array of colorful fruits and vegetables…I had just been to blind to realize that THIS alone was the REAL key to an abundant life. As I began to incorporate more natural plant foods into my diet, I quickly saw miraculous changes.
My acne began to disappear…FINALLY!  (I wish I had old photos of my skin to show you, but I'm pretty sure I burned them!)
Hey…my bones didn't hurt anymore!! (woohoo!)
Oh yeah…AND I'm stopped counting calories, yet I'm eating lots of amazing food!!
I am healthy, energized, and feeling great!  
This Is Where The Magic Unfolds…
It came as quite a surprise to me how food became the gateway into my conscious awakening. The longer time progressed on my plant based diet, the more in sync I became with my body, the more in tune I became with my emotions, and I realized that all of these systems work together. In complete harmony, our bodies and minds are essentially one.
I had already experienced miraculous events just by changing my diet alone; I never would have imagined the plethora of beautiful things that were to come! What started as a diet-shift only, turned out to be the biggest emotional, physical, and spiritual breakthrough of my life. It turns out that once we start to "cleanse" one part of our body (in my case the physical aspect first), our mental and spiritual components begin to revitalize as well!
Soon I started thinking about the products I was using on my body. (I mean, if our skin is our largest organ, wouldn't we want to treat that kind as well?) Then I began to think about how animals are being treated, and then I began to think about our environment.
Now, by no means am I perfect. At this present time, not every product in my home is a "conscious lifestyle" product, and not every article of clothing in my closet is animal friendly (that would be totally awesome and the idea of moving in that direction is pretty exciting!). What I can tell you about my life, is that I am now more cognizant and aware of my choices. Each time I have an opportunity to make a conscious decision, I try my best to make that happen. I am always learning and continue to make positive changes in my life! In my opinion, that's what its all about!
I don't suggest that you change everything in your life all at once, (Oh my gosh, that would make anyone go crazy!) but I think that just a few conscious changes make a world of difference! What defines a conscious lifestyle is becoming aware. Let's celebrate the small victories along the way together!
Sound Intriguing?!
What I have learned has changed my life and I know it will help your life too! There are some of you with many more ailments than I have, and some of you with less. Whatever your case may be, I can assure you that incorporating more nutrient dense whole foods into your life and becoming apart of this conscious culture will be nothing less than extraordinary!
While You Are Here…
Make sure to check out my delicious Shop! I made a flippin' fantastic Dessert Smoothie Ebook that will make your tastebuds sparkle! I promise you will LOVE IT! (All the smoothie recipes are dairy free, refined sugar free, plant based, and they taste just like the dessert!)
I'd Love To Connect With Ya!
My favorite thing is to chat with you! You can find me pretty much anytime of the day on social media, so make sure to say hi! The best place to connect with me is by commenting on the blog posts. Tell me your thoughts, and I will always read it and get back with you. I am very active (aka…obsessed) with Instagram, and I post new things daily there (you can find me HERE & HERE).
Oh yes, and I would also love to connect with you on Facebook and Twitter…and lets not forget that Pinterest is my secret lover.
Let's Get Healthy Together!
The great thing is that you don't have to do this alone! Transitioning to a conscious lifestyle may seem overwhelming, but let me promise you this: Babe, you don't have to do everything at once.
Life is a journey and life is a process, but that's where I come in – I am passionate about making your journey a FUN and flavorful one! When we respect what Mother Nature provides us, we reap abundant benefits both physically and mentally. I am here to help you every step of the way. You are not here by accident, and it is time for you to upgrade your lifestyle inside and out! I believe in YOU!