As I mentioned yesterday, I am a huge fan of tablescapes. If you aren't familiar with the word "tablescape," it's just a fancy word for your table decor & place settings at a dinner party.
I fell in love with tablescapes years ago after watching the show "Semi-Homemade with Sandra Lee." On each episode, she made easy and delicious recipes with a beautiful tablescape design for her dinner parties. I love design, entertaining, and art, so tablescapes are a fun way to combine the love for them all.

This year, I was so happy to partner with Derma E, to host a holiday brunch for my girlfriends and below are all the photos of my winter holiday tablescape design!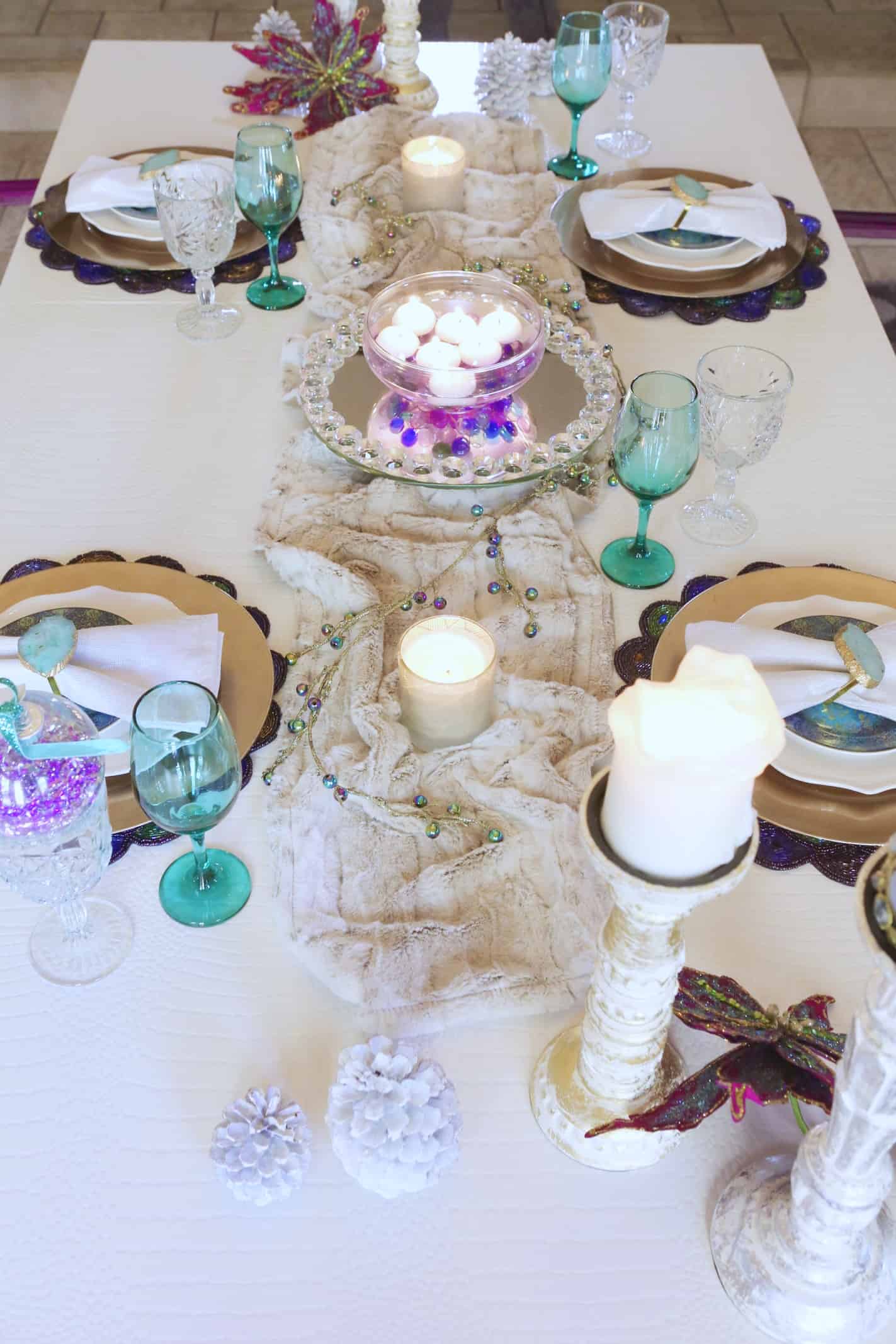 For my designs, I like to mix expensive pieces with inexpensive ones. I think it makes it interesting, and also doesn't break the bank. If you find one or two items that are your feature pieces, you can support the rest of the design with less pricey items and the whole table will look like a million bucks.
When I'm decorating my table, one thing that I always make sure I do is see the centerpieces below eye level. There is nothing worse than a centerpiece being in your face and trying to look over and around it just to chat with the person across from you.
If you're dead set on tall centerpieces, be sure to make them VERY tall (way above eye level) and and narrow so that you still have visibility.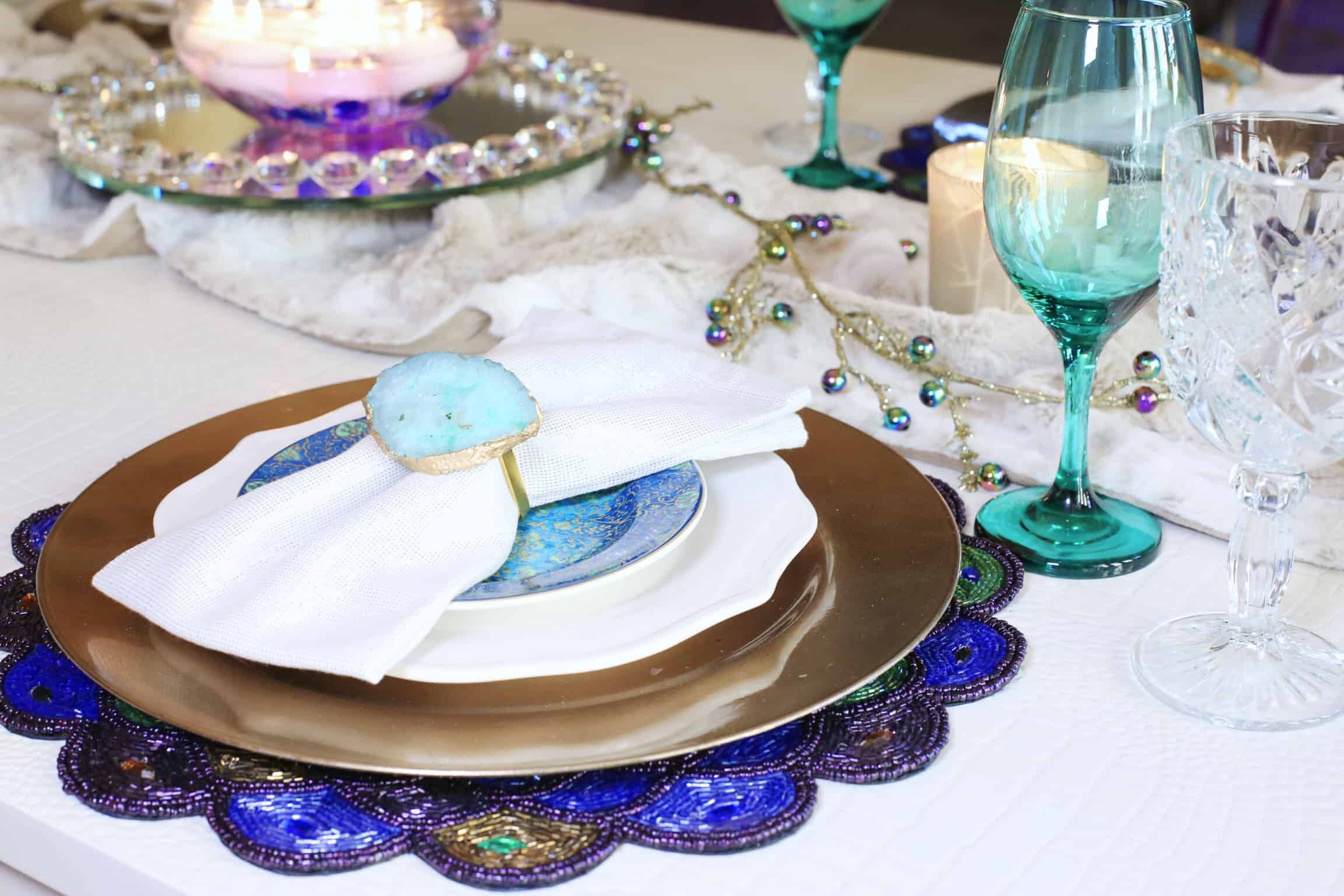 Beaded placemats are my go-to for table pizazz.  These are from Pier 1, and I've had them for years! I use them over and over again – definitely worth the price if you plan to use them often.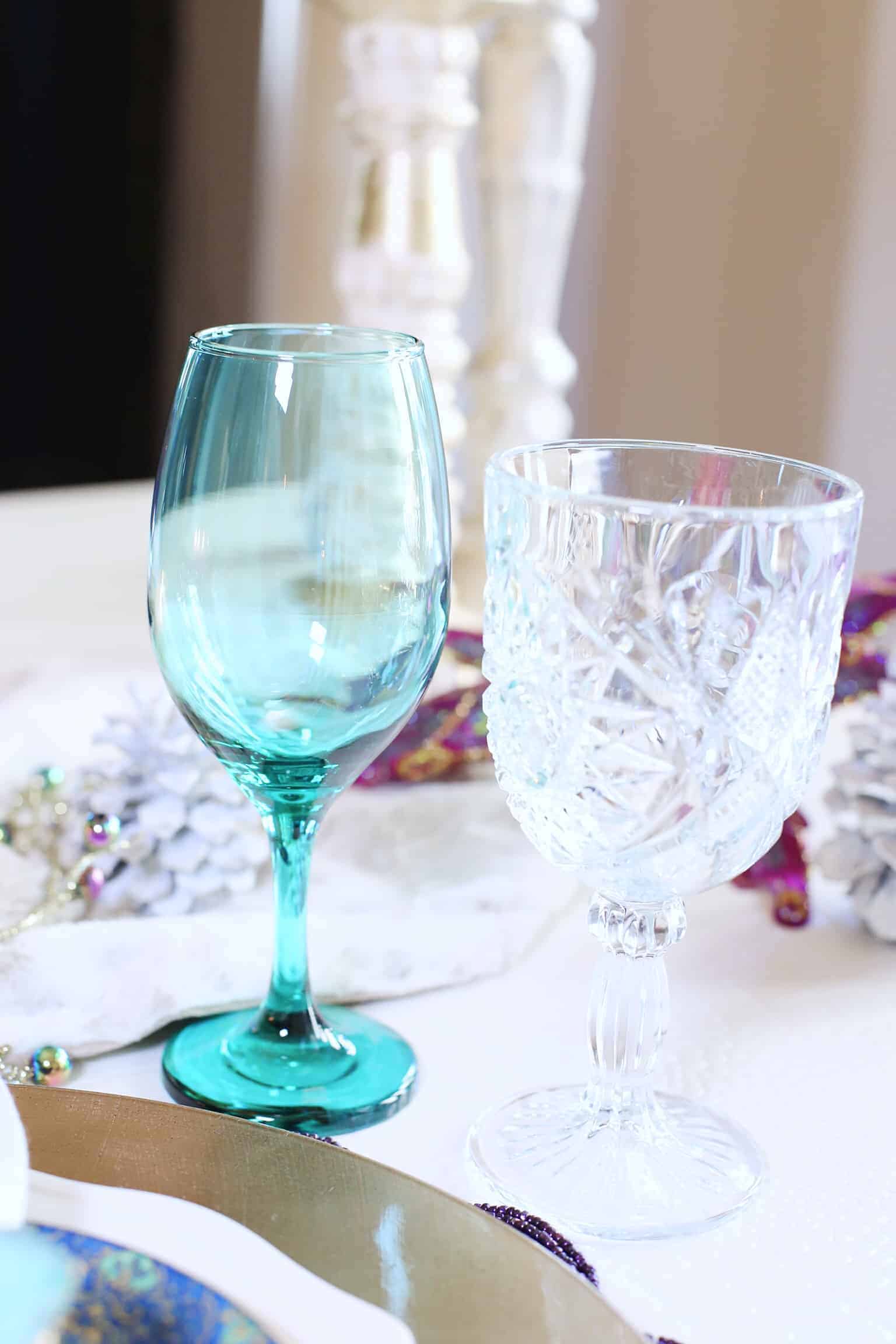 As you can see, my color scheme is purples and teals (shocker I know). ????
Actually, my dining chairs are purple, so I tend to decorate with colors that are cohesive, and of course, those happen to be my fave anyway. So for my first party at our new house, I decided that it was only appropriate to use my favorite colors!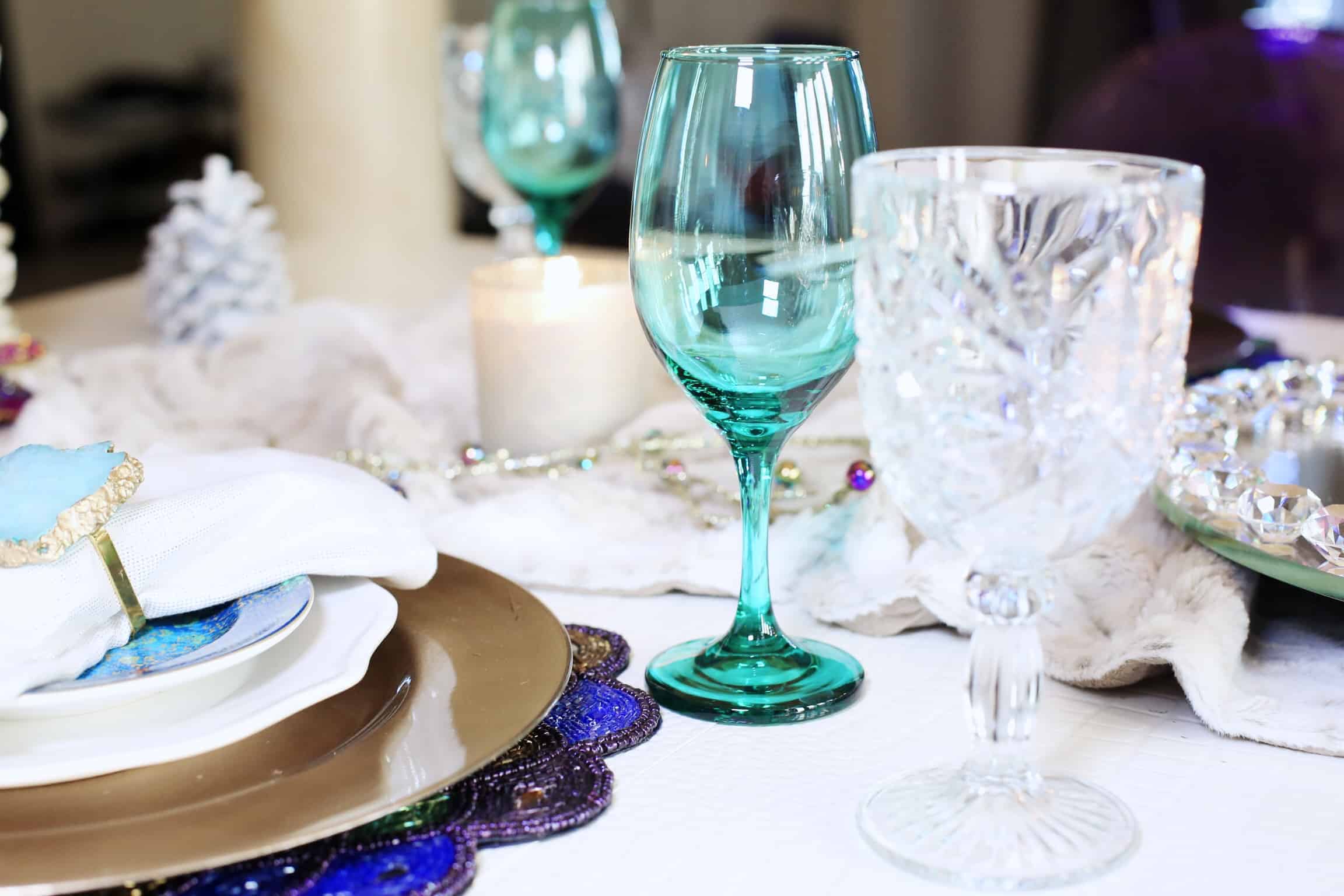 You're not going to believe this – I found this aquamarine wine glass and the crystal goblet (that we used for water) at the Dollar Tree. Yes you read correctly. Only $1 each.
No one would ever know that these glasses were only $1 because your surrounding pieces are so nice.
Great color too, right?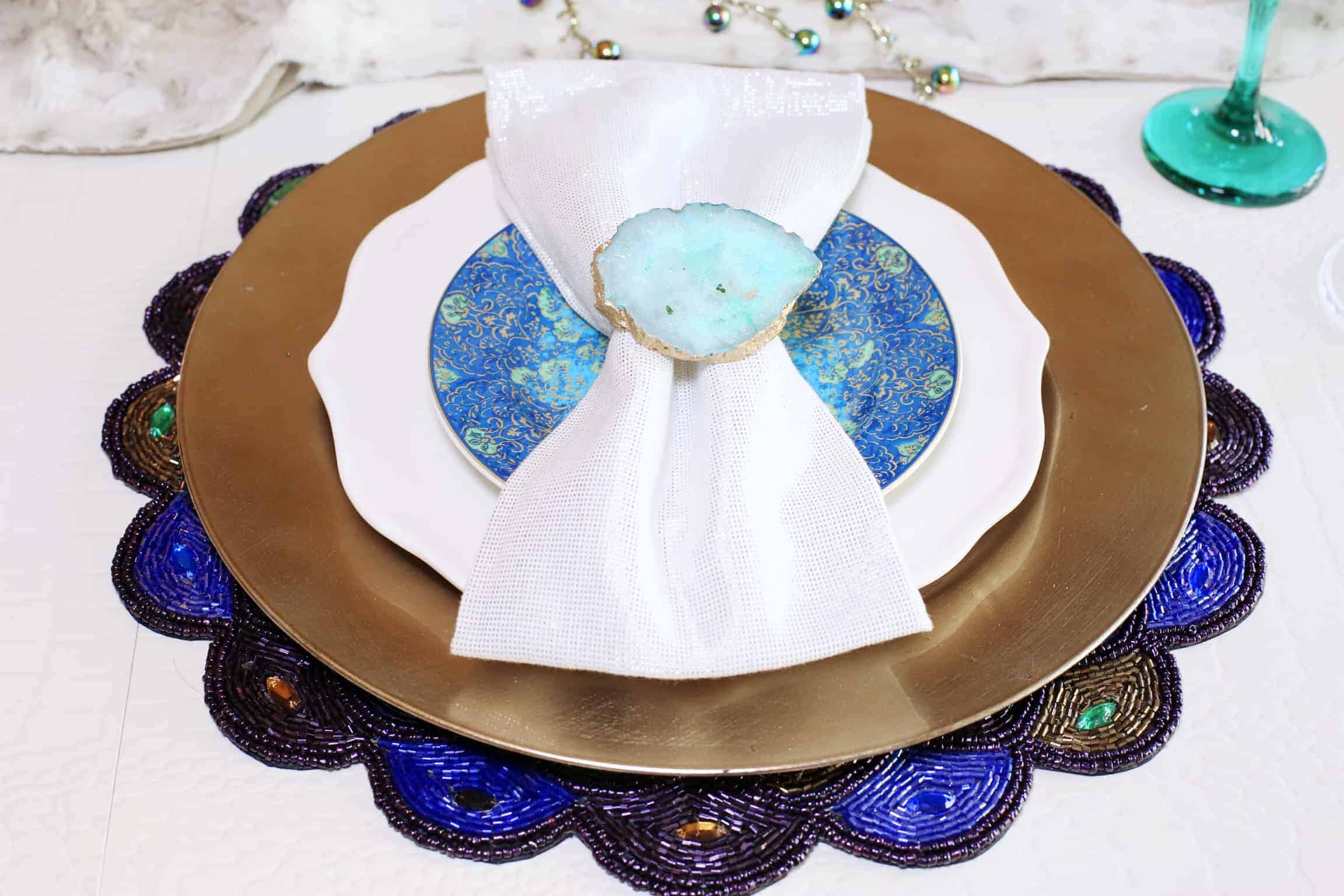 Metallic chargers are my jam.
You can basically get them anywhere. I found mine at Michael's.
You can find value chargers HERE and more intricate charger plates HERE.
Two things I could spend a ton of money on are chargers and decorative pillows…I kind of can't get enough of them! ???? They glam everything up, and that's what I love.
Be sure to use cloth napkins (I used this one bc it's so versatile), and a pretty napkin ring. I'm obsessed with this stone napkin ring! (Next year I want to decorate a tree in agate stone ornaments…shhh don't tell Alex)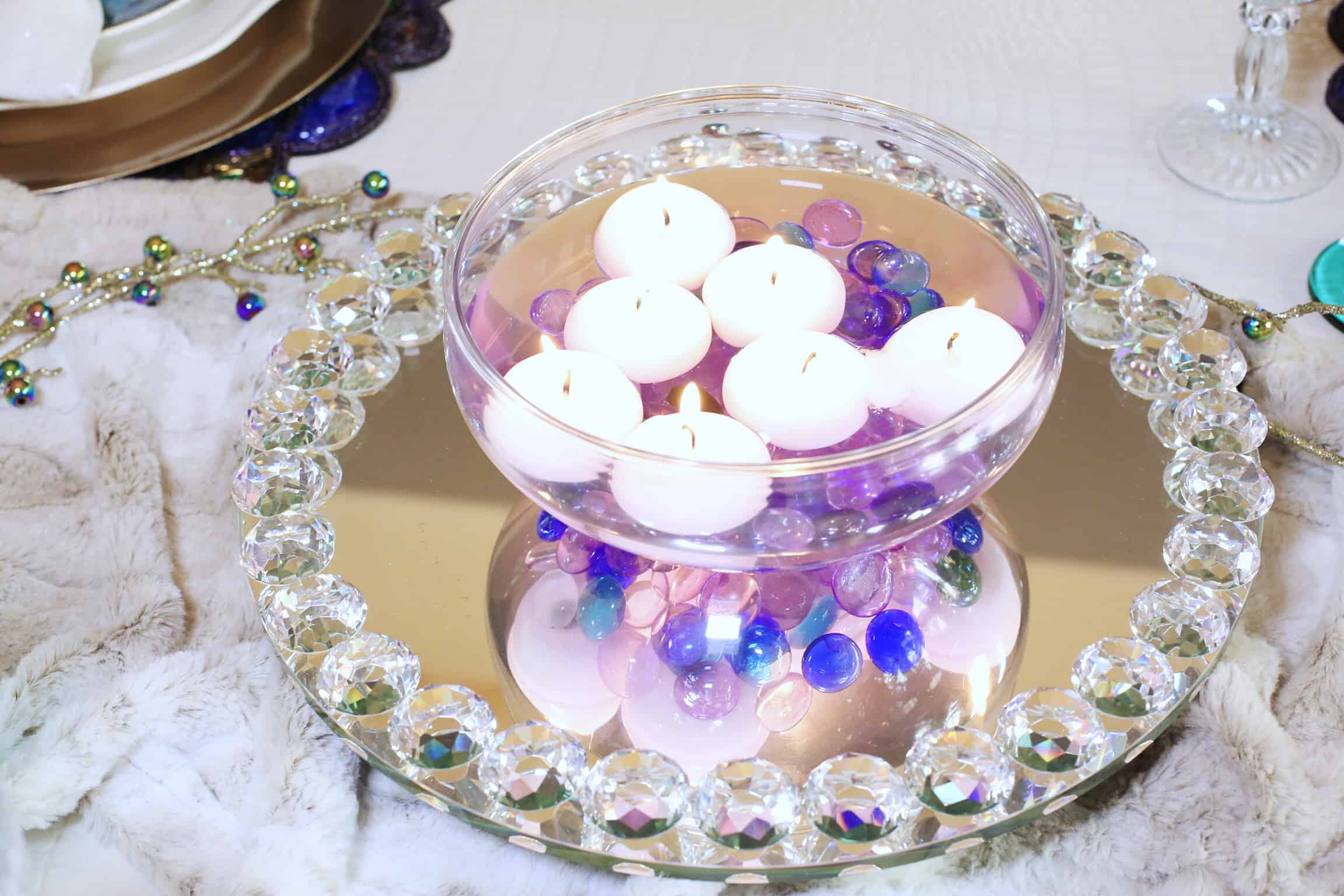 Alex and I found the crystal lazy susan from Home Goods (the best store ever, right?!). It's SO GLAM that I couldn't believe it was under $50. It seriously looks like a $500 item from the Wynn Home Store (which I also love hehe).
Tablescape hack: Floating candles. They are inexpensive, chic, and give the table a warm glow. Plus you can add rhinestones or glass vase fillers to the water to match your color scheme.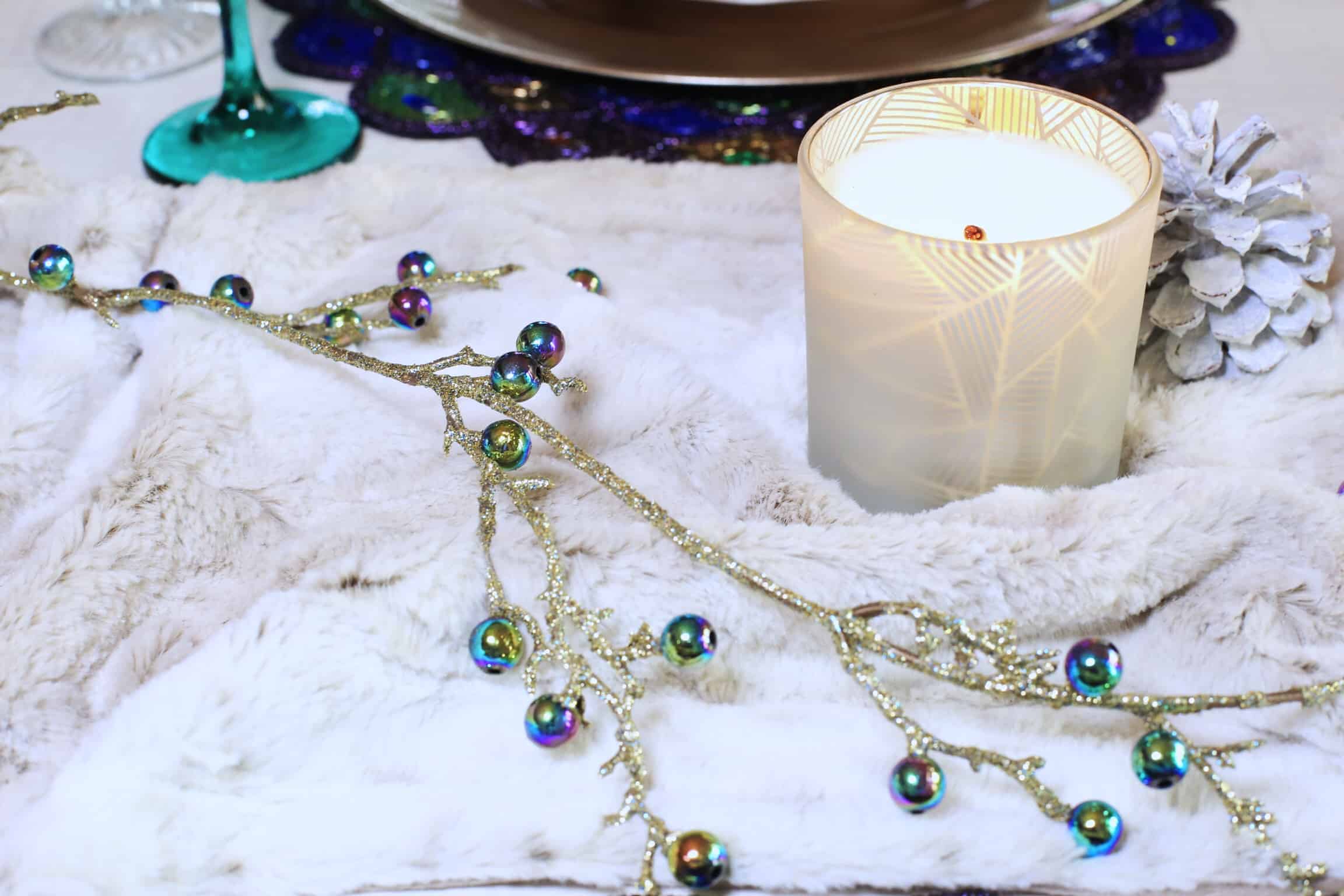 I love this furry table runner. Since I'm exposing my white table top, I felt like the table needed a soft texture otherwise the table looked too cold.
The holidays are an awesome time to stock up on garland or other glistening items that look beautiful for decor anytime of year. I found this gold and metallic one at Michael's, and it really works for my wintery color scheme.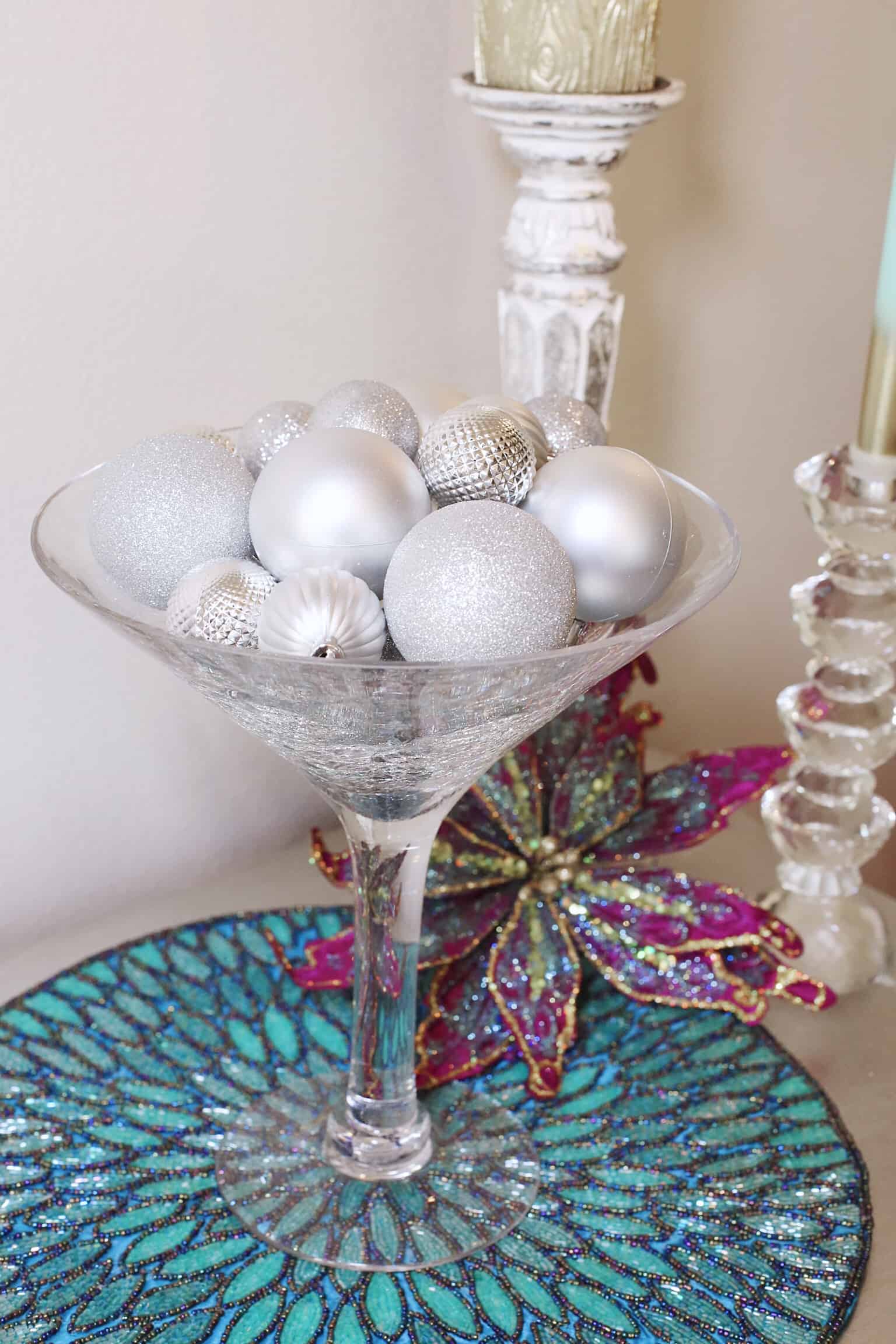 This martini display and the photos below are pieces that I displayed on my buffet adjacent to the dining table.
A really easy and inexpensive way to decorate for the holidays is with Christmas ornaments arrangements. I had this oversized martini glass leftover from a floral arrangement, and now I use it to fill with fruit or with decor items.
I seriously bought these silver ornaments at The Dollar Tree! This piece only cost about $3! So fun.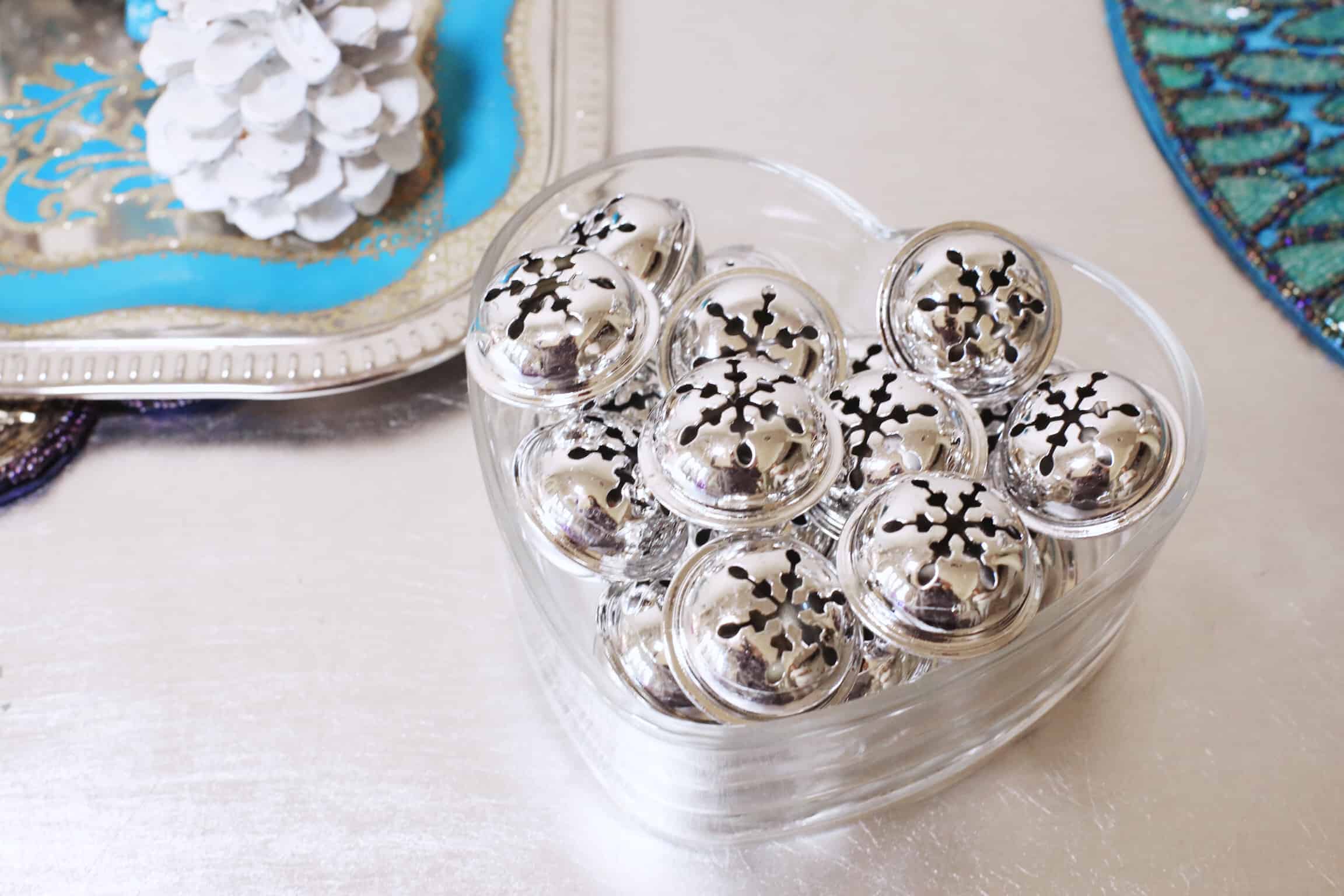 Same case here, I filled up my heart bowl with some little jingle bells also from The Dollar Tree. ????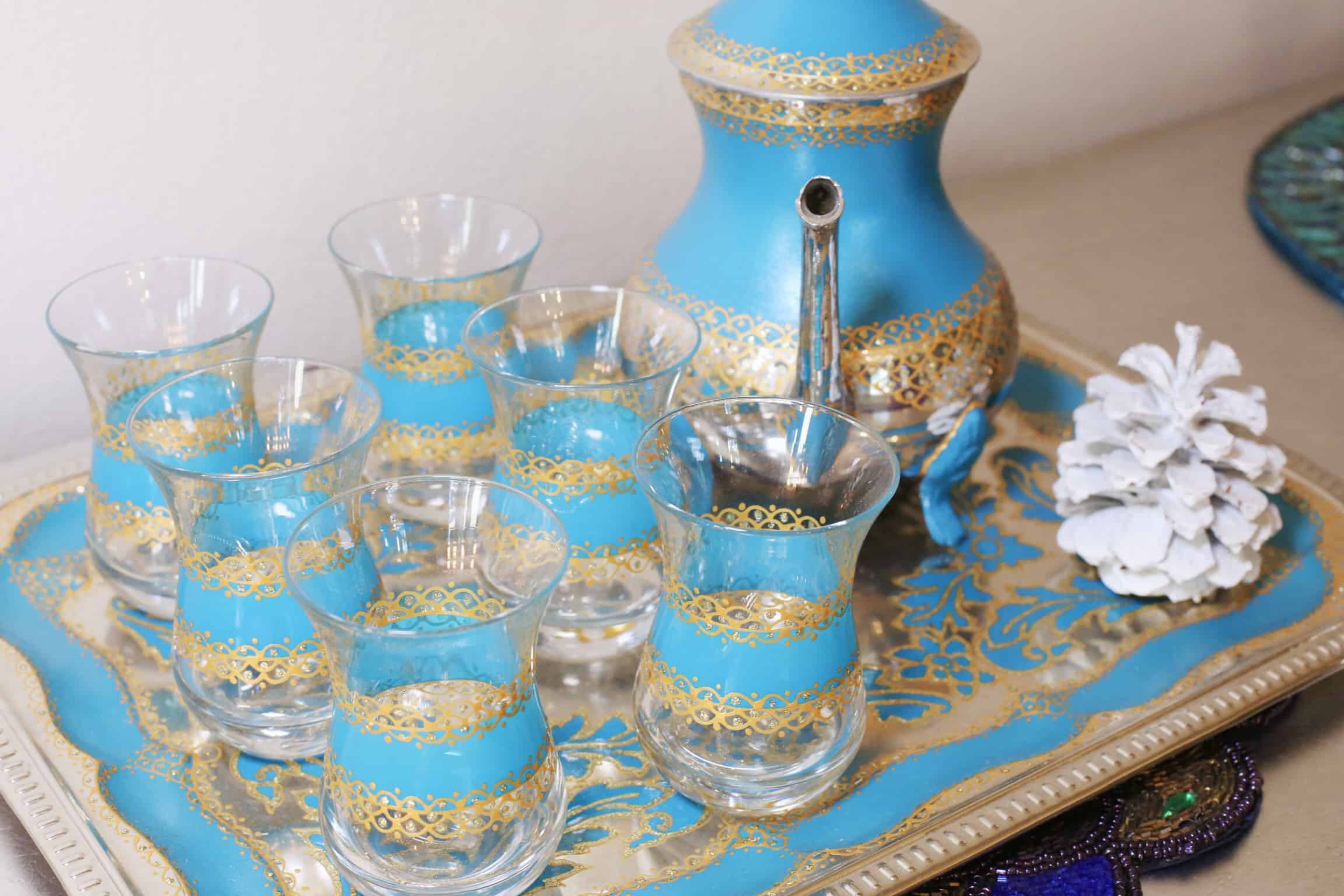 This is my fancy pants tea set that I bought from The American Tea Room years ago. This is one of those special items that I like to incorporate into lots of my decor because it's a statement piece and elevates the whole room. The color this tea set is a color that I use in my home decor, so it really works with almost all of my table designs.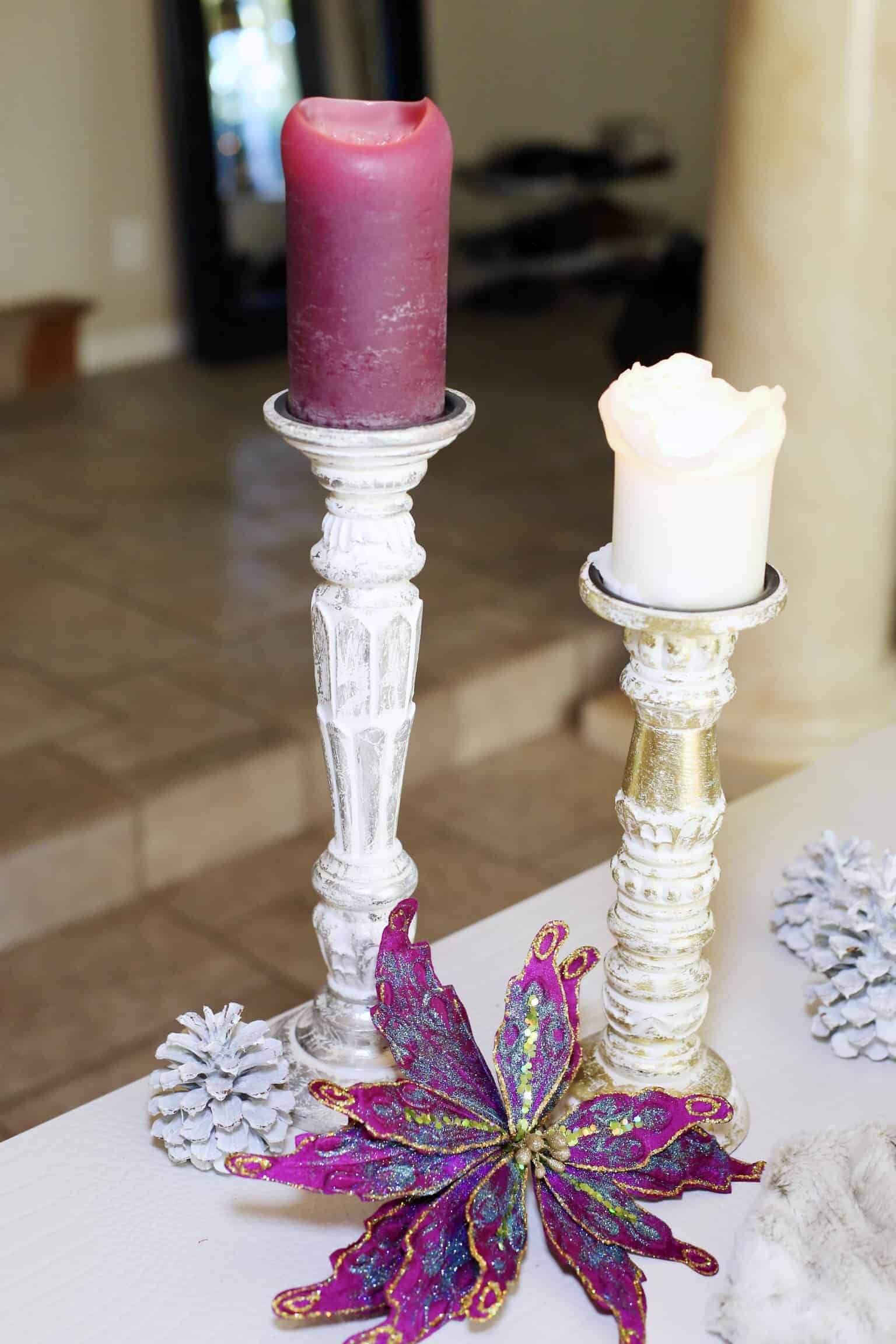 Since there were only 4 of us at my party, I put my tall candles at the end of the table. I like how this brought height to the ends of the table, yet they didn't block anything.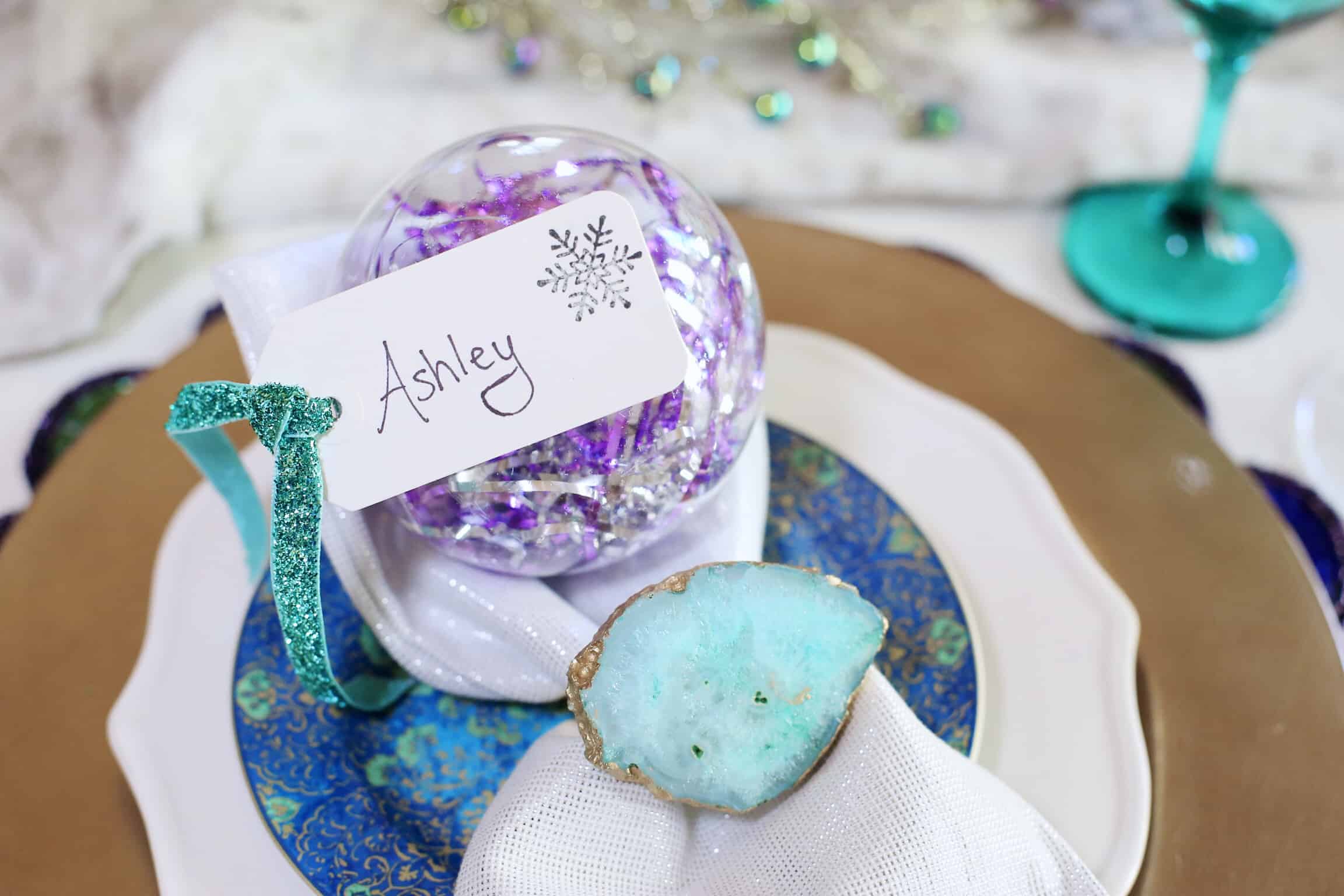 Place settings are a great way to make you guests feel extra special. I filled up an empty plastic ornament with tinsel and I used a name tag and stamp from Michael's to personalize.
Let this inspire you to get creative the next time you have your friends over. You don't have to break to bank in order to have a lovely party! Be sure to tag me #missashleydiana on Instagram or send me a DM so I can see your designs!

SaveSave