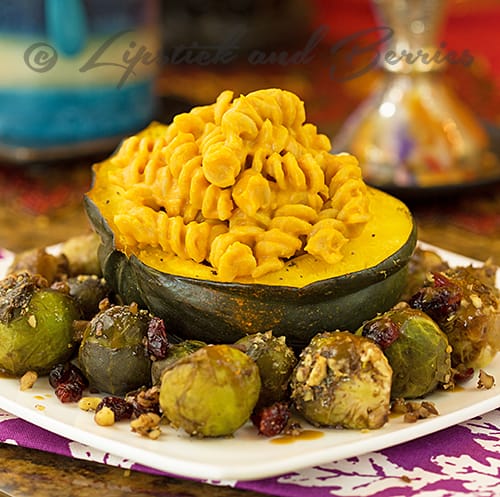 This recipe may have just made all your dreams come true!! Not only is this Mac & Cheeze delicious…but all of its deliciousness is derived from plant power!!  It is dairy free, AND virtually fat-free!! I actually blew myself away with this recipe.  I was so thrilled when I realized that the cheese sauce did not need any added nuts!! Most vegan cheese sauces are SO high in fat, and to me, that just makes the whole experience unpleasant.
This mac & cheese gets its creamy deliciousness from the almighty Yam – an excellent source of plant-powered starch.  (The BEST starch in my opinion…im literally addicted to sweet taters / yams, whatever you want to call them!)  Speaking of healthy starches, if you haven't read The Starch Solution, then I highly recommend it!! It will change your life!
I have this recipe served with glazed brussel sprouts; that recipe will be coming up next week!!
This recipe is the new favorite in our home!! I hope you love it as much as we do!!
Mac & Cheeze Stuffed Acorn Squash
INGREDIENTS
1

Medium Yam boiled

(skin removed optional)

1

cup

Small Carrot boiled

about 1

Water or Vegetable broth for sautéing

1

Sweet Onion sliced

1/2

Teaspoon

Minced Garlic

1

Tablespoon

Lemon Juice

1

Tablespoon

Dijon Mustard

6

Tablespoons

Nutritional Yeast

1/2

Teaspoon

Smoked Paprika

1/4

Teaspoon

Ground Turmeric

Sprinkle of Black Pepper

1/4 - 1/2

Cup

Non-Dairy Milk unsweetened

Other Ingredients

Whole Wheat Pasta boiled

or any of you're favorite pasta

1

Acorn Squash halved and baked