In the spirit of gift giving, I realized there were a few gifts that I LOVE to gift anytime of year. Whether it's a special occasion, a business/client gift, a birthday, or a holiday, these gift ideas below have always worked perfectly when it comes to sending a unique / thoughtful gift to the people that I care about. Also, I find that these gifts work well for people that are hard to buy for or have everything. ☺️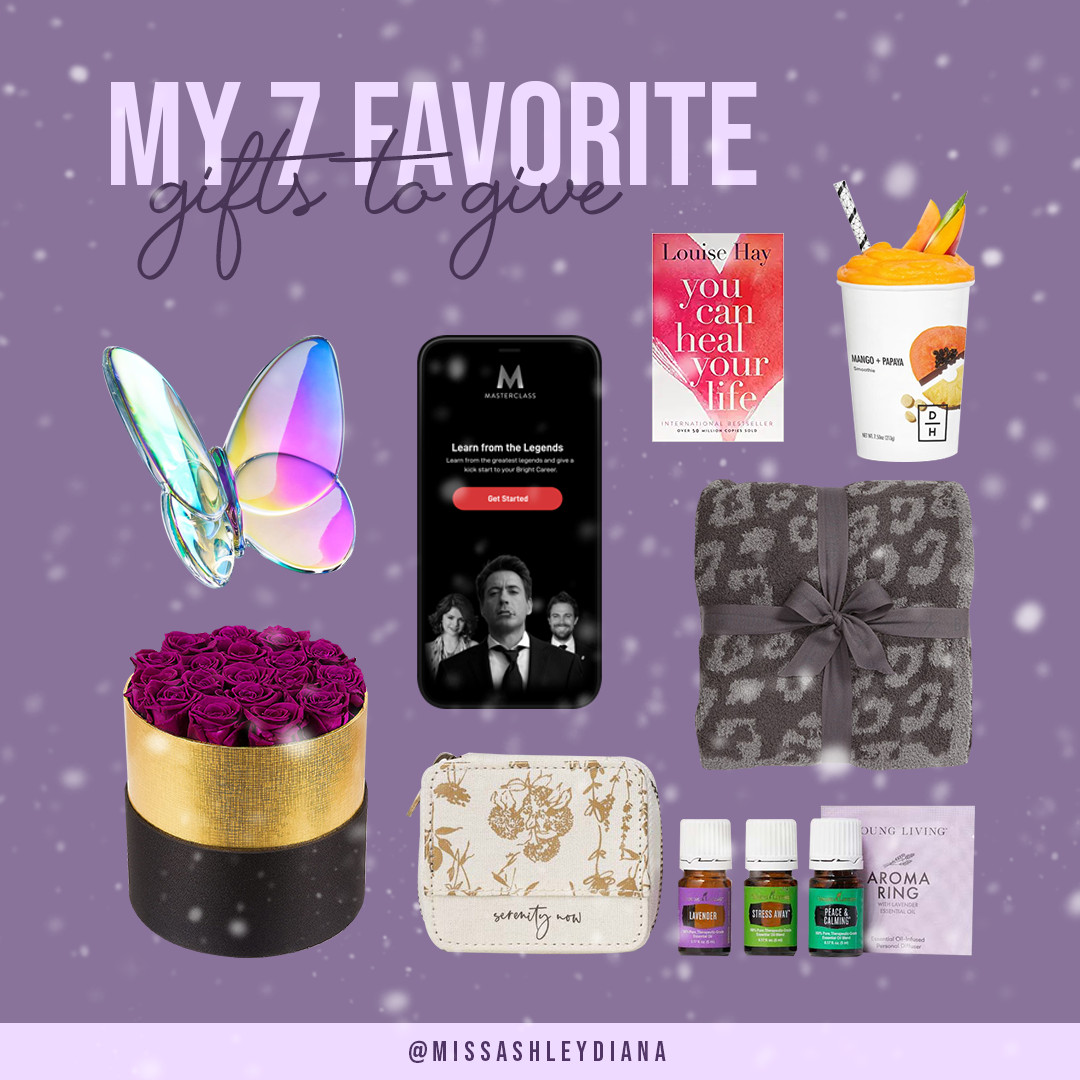 ♡Have you seen the Baccarat Butterflies before? I came across them in Las Vegas and their sparkle caught my attention. If you don't own a piece of Baccarat and you'd like to have a little piece of luxury to gaze your eyes upon daily, consider investing in a piece one day as an heirloom item for your family. All Baccarat pieces are art, and their history dates way back to 1765 in France. I love the butterfly because it's simple, eye-catching, and well, because it's a beautiful way to gift an item of luxury without spending ten thousand dollars. You can use them as a paperweight, sit in on your coffee table, bar cart, night stand, or on your bookshelf or curio cabinet. I gifted this last year to my friend Genevieve (who I call my Texas mom..She has everything so she is hard to buy for, she likes fancy stuff, & she is one of the greatest people in my life… SOOO that means 1 Baccarat butterfly coming right up!) Last thing on Baccarat, their Instagram is gorgeous. (Btw you can also find some colors of the butterfly on Amazon – I have ordered them from Amazon before and they are still very legit).
♡A subscription to Masterclass is by far one of the greatest gifts you can give to anyone. Alex and I absolutely love Masterclass. If you aren't familiar with it, Masterclass is an online course collection with over 100 classes from world's best teachers in For so many areas of life and interests. For example, Bob Iger CEO of Disney teaches business leadership, Natalie Portman teaches acting, Gordon Ramsey & Wolfgang Puck teach cooking (not together – separately), Malala teaches creating change, Kelly Wearstler teaches interior design, Appolonia Poilaine teaches bread baking (btw I have a new appreciation for properly made sourdough bread, holy moly!), & Steve Martin teaches comedy. SERIOUSLY the best in the world. What I have discovered is that you can learn something from each person & class. I cannot recommend Masterclass enough, and it really should cost thousands of dollars but you can get or give Masterclass and have access to ALL classes for only $15 a month. (Btw I think right now there is a special for buy 1 membership and get 1 free).
♡A book that I gift most often to people is You Can Heal Your Life by Louise Hay. If you were born, then this book is for you. 😉 Anytime I am having a conversation with someone and we begin to chat about bettering ourselves, improving certain areas of our life, or past injustices/traumas that have a pattern of to holding us back, THIS is the book I recommend and typically send them immediately via Amazon as a token of my love & care for them. I think everyone on the planet deserves to read this book, and if you or someone you know truly wants to make changes in their life and get to the root of the problem, this is where you start.
♡The Barefoot Dreams Blanket is a staple luxury gift. When I say no one will dislike this gift, I seriously mean NO ONE. This is a fan favorite! IT IS DIVINE, AND it can be for any gender. It IS comfort food for your living room. (PS, you're going to want one too)
♡ Daily Harvest is a healthy, organic, meal delivery service, and it saved us like no other during the pandemic (and living in a hotel). I gifted a week of Daily Harvest to my dad for Father's Day earlier this year, and it was a hit. I love a gift that is thoughtful, convenient, AND one I don't have to ship out myself. (I am not great at getting to the post office!). If there is someone in your life who enjoys healthy eating, then this service will be a hit! It's so handy, fresh, convenient, AND organic. Unless you are committed to making your own smoothies every single day, it's not easy to keep all the fruits, veggies, nuts, seeds, herbs, and superfoods on hand and fresh. I still make my own smoothies, BUT I always have Daily Harvest ones as a backup for days when I simply just don't feel like getting out all the ingredients. BTW you can skip weeks whenever you want; they have an app that make it really easy to adjust your order or skip it all together. I forgot to mention that they have A LOT more food options than smoothies. They have flatbreads and bowls, ice creams, soups, & more.
♡ I really enjoy gifting Forever Roses as well. Who doesn't love flowers that don't die?! They're so beautiful, a statement piece, and a conversation starter. Again, truly an anytime-of-year-gift for anyone special.
♡ Young Living Serenity Now is an awesome "can't go wrong" gift set. It has 3 of the most popular essential oils (Lavender, Stress Away, & Peace & Calming) that are pleasing to most people. Placed in a cute "Serenity Now" zipper pouch along with an Aroma Ring (which is a silicone nose ring infused with lavender.. perfect for under a mask), this is a great gift for less stress anytime of year.