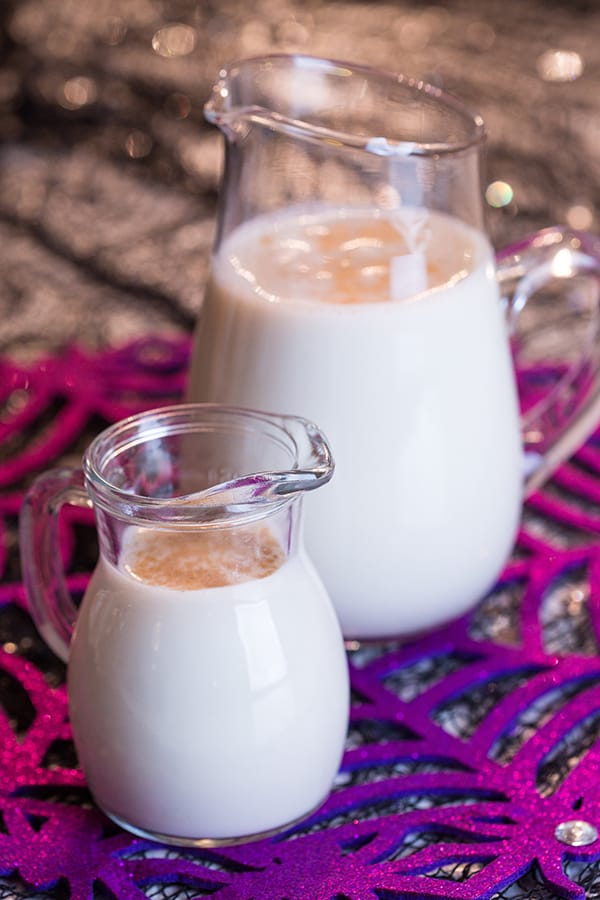 Next up in our Halloween series is Pumpkin Spice Cashew Milk!
Cashew milk is seriously one of my favorite things to make. It is SO easy, and I like it because you don't have to strain it.
If you don't have a Vitamix, you will want to soak your cashews for a few hours prior to blending.
Keep in mind that it's ok to get creative with your cashew milks! You basically can't mess them up. Just keep the ratio of 1 Cup nuts to 3 Cups milk and you can get creative with the rest. I always like to add a little liquid sweetener to the base and then you can add spices or even other juices! It's so fun!
So when I made this for Yvonne and I, she suggested that this would be a delicious and healthy alternative to coffee creamer. I had not thought of that before, but we tried it one morning and it was fantastic.
Enjoy!
Check out all our other Halloween recipes HERE.
Pumpkin Spice Cashew Milk
INGREDIENTS
1

Cup

Cashews

3

Cups

Water

1/4

Cup

Maple Syrup

1

Teaspoon

Pumpkin Pie Spice

1

Teaspoon

Pure Vanilla Extract
DIRECTIONS
Blend all ingredients in Vitamix or high powered blender.

Scoop foam off top and serve.

No need strain.

Store in an airtight container.

Shake each time before serving.

Great as a healthy coffee creamer too.