I woke up this morning feeling extra energized and I decided to make this tofu scramble for Alex. He LOVES breakfast food (me – not so much, but I DO love this), but because cooking breakfast takes a little more time than a smoothie, I typically save this for the weekend.
I was 1/2 through making this and my friend Kristina and her mom came to the house and shortly after Shane arrived to pick up Lily. Soooo, we all ate together & had a really nice unexpected breakfast gathering! The only thing I didn't have on hand was mimosas; so we had kombucha instead. ☺️
I've made this recipe many times. I love it because it's fun and easy and it's packed full of healthy veggies. When I make this I usually make as much as possible because it works really well as leftovers. I even pull out my gigantic wok pan and go full on asian chef for this. (IS it just me or are woks the coolest?)
Honest hour: I just got really REALLY tired, but I promised many people I would have this recipe out tonight. So here it is… Enjoy! Make this in the AM, and I'll be back in the morning to add some more chatter this post. But until then, promise kept. Ingredients below. Be back tmw.
OH AND SPEAKING OF SLEEP, my blog post coming out after this is a literal encyclopedia about all my natural remedies for sleeping well. If you're a night owl and are reading this deliriousness.. comment below lol.
Xo, Ash.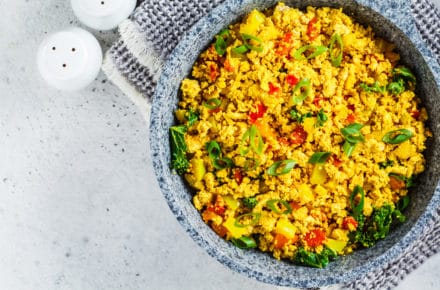 Veggie Tofu Scramble
INGREDIENTS
1

Small Onion

chopped

2

Cups

Mushrooms

chopped

2

T

Garlic

minced

2

Tsp

Turmeric Powder

1

Block

Extra Firm Tofu

pressed & crumbled

1/4

Cup

Bragg's Amino Acid

1

T

Maple Syrup

3

T

Nutritional Yeast

1

Cup

Frozen Mixed Veggies

1

Cup

Cooked Rice

brown rice or fried rice

2

Field Roast Meatless Sausage Links

diced (optional)
DIRECTIONS
Water saute the onions until slightly translucent.

Add mushrooms, garlic, and turmeric. Saute until mushrooms are soft. Add a splash of water if needed.

Crumble tofu in the pan. Mix together.

Add Bragg's Amino Acid, Maple, and Nutritional Yeast. Mix together.

Add frozen mixed veggies, cooked rice, and links (if using).

Mix until all is warmed throughout. Salt if needed.

Serve on a bed of fresh, raw baby spinach wtih sliced tomato and avocado.