I've never met a mimosa I didn't like.
Or maybe I should rephrase that.
I've never met a champagne /sparkling wine / prosecco / mimosa that I didn't like.
(That pretty much covers all the bubblies, right?) ????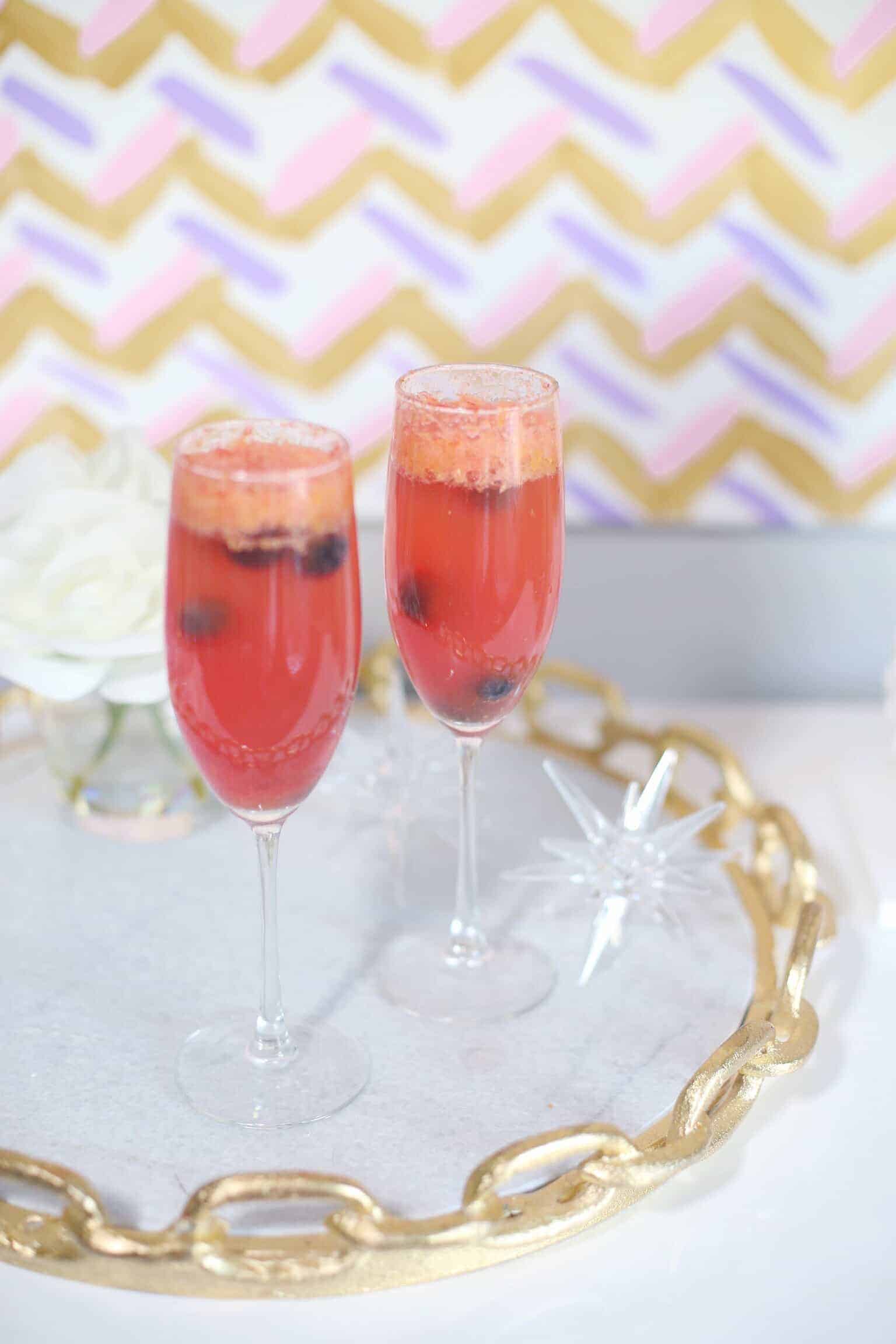 So the 4th of July is around the corner, and I am taking Lily on her first plane ride tomorrow morning!
We are going to Myrtle Beach, SC to see my family for the holiday. Super excited! I have Lil a very festive baby-kini, and a cute romper to wear for the family festivities. She's going to be so stinkin' cute. I cannot wait.
So what's on the menu for our family party? Well, not everyone is plant based, so there will be fresh fish, prob some low-country classics, potato salad, green beans, macaroni salad, apple pie, sweeeeet tea ????, and FOR SURE I will be making my Tomato Avocado Corn Salad with Cilantro Lime Dressing. (It's so perfect for the summer – you have to make it!)
Before the trip, I wanted to make a quick and festive, holiday treat for the blog. I decided that nothing was more refreshing and festive than bubbly and juice.
This is also a perfect drink for any non-drinkers. Just serve chilled watermelon juice for anyone who wants to go sans-booze. Kiddos will love the fresh juice too.
Ok, so heres the deal with watermelon mimosas. These are only going to be delicious if your watermelon is delicious! Make sure to go for the best watermelon you can find. If it isn't ripe and sweet then you'll need to add a sweetener (simple syrup, agave, honey) to your juice blend.
Oh, and if you're not familiar with St. Germain Elderflower Liqueur…well, you're welcome in advance. It's basically the most luscious and sweetest liqueur the pairs perfectly with champagne, fancy vodka cocktails, and Moscow Mules. (Plus the bottle is fancy, so it'll look pretty sitting in your home. St. Germain is really delish in this recipe and gives the mimosas and extra boost of sweetness.
I hope you guys enjoy! Let me know your favorite kind of mimosa in the comments!
Watermelon Mimosas
INGREDIENTS
1

Bottle

Sparkling Wine or Prosecco

1/3

Medium Watermelon

chilled, preferably seedless

1/3

Lemon

splash

St. Germain Elderflower Liqueur
DIRECTIONS
Blend Watermelon and Lemon in a high powered blender.

Strain juice in a fine mesh strainer.

Fill each glass about halfway with sparkling wine (you may need to do this just a little bit at a time to avoid overflow).

Carefully fill each glass with watermelon juice, leaving about an inch of room at the top.

If you'd like it to be a little sweeter, add a splash of St. Germain to your glass.