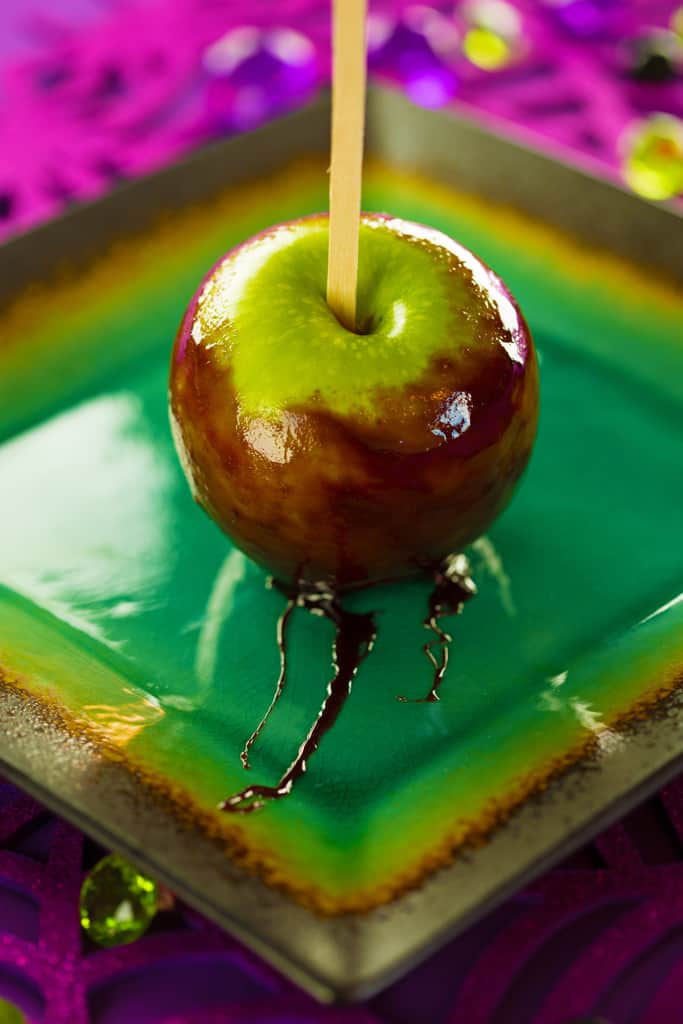 Happy Halloween Week Friends!
This week is a Healthy Halloween tradition for my friend Yvonne and I!  Last year, we created a series of Healthy Halloween treats, and this year we decided to make it an annual tradition. Yvonne came to visit me again in Las Vegas last month, and she brought along her friend Cindy.  Cindy and I became instant friends, and we all had such a BLAST creating this year's goodies.
Here are the recipes that we came up with this year:
Crime Scene Chocolate Cake with Raspberry Blood Splatter
Mysterious Marinara
Green Monster Dip (aka Avocado Hummus!)
Witches Drizzle Candy Apples
These Candy Apples were my favorite recipe to photograph this year!  I don't normally get to photograph "candy" type treats, so it was cool to see the effect of this candy dip.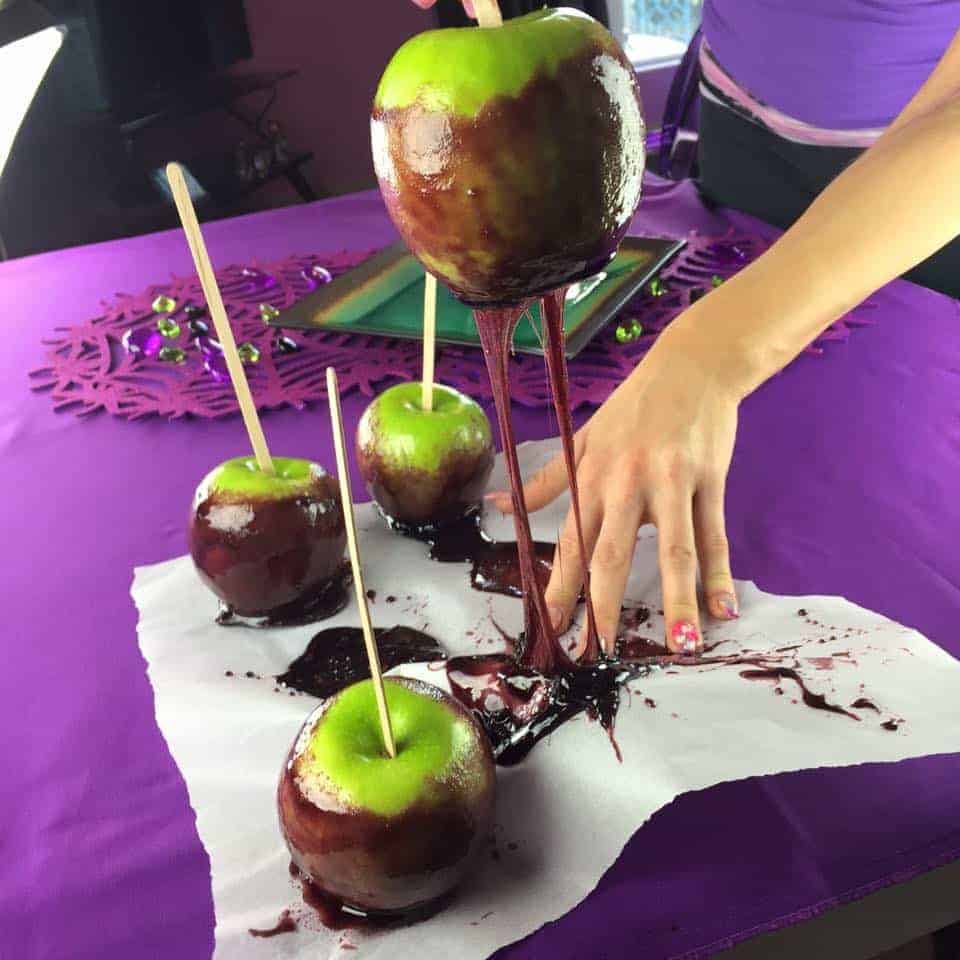 Without using high frutose corn syrup or artificial dyes, we came up with a festive twist on the original candy apple recipe (we even snuck berries into the candy dip!)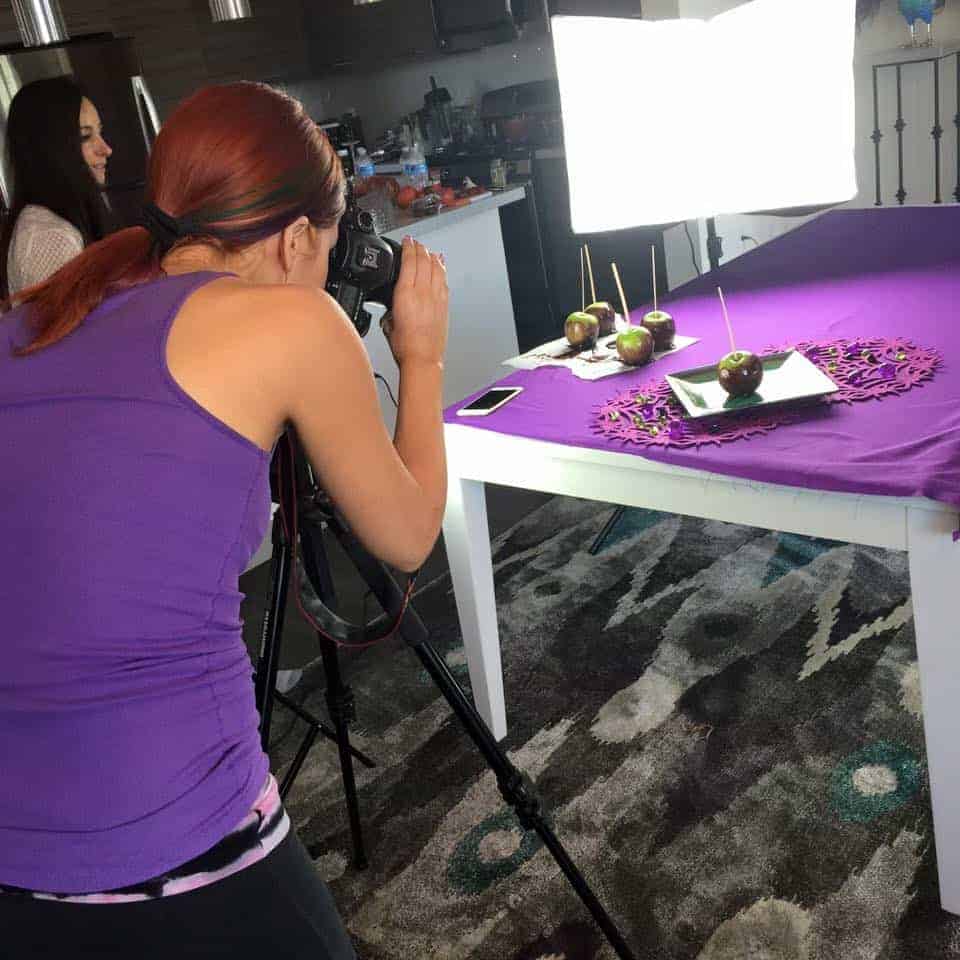 If you would like to revisit our recipe line up from last year (especially our "Caramel" Candy Apples from last year), check them out HERE!
Enjoy the festivities this week y'all! Lets keep this Halloween healthy and fun! 🙂
Witches Drizzle Candy Apples
INGREDIENTS
4

green apples like Granny Smith

2

cups

raspberries

strained, can be frozen or fresh

1

cup

raw coconut sugar

1

Tbsp

fresh lemon juice

4

popsicle sticks
DIRECTIONS
Wash and dry apples. Remove stems and push the popsicle sticks into the top of each apple. Place the apples on a plate or ¼ sheet tray lined with parchment paper. Set aside.

Blend the raspberries. You should not need liquid to blend. If the raspberries don't blend for some reason, measure the berries, place them in the blender, and wait for them to defrost. As they defrost, liquid from the berries will appear, which will help them to blend. Blend until pureed.

Strain the raspberries through a sieve and discard the seeds.

In a small sauce pot, add 1 Tbsp lemon juice, the coconut sugar, and the raspberry puree. Turn heat up to medium and stir for about 10 minutes using a silicone spatula. Turn down the heat to about low-medium and continue to stir until the mixture starts to coat the back of the spatula or a spoon. This may take another 5-7 minutes. Turn off the heat. Allow it to cool for about 2 minutes.

Holding the apple by the popsicle stick, dip the apple into the candy mixture, carefully holding the pot by its handle, moving it so as to help coat the apple with candy. Place the apple onto the parchment. Repeat and if you wish, you can re-coat the apples with another layer. It can also help to cool the apples in the refrigerator for a few minutes before coating them again. Once coated, place in the refrigerator until set and ready to serve.