As the days grow shorter, the colors start to change, and we pull out our scarves, sweaters, and fall decor, one thing I have to keep in mind is to revisit my fall skincare routine.  As the cool breeze settles in, so does my dry skin.  Not to worry, this only means that it is time to switch up my skin care habits and products.  Skincare is like your closet; each season we need to transition into new things!
I live in Vegas, so no matter what the season, it is always necessary for me to moisturize pretty heavily.  Sometimes I feel like our climate cannot get any drier…and then suddenly the fall season kicks in, and my skin goes into ultra dry mode.
Nonetheless, autumn is still my absolute favorite time of year.  Fall recipes are some of my favorite dishes to create and I totally LOVE decorating for the holiday season. I love the warm colors, the fragrant spices, and I love the crisp breeze in the air.  The way I have adapted my beauty routine to make this a seamless-sultry-skin-season is by incorporating the appropriate foods and products into my routine!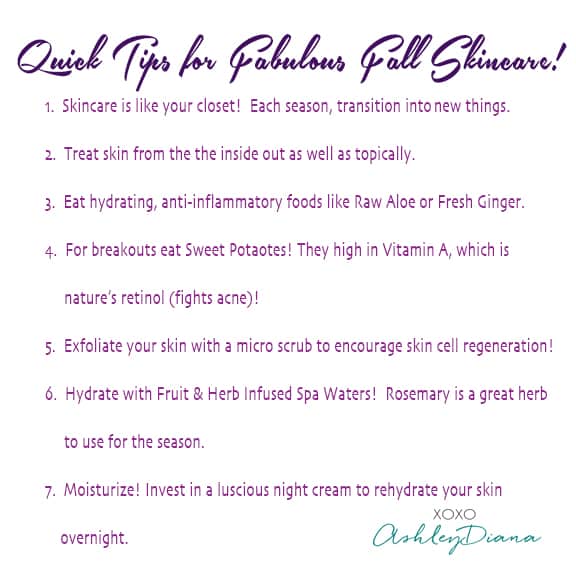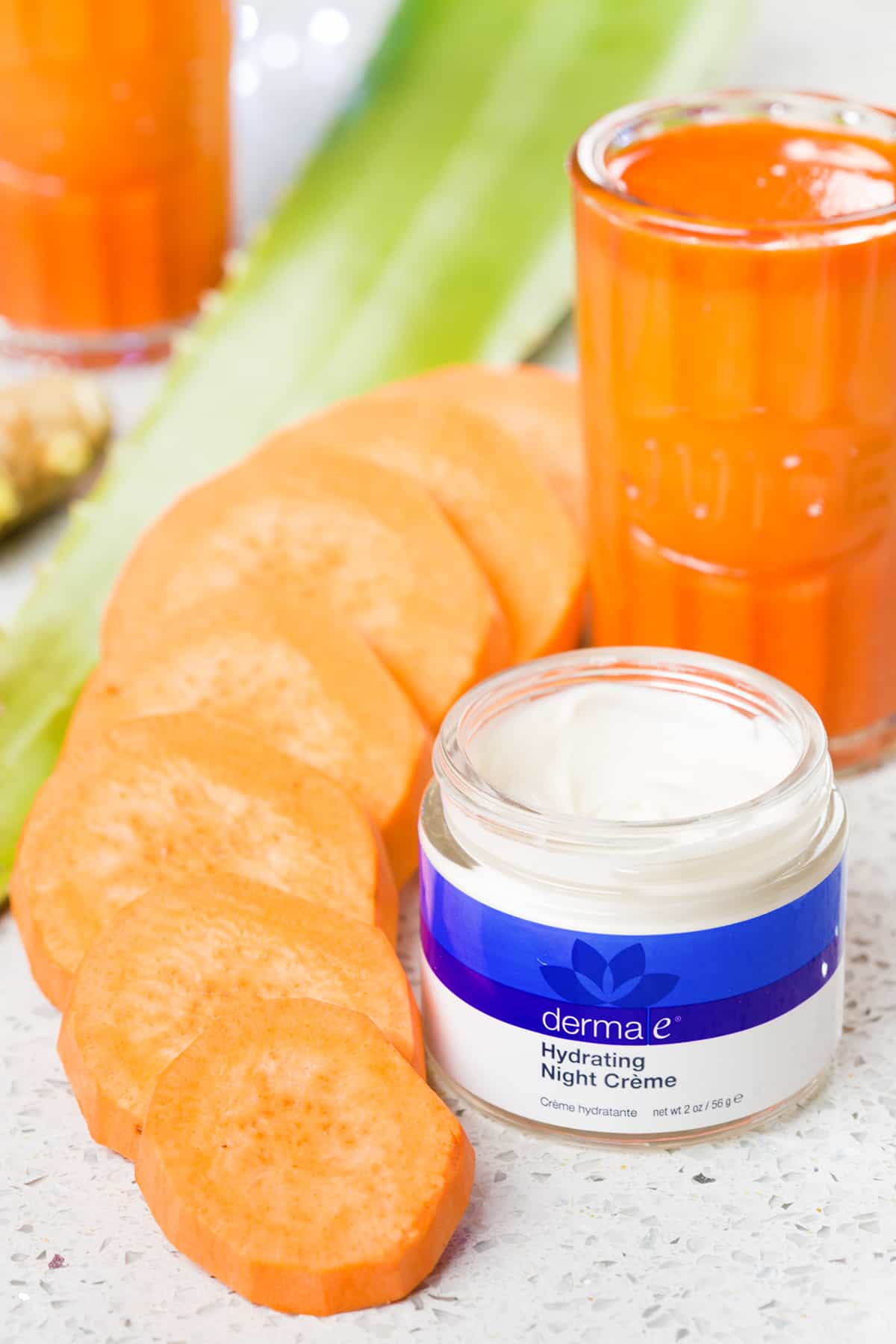 The one thing I most believe in is treating your skin from the inside out.  No matter what products you use or treatments you have, you cannot make unhealthy skin look radiant!  So first thing is first; drink lots of water (of course!), eat hydrating foods, don't smoke, and get lots of sleep (they call it beauty sleep for a reason)! 🙂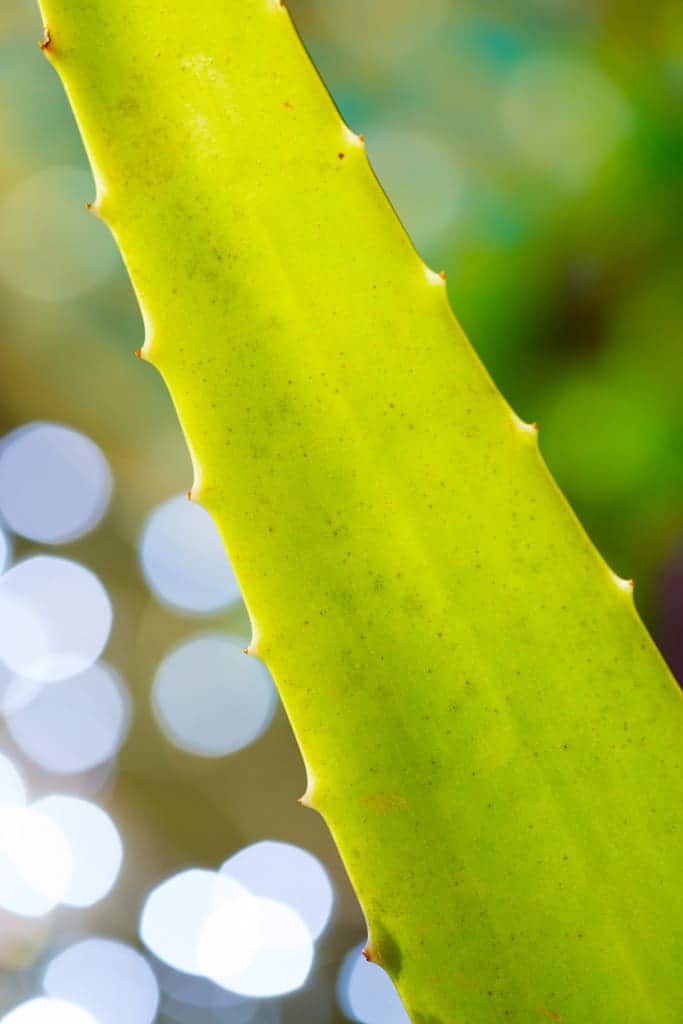 One food that I love to use for hydration is raw aloe (pictured above).  Raw Aloe is most commonly used as a topical treatment, but it can also be ingested.  You can purchase raw aloe leaf at your local health food store, or if you do not have access to the whole leaf, you can purchase raw, organic, aloe liquid online.
I like to slice a piece of raw aloe (remove the skin) and toss the jelly center into my blender as I am making a smoothie!
Sweet Potaotes are a fantastic food to to eat as a part of your skin care routine.  Sweet Potatoes are acne-fighters as they are naturally high in Vitamin A, which is a main ingredient in acne medicines (like accutane).  That being said, sweet potatoes are one of my top foods to eat!  Isn't it beautiful when Mother Nature provides us with remedies we can grow in our gardens??
I love to make this sweet potato juice during autumn because of it's festive, sunset color.  This recipe is delicious, refreshing, skin-brightening, and will help keep your skin free of imperfections.
Sweet Potato Juice
INGREDIENTS
Salad Dressing Ingredients
3/4

Cup

Water

3

Garlic Cloves

, finely chopped

4

Teaspoons

Dijon Mustard

1

Teaspoon

Sea Kelp

2

Tablespoons

Vegan Worcestershire Sauce

1/4

Cup

Nutritional Yeast

7

Tablespoons

Almond Meal
Salad Ingredients
2-3

Heads Romaine Lettuce

Tomatoes

Bell Peppers

(optional)

Croutons

(optional)
DIRECTIONS
Combine all dressing ingredients in a small bowl.

Whisk together ingredients and store in refrigeratory overnight for best flavor. (Can also be served immediately).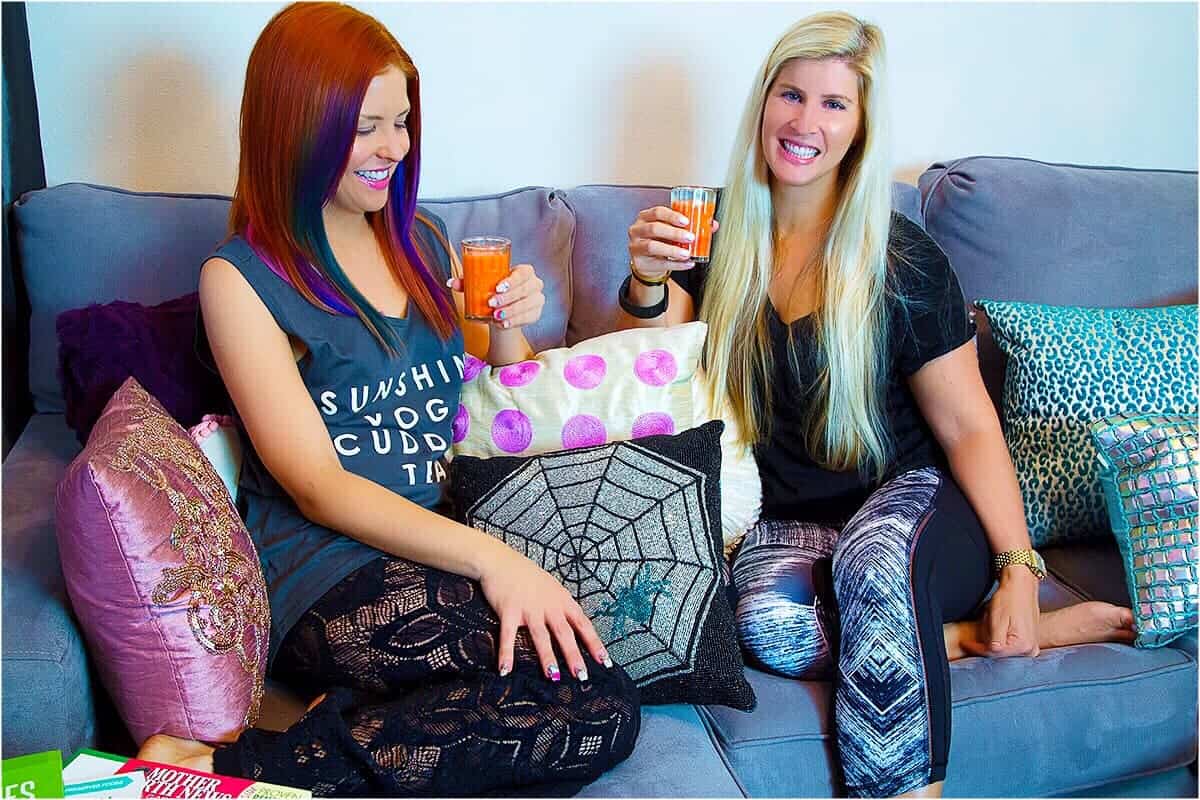 My girlfriend, Megan, visited from Dallas this past weekend.  She visits each October, which in my opinion, is the best time to visit Las Vegas.  This time of year, the weather is so beautiful and the slight cool breeze is divine.  Megan and I had a really great time.  We just relaxed, enjoyed each other's company, and had girls day/night in the whole weekend!  Even though Vegas is known for being a party town, often it's just as fun to relax on a fall evening, with a girlfriend, fresh juice in hand, and watch the Vegas lights from afar.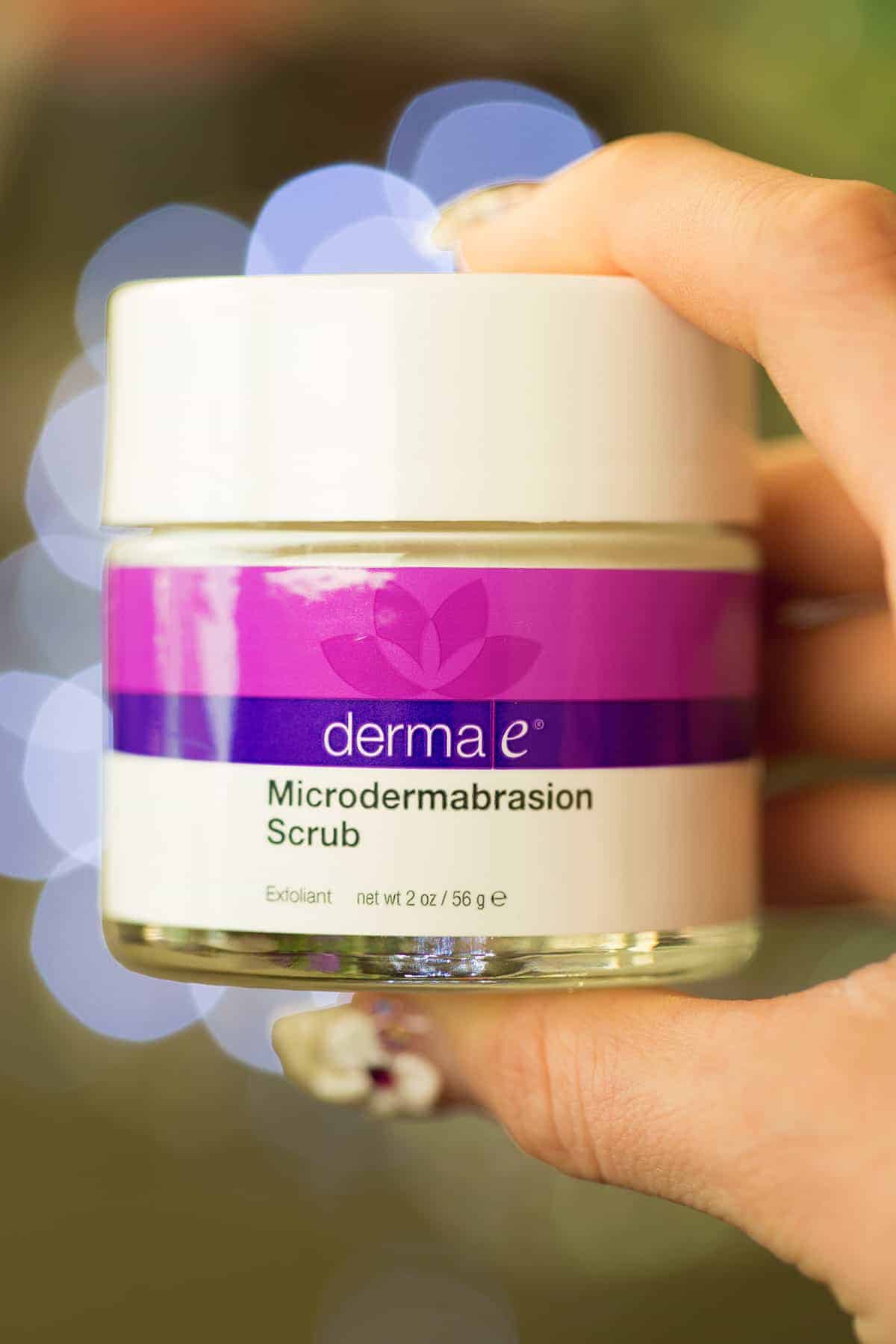 Exfoliating the skin is imperative during the change of seasons, although its best to exfoliate 1-2 times a week.  Exfoliating encourages cell/skin regeneration, and it helps to diminish the appearance of fine lines, wrinkles and acne scars.
I have recently fallen in love with Dermae Microdermabrasion Scrub!  I'm not kidding when I tell you I have a new boyfriend and his name is Micro-Scrub! 🙂  I CANNOT live without this.
If you receive microdermabrasian treatments, I encourage you to try this product!  I used to have microderms every so often, but I have not needed any more treatments since finding this product.  THIS is your salon alternative.
By the way, I wanted to take a moment to give a special thanks to Dermae.  It is often difficult to find a brand with integrity and family values, but Dermae still uphold the highest standards.  After trying their products, I read the story behind Dermae.  The company started small, in a local health food store in southern Cali.  Being clinically tested, cruelty-free, and vegan, their mission is to teach people, through skin care, about nature's most potent ingredients using antioxidants, botanicals, and a conscious lifestyle.
 (coupon code at bottom of post)
As many of you know, I am a fan of Infused Waters (I like to call them Spa Waters)!
These are really easy to make at home, and they make staying hydrated ever so easy!  For those that do not like the taste of plain water, spa waters are a great way to trick your body into drinking more of it!
Our bodies thrive on fresh water! It is essential for every living cell in our body.  Water helps keep the digestive system moving, flushes out bacteria and toxins, and is the number one way to have glowing clear skin!
Pictured above, I have made Rosemary Lemon Spa Water.  Just add a few slices of lemon and one rosemary sprig to your bottle of water overnight. Rosemary is one of the healthiest herbs on the planet, and lemon is a natural detoxifier.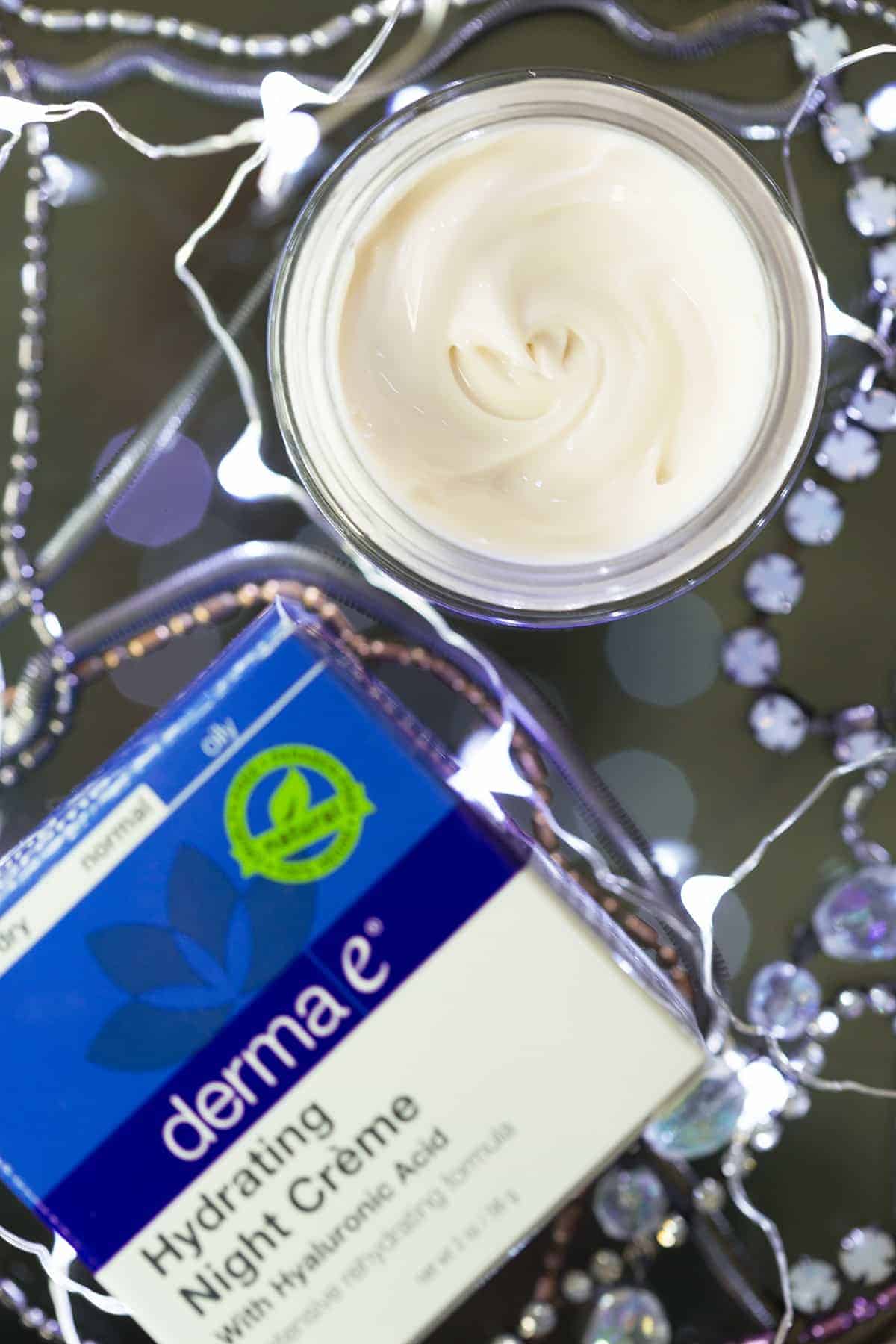 Last but not least, Moisturize!  I am a self proclaimed night cream addict!  There is something about a thick, luscious, night cream that sends me into spa heaven!  Not only do I wear night cream at bedtime, but I often wear it during the day too.
Supple skin equals a youthful, glowing look, and don't we all want that?!
An stellar cream is the Hydrating Night Cream by Dermae.
This is a deeply penetrating formula, which I find perfect for the change in season.  This product contains Hyaluronic Acid, which is nature's "moisture magnet!"   A single molecule of HA can hold up to 1,000 times its weight in water, binding moisture to help plump, soften, smooth, tone and rehydrate skin. <<< (totally amazing!)

Make sure to take their Skin Care Evaluation so you know the products bet suited for your skin type!