Denim skirts have never been out of style in my book.  Denim skirts are a classic!  As long as you get creative and style the look uniquely, then you can wear a simple denim skirt for a lifetime.  I love my denim skirt because it can be worn a variety of ways and still stand the test of time.
I have styled this classic denim staple three ways.  Each have a completely different vibe.  I love getting multiple looks out of one classic piece!
Boho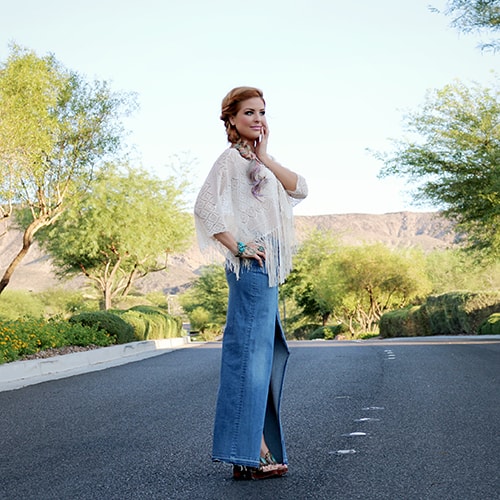 You either love boho or hate boho.  I happen to be a lover!  As long as the Boho isn't grungy, Im all for it!  This look is still "boho" but not overboard!  Wear your boho look with a side braid and always wear a long necklace!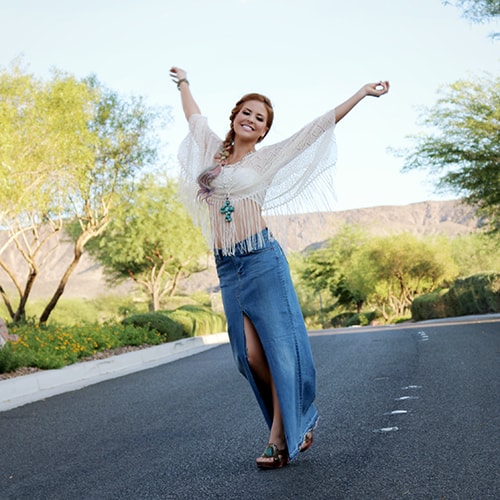 I would wear this to the mall, to lunch, or grocery shopping! I may even wear it while standing in the highway haha! 🙂
---
Sporty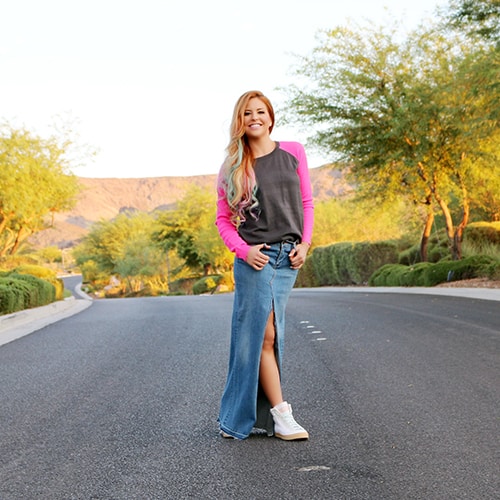 High top sneakers with a denim skirt may be unexpected, but that is what I find so fun about this look!  I love an extra casual outfit with a twist!  I would wear this almost anywhere -errands, coffee shop, grocery shopping, you name it!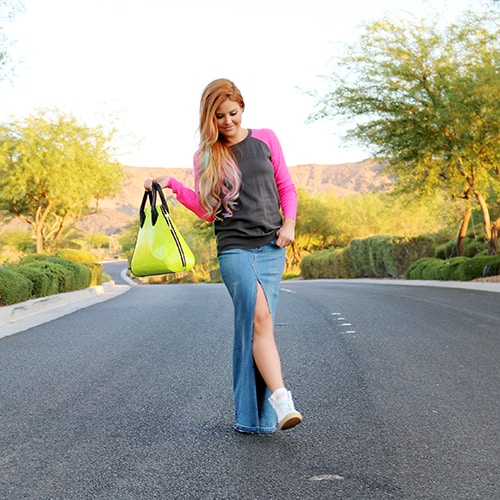 I found my gray & pink sweater at a small, inexpensive boutique in California.  It was a great find because it was under $20!   (Wish they had an online store…LOL…actually I wish I could remember the name of the store!)
I like this hot pink with a pop of color, so my friend was kind enough to let me borrow her neon canvas tote for my snapshot!  I love different colors and textures!
Sneakers are by Stella McCartney!  She's an all vegan, compassionate, fashion brand!
---
Glam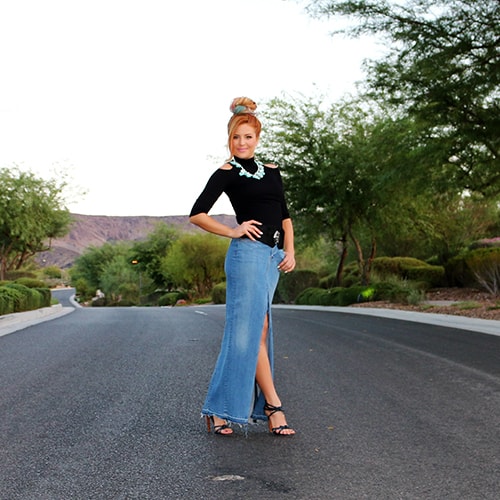 I would wear this look to a "dressy casual" dinner.  A denim skirt is perfect for an event where you aren't sure how "dressy" you should be.  By pairing a long denim skirt with glam accents, you will have accomplished the perfect "casual glam" look that will blend into any social situation perfectly!
My black 3/4 sleeve turtleneck and the faux leather black belt are from Bebe!  (I love that store!) I looked at all Bebe's shoes and handbags recently and I was elated to find that they were all vegan (at least in the store in Las Vegas they were!)  How cool!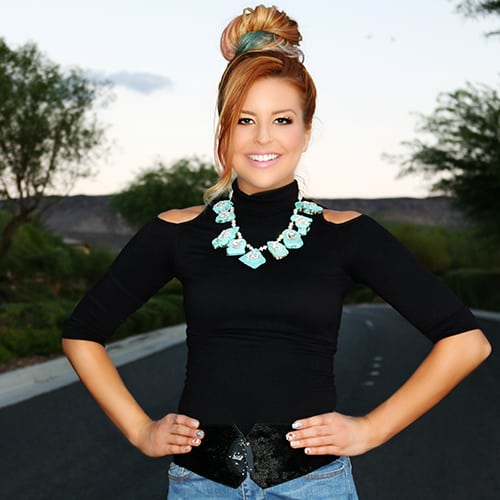 To make this look a bit more chic, I decided to style my hair up and away from my face.  Even though this bun is messy & disheveled, it gives the whole look a sophisticated feel without being too stuffy!
Photos by Melanie of MJ Black Photography!
---
What Are Your Thoughts On Denim Skirts?!
Let me know in the comments below!