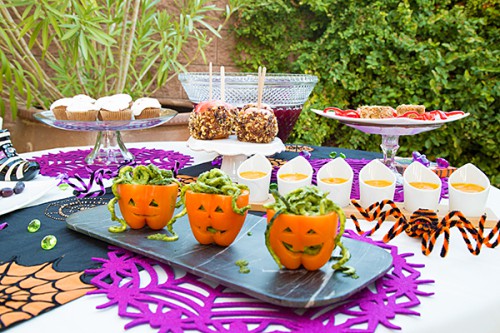 We are ready for Halloween! Are you?  If not, my friend Yvonne (from My Eclectic Kitchen) and I have some delicious recipes to help make your halloween a more fun and much healthier!  You may already know that my girlfriend Yvonne visited me a couple weeks ago – she's a vegan chef and she created an amazing App called My Eclectic Kitchen, for the iPhone and Android that is full of Vegan Recipes!
Given that we are both totally obsessed with healthy vegan food, we decided that it would be really fun to collaborate on a seasonal menu!  With Halloween on its way (along with all its typical unhealthy food & candy) we decided to put our spooky brains together and create a truly HEALTHY HAPPY HALLOWEEN MENU!
"Caramel" Candy Apples
Kabocha Squash & Ginger Soup
Pistachio-Orange Blood Splattered Cupcakes
Zoodle Brains with Pumpkin Kale Pesto
Sweet Potato Crab-less Crabby Cakes
Witches Kombucha Brew
Grape Snakes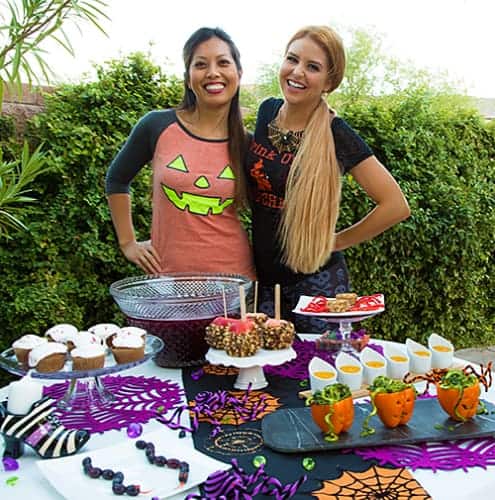 We had blast hanging out over the weekend, and in the midst of all the crazy Halloween cooking, we still managed to have some girl time and non-Halloween recipe time!   Yvonne made Danny and I her delicious Chikpea "Fish" Tacos with Kale Guacamole!  For lunch one day, we had her massaged Kale Salad!  (Both of those recipes are in her app!)  We also shared delicious green smoothies and tea, I made Yvonne my Raw "No More Blues Blueberry Oats" for breakfast, we had a girls night out, and we saw an awesome Cirque du Soleil Show!!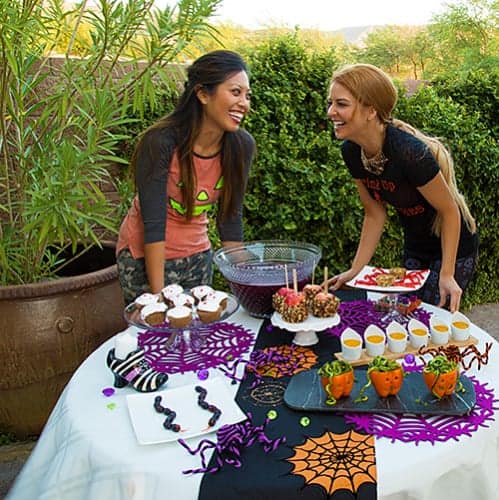 Make sure to check our fun-filled weekend on my previous blog post!  Yvonne is one of the sweetest people I've met, and believe it or not, we met through Instagram! She's an Insta-Friend turned Real Friend!  🙂
We interviewed each other so you can learn a little more about us!  My interview Q&A will be on Yvonne's Blog HERE, and my interview questions for her are below!!! ENJOY!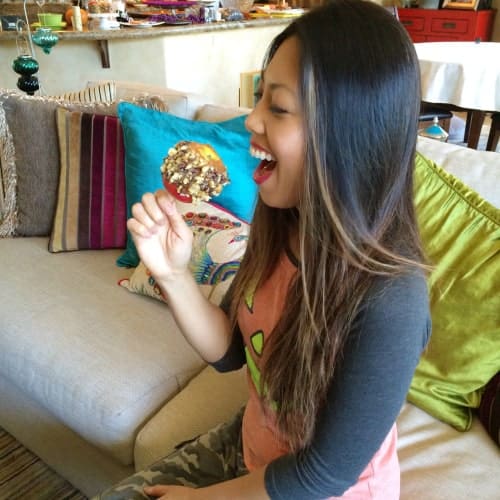 NOM NOM CANDY APPLES!!!!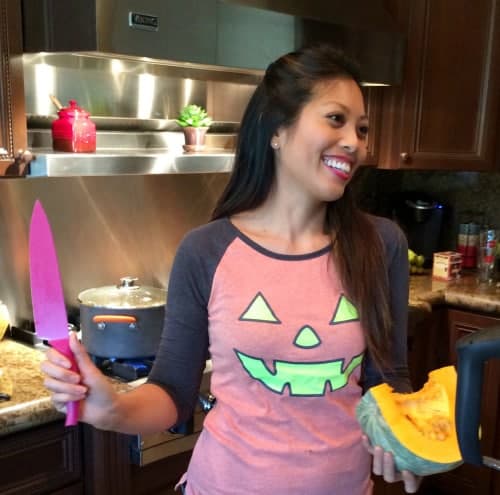 I spy Kabocha Squash and a Fancy Schmancy Pink Knife!!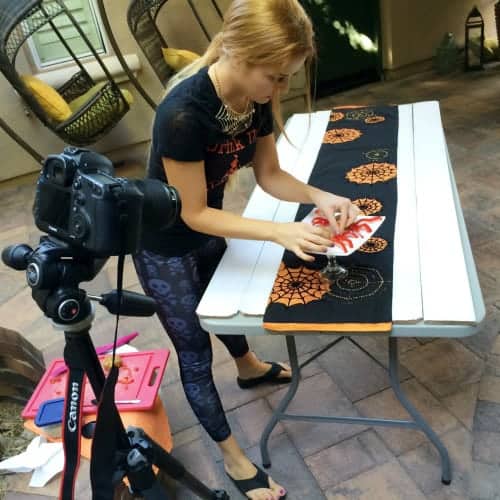 Crabby Cake Assembly!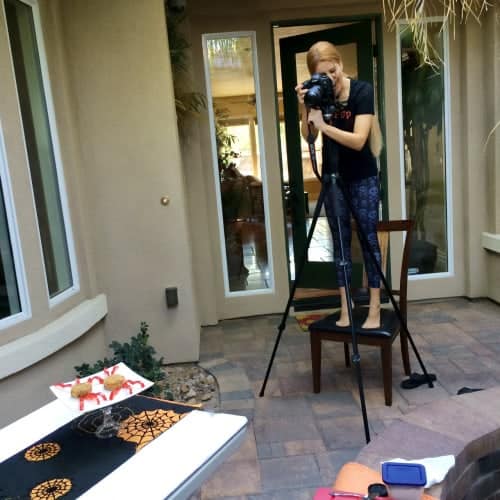 Lights Camera Action!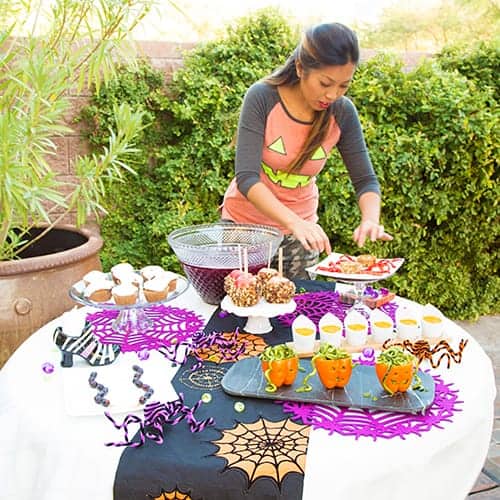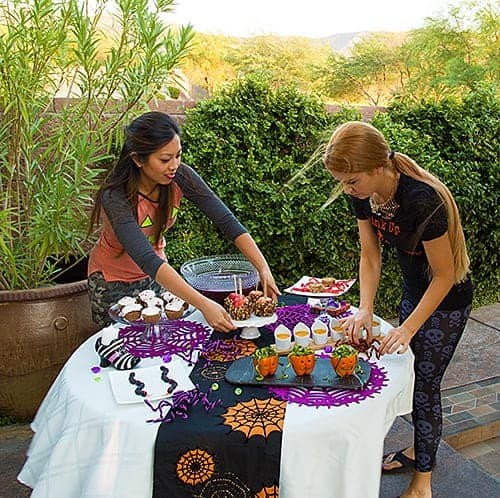 Setting up the scene!

---

Y: Thank you! Food has been one of my greatest pleasures in life.  I started cooking as a young girl with my mom, using family recipes passed down to her.  My mom and I eventually cooked our way through the Better Homes and Gardens New Cookbook.  During high school, cooking became more of an intuitive process for me.  I started making my own pasta sauces and desserts.  Then in college, I would host dinner parties where I would cook extravagant meals for my friends.  My love for food grew even stronger when I started working as an accountant and began dining at top restaurants, guided by reviews and high ratings (24 or higher) from the Zagat guide.  Little did I know when dining at Suzanne Goin's restaurant, Lucques, that I would eventually work for her.  In my mind, and on many others' minds, she was the best chef in Los Angeles—her food left a lasting impression that was very inspiring to me.
After 7 long years in accounting, finance, and real estate, I decided to focus on what I was most passionate about– my lifelong passion for cooking delicious food.  I packed my business clothes and enrolled in culinary school at the Le Cordon Bleu College of Culinary Arts in Pasadena.  I wanted the ability to create food that would leave a lasting memories.  After completing culinary school, I felt like there was so much more to learn.  I wanted to know to make delicious soups, salads, and main courses as wonderful as Jame's Beard award-winning chef, Suzanne Goin's. So, I decided to go straight from the source and contacted Suzanne Goin, (chef/owner of Lucques, AOC, Tavern).  With much persistence and after a stage or try-out, I was taken under her wing at Lucques as an intern.  I later became a part of the Lucques Catering team- catering several high profile events and parties and then was hired on full-time at Tavern (another restaurant owned by Suzanne Goin) in pastry.
While working within the fast-paced kitchens of Chef Goin's restaurants, Lucques, and Tavern, I learned the importance of preparing foods farm-to-table while focusing on locally grown seasonal foods.  I had an amazing experience working the line and preparing for service.  I was honored to prepare dessert for Barack Obama's fundraiser dinner at Tavern and was fortunate to cater with Lucques at the SAG awards and Oscar parties for a few years.  It was exciting and I will forever savor the memories.

Y: My inspiration for new recipes comes from my childhood, my multi-cultural background, my favorite restaurants and markets, devouring cookbooks, magazines Instagram, and blogs.
After trying different vegan recipes online, I was inspired to create more healthy alternatives to not-so-healthy foods, and to turn recipes I learned in culinary school and at the restaurant into vegan and gluten-free recipes. All of my recipes are vegan, refined sugar-, gluten-, soy- and dairy-free, and best of all, devoid of refined foods.
More than ever now, I enjoy experimenting with exciting ingredients in my humble city kitchen.

 Y: I became vegan 3 years after I graduated from culinary school.  In 2011, I was concerned about my own autoimmune disease, hypothyroidism, and my overall wellness.   I felt compelled to exercise my culinary skills and creativity to harness a lifestyle that would allow me to maintain a good balance of healthy and delicious tasting foods.  I thought it was ever-important for me to eliminate butter, cream, sugar, and kosher salt in the foods that I cooked for myself.  Although I was a frequent runner and physically thin, my LDL (bad cholesterol) and triglycerides were high for the very first time in my life.  I attributed my suboptimal blood results on copious amounts of taste-testing at work, staff meals, and feasting on day-old pastries that would have otherwise been tossed.
Luckily, a great opportunity presented itself and I was prepared to leave the restaurant business to become a private chef for clients who wanted flavorful and satisfying food, but low in caloric intake and high in nutrition.  In collaboration with a client's fitness expert and self-care coach, Anna Price, I developed balanced meals to meet specific weight-loss goals while still being able to satisfy my clients' sophisticated palettes.

Y:  In early 2013, I read Kimberly Snyder's The Beauty Detox Solution and it positively changed my life!  This book kickstarted my transformation into a vegan and gluten-free lifestyle.  I feel that my body is healing itself with the whole foods I consume.  I've never felt happier and I've never been healthier.  When I went vegan, I also stopped drinking coffee.  Once I stopped drinking coffee and started my mornings with green smoothies, I felt more energetic, lighter on my feet, and my skin started to glow.  I also lost weight, my mood has been more bright and cheerful, my hair/skin/nails became stronger, and I now have optimal digestion!  My friends and family tell me this is the best they have ever seen me.
I am passionate about vegan cooking that not only looks and tastes good, but also caters to a healthy lifestyle.  I develop healthy alternatives to the normally not-so-healthy foods.  All of my recipes are vegan, white sugar-, gluten-, soy- and dairy-free, and, best of all, devoid of refined ingredients.
Initially, I became vegan for health reasons.  I then started learning more and evolved into an ethical vegan– for animal rights and for the betterment of the environment and the world.
I am very passionate about health, fitness, nutrition, protecting the animals from slaughter and mistreatment, and helping the environment, while still eating deliciously.  I want to keep spreading the word!
I am so grateful for this journey.  I pray and meditate daily.  I thank God for another day, for the life I am living, and all my blessings.  It has been so positively life-changing.  I am also thankful that my husband stands beside me in this journey.  All the goodness that flourished from this lifestyle has brought me so much peace.

Y:  I enjoy making my chickpea "fish" tacos with kale guacamole for dinner.  Not only are they quick and easy to make, they're pretty filling, and Peyman loves them!

Y:  We each have our favorites.  Peyman's favorite vegan restaurant is Crossroads.  My favorite vegan restaurant in Los Angeles is Café Gratitude.

Y:  My family particularly enjoys my semi-raw pumpkin pie.
Every Christmas and Thanksgiving, my mother-in-law and my sisters call me to request a pumpkin pie. Vegans and non-vegans alike enjoy my vegan and gluten-free pie!

Y:  Plan and prepare in advance.  If you're really not confident in the kitchen, I would test recipes beforehand.  Also, I make most of the meal a day in advance.  I recommend doing that as well. I typically make sides, a "meat" component, and dessert in advance, then on the day-of I saute' vegetables and reheat food that needs to be heated.  That way, I spend more quality time with family rather than slaving away in the kitchen.

Y:  I'm excited to debut a new cookie, a Ginger Molasses Cookie.  It's perfect for the holidays.

Y:  I am addicted to kale. I love massaged kale salads.  I can eat them every day, and well, I actually do!

Y: Peyman sometimes craves the texture of meat, so I try to come up with plant-based alternatives. Since we don't consume soy and many vegan meat alternatives are made with soy, I've been experimenting with different plant proteins, trying to come up with creative and delicious soy-free meat-like options.

Y: Thank you!  I believe that beauty starts within.  First, with optimal digestion—if less energy is spent in the belly, digesting food, more energy is distributed beautifying other parts of the body.  I pay close attention to proper food combining and proper eating order.  Secondly, I like to eat foods that brighten and nourish the skin from the inside out.  I drink a glowing green smoothie with turmeric every morning for breakfast.  It helps rejuvenate the skin, makes it glow, and gives it vibrancy.
Since I work from home, I drink warm lemon water throughout the day.  Lemon is very powerful. It helps support liver tissue and our liver is our main detoxifying and fat-burning organ, so the cleaner the liver, the better my skin will look. I also enjoy ¼ cup of homemade sauerkraut before lunch and dinner, which aids digestion as well.  All of these habits aid digestion, sending energy to heal and improve other areas of my body—not just in my skin, but my hair, nails, and overall health.  I also use coconut oil as my daily moisturizer.  It keeps my skin moisturized and wrinkle-free (as long as you don't sleep on your face!)

 Y: I love coconut oil for my skin and argan oil to keep my hair hydrated and shiny.

Y: 1) Use sharpened knives when cutting your fruits and vegetables. I recommend watching a YouTube videos to learn knife skills.  Once you do, you will be much more efficient and you'll mostly likely enjoy cutting more!
2) Have a kitchen timer, so you don't over-bake goods in the oven.
3) Natural flavors, such as citrus products, herbs, spices, and vinegar, add zing to meals while zapping fat and sodium.
---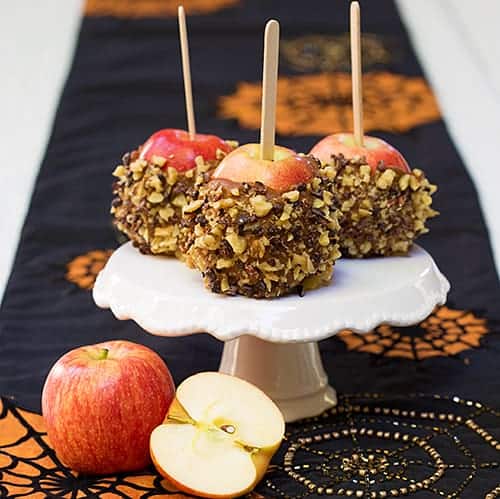 These "Caramel" Candy Apples are absolutely spectacular!  These are a must try for anyone who loves apples and loves a sweet treat! (I am craving these all the time now!! So delicious!)  Refined Sugar Free! 🙂
Caramel Candy Apples
INGREDIENTS
Ingredients: (Serves 6-8)
6-8

Apples

your favorite

6-8

popsicle sticks
Caramel Ingredients:
3/4

Cup

Sweet Potato

cooked

8-9

Soft Medjool Dates

pitted

2

Teaspoon

Vanilla Extract

no alcohol

4

Tablespoon

Almond Milk

or any non-dairy milk
Topping Ingredients:
1

cup

walnuts

chopped

½

cup

cacao nibs
DIRECTIONS
Caramel:
If you don't mind using a microwave, making this is a snap. Rinse 2 sweet potatoes or one very large sweet potato (enough for 1 cup of cooked sweet potato), place on a plate with about 4 Tbsp water. Cover with a damp paper towel and microwave for about 5-6 minutes, or until fork tender. Alternatively, steam or bake the sweet potato until fork tender. Steaming on the stovetop is quicker than baking, so if you don't have a microwave, I would recommend steaming it. Bake at 450 degrees F for 50 minutes, flipping it halfway through. Steam for 15-20 minutes.

Note: I always prefer peeling the sweet potato after it has been cooked because it's time-saving. When it is cooked, cut it lengthwise in the center and open it. Spoon out the tender flesh. Measure ¾ cup of the cooked sweet potato.

In a high-powered blender, add the almond milk, vanilla, dates, and sweet potato and blend until smooth.

Place the "caramel" in a medium bowl.
Assemble:
Line 2 large plates or a baking sheet with parchment paper.

Remove the stems from the apples. Place the apples stem-side down and push the popsicle sticks into the top of the apple (opposite of the stem-side).

Place the chopped walnuts and cacao nibs onto a plate and mix.

While holding onto a popsicle stick impaled in the apple, with one hand, use a butter knife to spread the "caramel" around the apple, about 1/18' thick. Then sprinkle the walnut/cacao nibs onto the "caramel" while turning it.

Place the finished "caramel" apples onto the lined plate or baking sheet and refrigerate for at least 30 minutes before serving.
---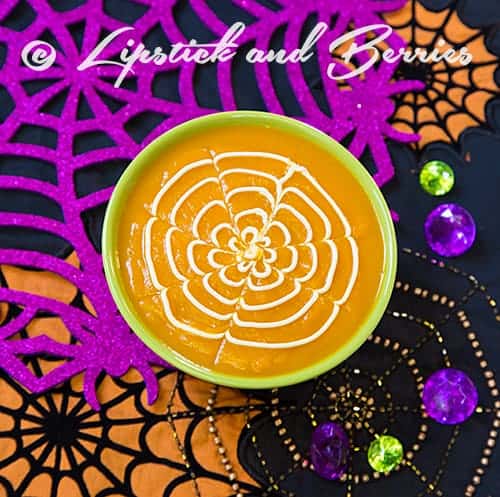 If you love Ginger like we do, then you will go crazy for this soup!  This soup is ultra satisfying and has major anti-inflammatory properties!
Kabocha Squash Ginger Soup
INGREDIENTS
6

Cups

Kabocha Squash

seeds removed and cooked

1

Teaspoon

& 1/2 Sea Salt

1

Teaspoon

freshly ground white pepper

4

Cups

Vegetable Stock

2

Tablespoons

Maple Syrup or Coconut Nectar

1

Teaspoon

Minced Ginger

1/4

Teaspoon

Nutmeg

ground

1/2

Cup

Almond Milk

or more vegetable stock

1-2

drops liquid stevia

optional
DIRECTIONS
Preheat the oven to 400 degrees F.

Wash the kabocha squash. On a baking sheet, lined with a silpat mat or parchment paper, place the kabocha squash, and into the oven.

Roast for about 45 minutes or until the flesh is fork tender.

Slice the squash with a sharp knife, remove the seeds and scoop the flesh from the skin, measuring 6 cups. Once cooled, place it into a blender and add 3 cups of vegetable stock, coconut nectar, and ginger. Blend until smooth. If it's too thick to blend, add more of the stock. Pour into a pot and bring to a simmer. Stir in the remaining 1 cup vegetable stock and return to a low simmer.

Season with 1 tsp sea salt, ½ tsp pepper, and nutmeg. If you prefer the soup to be thinner in texture, either add coconut cream (light or heavy), almond milk, or vegetable stock. Season to taste with sea salt and white pepper. If it needs more sweetness, add 1-2 drops of liquid stevia.

Keep warm until serving.
---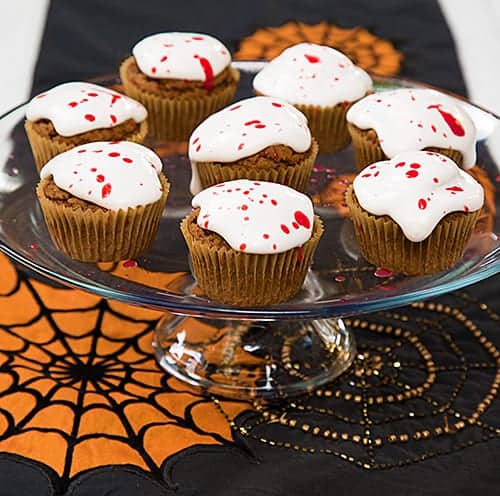 You can't deny that these cupcakes are SO COOL!!  Keep in mind that these recipes are delicious for any occasion or any time of year!  You may want to forgo the "Blood Splatter" if you make these for a wedding shower though lol! Get ready for a flavor explosion!!  The orange zest is absolute perfection in this recipe…it is a must try!!  I also enjoy these in a muffin form!
Pistachio Orange Blood Splattered Cupcakes
INGREDIENTS
Dry:
1

Cup

& 3/4 Oat Flour

1

Cup

Coconut Palm Sugar

1

Teaspoon

Baking Soda

1/4

Teaspoon

Sea Salt

1/4

Teaspoon

Cardamom

ground

1/4

Teaspoon

Ginger

ground

1

Teaspoon

Cinnamon

ground

Zest of half a Naval Orange

1/3

Cup

Roughly Chopped Pistachios
Wet:
1

Cup

Almond Milk

1

Tablespoon

Apple Cider Vinegar

1

Teaspoon

& 1/2 Vanilla Extract

3

Tablespoons

Unsweetened Applesauce

2

Tablespoon

& 1/2 Almond Butter
Whipped Coconut Cream Ingredients:
ounce

One 15- Can Full-Fat Coconut Milk

1

Tablespoon

Coconut Sugar

optional

1

Teaspoon

Vanilla Extract

1/8

Teaspoon

– 1/4 Ground Cinnamon

optional
Raspberry Couli Ingredients:
Pint

Raspberries

1

Tablespoon

Maple Syrup
DIRECTIONS
Chill a can of coconut milk in the refrigerator overnight.
Directions For Cake:
Preheat oven to 350 degrees F.

Line a cupcake pan with 12 cupcake liners. (Alternatively, you can bake this in an 8-inch or two 6-inch cake pans, lined with parchment paper and sprayed with cooking spray.)

In a large mixing bowl, mix together the wet ingredients.

In another bowl, whisk together the dry ingredients.

Fold the dry ingredients into the wet mixture just until they combine.

Place 2 heaping Tbsp of batter in each cupcake liner. Alternatively, distribute the batter evenly into the 2 6-inch cake pans or just place the batter in an 8-inch cake pan.

Place the pan on a baking sheet, then into a preheated oven and bake for 27-30 minutes. The cake should have a little bounce back when pressed.

Cool the cakes in the pans for at least 1 hour. While the cakes are cooling, make the whipped cream and raspberry couli.
Directions for Coconut Whipped Cream
Place the can of coconut milk in the refrigerator and leave it there until well-chilled. I chill mine overnight or for a few days.

Open the can of coconut milk upside down. There, you will find coconut water- loose liquid. Pour it out into a bowl or cup to drink, or save for later use in a smoothie.

Carefully scoop out the thick layer into a bowl or mixing bowl of a stand mixer. Make sure you don't get liquid in the thick, solidified cream, or it will be difficult to whip and obtain soft peaks.

Turn your mixer or hand beater to high speed, and whip the coconut cream for 3 to 5 minutes.

Whip until it becomes light and fluffy with soft peaks. Mix in coconut sugar, vanilla, or cinnamon. Whip it some more until combined. Taste and adjust sweetness, vanilla, or cinnamon flavor.

Refrigerate until ready to use. Before using it, whisk it.

Directions For Raspberry Couli:

Wash then drain the raspberries.

Blend the raspberries, then stain through a sieve, using a ladel to help the juice through.

Add 1 Tbsp maple syrup and mix. Taste and adjust sweetness to taste with either more maple syrup or stevia drops.
Assemble:
Frost the cupcakes or cake with coconut whipped cream.

Dip your clean fingertips into the raspberry couli and flick your fingers towards the cupcakes to spray the cupcakes with raspberry couli "blood".

Refrigerate until ready to serve.
---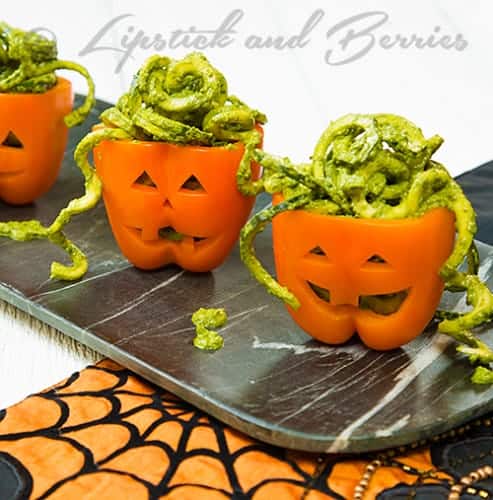 I love zoodle recipes because they are quick and easy!  It's Raw Fast Food!!  This Pesto combination is stellar!  This recipe is a keeper for anytime of year!
Zoodle Brains With Kale Pumpkin Pesto
INGREDIENTS
Pumpkin Kale Pesto:
1

Cup

Basil Leaves

1/4

Cup

Kale

stems removed

2

Tablespoons

Spinach

1/4

Cup

Pumpkin Seeds

4

Tablespoons

Filtered Water

1/4

Teaspoon

Sea Salt

1/2

Teaspoon

Fresh Lemon Juice

1

Clove

Garlic

roughly chopped

1

shake or pinch of Cayenne Pepper
Other Ingredients;
16

in

Grape Tomatoes

sliced half
DIRECTIONS
Zoodles:
Make zoodles using a julienne peeler or a spiralizer. When using a julienne peeler, carefully peel the zucchini as you would a carrot, making long "noodles". When using a spiralizer to make zoodles, follow the manufacturer's directions.
Pistachio Pesto:
Place all of the ingredients into a food processor or blender, and pulse until fully pureed and sauce-like in consistency.
Assemble:
Toss the zoodles with enough pesto to coat, and place onto a plate. Add about 8 grape tomato halves to the zoodles. Serve immediately.
---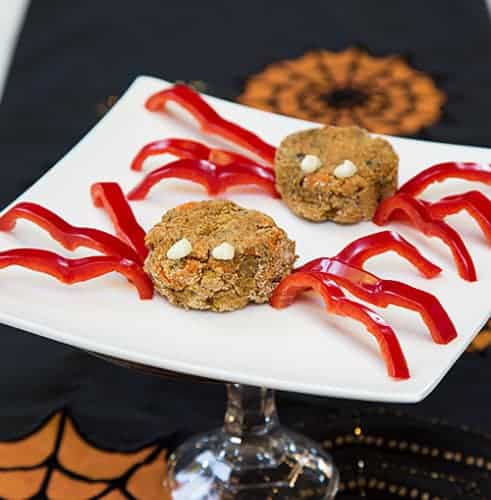 One word: OBSESSED.  That's really all I have to say.  It is imperative you make these Crabby Cakes! NOW! 🙂 
Sweet Potato Crabless Crabby Cakes
INGREDIENTS
Aoli:
1/2

Cup

Cashews

soaked overnight, rinsed and drained

1/4

Cup

filtered water

1/2

Clove

Garlic

3

Teaspoons

Nutritional Yeast

1/2

Teaspoons

Sriracha Chili Sauce

Sea Salt to taste

optional
Crab Cakes:
2

Cups

& 1/4 Sweet Potato

diced and cooked

1/4

Cup

Jalapeno

finely chopped

1/4

Cup

Green Bell Pepper

finely chopped

15

oz

. Can Hearts of Palm

cut into fourths

1/2

Teaspoon

Sea Kelp Delight Seasoning or Dulse Flakes

optional

2

Teaspoons

Old Bay seasoning

2

Tablespoons

Chopped Parsley

1/4

Cup

Plain Cashew Cream or Plain Almond Yogurt

2

Teaspoons

Dijon Mustard

1/4

Cup

+ 2 Tablespoons Plain Dry Gluten-Free Breadcrumbs + about ¾ Cup for coating

1/4

Teaspoon

Ume Plum Vinegar

3

Dashes Cayenne Pepper

Note: You can also these with gluten-free panko breadcrumbs
DIRECTIONS
Soak cashews overnight in filtered water.

Make the aoili. Add all the ingredients into a blender and process until smooth. If it is too thick, thin the sauce with filtered water, 1 tablespoon at a time. Taste for seasoning. If you think it needs salt or more heat, simply add sea salt and more Sriracha. Blend once more to give it one last mix. Set sauce aside.

In a skillet, add jalapeno pepper, bell pepper and diced sweet potato until crisp-tender for about 5 minutes. If it sticks to the pan, add a little vegetable stock or filtered water.

Pour 1 cup of mixture into food processor and pulse until it is a coarse puree.

In a large bowl, squeeze hearts of palm to break into shards. Add puree and remaining sautéed vegetables to bowl, along with old bay seasoning, parsley, cashew cream, Dijon mustard, ¼ cup plus 2 Tbsp breadcrumbs, ume plum vinegar and cayenne pepper and stir until thoroughly combined. Taste the mixture, adjust for seasoning, and mix.

Line baking sheet with parchment paper or a silpat mat. Place breadcrumbs on a plate.

Create ¼ cup patties of the mixture and roll into breadcrumbs to coat. Transfer patties onto the lined baking sheet until they're ready to be cooked. Makes 9 "crab" cakes.

To bake these, place the "crab" cakes on a baking sheet lined with a silpat mat or parchment paper. Preheat the oven to 400 degrees Bake for 30 minutes or until golden brown. At the halfway point, flip the "crab" cakes.

Alternatively, you can fry these. Pour 1/8 inch oil in skillet and heat oil on medium heat to 350 degrees F

1Serve hot with aoli and a salad.
---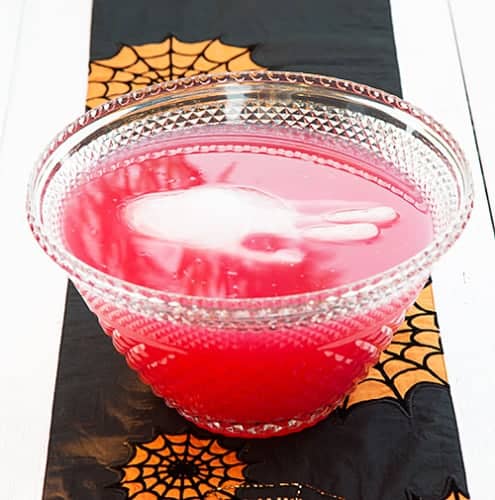 This was supposed to be a floating hand!  Although the hand was not completely even and buoyant, so it was a bit difficult to photograph! You get the idea though!  Have you tried Kombucha before?  We thought it would be fun to make a fizzy brew…and with that in mind, Kombucha was perfect!!  This combination of italian lemonade and crimson juices is perfect if you are looking for a punch that is not so overly sweet and has a tangy twist!
Witches Kombucha Brew
INGREDIENTS
Sparkling Italian Lemonade

Ginger Kombucha

100

% Pure Pomegranate Juice
DIRECTIONS
Depending on how man people you are making punch for, use this ratio:

2 parts Lemonade + 1 Part Ginger Kombucha + 1 Part Pomegranate Juice

To make the Ice hand, fill plastic gloves with water, tie off, and freeze over night!
---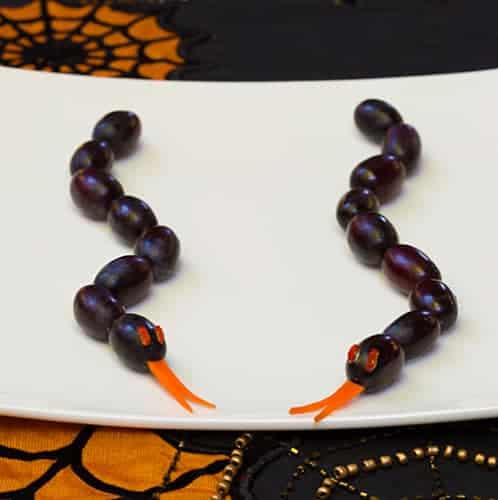 Grape Snakes
INGREDIENTS
Black Seedless Grapes

1

Piece

Small of Carrot

Gogi Berry

Drop of Cashew Cream
DIRECTIONS
Arrange Black Seedless Grapes on a platter in the shape of a slithering snake. (If they are rolling around, dip one side in cashew cream and stick it to the plate!

The "tounge" is made of a small carrot slice and a split is cut in the end.

A small drop of Cashew Cream is used for "eyes" and a small slice of Goji Berry was used for red "evil eyes!"
---