Healthy hair doesn't magically happen, yet we can all improve the condition of our hair. If you're looking to have hot, fabulous, and healthy hair in 2017, follow these 5 tips!
I've partnered with Biolage to bring you my tips for healthy hair and also an inside look at their newest line of products; Biolage R.A.W!
(On a sentimental note: Biolage was the first product brand that I used when I was in cosmetology school 11 years ago. This brand has always been dear to my heart as it brings back a lot of memories. I am so happy to be sharing their newest, most innovative, and eco-friendly products yet!)
1. Healthy Diet
A healthy body and healthy hair start from within. Eat a wide range of fruits and vegetables to meet all your vitamin and mineral requirements. Hair can tend to break and become dull when the body is lacking in nutrients. Make sure to eat a rainbow of foods and to also eat enough calories.
I made a smoothie using ingredients that are found in Biolage's R.A.W. products. (pretty cool that there are real ingredients in their products, huh?!)
Healthy Hair R.A.W. Smoothie
1 Banana
1/4 small Grapefruit, peeled
2 handfuls Pineapple chunks
2 Cups Green Grapes
2 Tablespoons Goji Berries
1/4 Lemon, skin on
1/2 Kiwi, skin on
Handful of Kale
2 Tablespoons Sunflower Seeds
2 Tablespoons of Honey or sweetener of your choice
Handful of Ice
Directions: Blend on high until smooth!
2. Get Regular Trims
Even if you're trying to grow your hair out, regular trims are essential. Make a salon appointment every 6-8 weeks for  a trim. This ensures minimal breakage and less split ends.
3. Use Natural Product
If you aren't already using natural products, I highly recommend them! Natural products don't contain ingredients that falsely coat the hair.
Since the beginning of this year I've been using the Biolage products and my hair feels amazingly healthy. Living in the desert, their R.A.W. Nourish shampoo and conditioner work best for me. I am always on a mission to add moisture to my hair and soften my ends. I also color my hair a lot, so I need to give it extra love!
If you're wonder what "R.A.W." stands for, it means Real, Authentic, and Wholesome! These are powerful hair care products of 70-100% natural origin that yield professional results. Natural origin means that the ingredient is unchanged from its natural state or the processing it has undergone still retains greater than 50% of its molecular structure from the original plant or mineral source.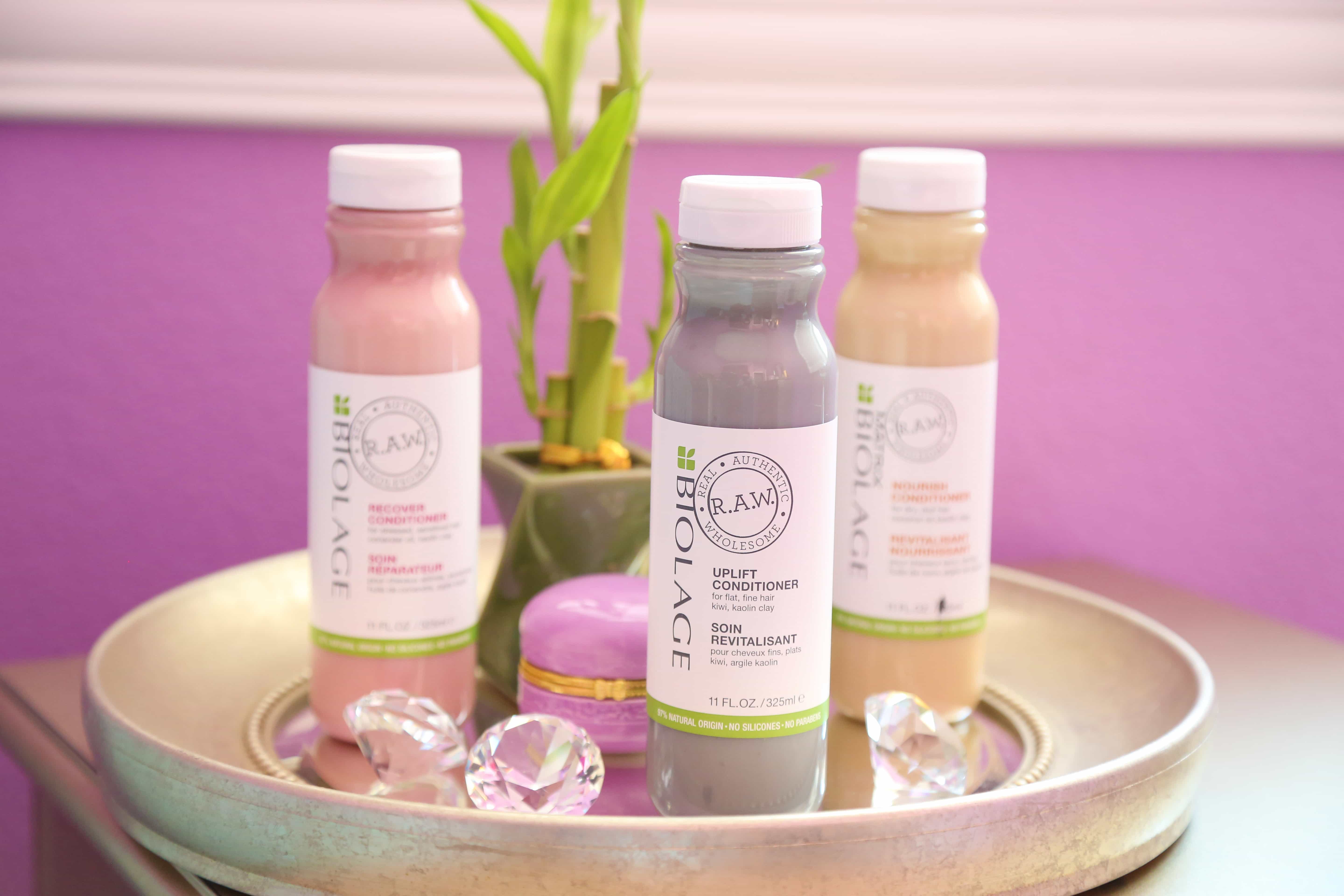 4. Heat-Free Styles
Texture is so in this year! If you need to enhance your hair's texture, opt for a heat-free style. Overuse of hot tools and hair dryers can make your hair frizzy and dry.
I like to make surfer-girl waves by twisting sections of damp hair, letting them air dry, and then tousling with my fingers. It's a cute way to have a textured style without jeopardizing the health of my hair. With this look I have great results using a mousse for hold + R.A.W. Replenish Oil Mist for condition and shine.
Side note: I'm obsessed with the Replenish Oil-Mist. It's super multi-purpose, which I like. You can add it to your conditioner, you can spray it on your hair before a shampoo, or you can spray it onto towel-dried hair as a leave-in treatment.
5. Relax and Condition
If you have dry hair or split ends, a great way to step up your game is to actually take the time to thoroughly condition your hair. Even if it's only one time a week, a deep conditioning can really work wonders.
Chill out, sit down, comb a little Recover conditioner into your hair, and take a few moments to treat your hair and your mind to some "you" time!
What are some ways that you keep your hair healthy?