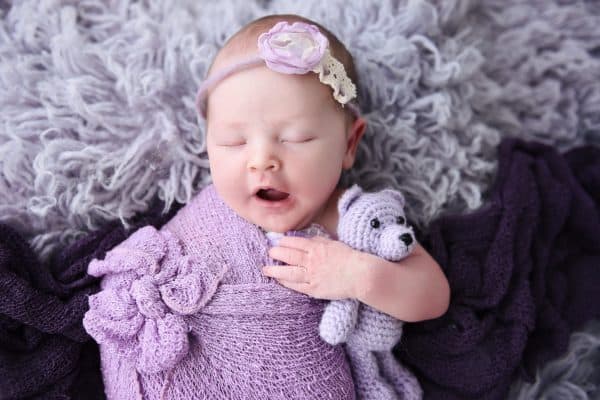 It has been a little over a month since Lily was born. Some ask if I feel like time is passing slowly or if time is passing quickly. In this moment, it feels like time is passing just as it should. Not too fast. Not too slow. Just right.
It is unbelievable how much Lily has changed in just 4 weeks. She is still very tiny; she has perfect little lips, her dad's ears, and her cheeks are getting chubbier by the day! In the past week she has started making eye contact and focusing on objects and people. I can see her personality starting to develop as we move into the second month.
In love doesn't even begin to describe how I feel about her!
Even with the once-in-a-lifetime moments and the sweet snuggles that having a baby provides, I am not going to lie and act like this past month has been perfect. These past few weeks have been emotional and full of surprises. There have been moments of pure joy and other moments where I actually doubted if having a child was a good idea. I never knew that the human body could survive on such little sleep, and I thought that I would not survive the first week! Luckily I made it through. Lily still has a mother, and fortunately each week gets a little easier! Although it has been a huge learning curve, it is an experience that I am so grateful to be having.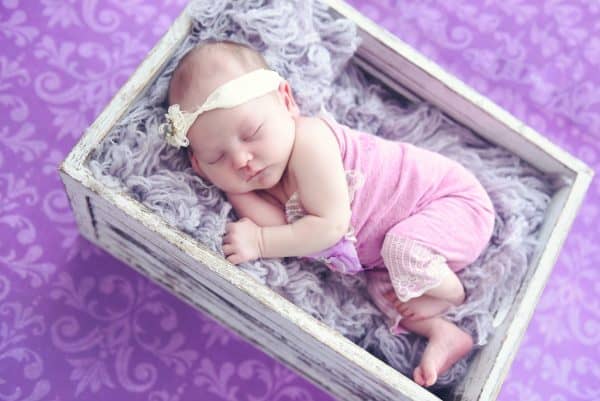 I was so fortunate to have my mom here for the first 4 weeks; she helped out tremendously. My mom cooked lots of delicious meals and helped us adapt to having a new baby. My mom is going by "Gigi" now, which I think it pretty cute!
I've been exclusively breastfeeding Lily, which has proven to a really tough task, but that too, is getting easier. Gigi actually breastfed my brother and I until we were 2 years old! I plan to breastfeed Lily as long as possible or until the boobs can't take it anymore. 🙂 Although tough, breastfeeding is an incredibly bonding experience, and seeing Lily thrive on breastmilk is very rewarding.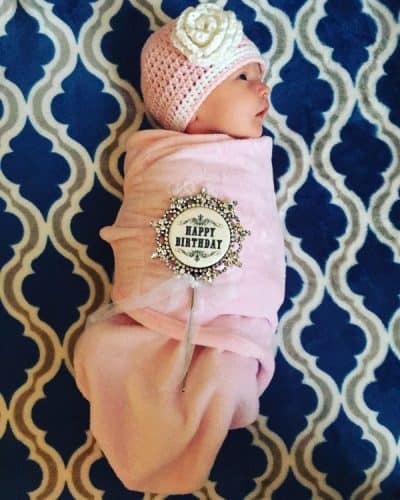 For the first 2 weeks, we were up and down all night long with Lily. We were researching all kinds of swaddle wraps to use at nighttime and we couldn't find anything that she liked. We finally read about the Miracle Blanket and it saved our lives! With this blanket, I can almost guarantee that she will sleep 4-5 hours at a time, and anyone with a newborn knows that this is a miracle!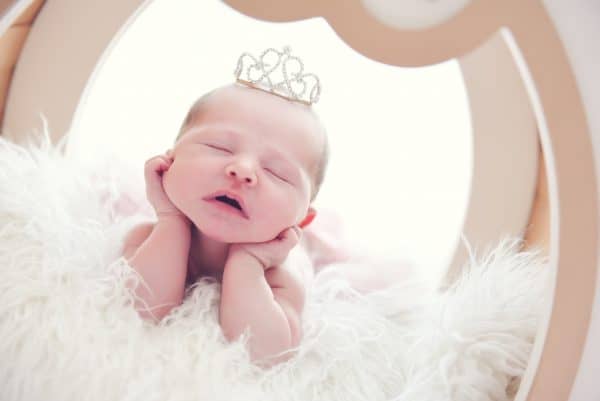 When Lily was 9 days new we took her to have professional newborn photos made. It was so incredible to see the photographer work with our little nugget. I couldn't believe how she could put her into these positions without her crying. (I mean, seriously? How did she prop her up on her hands like this? It's amazing!
At 2 weeks we took her to see Santa Claus. I was determined to have her photo made with Santa because she is a Christmas baby after all. 🙂 You can see how tiny she is when she's on Santa's lap.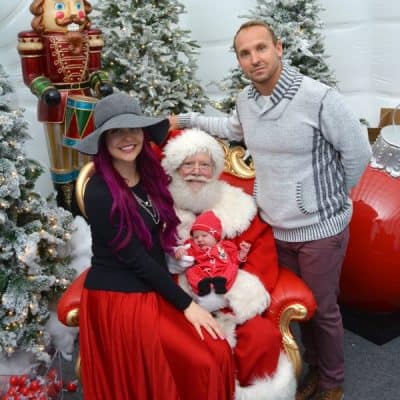 I expected to be taking many more Lily photos over the past month than I have, but it turns out that I haven't had many clothes to photograph her in. All of her newborn clothes are too big on her, so I've been wrapping her in swaddles and blankets.  She's such a tiny little tot!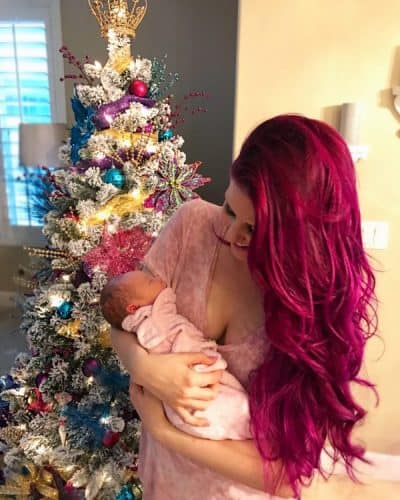 My family came to Vegas to meet Lily. I was really happy that they were able to meet her during the first month. We celebrated Christmas with Gigi and my brother, Austin, and we celebrated my mom's birthday (she's a christmas baby) too! It was really special time.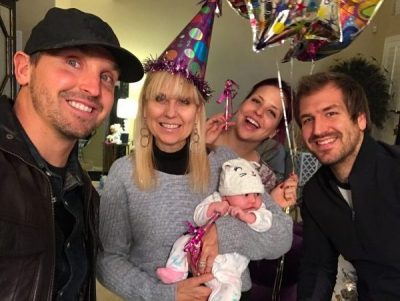 I was so happy that my dad was able to meet Lily as well. It is such a beautiful moment to see your parents with your child for the first time.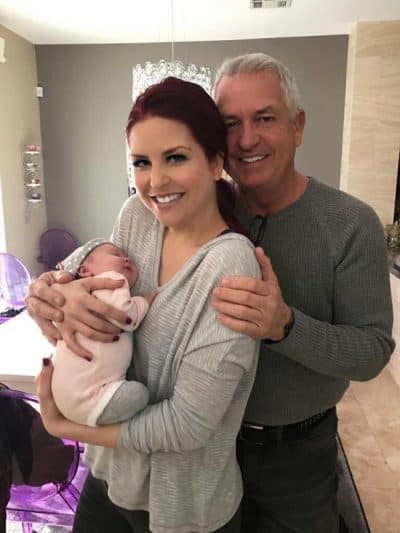 So far Lily's hobbies include drinking lots of milk, hanging out in the swing, manicures by mommy, and last but not least, being gassy and sassy.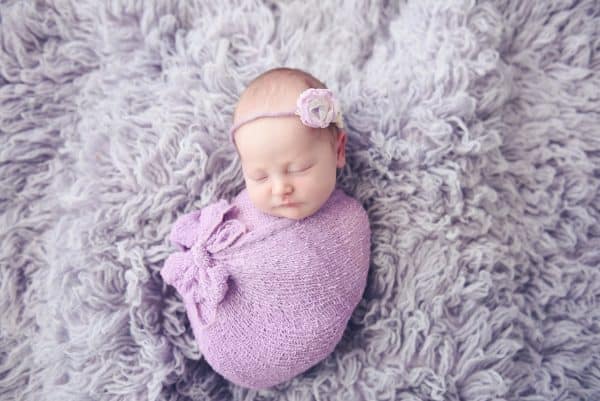 So far she is bit camera shy, or maybe I should just say that she is very grumpy in front of the camera! She doesn't like to be bothered! I'm hoping that when she's a bit older I can take photos with her full cooperation. If not, then she was born into the wrong family! She was born to be in front of the camera whether she likes it or not! 🙂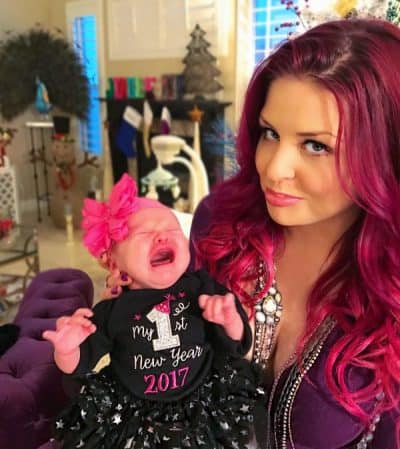 I have been staying in almost every day with Lily. I have taken her out a few times, and a few other times I have snuck out to run an errand or two while her dad watches her. I actually love staying at home and being with her all day. Even though we don't do much, it is so fun to cuddle and snuggle with her and be there to watch all her cute faces (which are getting cuter and cuter by the day).
My next Lily update will be at 3 months! Until then, follow along on Snapchat to see our daily videos. XOXO!