Working from home is completely acceptable now, due to pandemic / post-pandemic life, and while it has major benefits (no commute, perhaps wake up when you want, wear leggings all day), the downsides may be pretty heavy – extra stress with work-from-home balance, the kids being home / juggling zoom school & meetings, having no time while simultaneously more free time (how the heck does that happen anyway?!), AND guess what… all of it can affect your wellness & beauty routine in a negative way.
Stress, the feeling of overwhelm, ranges in severity. Often in times of increased stress, we are focused on "what's going wrong", chaos, or negativity that is around us. We often put our own self care and needs to the side, as a byproduct of survivalism. We try to find a way to "get by".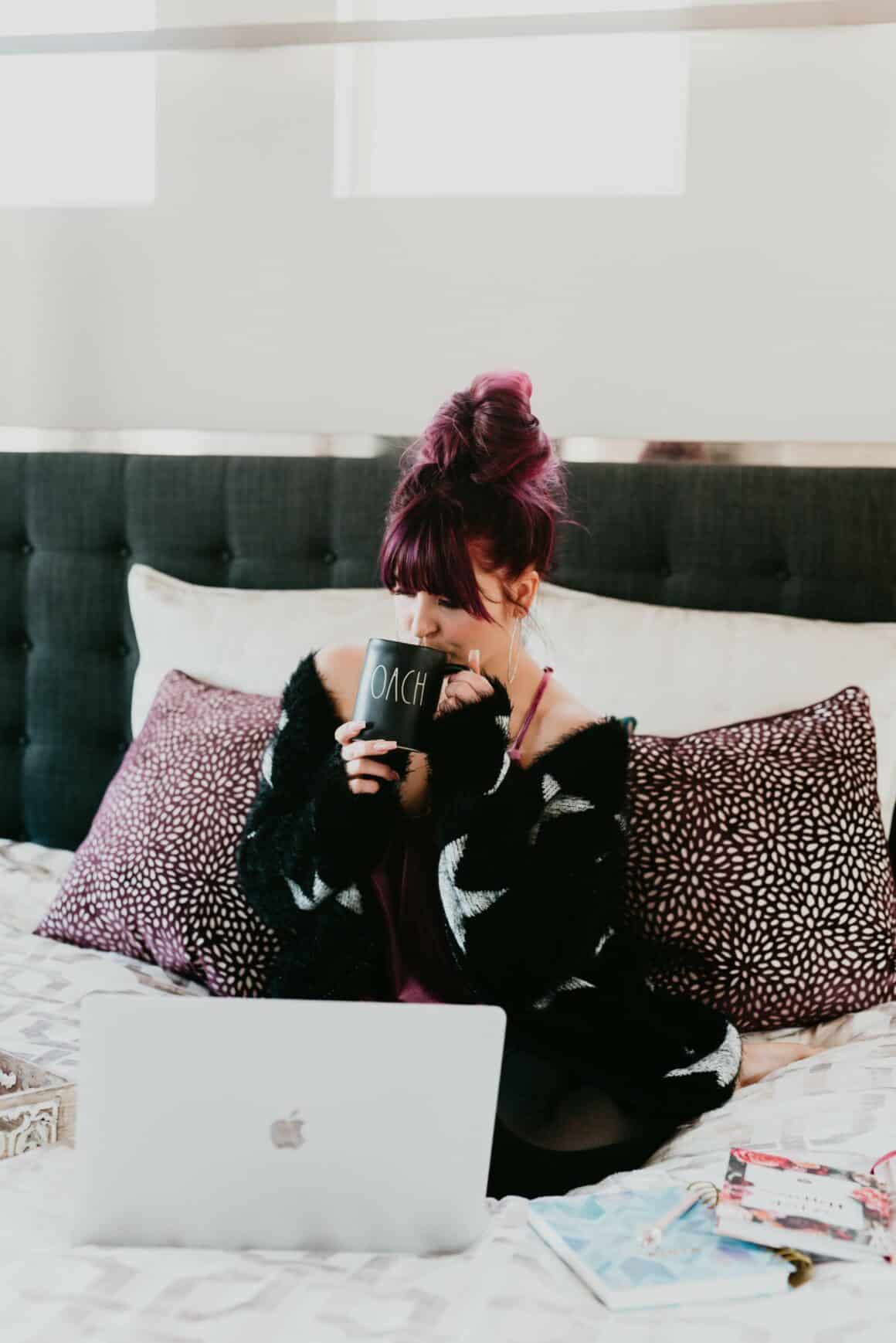 Simply put, stress causes inflammation in the body, which leads to a plethora of issues internally, which ultimately is negatively expressed in our physical body via our hair, nails, skin, etc. To top it off, when stressors are high majority of people tend to sway from their usual self-care routine. If you're like me, you may eat later at night, go to sleep later, reach for more processed snacks, stress-shop (lol), or be on your phone and/or computer a lot more than what's actually necessary.
The health of your skin is in direct relationship to your body's internal health. If you are internalizing heavy emotions, eating lower quality foods, or getting less sleep it shows in your skin. Your skin may be dull, dry, cracked, blemish-prone, and just all-around lacking luminosity from stress and lack of routine.
I found this true for myself during the height of 2020 pandemic. I was simply, surviving – mentally & physically. I put the things that made me feel "like myself" which was a skincare routine, coloring my hair, and making a smoothie every day on the back burner.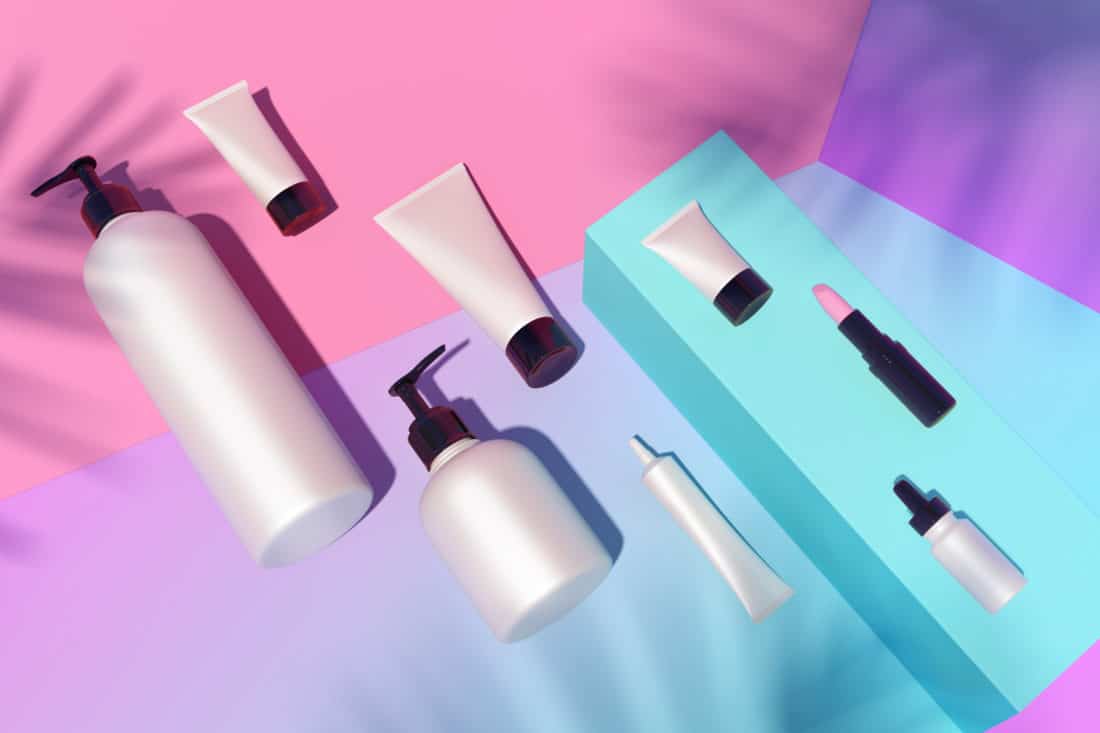 I'm curious, can you relate to something like that?
I was "good" if I simply brushed my teeth, showered, put some oil on my face, and ate something. My focus was on keeping my family safe and healthy, and unfortunately the stress of the year forced me to put some of my favorite things aside – including my beauty / skincare routine.
Stress made my skin look like absolute 💩, THEN I discovered something reslly distubring…
Blue light skin damage. YES, it's a thing! Blue light (from your phone / computer / devices) is not only bad for your eyes, but perhaps just as tragic for your skin (as if my skin could take any more reasons to be dull during this time).
Devices = exposure to blue light. Overdoses of blue light may alter your complexion over time. It's artificial light rays that are beaming into your eyes, face, and neck ALL DAY LONG. It's NOT okay, but it's something that majority of us have to learn to work WITH and not against.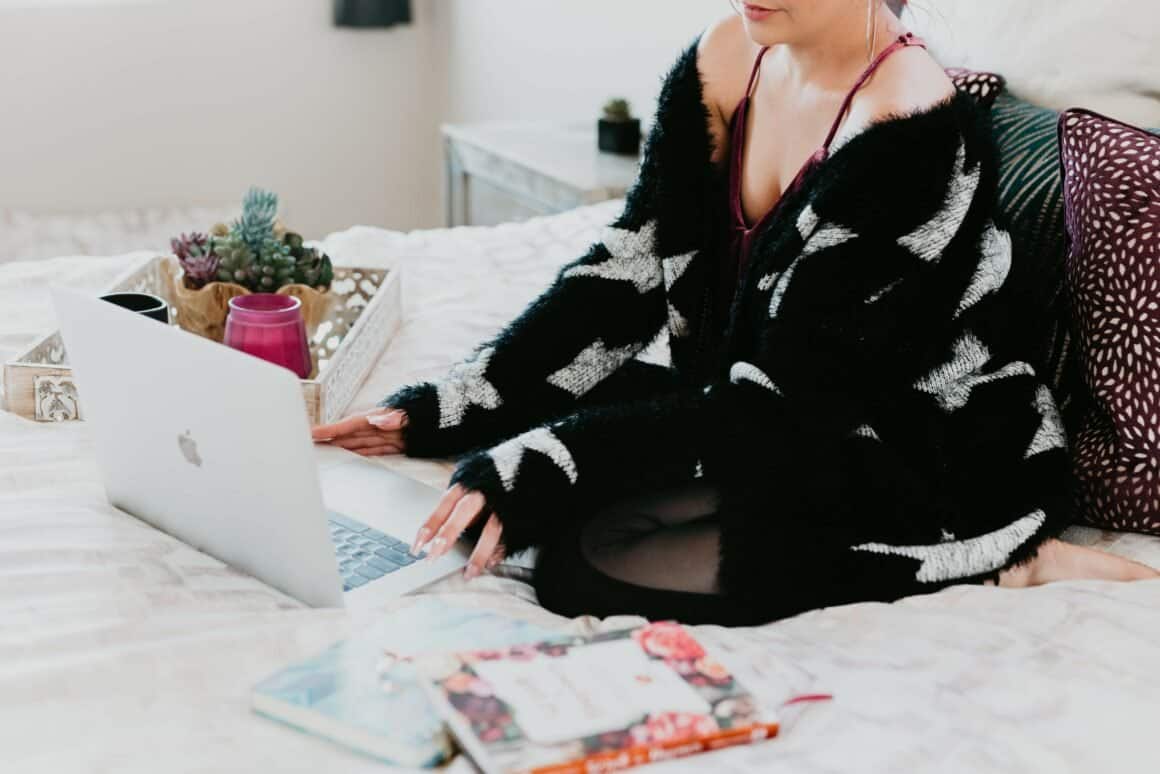 Were you (or are you) like me and the amount of time spent on your phone has increased drastically?
Three (of the many!) things I discovered during the pandemic are as follows: (1) Working from home is not for the faint of heart (2) Stress makes your skin look like death! (3) Routines for everything ARE… Everything!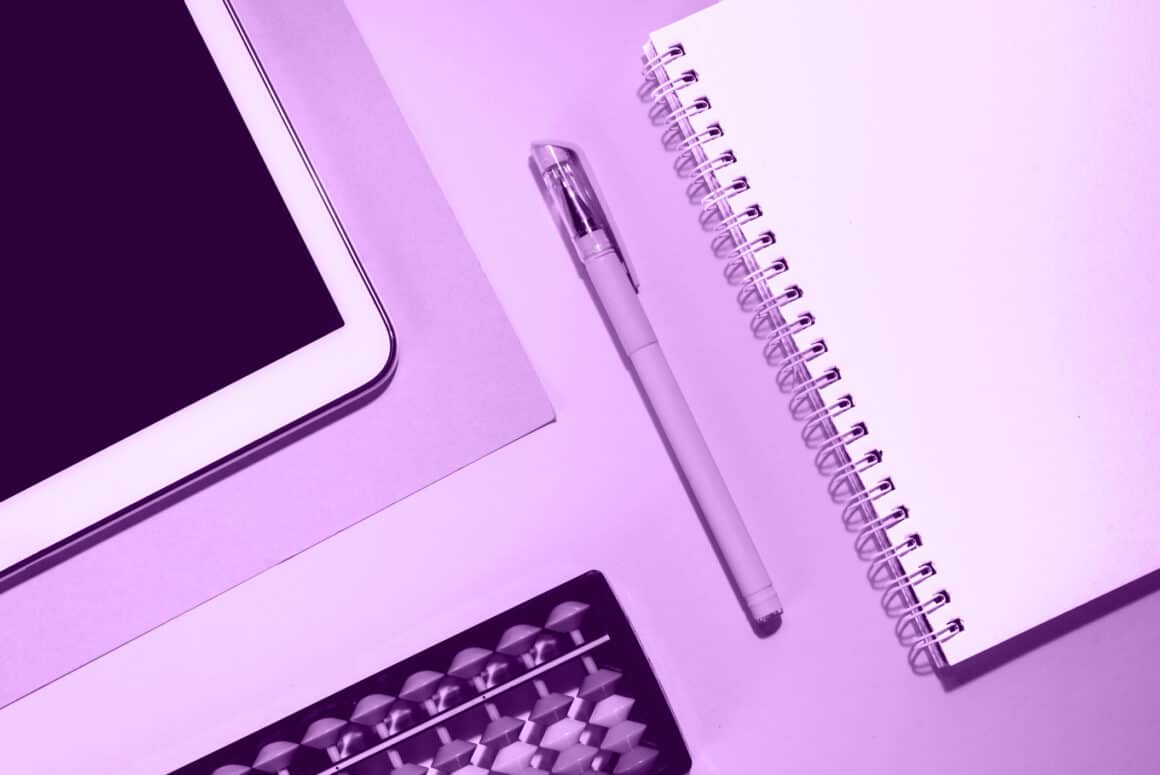 I have to give credit to my childhood bff who is a medical esthetician; she and I spoke a lot during the pandemic. She was touting the benefits of Vitamin C serum (she actually won't work on anyone unless they've been on a Vitamin C serum for at least 30 days prior to a treatment as it radially improves the quality of the skin). She had me REALLY re-thinking my skincare routine, and it inspired me to take control over something that I actually had control over!
One of those was my skincare routine – and not just any regular routine, but one that optimized my work-from-home girl boss lifestyle.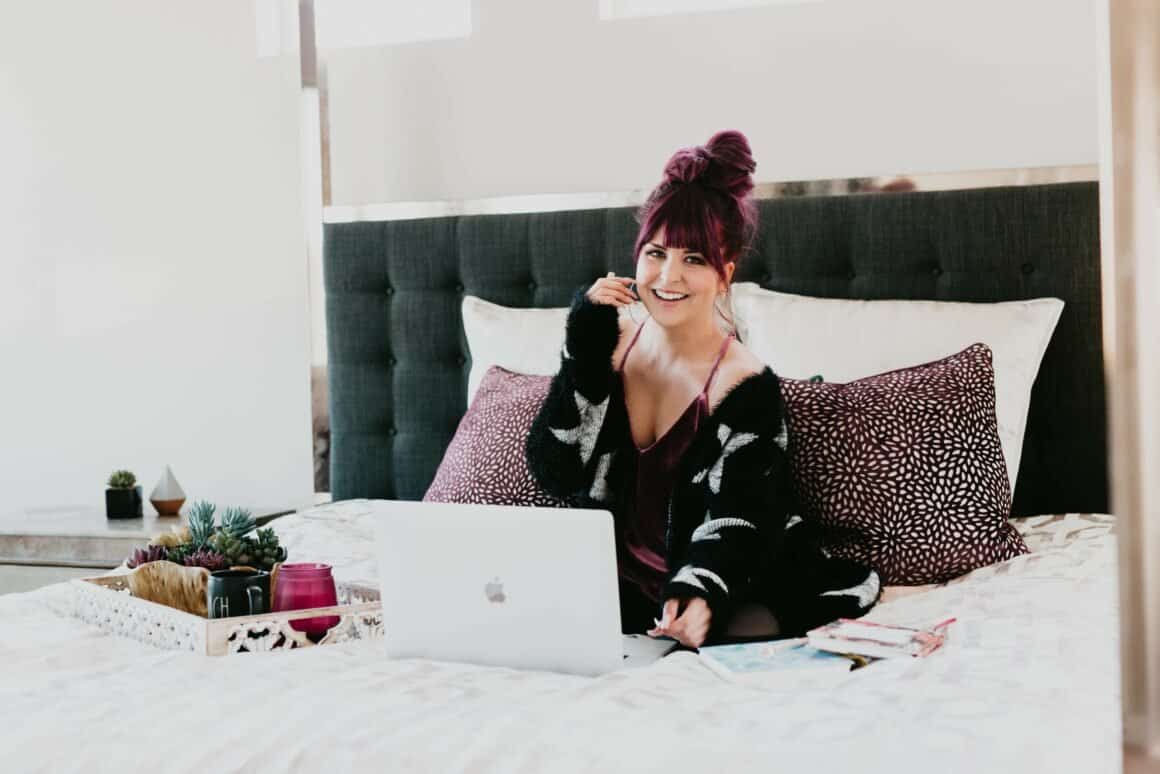 Creating a signature Work-From-Home skincare routine not only helps my skin (because consistency is everything), but it also helps set my focus for the day. This is my "get shit done" skincare routine, if you will.
Intention + Consistency = Positive Results
Whether that is with your work-from-home routine or your skincare routine, having an intention backed routine like my Girl Boss Skincare Routine, it helps get your mind right for the day ahead all while keeping you looking & feeling flawless.
I've been loving and using DERMA E skincare for close to 7 years now. Their products fit all the needs for my lifestyle and I've been able to move through their product range to find the perfect fit as my skin changes. I've written about DERMA E HERE many times, and they are a brand whose products are as awesome as the company (and people) itself.
This is the FULL breakdown of my Work-From-Home skincare routine.
PS – On my days when I'm not working from the computer I will skip serum #2 & the sprays, and I will simply use Cleanser, Toner, Oil (and reapply the oil as needed).
Let's get into the details: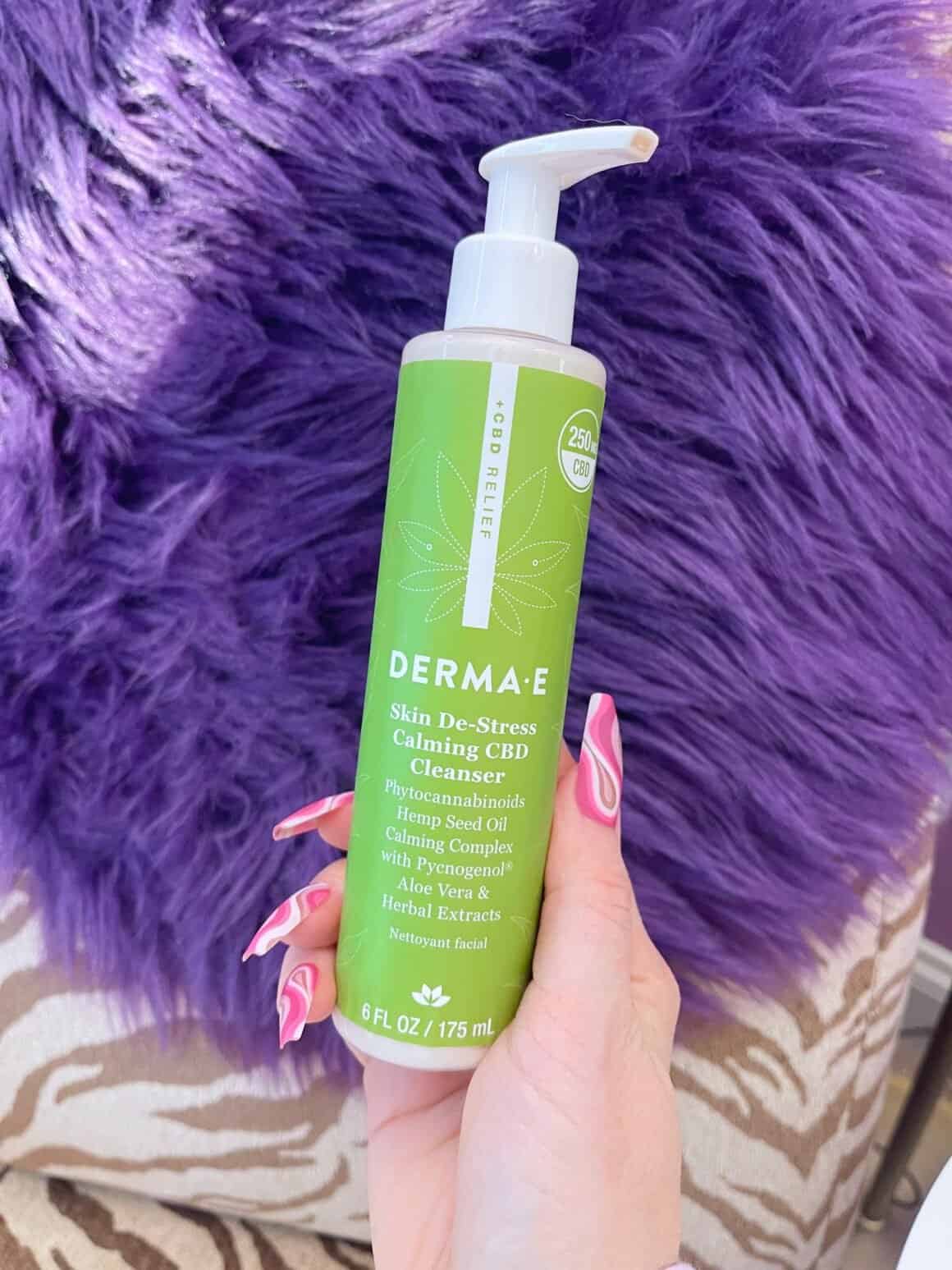 CBD CLEANSER
Our skin changes. As the seasons change, as you age, and as you experience different stages of life, you may need to change your products. I now use DERMA E CBD Calming Cleanser. It's super creamy, non-irritating, and leaves my skin feeling soft. CBD is known to help calm the skin. For me, DERMA E CBD Calming Cleanser one of the only cleansers that doesn't make my skin feel "tight."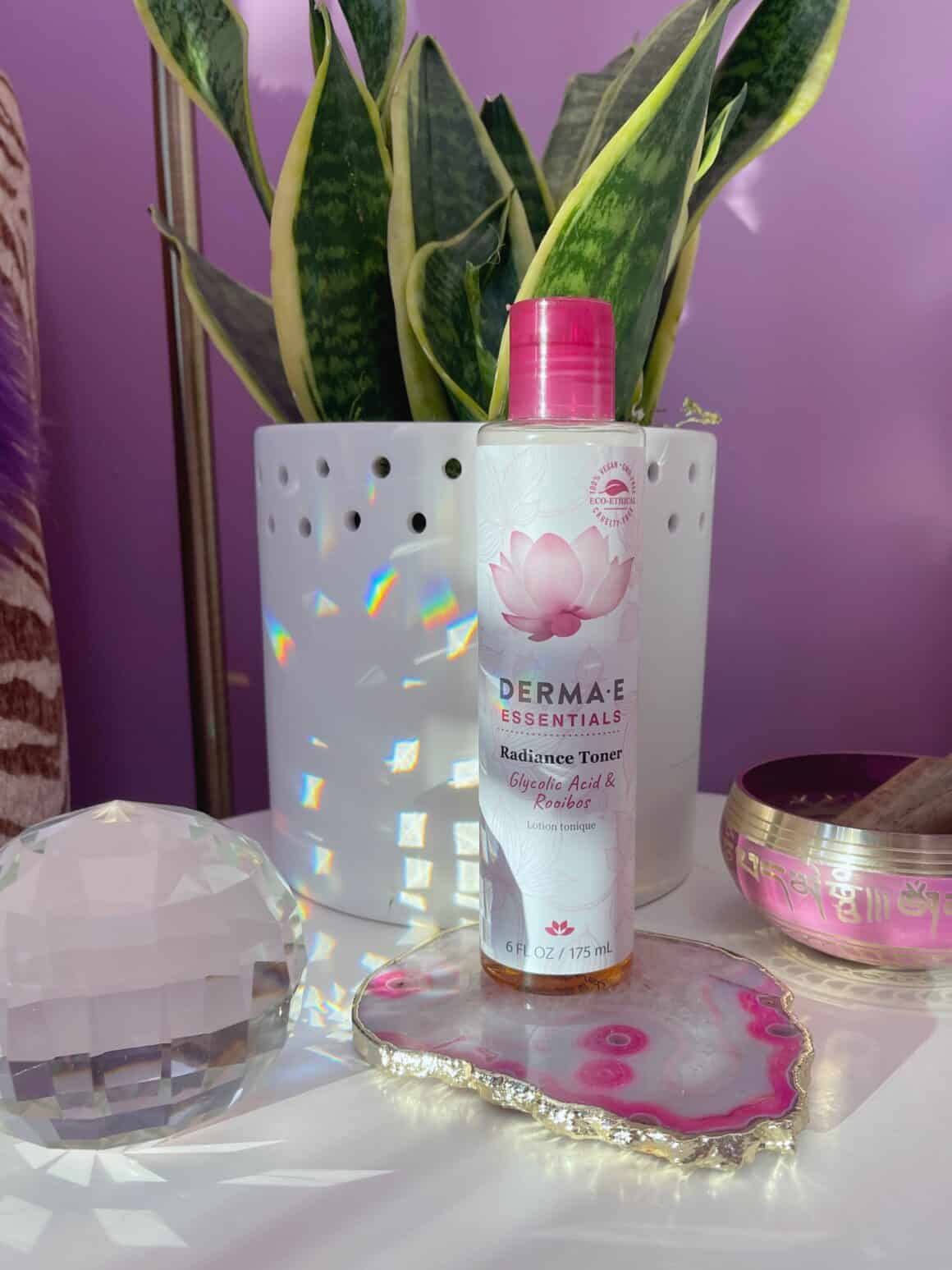 RADIANCE TONER
Next, to freshen the skin & very gently exfoliate the skin, I apply DERMA E Radiance Toner. I love this toner, it makes your skin feel SO fresh and awake! There's an ever so slight tingling sensation (I imagine from Glycolic Acid) which I love.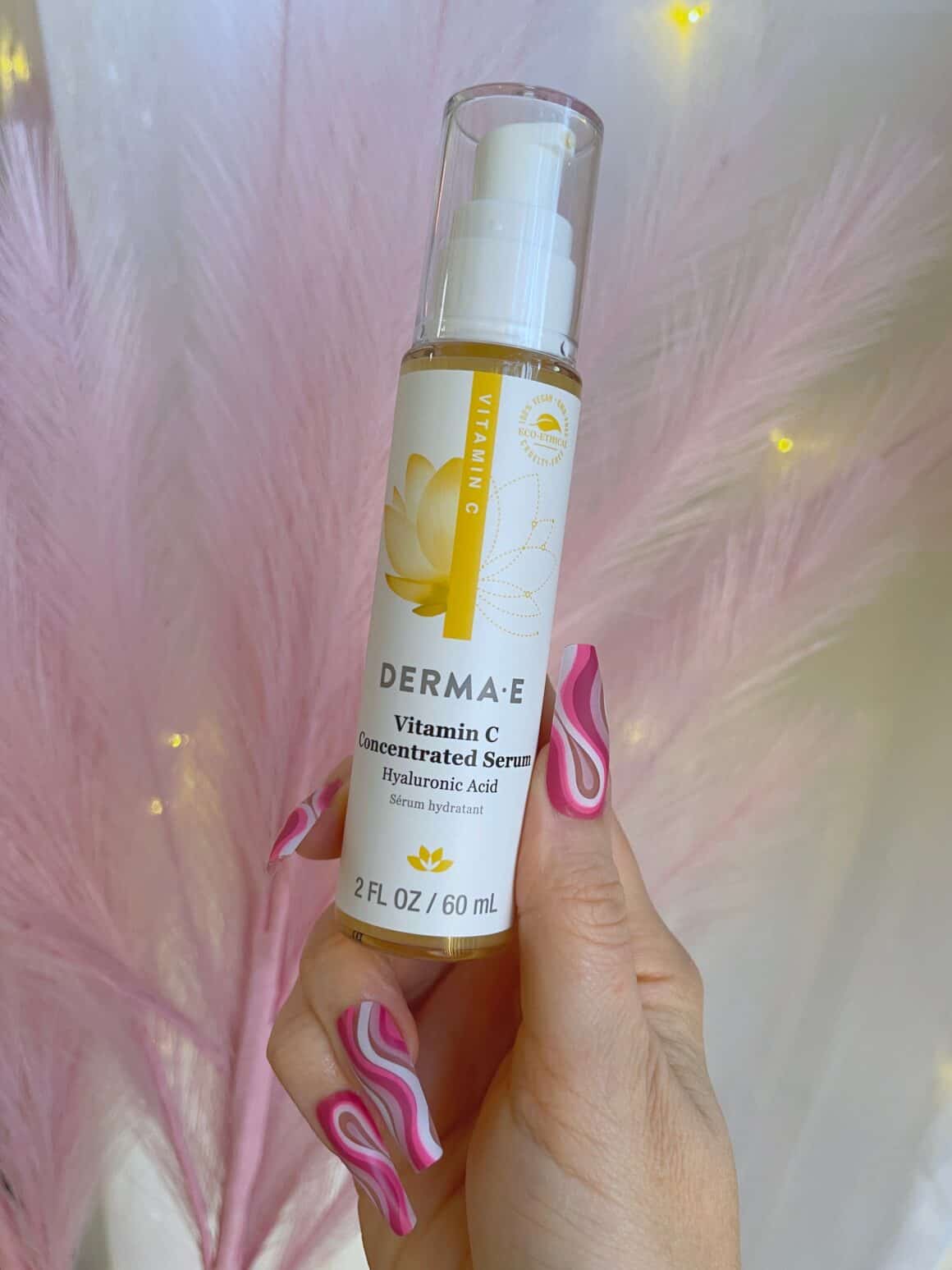 SERUM #1 VITAMIN C
DERMA E Vitamin C Serum all day every day. Vitamin C is a serum you NEED to be applying each morning. (you can apply it at night, but it makes the most sense to use during day time). DERMA E Vitamin C Serum helps combat free radicals, create more luminous skin, improve appearance of hydration & fine lines.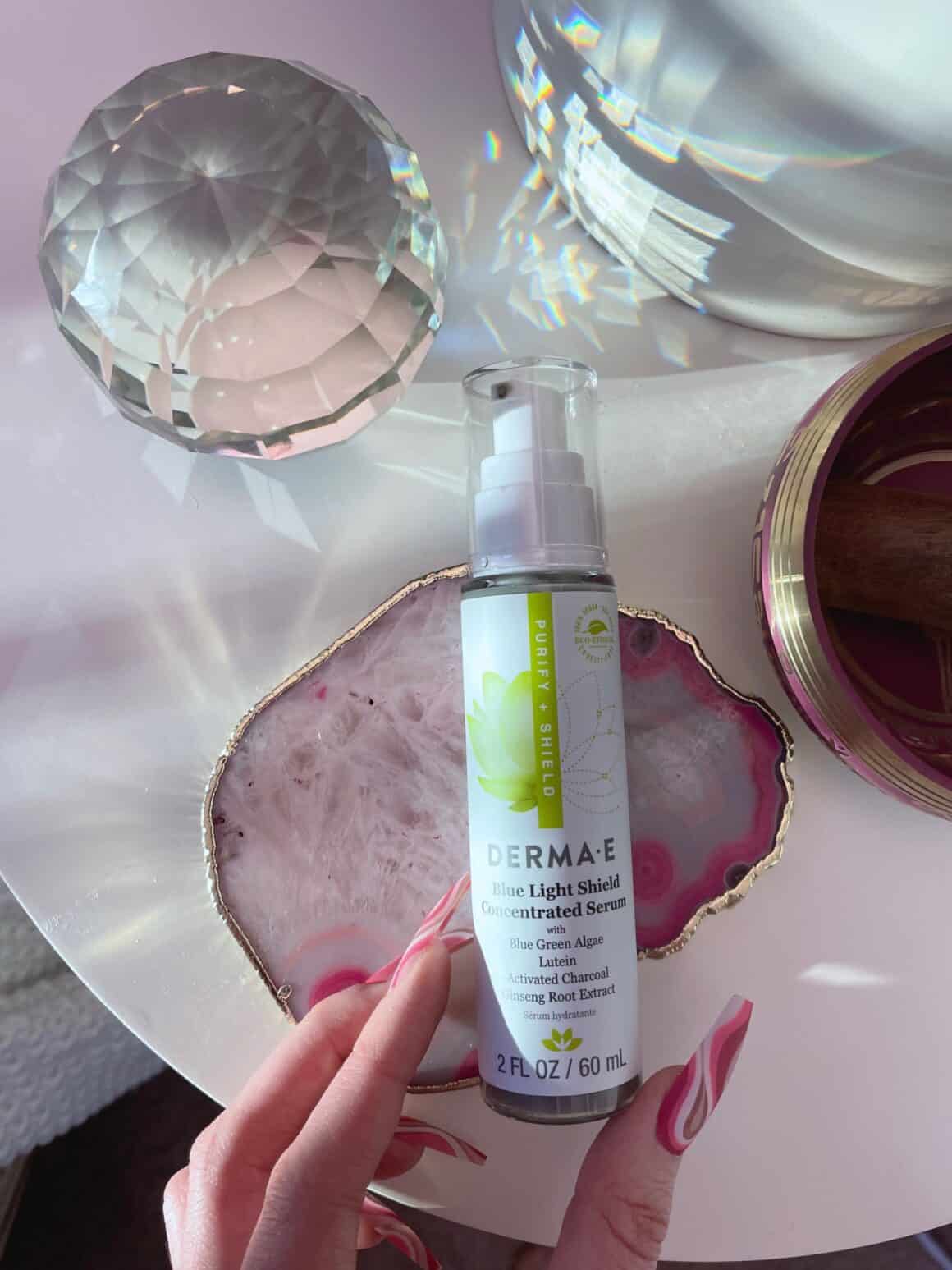 SERUM #2 BLUE LIGHT
Listen up friends; DERMA E Blue Light Shield Serum is SERIOUSLY your girlboss bestie. DERMA E Blue Light Shield Serum helps provide a shield from blue light! How often is your face in front of blue light (phone, computer, ipad, etc)?? I imagine pretty often.
DERMA E Blue Light Shield Serum is a product you need yesterday. Charcoal, Lutein, Ginseng, & Blue Green Algae are all the delicious-for-your-skin ingredients that are a part of DERMA E's Blue Light Shield Serum, and they are essential if you're working from home with your face near the phone or laptop.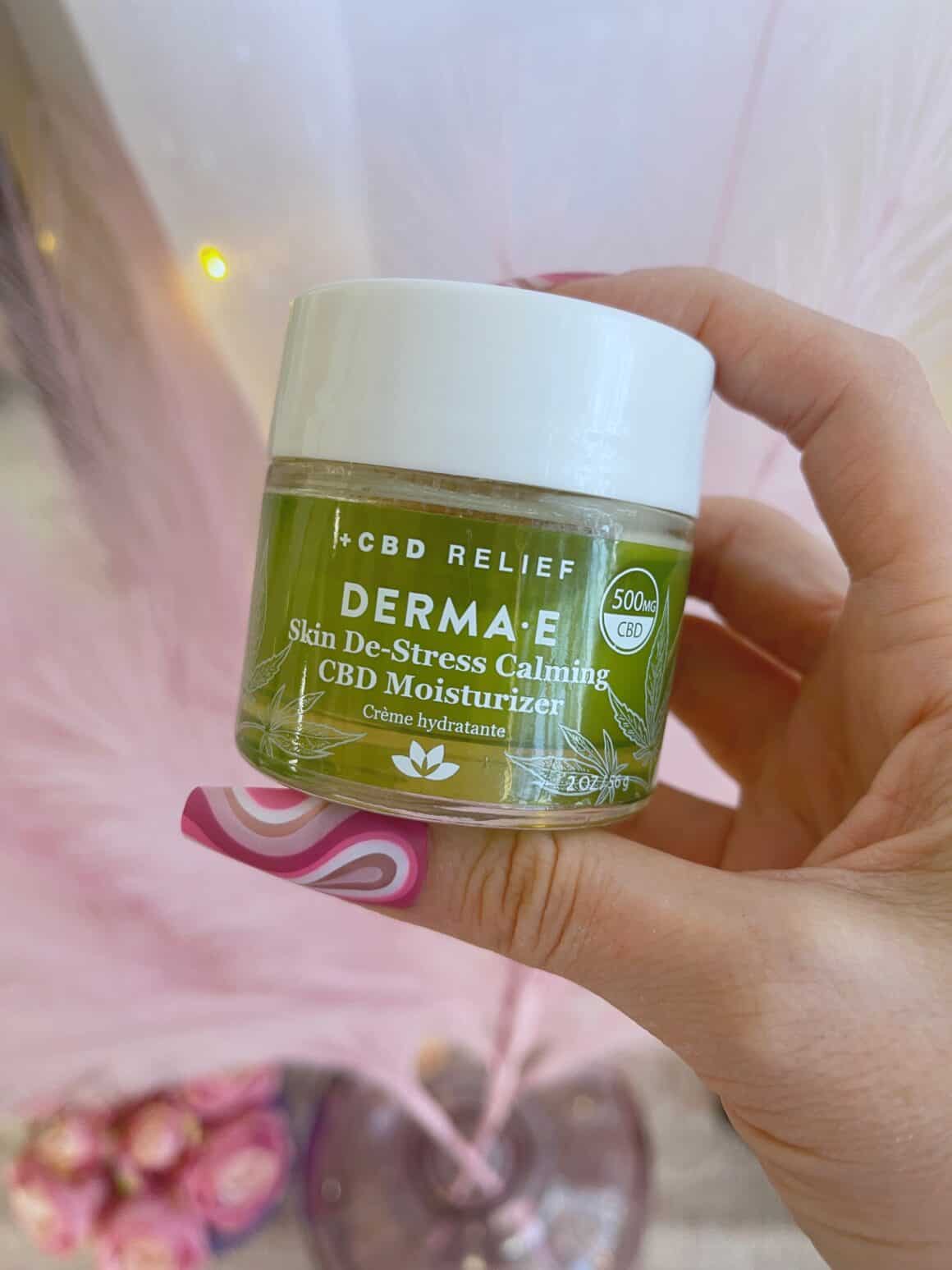 CBD MOISTURIZER
I top my serums with a creamy moisturizer. My skin is more on the dry side, so a facial cream is a YES for me. Along with the CBD cleanser, I use DERMA E Skin De-Stress Calming CBD Moisturizer. With 500mg of CBD it helps soothe dry skin, and it's currently what I am loving lately.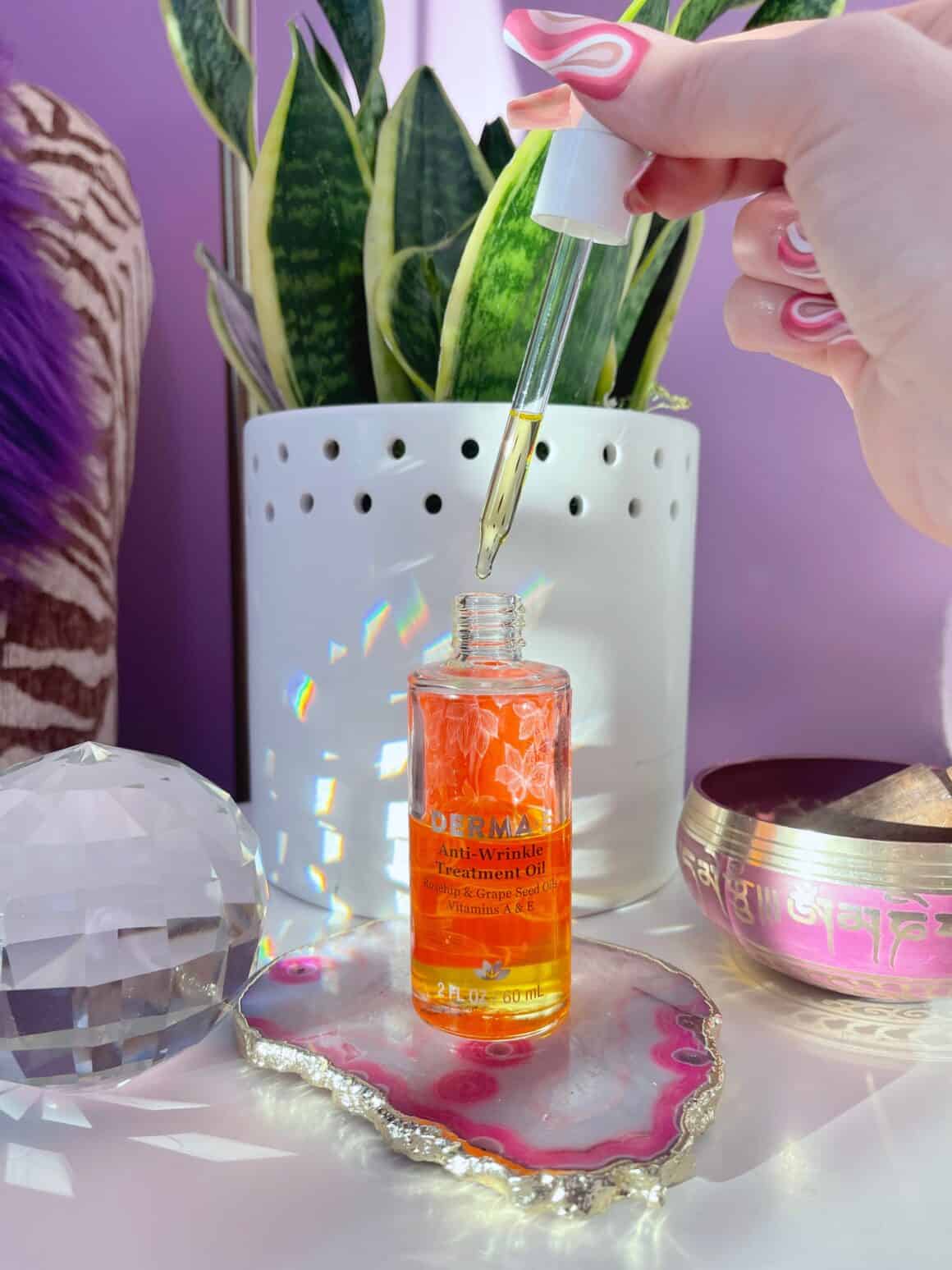 ANTI-WRINKLE OIL
Speaking of dry skin, I layer a few drops DERMA E Anti-Wrinkle Treatment Oil on top of my moisturizer – for extra moisture and for a dewy look. I've been a fan of DERMA E's Anti-Wrinkle Oil for years. It's an all around awesome facial oil (and it smells really nice).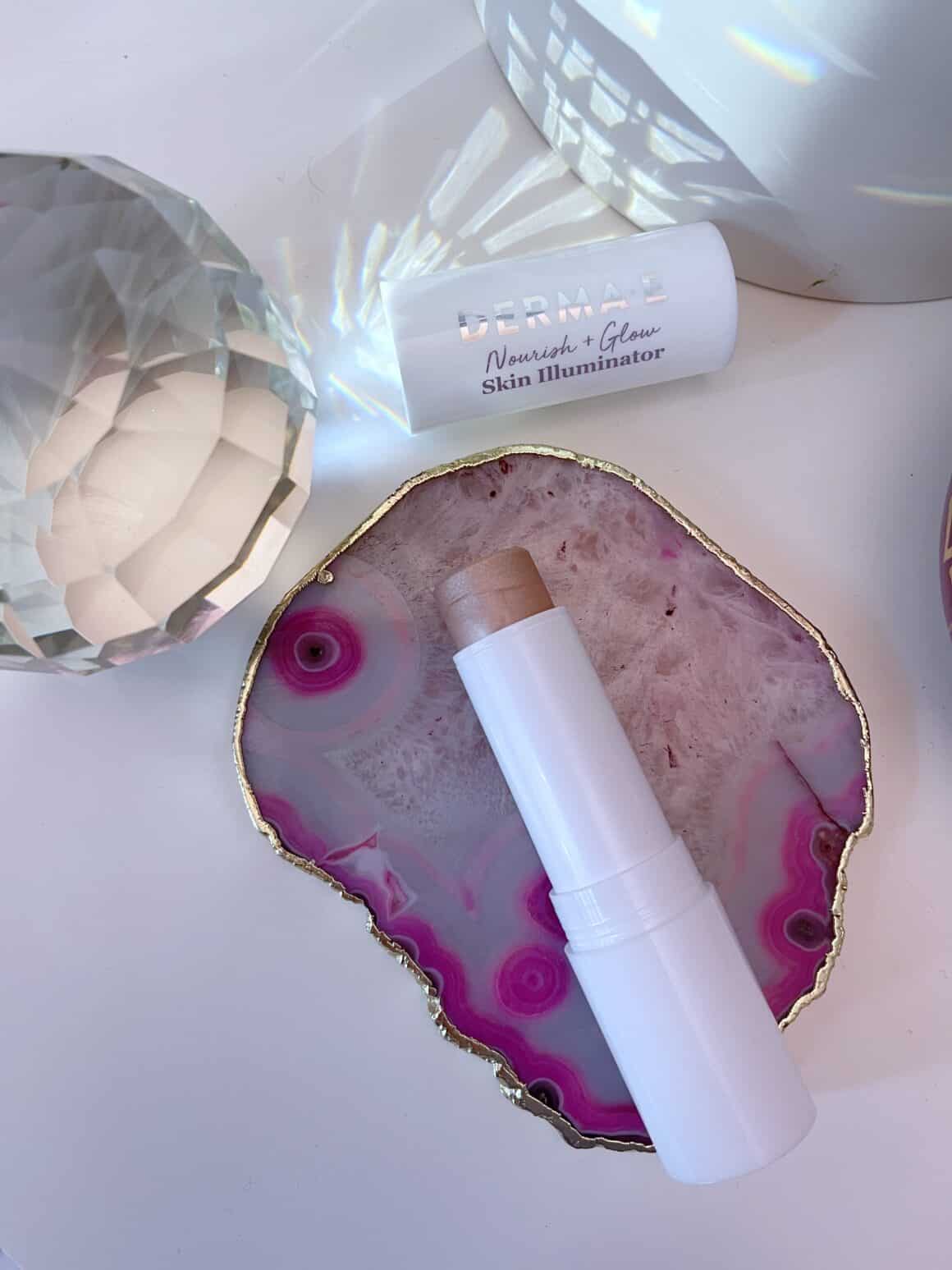 HIGHLIGHTER
When I'm working from home, I do MINIMAL makeup. It goes like this: under eye concealer, mascara, highlighter, cheek stain, lip gloss. DONE. DERMA E just launched a fabulous illuminating highlighter stick, and it gives you that soft glowy look. (I use the pink /gold color)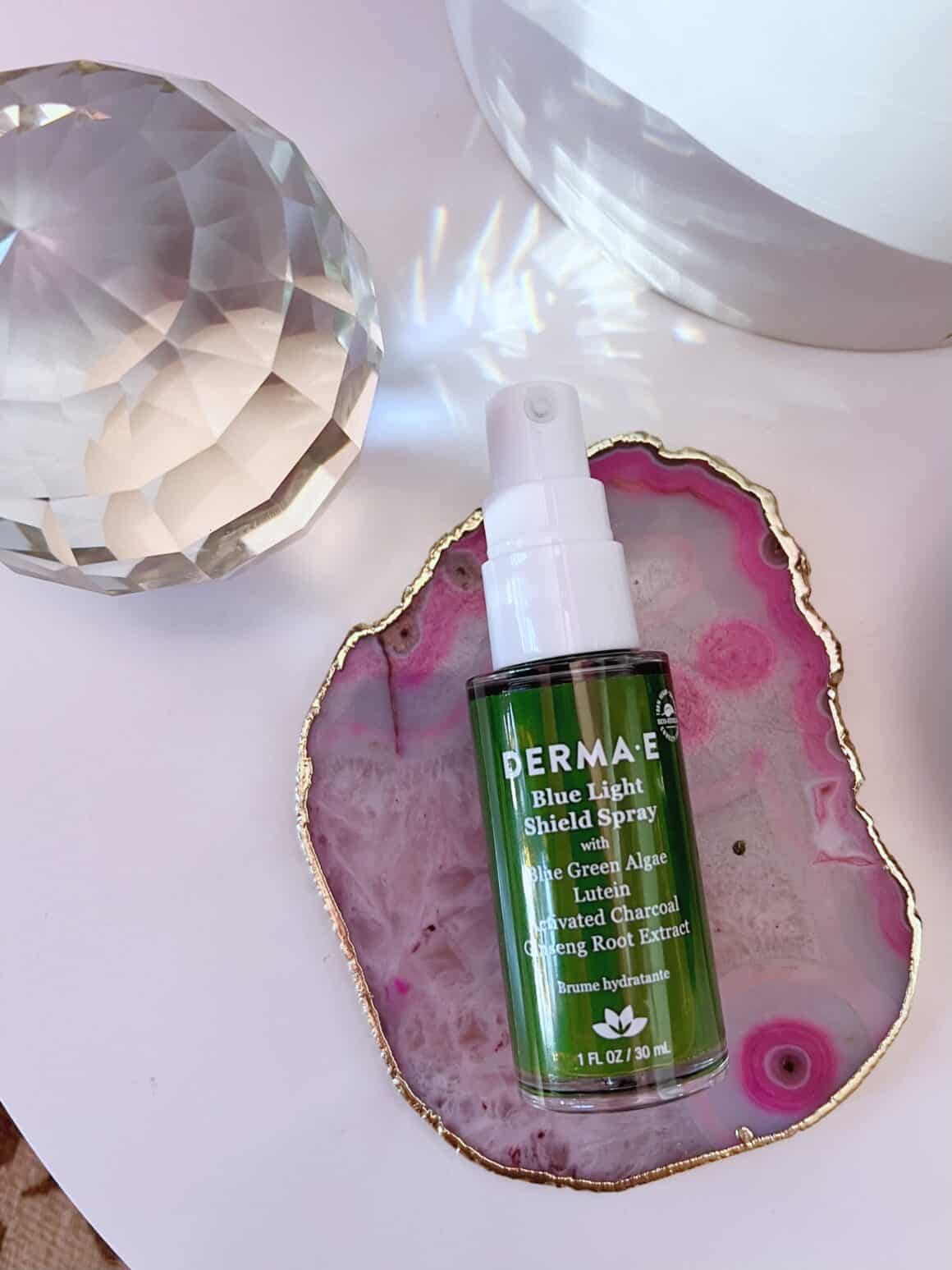 FACE / MOOD SPRAYS
I am all about facial sprays or "spritzers" as I call them. Two that are awesome to keep on your desk (or on a bed tray bc let's be honest sometimes working from bed is what's necessary for the day) when you want to refresh your skin AND your mind.
DERMA E Blue Light Shield Spray is essentially a spray form of the serum that you can erapply throughout the day. Think of this like how you reapply sunscreen if you've been out the whole day. Same goes for the blue light spray when you've been looking at a screen for a long time.
I love using DERMA E CREATE Mood Spray when I take a mini break and need to reset my energy and creativity. Aromatherapy really works to enhance your mood and bring you back to the place you desire to be, which in my case in biz is channelling creativity & inspiration.
Let me know what you think about this routine! Feel free to DM me on IG with any questions on DERMA E products. 💜