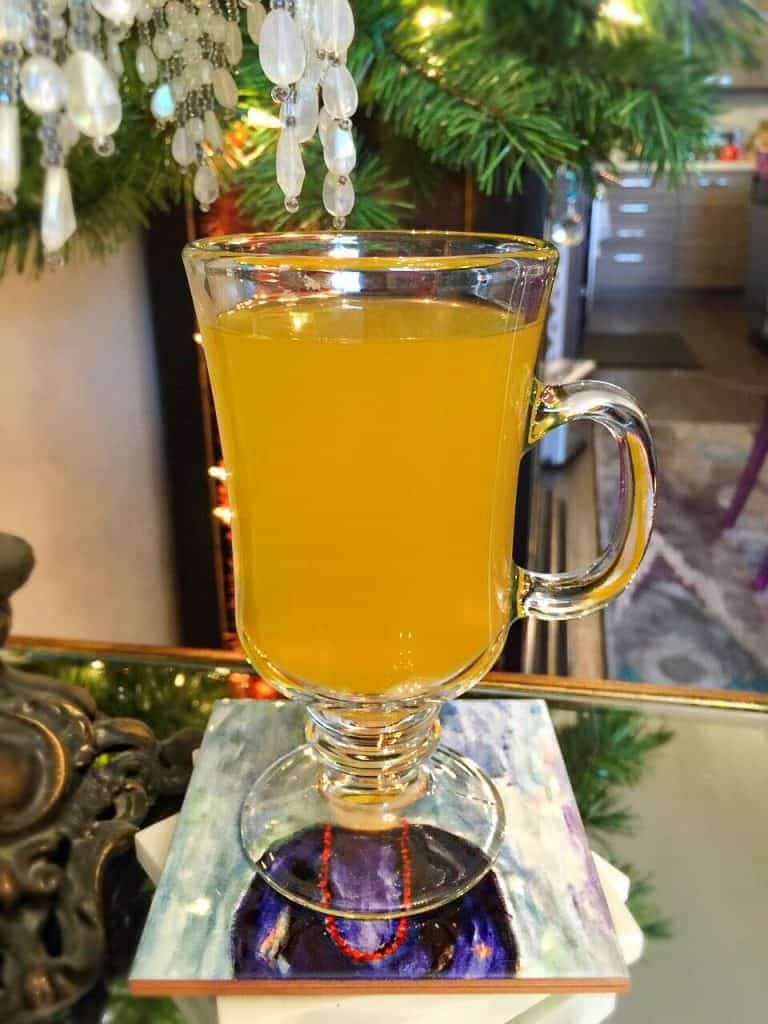 Today is an unusually overcast and chilly day in Las Vegas. I have been quite a bit under the weather, which is unusual for me, but it happens! Today is the type of day that seems perfect to reflect and relax. I have been writing a blog post today (which will be out tomorrow) that was inspired by all of you who emailed and commented on my divorce post from yesterday. I can't wait to share it with you..
In the meantime, I have been making this tea at least 5 or 6 times over the past week. Due to the overwhelming response on Snapchat (MissAshleyDiana), I needed to get this recipe up asap. It turns out there many of us under the weather right now! I must have caught some sort of virus, on my plane ride hime from North Carolina last week. Immediately when I landed, I came down with the most terrible flu symptoms. I am beginning to feel better now.
This tea recipe was recommend by my doctor's office. Isn't that fantastic news that a doctor prescribed a natural remedy? I am very fortunate to have a family medical doctor that focuses on a whole foods, plant based approach to wellness. Doctor Allen is the first in Las Vegas to implement a wellness program and a plant based diet (along with modern medicine when needed) to his patients. He and his beautiful wife, Rachel, created a concierge wellness center where they are healing people daily without the use of costly medical procedures. (because after all, prescription medication doesn't really treat the cause, it only masks the symptoms and creates more disease!) On a side note, I encourage you to check out Dr Allen's website HERE. He is brilliant; he will help cure your body the right way! He is available to anyone, anywhere in the world…just a phone call or Skype call away.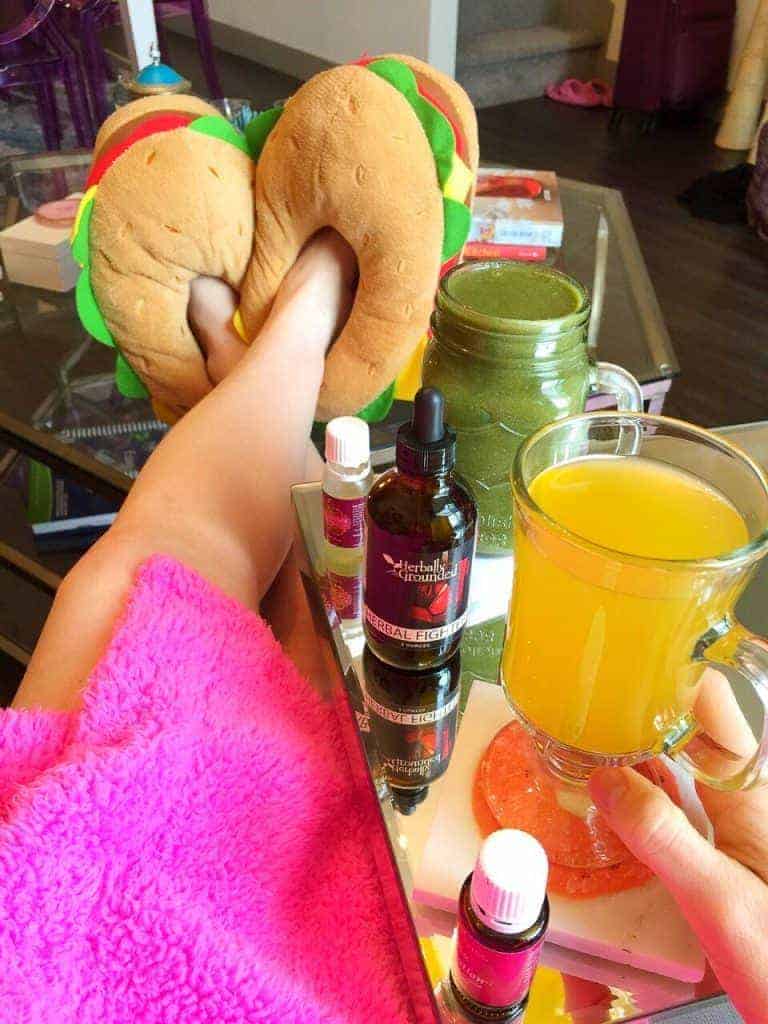 Now back to the tea, this tea is your new best friend during the cold & flu season. (Pictured above, is me this morning. I have been getting my natural remedy ON! Green smoothie, tea, essential oils, and an herbal tincture!)
Ginger and Turmeric help with boosting the immune system and ease headaches. Sage is a natural decongestant. If you do not have congestion, then you do not need to use Sage. You may be asking, "Why Black Pepper?" Interestingly enough, black pepper helps your body with the absorption of turmeric. (so any recipe you are using turmeric in, add black pepper to it)
The cool thing about this tea, is that you can customize it just the way you like! You basically, cannot overdo these ingredients. If you like lots of ginger – add more! If you like it sweeter – add more orange slices! Use my recipe as a guideline.
INGREDIENTS
4-5

Cups

Water

2

inches

Ginger Root

washed & thinly sliced

1

small Turmeric Root

washed & thinly sliced

2

Slices

Orange

2

Slices

Lemon

Small Handful Fresh Sage

Black Pepper or Black Pepper Essential Oil

therapeutic grade
DIRECTIONS
Bring Water to a boil.

Place all ingredients in water. (if you are using pepper essential oil then please omit this until the end)

Turn heat to low/medium and simmer for 20 minutes. (Cover but crack the lid)

Strain into your mug!
In the comments below, please share some of your natural remedies!