Hot cocoa is Lily's THANG. Next to water, it's what she wants to drink all the time. Most of the hot cocoas in stores are full of gross ingredients, but this Chocolate covered cherry hot cocoa is a recipe that you can feel good about sharing with your kids. Goodbye Swiss Miss mix & hello creamy dreamy homemade hot cocoa.
So gather around because today Lily and I are sharing our fave homemade chocolate covered cherry hot cocoa recipe that is delicious AND nutritious.
This recipe that's about to turn your chilly winter nights into a deliciously sweet experience! Say goodbye to boring hot cocoa with added refined sugar and hello to a cherry-licious hot cocoa recipe that will make you want to do a happy dance in your kitchen. (Or as Lily calls it the "yummy wiggle")
This refined sugar-free cherry hot chocolate recipe is made with dark sweet cherries, unsweetened cocoa powder, coconut milk, vanilla extract, and medjool dates. Yes, you heard it right, we are using medjool dates to add that natural sweetness to our hot cocoa.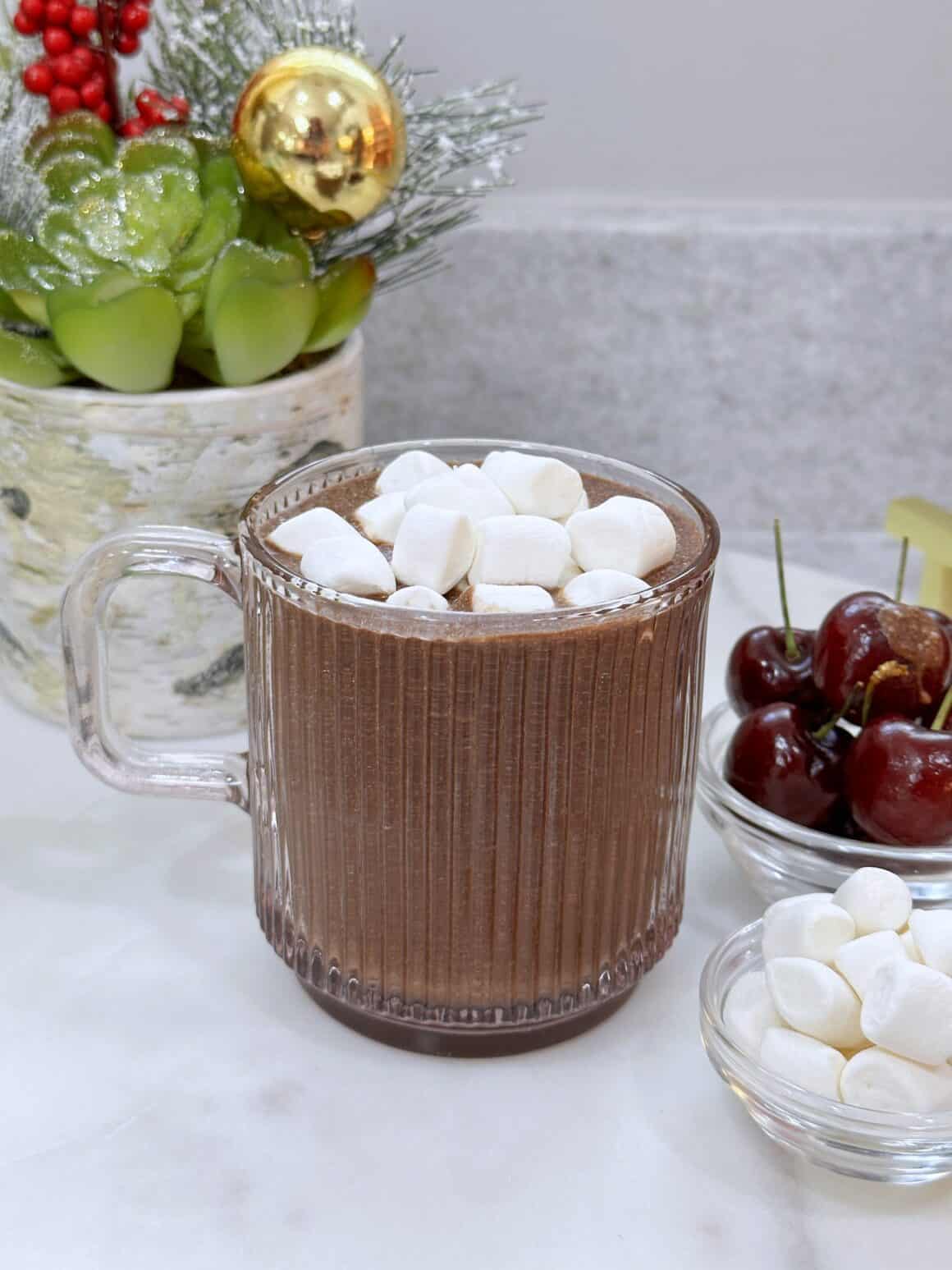 Let's start with the star ingredient, dark sweet cherries! These babies pack a punch of flavor and will add a new dimension to your hot cocoa. They are also loaded with antioxidants AND fiber, so you can feel great about indulging in this treat.
Next up, we have unsweetened cocoa powder. Cocoa powder has been known to have a mood-enhancing effect and can also improve heart health. So, go ahead and add a generous amount of cocoa powder to your hot cocoa to give it that rich and chocolaty taste.
For the milk, we are using coconut milk. Coconut milk is creamy, rich, and a great alternative to regular milk. Not only does it add a touch of sweetness, but it also makes the hot cocoa super creamy and dreamy.
Now, for the magic touch, vanilla extract. Vanilla extract brings out the flavor of all the other ingredients and makes the hot cocoa taste like a warm hug on a cold winter night.
Last but not least, we have medjool dates. Dates are a natural sweetener and will add a touch of sweetness (and fiber again!) without making the hot cocoa overly sweet. They also make the hot cocoa thicker and creamier. We use medjool dates in everything around here. The more fiber & nutrients the better.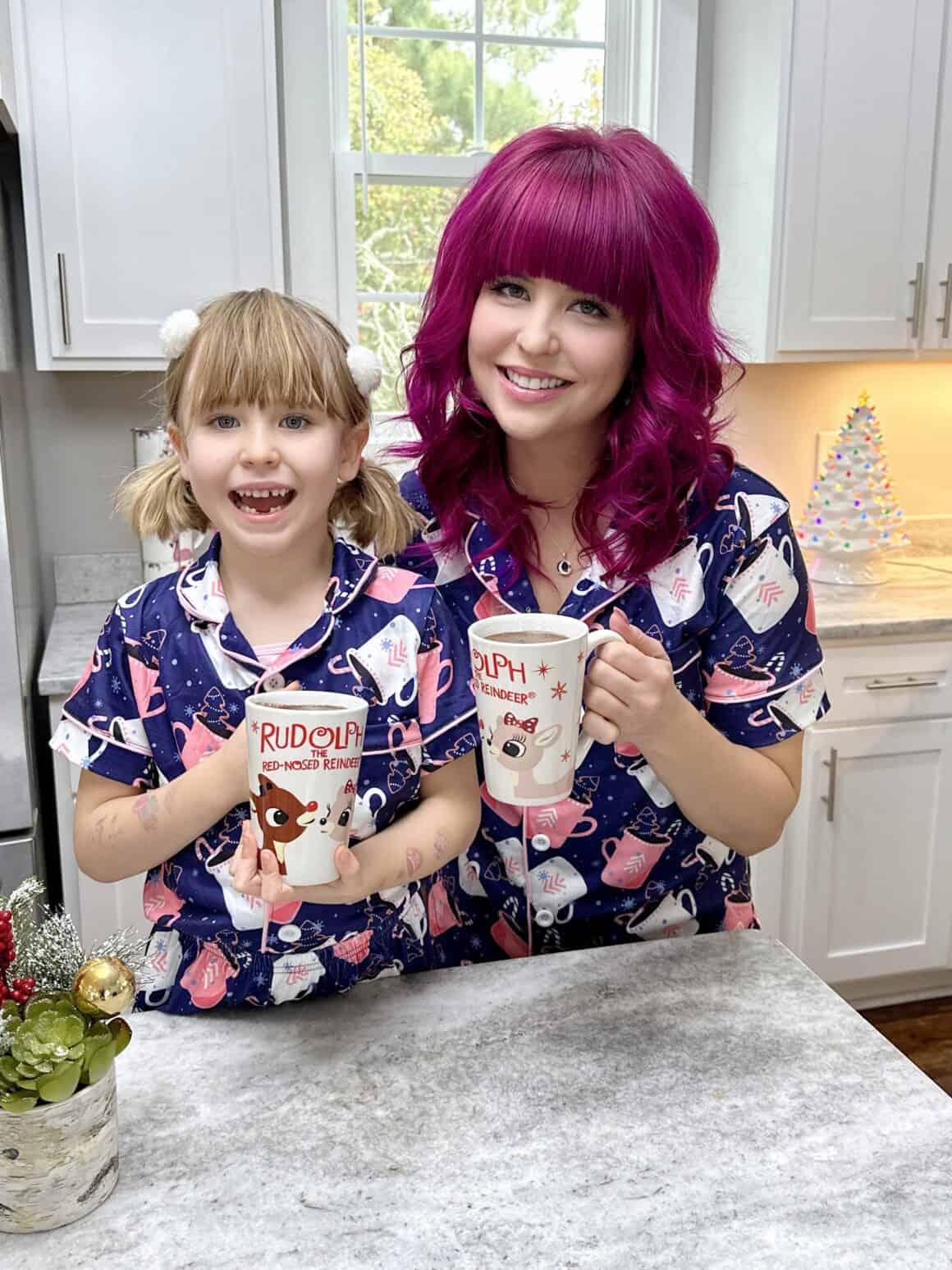 Lily and I made a video reel making this recipe HERE.
Now let's get to blending; Enjoy! Xo, Ashley & Lily.
Chocolate Covered Cherry Hot Cocoa
INGREDIENTS
1

Can (about 2.5 Cups)

Heavy Coconut Cream Milk

or any dairy-free milk you prefer, the creamier the better

1

Cup

Water

1

Cup

Dark Sweet Cherries

fresh or frozen

6

Medjool Dates

pitted

1/2

Tsp

Vanilla Extract
DIRECTIONS
Blend all ingredients in a high powered blender until smooth.

Move to a pot over the stove and warm mixture. Serve hot (but not boiling).