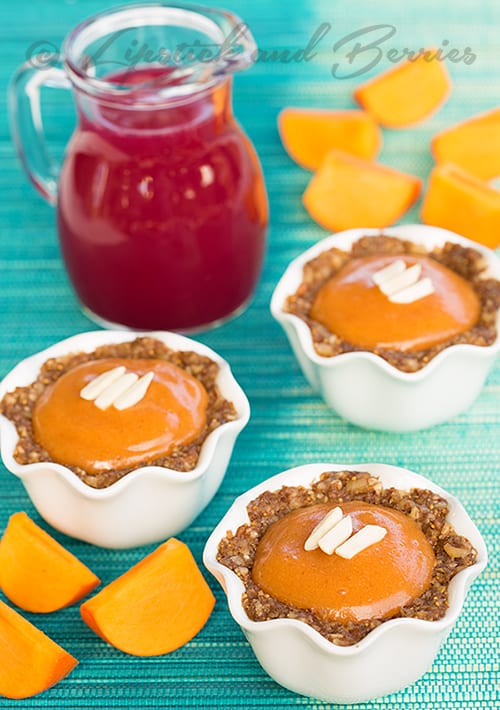 I go crazy for persimmons this time of year!! If you haven't tried persimmons yet, then you need to stop what you are doing right now and go on a persimmon run.  No, but seriously…they are delicious!! I think they taste like a cross between apple, pear, and orange.  There are different types of persimmons, and the one I used in this recipe is the Fuyu.  This type of persimmon is distinguished by its cute flat bottom…it sort of resembles the shape of a tomato but smaller.  They are slightly crunchy and are the best to eat when only slightly soft.
To make this crust free of fats, I used Dates, Figs, and Mulberries!  These flavors work very well together, plus you can eat like 500 of these and still stay slim! Woohoo for low fat vegan! 🙂  (If you would like a more rich crust, try using the crust on my Pumpkin Persimmon Raw Tarts!  That crust is amazing too, but a bit higher in fat because it contains nuts)
This is a delicious, quick & easy recipe for the holiday season!! Enjoy!
Persimmon Pear Raw Tarts
INGREDIENTS
Ingredients For Crust
1

Cup

Dried Figs

top stem removed

1

Cup

Medjool Dates

pitted

1

Cup

Dried Mulberries
Ingredients For Filling
4

Fuyu Persimmons

peeled

2

Ripe Bartlett Pears

1/4

Cup

Pomegranate Juice

1/2

Teaspoon

Ground Cinnamon
DIRECTIONS
Soak Figs & Dates in water for about 15 minutes.

Remove Figs & Dates from water. Place in food processor along with Mulberries. Pulse on high until as smooth as possible.

Press mixture into individual tart bowls. Chill in refrigerator.

Blend all filling ingredients in high powered blender or Vitamix. Once completely smooth, pour into tart bowls.

Chill at least 30 minutes before serving!