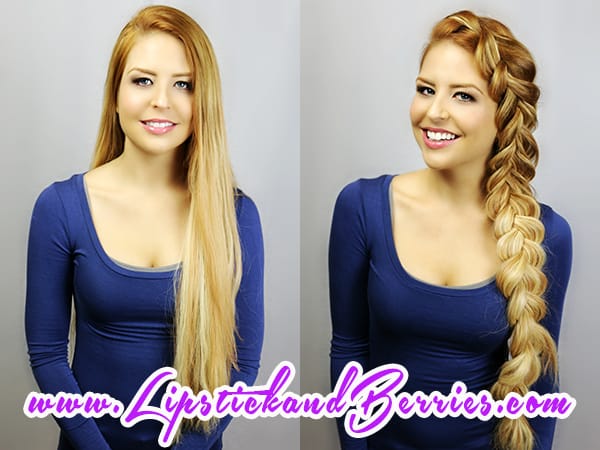 For my first hair tutorial on the blog, I thought I should start with a banging braid!  I love this look because it can be dressy or casual!  The key to making the braid unforgettable is to pull the outer sides of each plait outward as to create tons of volume within the braid.  This technique will make it appear as if you have triple the amount of hair.
If you have shorter hair, you can use the same technique, #1-5, just tie off the hair closer to the shoulder and "pull out" the braid on the scalp! Enjoy!

1.  Pick a side part.  Brush hair thoroughly to remove any tangles, as tangles will make the braiding difficult.  The hair does not have to be stick straight.
2.  Grab all the hair on the heavy parted side in front of the ear.  Leave the hair behind the ear alone.
3.  Start with 3 strands of hair, as you would in a traditional french braid. 
4.  Start braiding with an "UNDER – UNDER" motion.  NOTE: If you braid this style with each strand OVER the top of one another, you will NOT achieve the look.  Each strand must be placed UNDER the other.
5.   Continue braiding with an under the strand motion.  Once you are off the scalp, start grabbing hair from behind the ear to incorporate into the braid.
6.  Once all the hair from the back is incorporated, continue down with a three strand braid.  This braid does not need to be tight.
7.  Tie off with an elastic.  I like to use clear elastics, which you can easily buy at a beauty supply store or Target.  If you have black hair, you should use a black elastic.
8-10.  Starting just above the elastic, pull each plait outward.  Pull only the outside pieces of hair.  We want to create as much fabulous braid surface area as possible.  
11-12.  Continue up the braid and very carefully pull out the sides here as well.  
13-14.  Smile, you're so glam!
{Fabulous photo credit to my girl Melanie of MJBlack Photography}