Summer vacation destinations are around the corner and that means its time for bikini-ready tips! No matter what body shape we have, these tips below are all about getting healthier and feeling better! Some people don't like the phrase "bikini ready" body, but in my opinion, it's not bad whatsoever, so that's why I am using it. Getting bikini ready is all about feeling confident and happy in our skin and what we choose to wear. Let's face it, we ALL have days when don't want to put on a swimsuit. Luckily there are a few quick things that can help us feel confident and cute in a flash (and much healthier!!). Here are my last minute hacks to help you rock your bikini in confidence and to be healthier all around.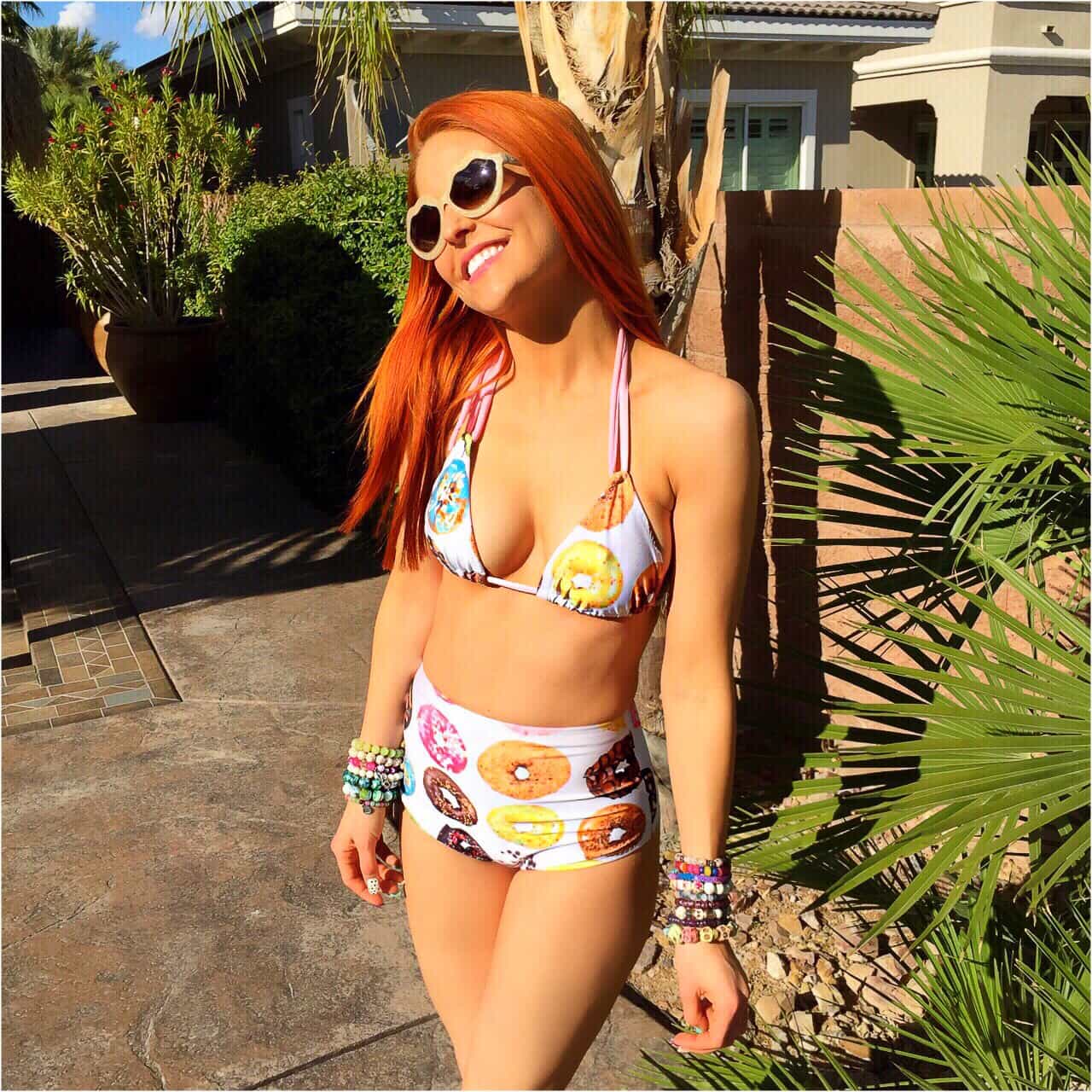 1. Cut Out Excess Sodium.
Salt is your enemy when it comes to your bikini. Excess salt can cause water retention and can bloat you up like a blowfish. No one wants the feeling of a blowfish belly! Avoid processed foods, and high salt foods out at restaurants. Often there is so much hidden sodium in restaurant foods; for example, PF Chang's Hot & Sour Soup has 6,800 mg of sodium, Yikes!! That's a heart attack and bikini bloat waiting to happen!
2. Cut Out Alcohol.
Sorry, but alcohol can cause major bloat too. Save the margarita for later at the pool but not up on arrival lol! Drink lots of water instead before you head out…not only is it healthier, but extra of water is essential for hydration on hot summer days. (Nobody wants heat exhaustion, thats not cute!)
3. Eat Raw.
If you're feeling extra sassy and motivated, try adding one or two raw meals into your diet. Raw fruits and veggies have a high water content and they help flush your system and make your skin glow! Eat a huge raw greens salad with fruits, nuts, and veggies for lunch. Make a delicious green smoothie in the mornings! You'll be surprised at how lean and toned your tummy will be in a short time!
4. Do Squats and Planks.
Squats and planks are two easy, full body exercises to do pre-bikini day. They don't take a lot of time, but work out all the body parts that need an extra lift! Try doing 25 squats + one, 1 minute plank in the morning, and 25 squats + one, 1 minute plank in the evening. Come on now…we all have time for that…this will only take about 6 minutes out of your day.
5. Eat Anti-Bloating Foods.
Foods like Ginger, Turmeric, Peppermint,and Lemon are natural foods that can help ease your digestion, reduce inflammation, and reduce bloating. Try adding a little fresh lemon or Peppermint essential oil (food grade only) to your water! Ginger and turmeric are incredible and delicious when added to fresh juices. When I add ginger to my juices, I can literally feel the healthy tingle running through my body!! Yay….sizzle sizzle!!
6. Eat Oil-Free.
If you are already eating a plant based diet, take it to the next level and try an oil-free diet. Oil is 100% pure fat with minimal to no nutrition. For example, it is MUCH healthier to eat whole flaxseeds which contain the fiber, nutrients, and phytochemicals, than to use flaxseed oil (which is the fat only). Oil sticks to the parts of your body where you hold body fat like white on rice. (I'm not joking!) From my personal experience, I promise that if you cut out added oils from your diet (eat fats only from whole foods) you will see REMARKABLE results in a rapid manner. (Not to mention your cells and arteries will thank you)
7. Try Arnica.
Have an ugly bruise? There is a natural remedy for that! I found out about Arnica Gel about 10 years ago and I have been using it ever since. I'm the kind of person who acquires bruises out of thin air (don't ask me how but I attract them!), so I apply arnica gel to any bruises or sore muscles immediately. More times than not, my bruises don't come to fruition or they go away super fast!! Try this natural remedy for your next bruise and have your legs looking sexy in a snap!
8. Get a Faux Glow.
A little color never hurt anyone, and a luminous glow helps to give the body a flawless blended effect. As I mentioned above, arnica is great for fixing bruise imperfections, but arnica doesn't work in an hour. If we need to do a little body blending in a flash, a faux tan is perfect for that! I like to use Pure Natural Tanning Lotion.
9. Sleep!
We all know by now that we need the proper sleep to function optimally. Adequate sleep not only is required for our body to function properly, but it also is important for our mood and general outlook on life. When we are well-rested, our minds are positive, we are confident, and we feel spectacular. Aren't those the keys to thriving and glowing? Yes, I believe so! 🙂
10. Be Confident!
When you are happy and you feel good, everyone around you knows it! We thrive off of other people's energy, and it is apparent to others when you are confident in your own skin. Nothing is sexier than a pretty smile and confidence. If you don't believe me, then I dare you to try it!! Remember at the end of the day, you are perfect being YOU, and you are as happy as you set your mind to be.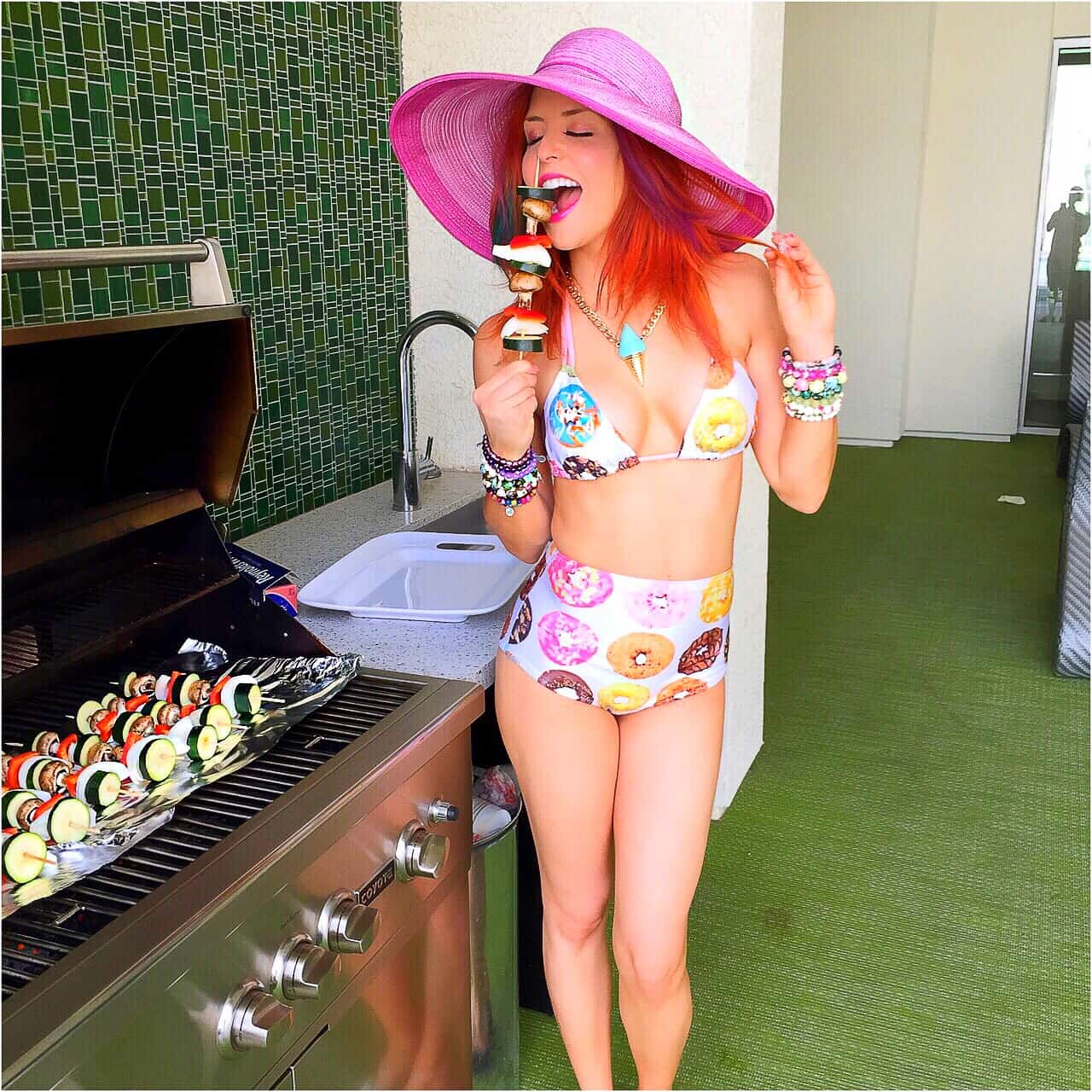 Retro Donut Bikini is by Love Lucy Bea! She is a custom swimwear designer out of Cali and she made this adorable donutkini for me!! It's amazing quality and so comfortable! Check her out!