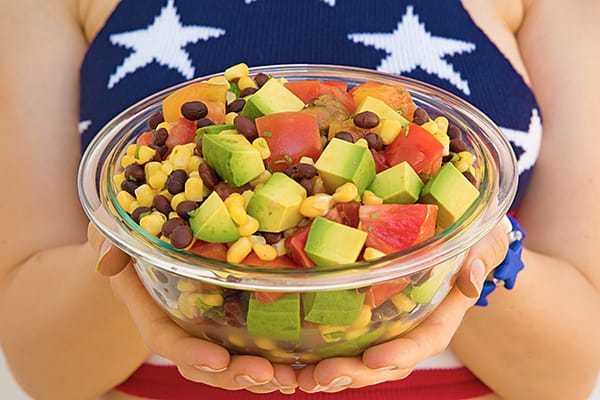 Life continues to get busier (but more fun) and that means my recipes become a bit simpler. As life has changed this past year (divorce & such) I haven't had the luxury of extra time to spend hours in the kitchen. That's all fine by me though, I've been grateful for the busy life. Having to readjust a bit more back to reality, has shown me that most people just don't have the extra time to make complicated recipes. (I'm right there with ya!)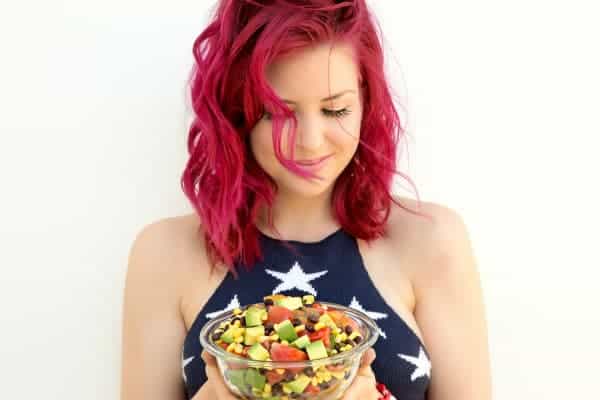 This tomato salad is a perfect example of an easy, delicious, and healthy recipe that will be satisfying all summer. With only a few ingredients, your taste buds will be tantalized!
I used fresh heirloom tomatoes because they wildly flavorful this time of year and also organic. You may use whichever type of tomatoes you prefer.
Another substitution for this recipe would be to use fresh or roasted corn as opposed to frozen. I used frozen corn because…you guessed it…EASY!
Your new favorite salad is delicious eaten solo, or you could wrap it up in a collard or romaine leaf!
Tomato Avocado Corn Salad with Cilantro Lime Dressing
INGREDIENTS
3

Cups

Heirloom Tomatoes

chopped (or tomatoes of your choice)

2

Cup

Frozen Corn

defrosted

1

Small Avocado

chopped

1

Cups

& 1/2 Black Beans

drained and rinsed (or 1, 15-ounce can)

Small Handful Cilantro

chopped

2

Tablespoons

Sweetener (Bee Free Honee

Honey, or Raw Agave)

1

Tablespoon

Ume Plum Vinegar

or vinegar of your choice

Juice of two Limes

Pinch of Pink Salt
DIRECTIONS
Mix all ingredients together. Serve fresh!
I'll be making this one again for July 4th (although I am not sure of my plans yet, I am sure eating will be involved!)
What are you planning to do for the holiday?