This weekend we made ramen, and it was a hit with the fam. There are two things I fucking love – soup & asian food. Put it together and it's just heaven.
Lily calls this Wiggly Noodle soup, AND it's Lily-approved btw. Lily loves a good soup too, especially one with noodles.
This recipe reminds me of my Las Vegas bff Mariann because she is the first person who introduced me to pho & ramen. While this recipe is NOT traditional, and I wouldn't classify it as either pho or ramen, traditionally, it IS reminiscent of both.
Pho is a Vietnamese noodle soup with a light, herbal broth and rice noodles. Ramen is a Japanese soup consisting of a heartier broth with heartier wheat noodles.
I used organic ramen noodles in this recipe, along with a deliciously simmered homemade broth and lots of veggies. You can get really creative with this soup. For exxample, Alex loves edamame noodles in his, Lily loves corn, mushrooms, and broccoli chopped in small bites. I like ALLLL of the veggies (especially the purple cabbage slices, MY FAVE). This dish can also be made totally oil-free if you wish.
This is one of our new family faves, and I love it because whatever veggies you have on hand you can throw into this recipe. Although there is a little prep (for chopping the veggies to add), and the broth has to simmer for a bit, it's quite easy to make.
This is one of those recipes that I feel really good after making and eating; my body feels satisfied but not heavy. It's just perfect. Hope ya enjoy.
xo, Ashley.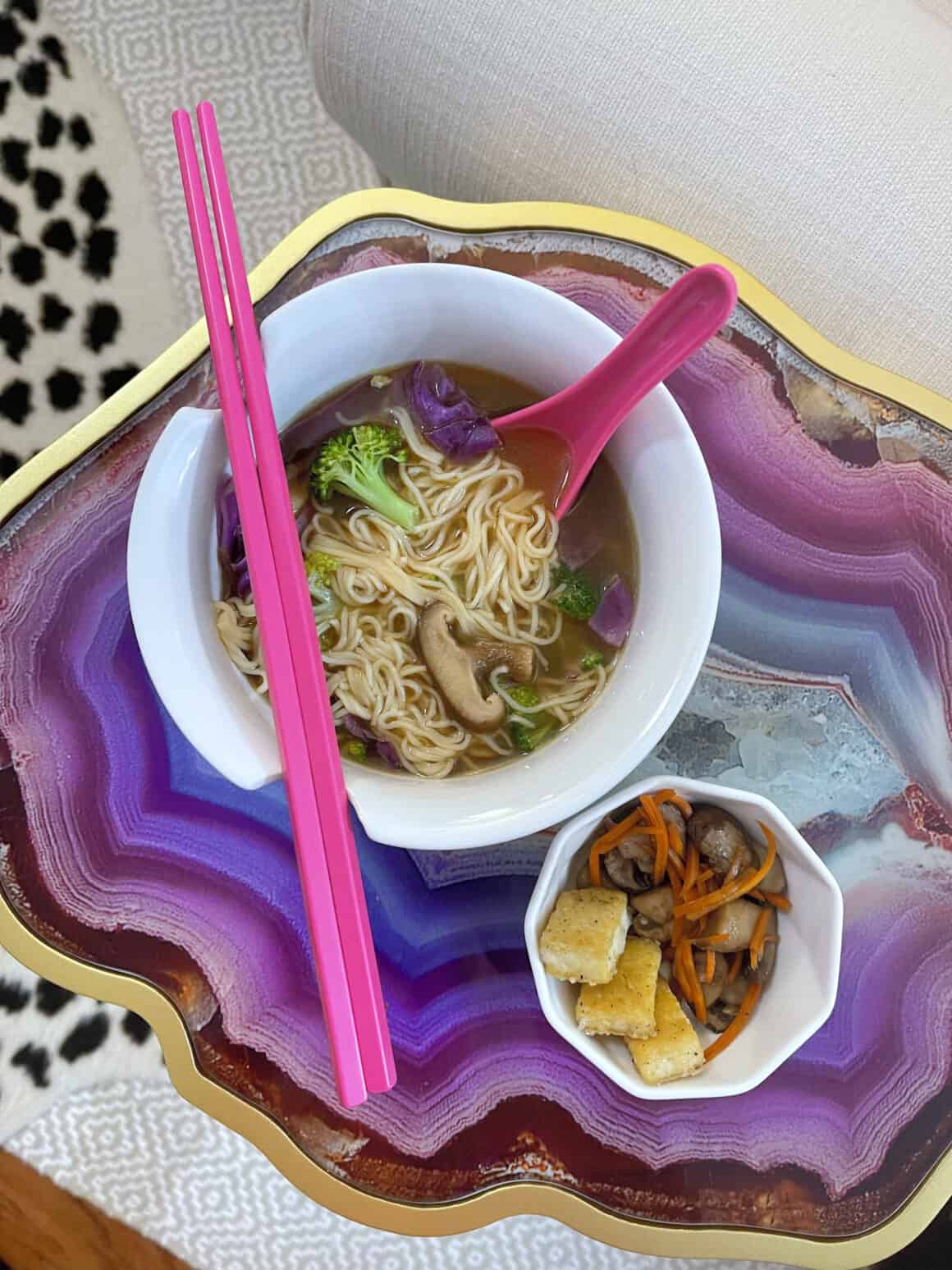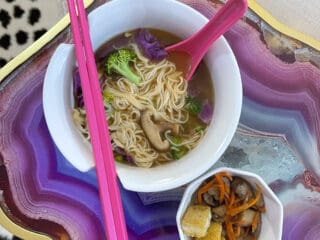 INGREDIENTS
Broth Ingredients
1

Sweet Onion

medium size, peeled & sliced

4

T

Garlic

chopped

4 Inch

Piece of fresh Ginger

peeled, sliced

3

T

Bragg's Amino Acid

8

Cups

Veggie Broth

.5

ounces

Dehydrated Shitake Mushrooms
Veggie Mix-In's
1

Pack

Ramen Noodles

1

8 oz. Carton

Mushrooms

sliced

2

Cups

Raw Broccoli

small chunks

1

Cup

Raw Purple Cabbage

sliced

1/2

Cup

Raw Carrots

shredded or sliced thinly (your preference)

1/2

Cup

Edamame

frozen & defrosted

1

Cup

Corn
Optional Toppings
Hoisin

optional topping

Sriracha

optional topping

Basil Leaves

optional topping

Fresh Lime Wedges

optional topping
DIRECTIONS
In a large soup pot, water sauté (or sauté in olive oil) the onion, garlic, and ginger together for 3-5 minutes.

Add veggie broth & mushrooms. Bring to a boil. Turn down to low and simmer for 45 minutes.

While broth is simmering, boil water for ramen noodles. Cook according to package (usually 3 minutes) and set aside.

Once broth is ready, using a strainer spoon (or if your pot has a strainer lid), separate the onions, garlic, ginger, & dried mushrooms from the broth.

Next add your veggies of choice to the stock and simmer for another 10-15 minutes until veggies are tender (to your desired softness)

Ladle soup into each serving bowl and then put I ramen noodles. Top with anything you desire (fresh basil, hoisin sauce, siracha, lime juice, etc)