I thought I would kickstart the holiday gift guides with none other than one for the PURPLE PEOPLE.
Purple people need their own gift guide. I'm sure pink people do too, but there are probably a ton of pink guides out there on other blogger sites, so I felt it was necessary to take care of my purple people this season.
Let's take a trip down history lane for a sec, and I'll tell you why purple is so fucking glorious…
Purple was the most sought after color in history.
This is because it was the hardest and most expensive color to create.
Because of that, the color purple was only worn by royalty, which is why in present times, many associate purple with luxury & extravagance.
Kings of Rome, Persia, Egypt, and eventually England were the only people legally allowed to wear the color purple. (yes, it would have been illegal to wear purple, if you could find it anyway!)
Purple is actually very rare in nature, so many of our very ancient ancestors may never have even see the color purple.
With that being said, enjoy this luxurious purple gift guide fit for the queen on your list.
And if YOU are the purple person reading this…I suggest to indulge and treat yourself this season!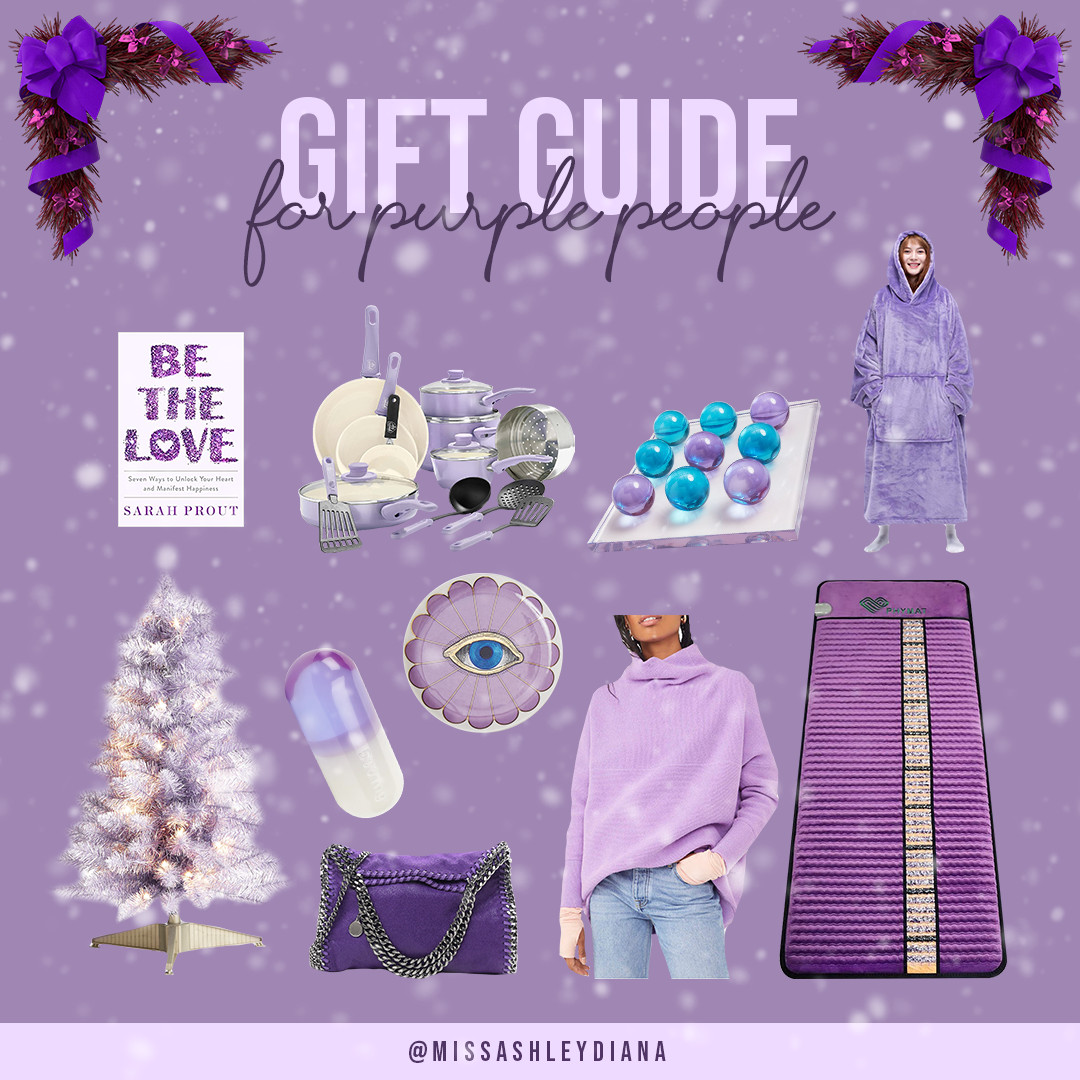 This Macy's Purple Tree is so cute and fluffy. It's compact, cute, and worth it.
Purple Non-Stick Cookware is on my list this year and I WILL be ordering it today.
I love a good cozy sweater w/a thumbhole and this Light Purple Free People Sweater does not disappoint.
Infrared Amethyst Mat is one I've had my eyes on, and as far as crystal infrared mats are concerned, this is a stellar price. (the ones are Neiman Marcus & Nordstrom are 4x the price of this one)
The soon to be released Be The Love Book by manifestation expert, and fellow purple person, Sarah Prout is a must-order. Her previous book Dear Universe was a best-seller and I know this one will be fabulous too. (Also, HOW PRETTY is this book?!)
Yes, I have the Jonathan Adler Purple Pill, and let me tell you it is a sight for glamorous eyes and a conversation starter. Sometimes people ask me why I have a giant purple pill, and my answer is simply, "why the fuck not?!" 😍
Jonathan Adler Tic Tac Toe Set is glam on a whole new level! I'm all about having interesting coffee table books and cute games at home. Cocktails and a chic game, anyone? Why yes, dahhling..
I have this Purple Wearable Blanket, and it's the coziest and craziest thing ever. 20/10
Because every purple girl needs a pre-loved Stella Bag.
And last but not least, another Jonathan Adler favorite, Flower Eye Coasters for the win. Another epic design detail and conversation starter for your home.
Share with this purple gift guide w/a purple person!