Our fam is crazy about these breakfast muffins. We make them almost every week (if Alex is lucky). Alex is a sucker for savory brekky (Yes, "brekky" as they say it in Australia) foods.
I'm more of a herbal smoothie, fruit plate, or overnight oats kind of chick, but these muffins are something I enjoy too.
I have to thank my gf, Krystelle Gratziani, for inspiring me to make these breakfast muffins. After reading her cookbook, Conscious Cooking, and seeing her egg muffin recipe, I wanted to make an egg-free version similar to hers.
Krystelle has the most fabulous cookbook, and whether you are vegetarian, vegan, pescetarian, or an omnivore, you can find something beautifully nutritious and delicious in her book. She uses lots of superfoods, herbs and spices to support overall health, and most of the recipes are gluten-free. Her book is so beautifully put together and every recipe I've made, we LOVE. Highly recommend.
I love having a recipe on hand that is simple & savory in the morning, and this one is totally that. This recipe is easy (and cute) for brunches and it's a fun recipe to make with kids. Lily loves making this and mixing all the ingredients together and helping pour it into the muffin tin.
With any recipe, I always ask myself;
How can I add herbs or superfoods to this?
How can I add greens to this?
So with this recipe I added more Turmeric for color and extra nutrition + finely chopped Swiss Chard. YUM.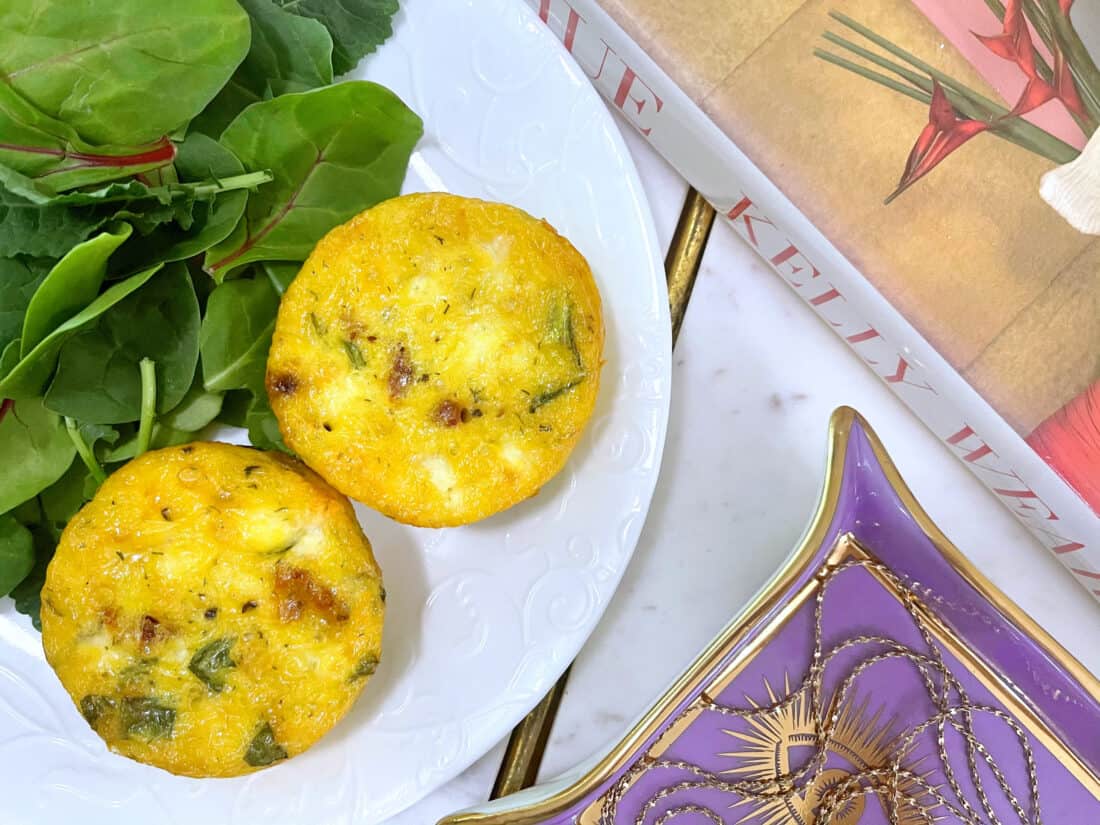 You can totally make this with real eggs if you choose, but if you do, I would encourage you to add Inulin to your mixture for added fiber. Inulin is Jerusalem artichoke, a prebiotic fiber that is totally natural. I love to add inulin to anything that could use more fiber, like my Sexy Skinny Coffee.
We choose to not make this with real eggs because #1 eggs just don't agree with my body well and #2 because of all of this information, so I wanted to experiment using the vegan egg, and although we try not to eat many processed food, we actually love the Just Egg product. We will eat a bite of egg in a dessert or a veggie burger out at a restaurant from time to time, but just eating a serving of scrambled eggs is a huge hell no for me. Actually my whole life scrambled eggs have weirded me out; they just didn't jive w/me. A few years ago, there was a vegan egg replacement that came out by another brand, and it was super gross and wouldn't scramble. Luckily, not too long ago, the "JUST" brand launched a legit plant based egg.
You may be wondering, WTF IS A "JUST EGG".
Just Egg is a plant based, egg-free, non-GMO, cholesterol-free, protein-rich, egg replacement made from BEANS – Mung Beans! It has 5g of protein/serving, and you can use it just like you would use eggs in any recipe.
AND YES, it scrambles.
It's so so so cool!
I've already said this, but I'll say it again, Alex is a MAJOR sucker for vegan / vegetarian food replacements & snacks, but for me personally most of them make my stomach hurt and give me the 24 hour burps. Not chic! But not Alex though, this guy fucking loves Nugs, Gardein Meatballs, Quorn (which actually are very tasty), oh and the impossible burger stuff (which I dislike very much), and of course, THE JUST EGG.
But even me, who can't do all the faux meat stuff, the Just Egg is 💣.com
In defense of vegan replacements, they are a more eco-friendly, sustainable food source, and depending on what you're comparing it to, they can be a healthier choice (as opposed to like Cheetos or a gigantic rib eye or something). But even if this kind of thing is not for you, I would encourage you to just give it a try; it actually tastes SO good, has an awesome texture, and it's a way better choice than conventional eggs from factory-farmed chickens.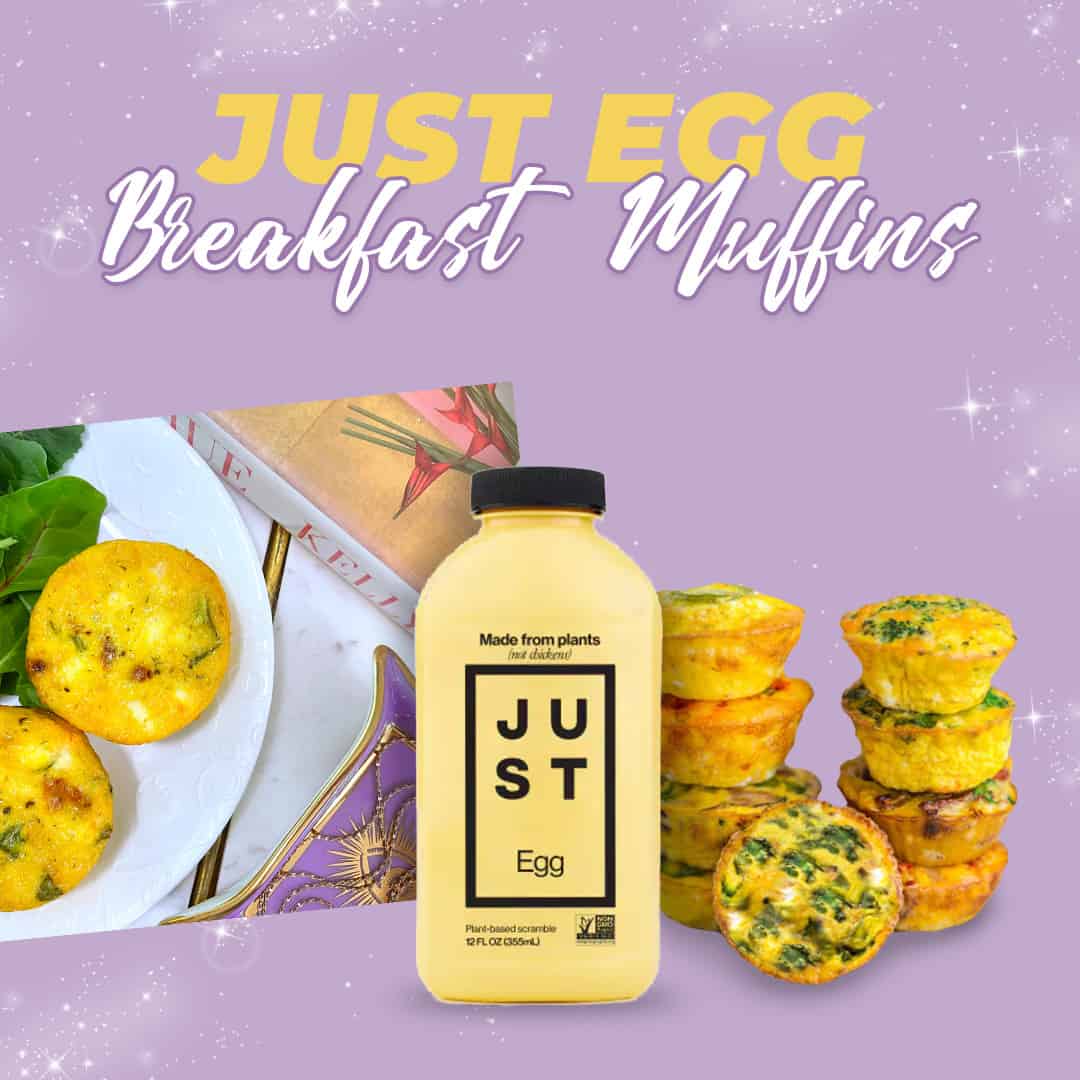 So Lily and I like to make these vegan egg muffins together. Sometimes instead of chopped spinach we use frozen riced broccoli, omit the sundried tomatoes, add a sprinkle of frozen hash browns, plus a sprinkle of vegan cheese (I'll add that recipe to the blog later). These sun-dried tomato egg muffins are a more jazzed up version.
You can really add whatever you like to these muffins, but we love them with sun-dried tomato + feta OR broccoli + potato + dill.
Whatever you do, just be sure to include chopped onion, garlic, turmeric, black pepper + some sort of veg/green.
Here is the breakdown of what you need as the base:
2 cartons of Just Egg
Garlic powder
Turmeric (for color & added nutritional boost)
Pinch Salt / Pepper
Then add any veggie fillings you like.
Here is our exact recipe for the sun-dried tomato version below.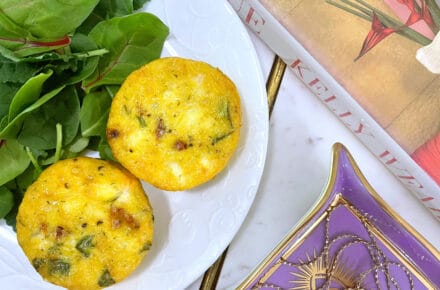 Just Egg Sundried Tomato Feta Muffins
INGREDIENTS
2

Cartons

Just Egg

1

Tsp

Garlic Powder

1/2

Tsp

Turmeric Powder

Salt / Pepper

1/2

Small Sweet Onion

finely chopped

3-4

T

Sun-dried Tomatoes

finely chopped

1

Cup

Fresh Greens (Swiss Chard or Baby Spinach)

chopped

3/4

Cup

Feta or Vegan Feta Crumbles
DIRECTIONS
Spray a muffin pan with oil. Pre-heat oven to 350 degrees.

Whisk together Just Egg, Garlic Powder, Turmeric, & Salt/Pep. Set Aside.

Sprinkle & layer the other ingredients into the muffin tins, starting with the chopped onion.

Spoon egg mixture evenly into each muffin holder.
ENJOY w/a piece of toast, a side of brekky greens, hot tea, & mimosas! 🌱🍳🥂
OH AND..
if you're in the mood for another delish & savory breakfast dish, you have to make this Veggie Tofu Scramble asap. Its hands down the best scramble online. Let's be honest, most tofu scrambles lack flavor and are watery AF. THIS ONE is fab.