A labor of love.
A fresh start to your day.
A pink sparkly addition to your morning routine.
An easy way to have it all.
Introducing the Affirmation Babe You Can Have It All Journal.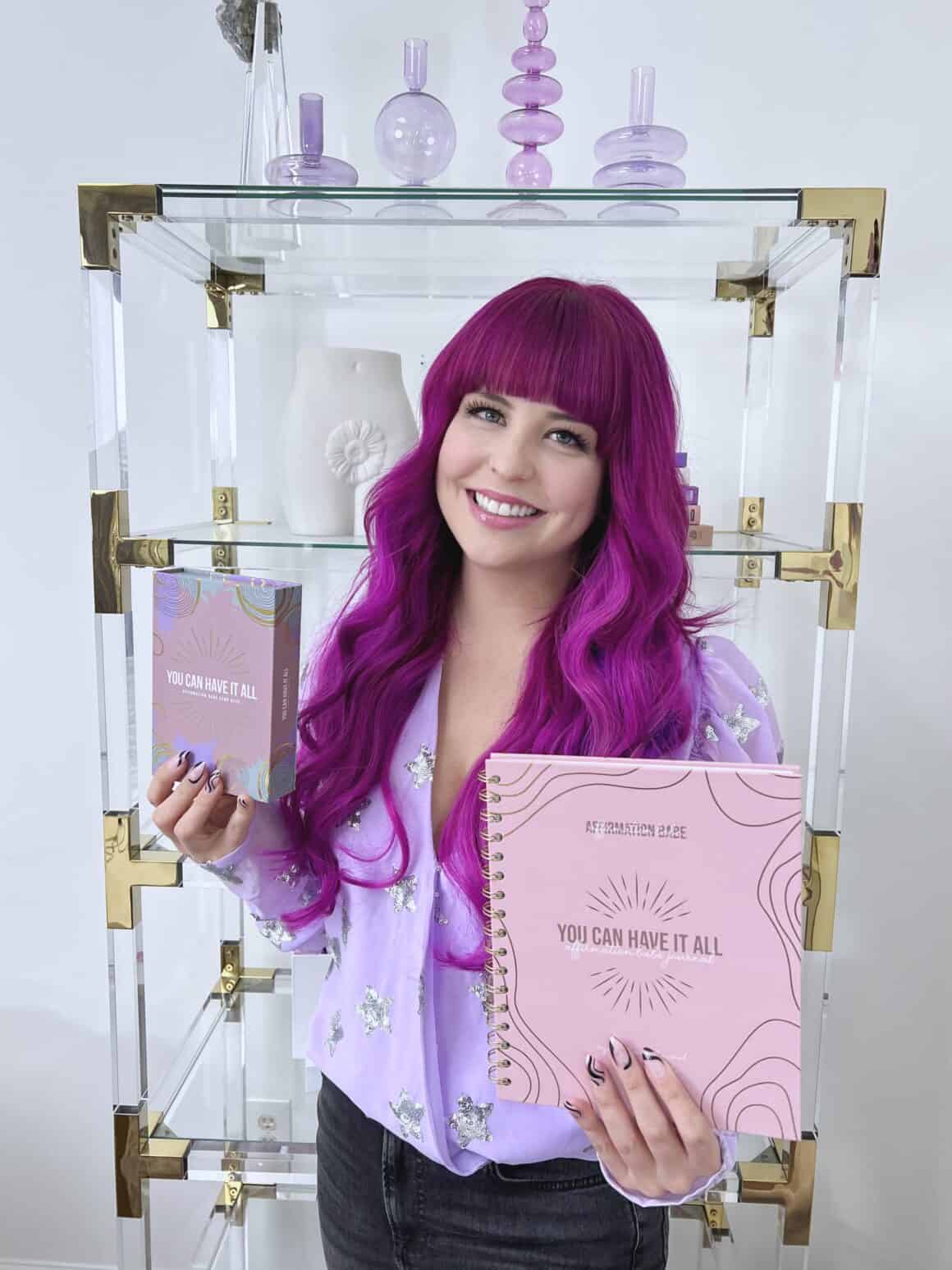 OMFG y'all. It's finally here.
My team and I have been working, designing, editing, and creating THE MOST perfect journal to elevate your morning routine & to have you slaying all your goals and GET THE RESULTS you want out of life. (The You Can Have It All Affirmation DECK featured left is coming next!).
The Affirmation Babe Journal is everything I wanted in a journal and everything I do in my ideal morning routine.
It's simple, easy, PRETTY, and most importantly, effective.
Let me tell ya, if a morning routine or a journal is not easy, I am NOT going to do it. Admittedly, I have a journal graveyard in the bottom of my closet. Most of them didn't make the cut. They either were too complicated, too many damn lines on the page, too heavy, not cute enough, didn't lie flat on my table (no spiral is no bueno for me), too neutral, or I simply needed multiple journals to piece together what I actually needed to get my life together!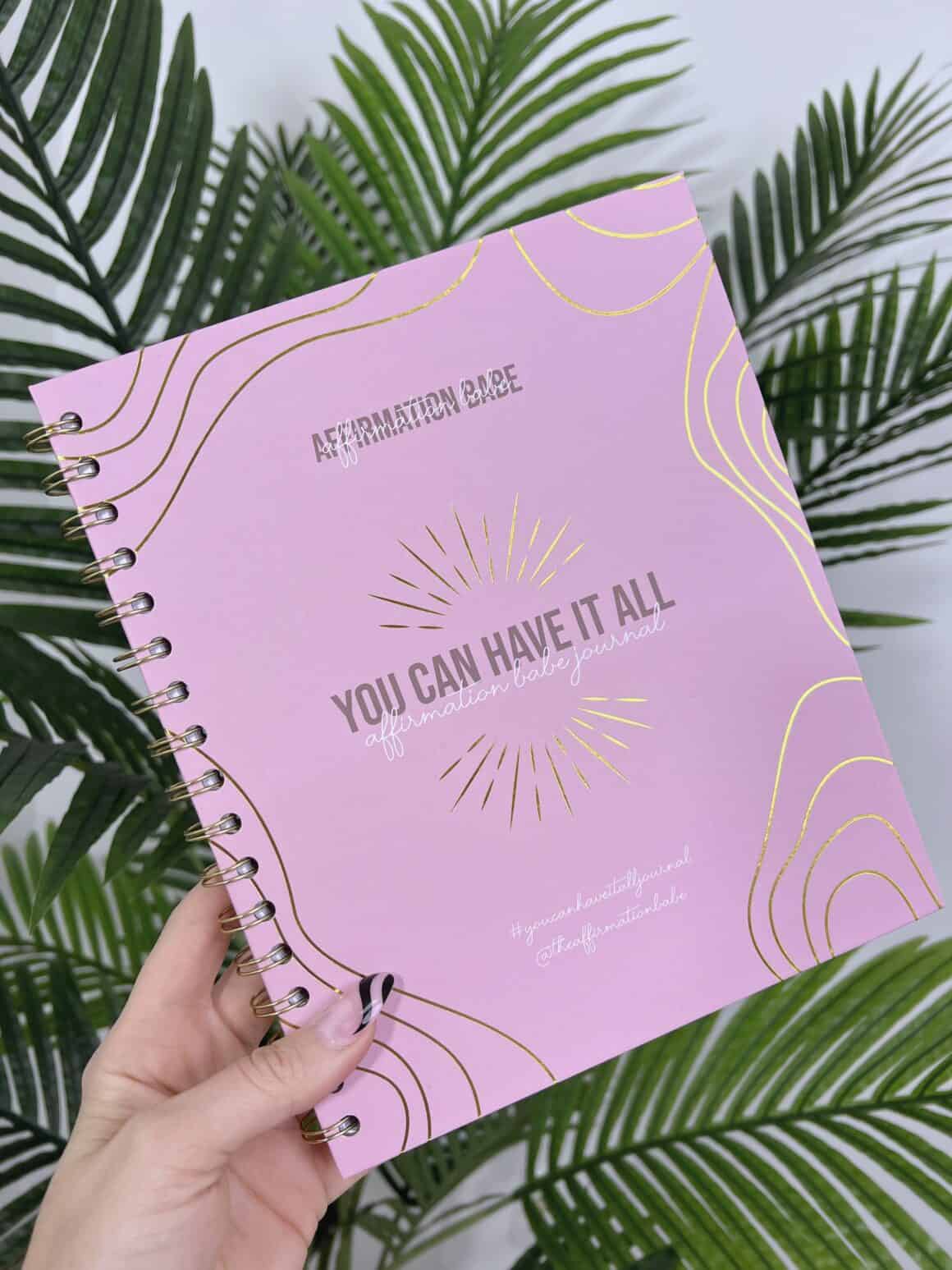 Needless to say, your new Affirmation Babe journal will be your new morning bestie. It is strategically designed to help you use the power of affirmations to create healthy habits that LAST.
Plus, it's eye candy. 😉
It's giving life. It's giving sparkle. It's giving chic morning vibes.
YES babe, you know it! It's chic and efficient. Just how we like our mornings.
We like them TO THE POINT, and a whole vibe in itself.
I don't know about you, but I want to be jazzed up about my morning routine. From my cozy house slippers, to my favorite mug for my green tea, to my bossa nova vibes, to… you guessed it.. my aesthetic AF journal that actually WORKS.
I've always nerded out on happy, successful people's morning routine. I like to know EXACTLY what people do to get where they are + what it is they do to feel great.
What I've found is that people who abundantly live their best life, one that is fulfilling and full of opportunity, have a routine of simple daily habits that when compounded over time create and attract the life they desire.
Their daily healthy habits are created with these foundational elements: gratitude, visualization, affirmations / positive self talk, physical movement, and healthy food choices.
If you can do these daily, you can have it all.
It's simple, but it's not always easy.
It's SO easy to slide back into your comfort zone without even realizing it, and get distracted from moving forward the vision you have for your life.
Happy, fulfilled, successful people have simple daily habits, essentially daily micro-commitments to themselves, that help them continually grow.
Our Affirmation Babe Journal helps you do just that.
Don't underestimate the power of this pretty journal! When used consistently, it WILL change your life and help you attract the things and life you want.
I literally cannot wait for you to get your hands on this.
Your new Affirmation Babe journal is awaiting you soon! You can join the waitlist here!
PS – we only have 100 journals so signing up for the waitlist means you will be notified the moment it drops!
PS – If you've been around for a while, you've probably noticed A LOT of affirmations being posted here over the past year, and while I've been sharing tons of affirmation value for ya, I haven't shared with you how rapidly the Affirmation Babe fam has grown ! We have over 5 million podcast downloads and have become one of the largest resources for affirmations to help support you in every area of your life!