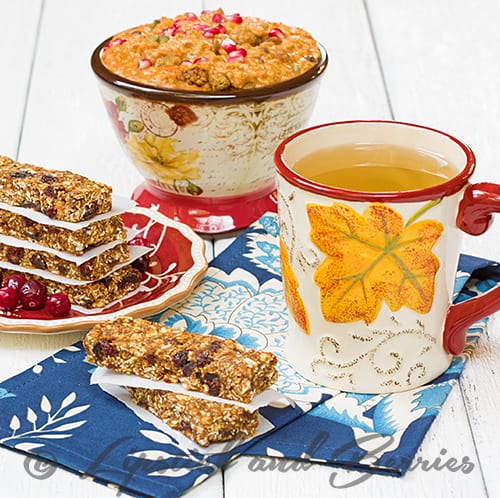 It's officially Fall Y'all!!!! 🙂  Which in my book means its time to pull out all the yummy fragrant spices, drink tons of holiday teas, and start playing Christmas music! I'll admit it; by the end of September I have secretly already listened to a few Christmas tunes (Michael Buble White Christmas yesterday!) and I progressively start to play more and more as the season continues. By mid-October I am full on continuous Christmas.  I know…I have a complex…but hey, whats so bad about having a Christmas complex…there could be worse things.
Moving on…For me, the fall season marks the beginning of all things warm, cozy, and festive. They say that springtime is a new beginning, but I actually feel that way in the fall! Where I live in Las Vegas, the weather is PERFECTION this time of year.  October and November are the best times to enjoy Las Vegas.
To be extra festive on the first day of fall, I made my Pumpkin Overnight Oats, and a brand new Cranberry No-Bake Granola bar!  I say to make everyday a holiday and just celebrate LIVING!!  I had my own one-person fall celebration this morning and I had a blast!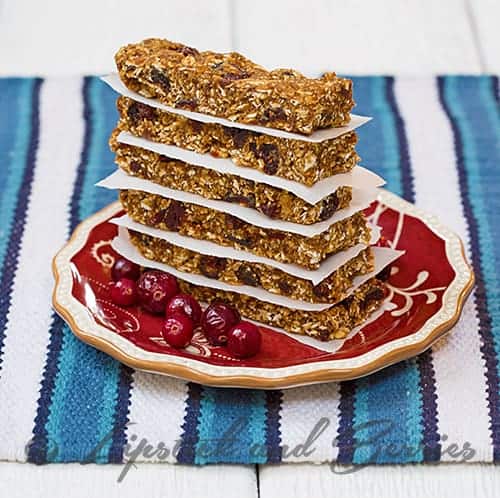 These bars are SO DELICOUS and SO EASY!!! I will be making these over and over again.  I always like to munch on granola bars when I want a little snack, but I can never find one at the store that isn't 100% fat or full of weird protein powders.  Is it too much to ask for a nice, hearty, low fat, oil-free, healthy bar?!?! Luckily these are really easy, so I can whip these up in a second and have yummy bars on hand all the time!  🙂
Cheers to Fall and a beautiful holiday season to come!
No-Bake Autumn Granola Bars
INGREDIENTS
2

Cups

Uncooked Old Fashioned Oats

uncooked

1/4-1/2

Cup

Organic

Dried Cranberries

6

Figs

top stem removed

9

Medjool Dates

pitted

1/2

Cup

Dried Mulberries

3/4

Teaspoon

Pure Vanilla Extract

1/2

Teaspoon

Cinnamon

1/2

Teaspoon

Dried Valencia Orange Peel

optional, or 1/2 of an Orange Zest
DIRECTIONS
Add all ingredients except Oats and Cranberries into Vitamix or food processor. Blend on medium/high until pretty smooth. (doesn't have to be perfectly creamy…a little texture is ok)

Empty blender ingredients into a mixing bowl and combine with the Oats and Cranberries.

Get messy and combine it all with your hands!! ????

Press mixture into a 9×9 baking dish, cover, and set in refrigerator for at least 1 hour.

Remove from refrigerator and slice into bars.