One of my all-time favorite breakfasts (or snack) is strawberry toast.
It's so simple, and filling, and nutritious.
Strawberry toast, babes.
You take a slice of Ezekiel bread, toast it slightly, smear with some sort of nut butter. I like fresh ground almond butter, Ground Up's Snickerdoodle Butter, or their Classic Smooth Nut Butter.
The key to a great nut butter is you don't want added oils, refined sugars, to salts, and definitely zero palm oil.
Next you add pure maple syrup. I like to put some slits I the top of my toast and nut butter so the maple has areas to penetrate and seep into the bread. (#toasthack)
Last but not least, top with organic, fresh strawberries.
It's heavenly. You'll adore this toast.
Berries, of any kind, are something I aim to eat every single day. They're a part of Dr. Fuhrman's G-Bombs (B for berries), and even a just a few berries daily give you a HUGE boost boost of antioxidants and protection against illness. Berries are so rad, and they're nature's prettiest food, so yeah babe, eat them all up.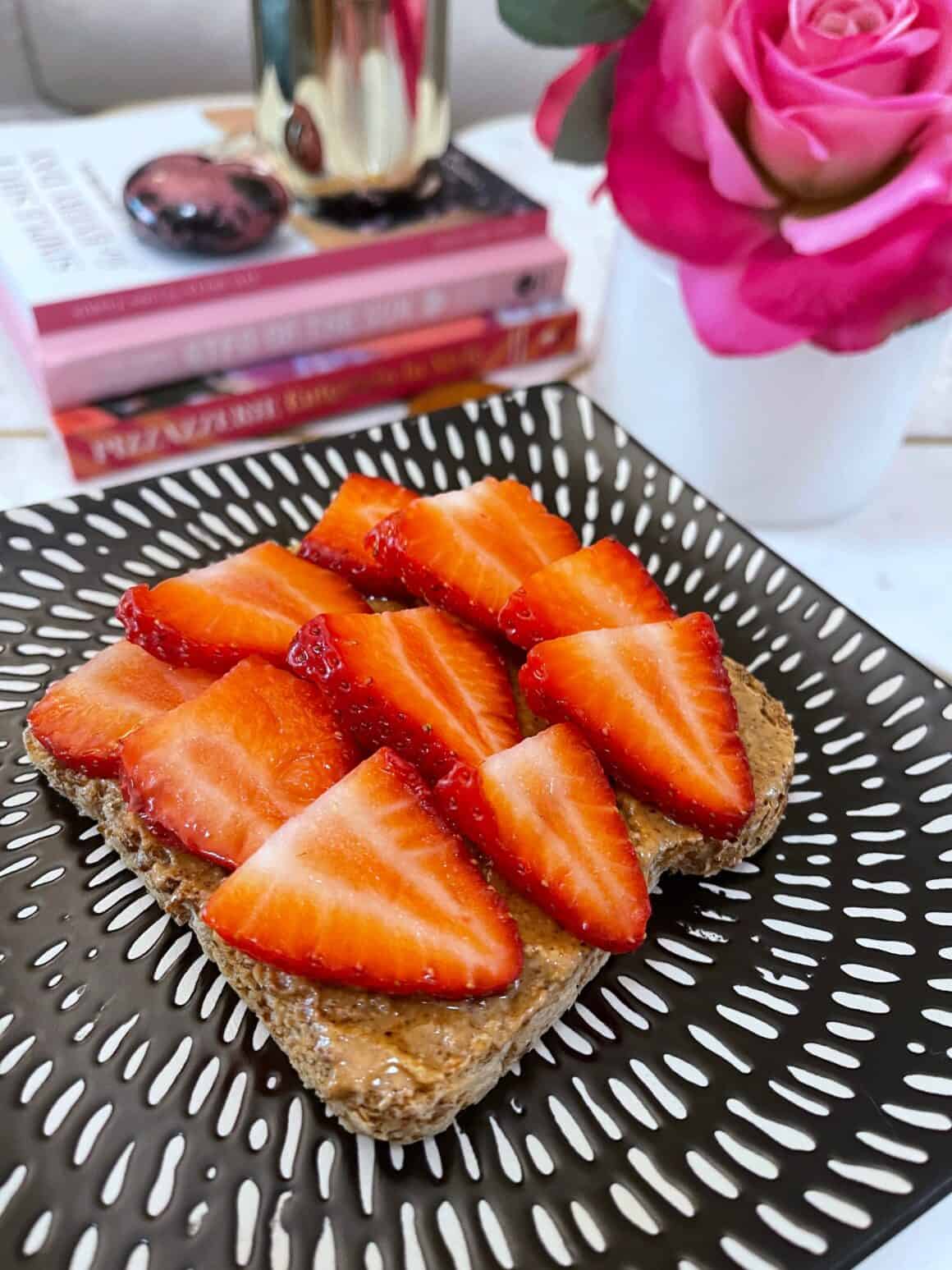 BUT Why Ezekiel bread?
Ezekiel bread is much healthier than normal bread.
It's hearty, firm, and doesn't get flat and soggy like a regular white piece of toast may.
I'll go ahead and say that Ezekiel bread is not the yummiest bread on the planet – like you aren't going to want to enjoy a piece by itself… it needs some toppings, love, and affection added. If you're comparing it to brioche…well, there is no comparison – in flavor or texture, that is!
But if you're comparing Ezekiel bread"s nutritional density to other bread, then that is where you begin to find ways to let Ezekiel bread tingle your taste buds.
Ezekiel is a flourless, WHOLE GRAIN SPROUTED bread. It is easier for your body to digest AND the digestion is a longer process, which means it keeps you much fuller for longer. It's full of vitamins and minerals, and it's actually excellent as a toast for breakfast.
We love it with strawberry toast as well as avocado toast. We also use it for sandwiches, and it's great as long as you have a nice spread to moisten the sandwich. (in my opinion)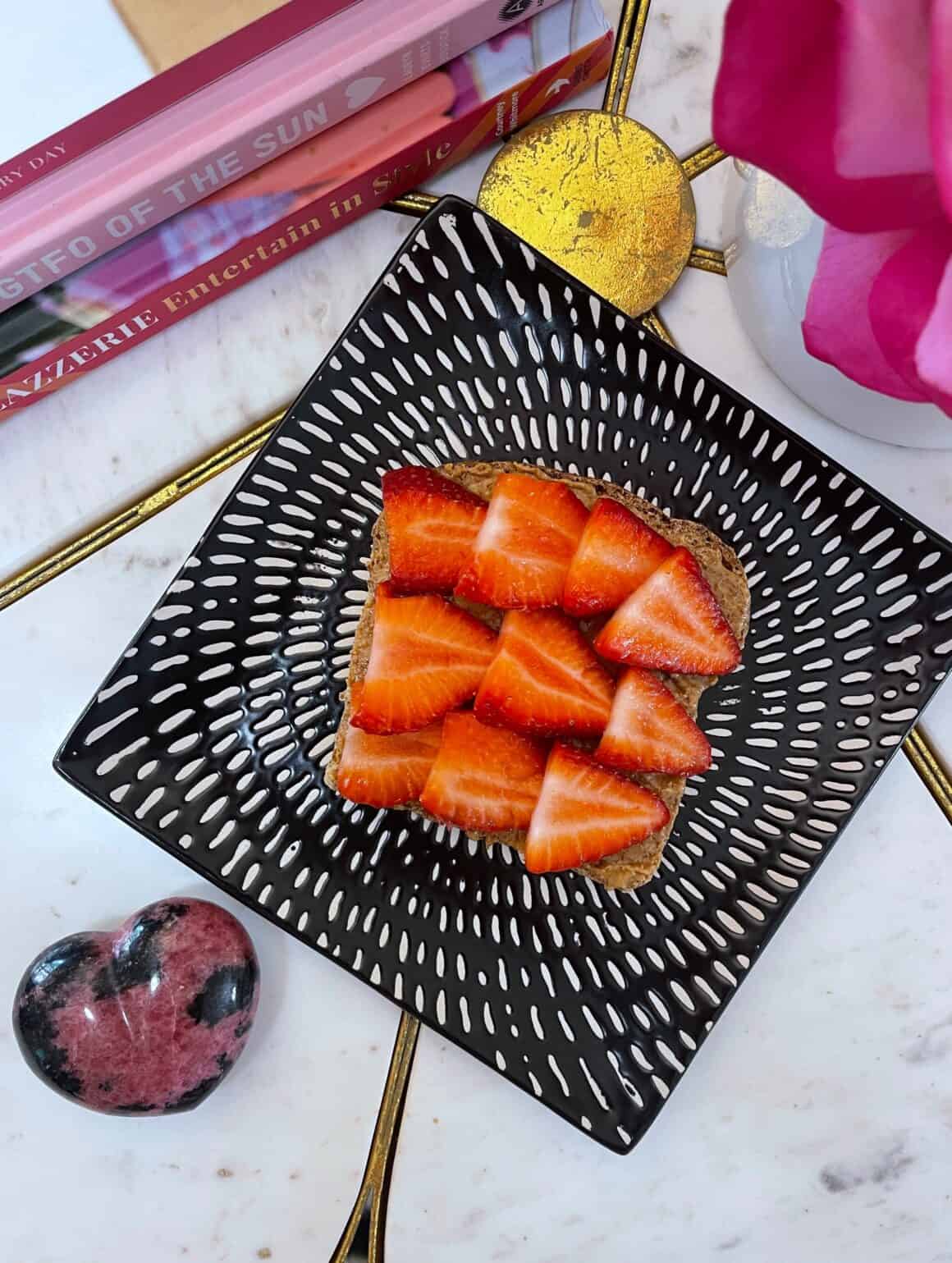 You have to give this a try! It's also great for kids (Lily likes this one a lot). Let me know what you think about it. XO, Ashley.
Strawberry Toast
INGREDIENTS
1

Slice

Ezekiel Bread

toasted

2-3

T

Natural Almond Butter

oil & sugar free

Pure Maple Syrup

as little or as much as you like

4

Strawberries

sliced
DIRECTIONS
Toast bread, and spread with nut butter.

Once nut butter is spread, make a few slits on the top of the toast with a knife (not going all the way through). This allows the maple to seep in and not run off the sides.

Spread maple on top of nut butter, and then place sliced strawberries.