TREAT YO'SELF BABE. Tis the damn season. You've had a heck of a year, so make sure to put yourself on your own Christmas list. And if you're like me, you've already been treating yourself with the Black Friday deal and basically everything else you can get your little online shopping fingers on.
Enjoy this gift guide. It's FUN AF.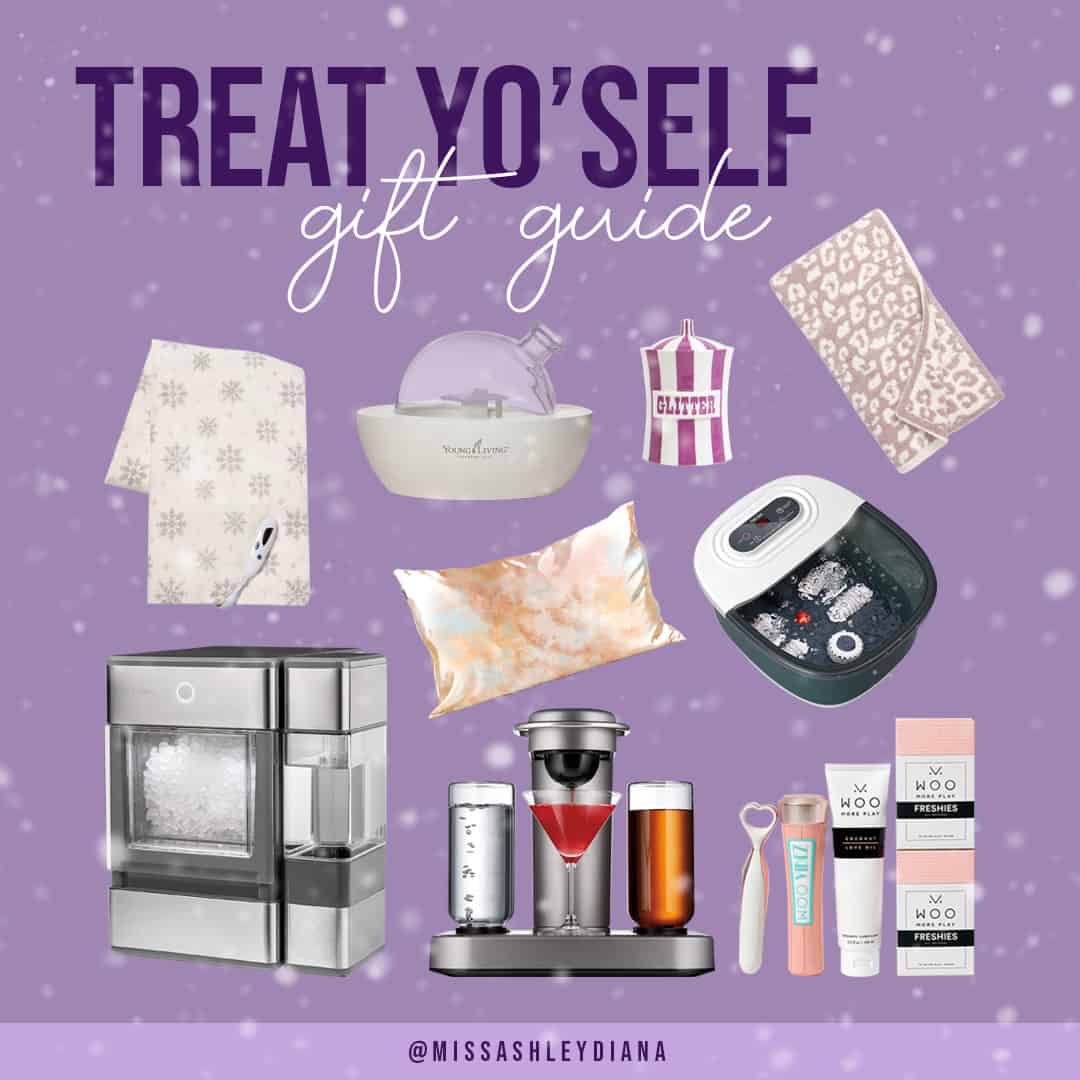 ♡ Snowflake Heated Blanket I am all about this electric heated blanket right now. I randomly came across it at Target and thought it may be nice for our little patio we just decorated so we can sit outside and be cozy. SO GLAD I bought this blanket; we've been using it every day! FYI this is NOT a camping blanket for the freezing cold temps, but it's perfect for being cozier indoors or outside on a patio.
♡ Ice Machine OK HOLD UP I HAVE A QUESTION FOR U. Have you ever had SONIC ICE?? If you have, you LOVE IT. Sonic ice is soft crush-y ice that you can chew easily, and honestly it makes drinks taste better. I hyped up Sonic ice in a huge way to Alex and he thought I was full of it; WELL, he was pleasantly surprised when he tried Sonic ice…so the point where he actually decided that this ice machine WAS worth the investment. SO here's whats up. This ice machine makes Sonic-style ice for you, anytime of day, in the convenience of your home. It's legitimately the best thing ever. This ice makes you look forward to drinking water / it's superb in mixed drinks (Moscow Mule w/sonic ice… umm fuck yes) / it's great with Pellegrino or LA Croix bubbly sodas. Honestly you name the drink and it's way better with soft ice. I cannot recommend this machine enough, we use it all damn day and guests love it too.
♡ Luxury Essential Oil Diffuser I LOVE a white & clean, glamorous oil diffuser. It just screams "ima take care of myself today." (The dome shaped one in the picture is NO longer available, but the white lantern style IS…also the white lantern is 3x less the price than the dome one sooo… cool!). I have this lantern diffuser in gray color, but I'm getting this white one for my office, as my office is my only room that currently doesn't have a diffuser yet. Treat yourself to days filled with self-care and melt stress away. I put together this winter diffuser bundle for you with 3 of my favorite YL oils for this time of year.
♡ Silk Pillowcase Treat your hair and face to the beauty sleep it deserves by becoming a part of the satin/silk pillowcase community. It's a trend that actually works; a silk pillow decreases the friction against your hair and your face (if you're a side sleeper), which means less split ends, and less "sleep wrinkles" (yes, it's a real thing that caues legit wrinkles). Plus it's just ultra glam to have a shiny pillow. I really love this Kitsch pillow brand.
♡ Bartesian Cocktail Machine Now that you have your sonic ice maker 😉, go ahead and set yourself up for beverage success with this Bartesian At-Home Cocktail Machine. Think Keurig coffee meets vodka in a handy pod. Pretty fucking sweet, yes? Perfect for parties if you entertain, or let's be honest… it's perfect for Hallmark Christmas movie & rom com nights at home.
♡ Jonathan Adler Glitter Jar I don't know who needs to hear this, but you always can find use for a chic jar with GLITTER written across the front sitting on your counter. It's a conversation starter – a tabletop mystery. Are there cookies inside? Cash? Weed Brownies? Cotton Balls? OR ACTUAL GLITTER? Only you will know. (If you know me, you know I'm obsessed with everything Jonathan Adler).
♡ Barefoot Dreams Blanket The ultimate cozy blanket is this one. It's super luxurious and comes in lots of nice colors. The SOFTEST material and everything about it is divine.
♡ Foot Spa I was using this foot spa on my IG Stories this week and it was so nice. What I like most about this foot spa is that it keeps the water really warm. it also has bubbles and little rollers to roll your feet on. I added magnesium flakes (for raising the body's Magnesium levels aka inducing calm) and Wintergreen essential oil. Then I scrubbed the crap out of my feet to make them soft like butta, and then added minty foot cream, and topped off with aloe-infused socks. Last thing I will say about foot spas, is that I wouldn't recommend getting one more expensive than this one, one you add bubbles and the roller things, they are ALL the same. And if you want an introductory style, I also have this Conair one. I actually really like the conair one (and it's prettier); the only downside is that you need to start with hot water as it doesn't heat or keep the water warm (it does have nice vibrations though).
♡ Woo More Play Penthouse Collection The ultimate treat yo'self gift is the Penthouse Collection from Woo More Play. You get the chic VIBEZ vibrator with case, Coconut Love Lube Oil, AND Freshies Wipes. The ultimate orgasm and sexual wellness bundle!
AND WITH THAT, You basically never have to leave the house again! Soft Sonic-ice ice, at-home bar tender, cozy blankets, soft feet, & orgasms! HAPPY HOLIDAYS & YOU'RE WELCOME!
XO, ASH.