A list of some of my fave things to buy on the internet right now to make your day extra fun. 🎄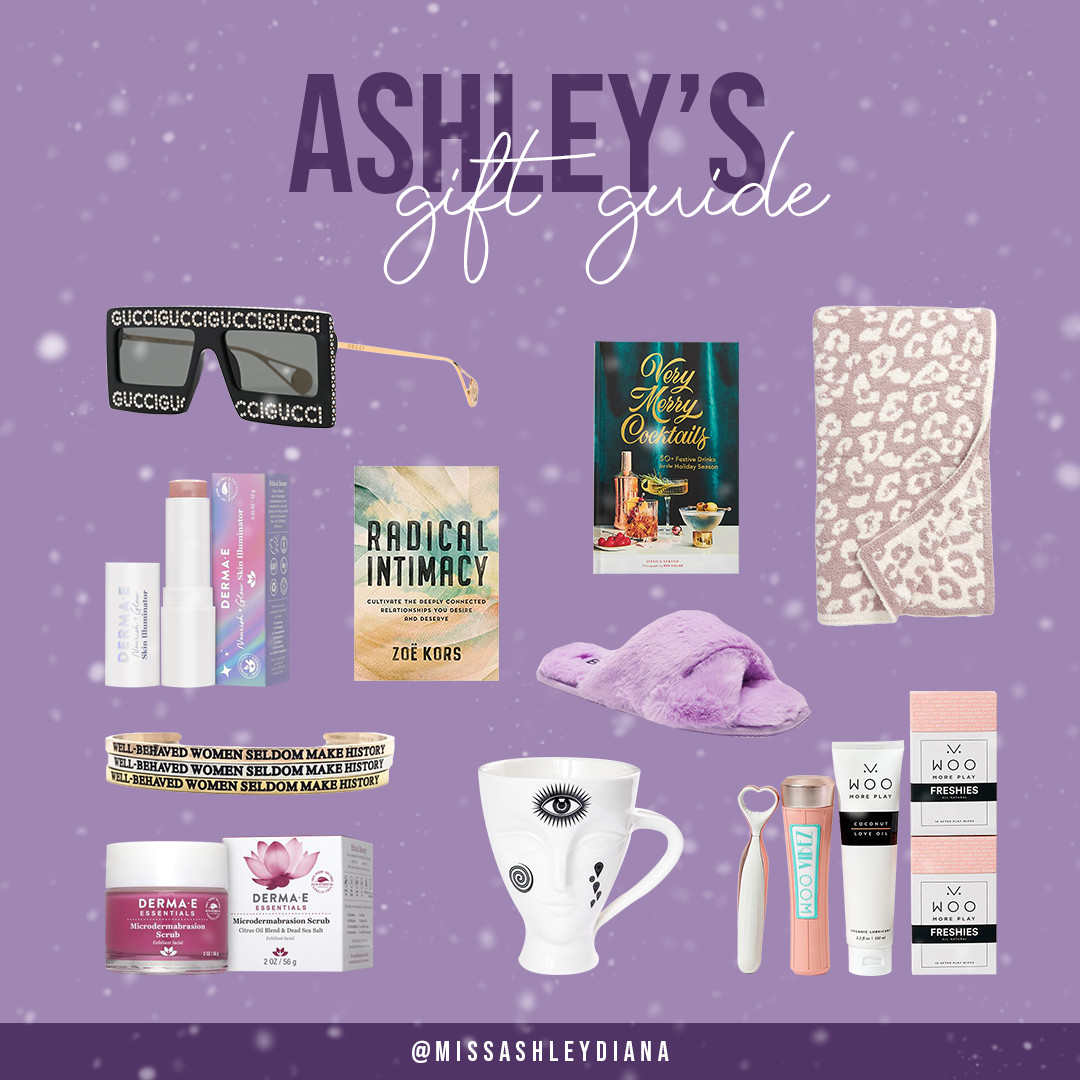 ♡ When you don't want to fit in, wear these Gucci Sunglasses. 🤤
♡ Have this & love it. Cute cocktail books like this holiday one from Anthropologie are my thang.
♡ I keep sharing this Barefoot Dreams Blanket, but each time I make a gift guide, it just continues to make the cut. I love it that much. (also the Barefoot Dreams cardigans & scarves are just as fab)
♡ The all time #1 best-selling scrub is Derma E's Microderm Scrub. Like holy shit y'all, this scrub is the best out there; I've been saying it for years.. so I'll say it once again! Also Derma E's brand new illuminating highlighter stick is going in stocking stuffers. I love a good highlighter as a part of a natural glowing skin look.
♡ Christmas lights, fireplace vibes on youtube, hot cocoa w/peppermint marshmallows, and Faux Fur Purple Slippers – it's a scene you don't want to miss.
♡ If you don't know of Woo More Play, now you know; you're welcome. Woo More Play is a modern sexual wellness brand (with the best branding, and best content on instagram), and their Penthouse Collection gives you all the things and more. (Honestly, I would never go w/o their Freshie wipes again. They are so gentle and smell so good).
♡ Radical Intimacy by Zoë Kors is a 2022 best-seller; you'll want to go ahead and pre-order this! Radical Intimacy is a narrative and practical methodology for nurturing and sustaining our relationships with ourselves, others, and the world. Zoë says, "With intimacy as the foundational principle of our existence, we can build a life based on what we truly need, not what we think we need or have been told we need. By embracing the practice of radical intimacy, I can confidently promise my readers a personal revolution of self-acceptance, appreciation, vitality, and confidence. And without fail, mind-blowing, soul-stirring, earth-shattering sex follows." (I have already pre-ordered and cannot wait to read this book.
♡ This Jonathan Adler mug is my all time favorite one. I use it every day. It's modern, sexy and chic.
♡ Metal Marvels is a 100% woman-owned biz and they give back to many of powerful foundations. I love their mugs and also the bangles. This empowered woman bangle has my heart this year for many reasons.