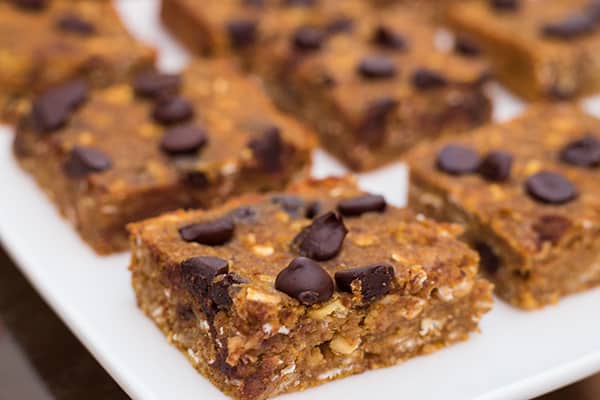 My absolute favorite time of year! Is it anyone else's?
Happy Fall Y'all!
As soon as it turns September I am in the holiday spirit; I mean, it's basically Christmas.
September is for spices and sunset colors, gatherings, and delicious, hearty food!
This fall 2016 may be the most exciting time ever for me. I am pregnant during the holiday season!! I couldn't be happier. Pumpkin + Spices + Baby = OH YES!!!
My mom is still in Vegas visiting me (and helping me out with life in a major way). She and I have been baking and cooking. Well, in all honestly, she has been the one cooking, but I have baked up a couple goodies here & there. 🙂
This is one of those special goodies. I am a huge fan of oat bars, and I LOVE making sweet treats that don't use refined sugar. Now, don't get me wrong, I love some sugar, but I find it especially thrilling when I can make a delicious treat that is satisfying, sweet, and truly healthy without the use of sugar.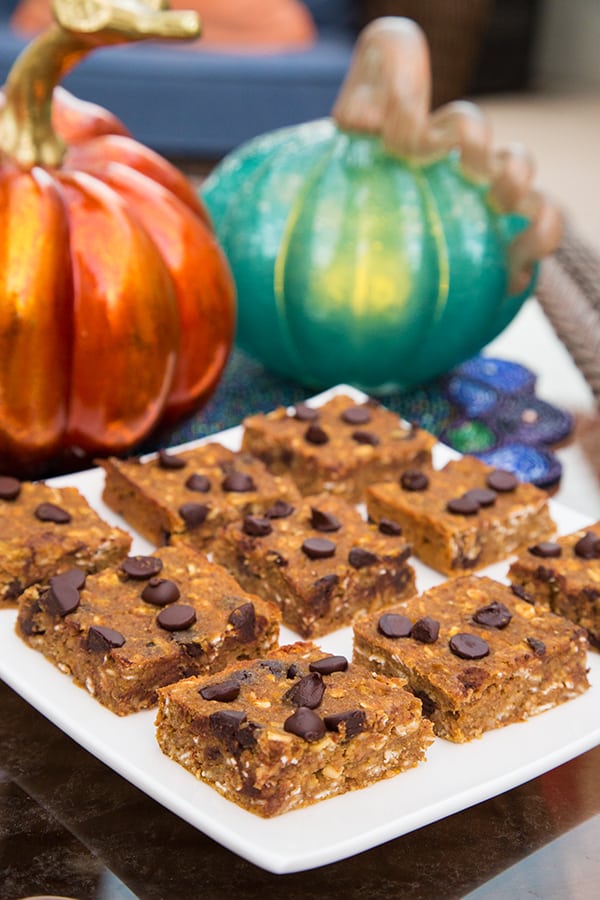 These pumpkin bars are perfect for the whole family. They are full of wholesome ingredients and are sweetened with dates and applesauce.
I used date paste as the sweetener in this recipe. If you haven't heard of date paste before, don't be alarmed. Date paste is only dates blended with water!
I make date paste once every couple weeks and store it in the refrigerator. I like to have date paste on hand because its easy to scoop out a tablespoon or two and add it to a smoothie, or spread a little on toast, OR in this case, scoop some into a bar recipe without having to pull out your blender! Try it, I think you'll find it really handy.
If you don't have any date paste whipped up, just puree your pumpkin + 8 medjool dates + applesauce in the blender and then add it to this recipe. You can also use date sugar, which is just dehydrated dates in a sugar-like form.
Pumpkin Chocolate Chip Oat Bars
INGREDIENTS
1

Cup

Oat Flour

1

Cup

Old Fashioned Oats

2

Tablespoons

Flaxseed

ground

1

Teaspoon

Baking Powder

2

Teaspoons

Pumpkin Pie Spice

3/4

Cup

Pumpkin Puree

1

Cup

Date Paste

or 8-9 Medjool dates

1/2

Cup

Applesauce

unsweetened

1

Teaspoon

Vanilla Extract

1/4

Cup

Mini Chocolate Chips + more for topping

1/4

Cup

Walnuts

chopped (optional)

Sugar for topping

optional
DIRECTIONS
Mix all ingredients together.

Pour into a 9×9 pan (Spray pan with oil or use parchment paper)

Sprinkle top with extra chocolate chips or sugar. (I like to sprinkle with sugar!)

Bake for 20 minutes at 350 degrees.
My mom likes this recipe with a little less chocolate chips and with walnuts added instead. Feel free to experiment!
What other fall recipes would you like to see? Let me know in the comments below!