I have been working on this Refined Sugar-Free Pumpkin Bread recipe for the past week, and I finally did it.
Here it is!
The best pumpkin bread that's totally refined sugar-free, AND if you have a high powered blender you can blend all the ingredients together and then pour it into the pan!
This is the best and easiest dessert that I think I've ever made!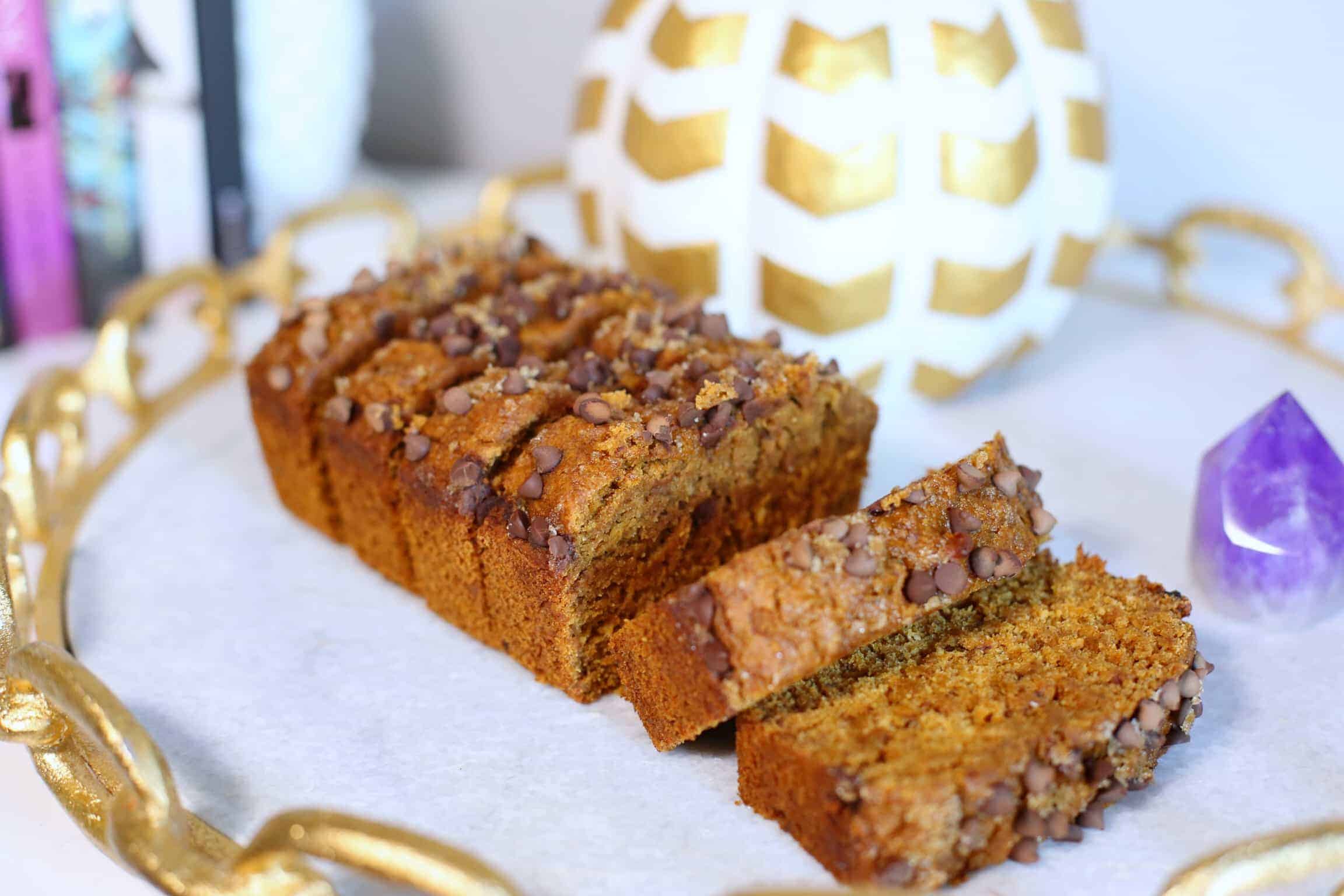 I LOVE desserts, and I don't mind splurging on an guilty sweet treat when I'm out, but when I'm cooking for myself, I find so much joy in making food and treats that are free of all the bad stuff.
This refined sugar-free pumpkin bread is only sweetened with dates, so its packed FULL of fiber. I get so excited to make desserts that taste amazing & are guilt-free because it means I can eat more!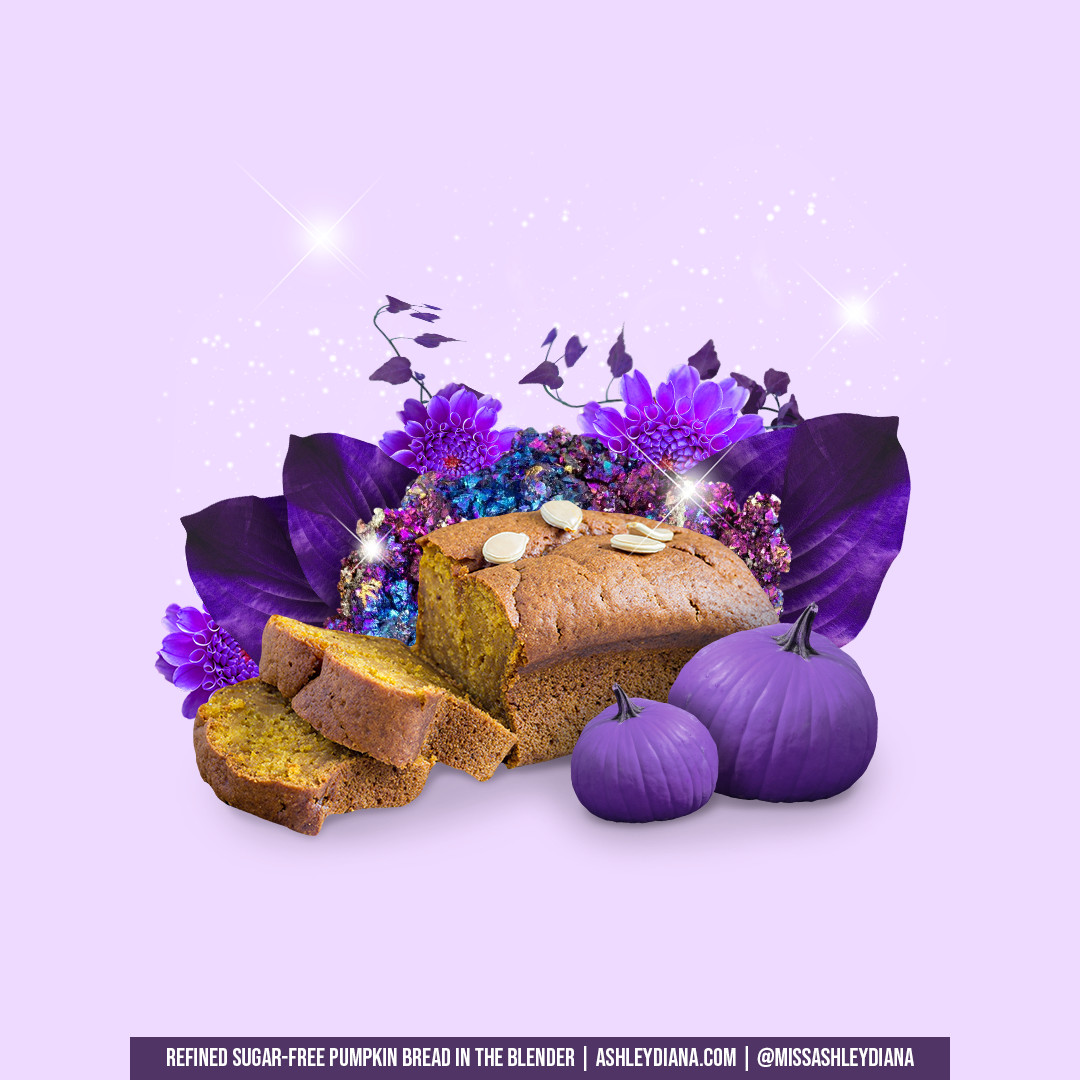 Ya know what else? And this pumpkin bread is oil-free. Are you familiar with oil-free cooking? If not make sure to check out Dr. Fuhrman; he's my fave. By leaving out the oil, we decrease the fat content, and replace it with more nutrient-dense ingredients (like banana in this recipe). Almost all my recipes are oil-free, and instead I use full-fiber healthy fats (like nuts, seeds, avoids, and coconuts) in my cooking.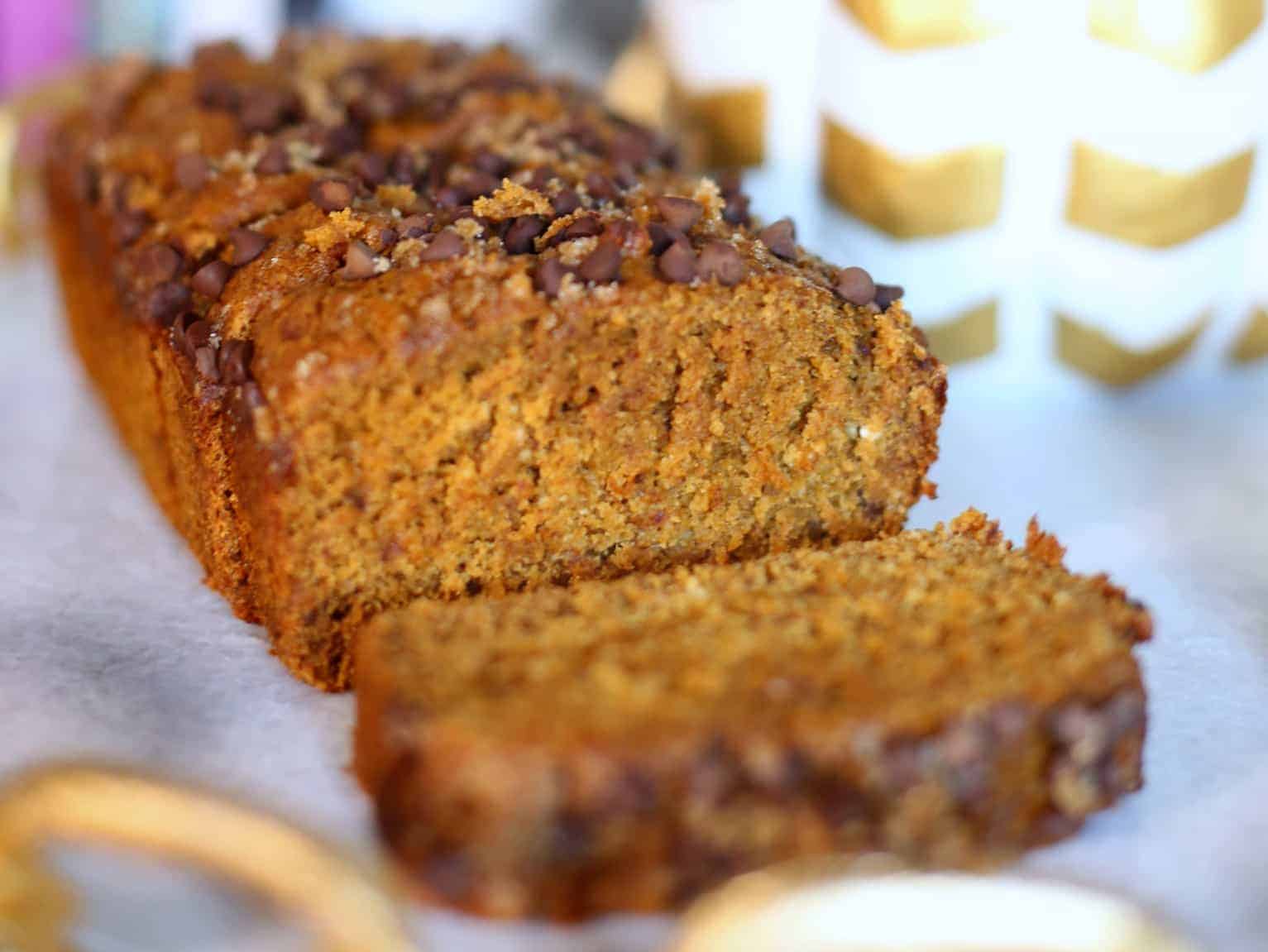 Besides the sugar-freeness and fat-freeness, my #1 favorite thing about this recipe is that I prepared it all in the Vitamix. Talk about easy peasy!
If you don't have a Vitamix or a high powered blender, then you'll need to soak the dates in water and make date paste prior to mixing this recipe. To make date paste, you simple soak dates in water for 30 minutes, blend the dates in water until smooth, and replace the 8 dates that this recipe requires with 1 cup of date paste.
Also, if you want a gluten-free version of this recipe, then I highly recommend my Pumpkin Chocolate Chip Oat Bars – they are delish!
Once I place the mixture in the pan, I like to sprinkle chocolate chips and raw cane sugar on the top of the bread. Instead of adding sugar into the recipe, it's more beneficial for us to sprinkle sugar on the top of treats because our taste buds (that detect sweetness) are located on the tip of our tongue and therefore they taste the crystallized sugar immediately tricking our brain to think we are eating something sweeter than it really is! (nutrition nerd trivia for ya) ????
I hope you LOVE this recipe! Make sure to pin it to your Pinterest board and tag me on Instagram when you make it!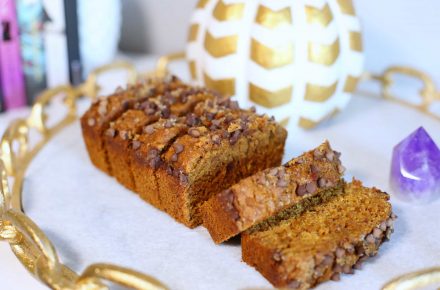 Refined Sugar-Free Pumpkin Bread
INGREDIENTS
1

Cup

Whole Wheat Pastry Flour

3/4

Cup

100% Pure Pumpkin

1

Ripe Banana

8

Medjool Dates

Pitted

1

tsp

Vanilla Extract

1

tsp

Pumpkin Pie Spice

1/2

tsp

Cinnamon

1/4

Cup

Milk

Almond / Rice / Soy

1

tsp

Baking Powder

1

tsp

Baking Soda

4

tsp

Lemon Juice

1

tbsp

Maple Syrup

Optional

Choc Chips

Optional for Topping

Brown Sugar

Optional for Topping
DIRECTIONS
Place all ingredients in a high powered blender, except Chocolate Chips and Brown Sugar.

Blend on high until smooth.

Pour mixture into a lightly oiled bread pan.

Bake for 35 – 40 minutes at 350˚

SaveSave
SaveSave
SaveSave
SaveSave
SaveSave