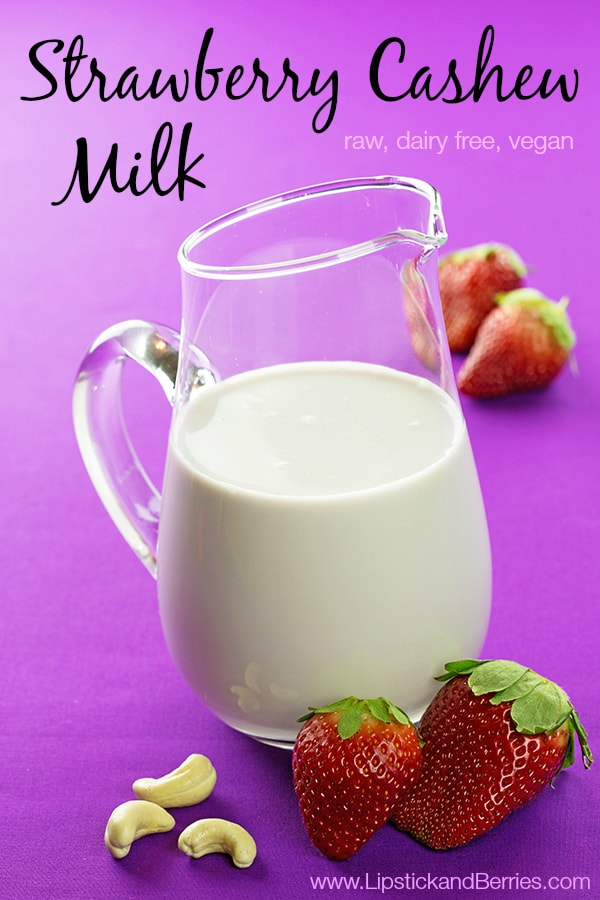 One of my favorite things to drink when I was young girl was Strawberry Milk.  Yes, the bright pink dyed, high fructose syrup laden, strawberry cow's milk…  Well, something must have triggered my mind as I started reminiscing of Strawberry Milk earlier this week.  I had the idea to make a new & improved version just in time for Valentines Day, so here it is!  This of course, is not the same flavor as the pink milk you can buy at the store, but thank goodness it isn't!! This before you, is pure goodness!  Cashew Milk is actually my favorite type of nut milk to make.  I love the taste and the light texture of Cashew Milk.  Since cashews have a naturally sweet flavor, they work perfectly for Strawberry infused milk.  If you prefer your milk a but sweeter, you may add a bit of pure liquid stevia.  I hope you enjoy this recipe!  I think it would be delicious over granola or your favorite healthy cereal!
You can see more Valentine's Day ideas HERE! They are reeeeeally CUTE!!!
Feeling frisky?  Pick one (or all 3!) of my Aphrodisiac Smoothies!!  Nom on some Chocolate Chewy Fudge Globes while you're at it.
Strawberry Cashew Milk
INGREDIENTS
1/2

Head Kale

2

Cucumbers

2

Celery Stalks

1/2

Lemon

1

Inch

Ginger
DIRECTIONS
Run all ingredients through a juicer!