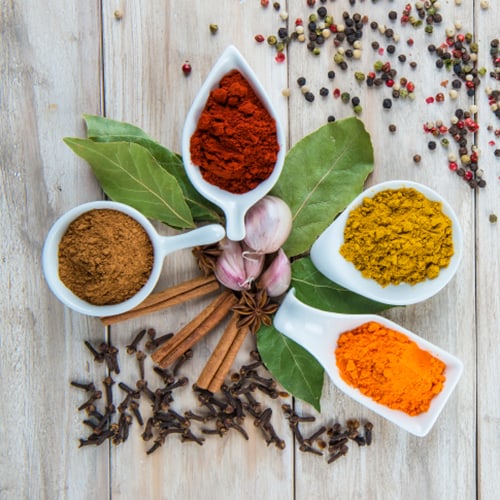 While the richness of nutrients in fruits and vegetables cannot be underestimated, we often forget about herbs & spices!  Some spices take the lead when it comes to glowing skin and healthy hair! Let's take a sneak peek at some of your favorites!  You may be surprised with their beauty benefits!
Thyme
Thyme spices up our pizzas and dressings, and beautifully fights skin problems like acne! It also improves hair growth if used frequently in meals. This spice contains huge amounts of Vitamin K, iron, calcium and manganese – all of which are essentials for a healthy mind and body.
Nutmeg
This one is famous for its aroma and anti-depressant properties. The spice is rich in antioxidants needed to protect the skin from unnecessary molecular damage. It improves digestion, relieves toothache and combats skin aging. Believe it or not, nutmeg is often an essential ingredient for body lotions, scrubs and beauty creams!
Black Pepper
This is a super-spice for weight-conscious babes out there. Yes, a substance 'piperine' in black pepper decreases formation of fat cells and combats obesity. Black pepper kicks in that sizzle to your food, and improves digestion simultaneously. Do not forget sprinkling some in your next meal, as it is jam-packed with some mighty antioxidant and antibiotic health benefits.
Cinnamon
For a quick antioxidant burst, sprinkle some cinnamon powder in your coffee, cookies and oatmeal. Cinnamon is known to be a mild skin plumper.  Cinnamon can stimulate blood vessels and bring blood to the surface of the skin!  It has mild anti-inflammatory effects and fights nausea and stomach ulcers. What's more? This spice is also famous for lowering blood sugar and cholesterol.
Cayenne
A perfect pick for a contrasting flavor in lemonade and tacos – cayenne pepper is a strong spice with even stronger beauty benefits. It fights sore throat, cold and flu – and best of all, increases weight control metabolism in order to keep you in shape. The pepper also has some amazing body cleansing and detoxifying properties and can even help with migraines.
Turmeric
First thing first – the pigment found in turmeric helps prevent tumor activity and has been linked to decrease in dementia.  Turmeric has been used for generations as an antibacterial agent.  Indian woman use Turmeric paste (haldi paste) as a pre-wedding face mask for the bridge and groom to give their skin a radiant glow on their wedding day!
*Turmeric needs to be eaten with black pepper as the black pepper tremendously helps the body absorb the Turmeric! (sounds odd, but it's a fact)
Cardamom
Just a dash of cardamom in fruit salads and rice creates that needed zing to your food – and brings lot of beauty. Cardamom seeds hydrate the skin and give you a feeling of tranquility. Cardamom also contains some mystical bruise healing powers and antibacterial properties. It works incredibly to lower indigestion and respiratory diseases.
Saffron
Although expensive, this spice has numerous culinary and medicinal benefits. With antioxidants and high potassium content, saffron is known to limit skin damage and hair loss. It has natural skin lightening and skin radiating properties, and is therefore used in many home remedies to treating blemishes and dull skin.
Don't let those precious spices just sit there in the kitchen cabinet. It's time to use them for your culinary adventures and – of course – beauty treatments!