Hands down one of the best recipes ever.
The definition of cozy is this Butternut Squash Mushroom Risotto.
I am making this again for Thanksgiving this week, and I am soooo looking forward to it.
Creamy, savory, healthy, and pairs well with red wine and holiday music.
I love all things butternut squash this time of year, and with the addition of sage… IT. IS. DIVINE!
I am obsessed with herbs and spices. I aim for at least one herb/root per day (my typical rotation is mint, sage, rosemary, basil, ginger, turmeric)
Oh and, for your leftover sage, try in this Berry Sage Smoothie – another one of my faves.
SIDE NOTE: this is a Lily-approved recipe. (Also entire-family-approved).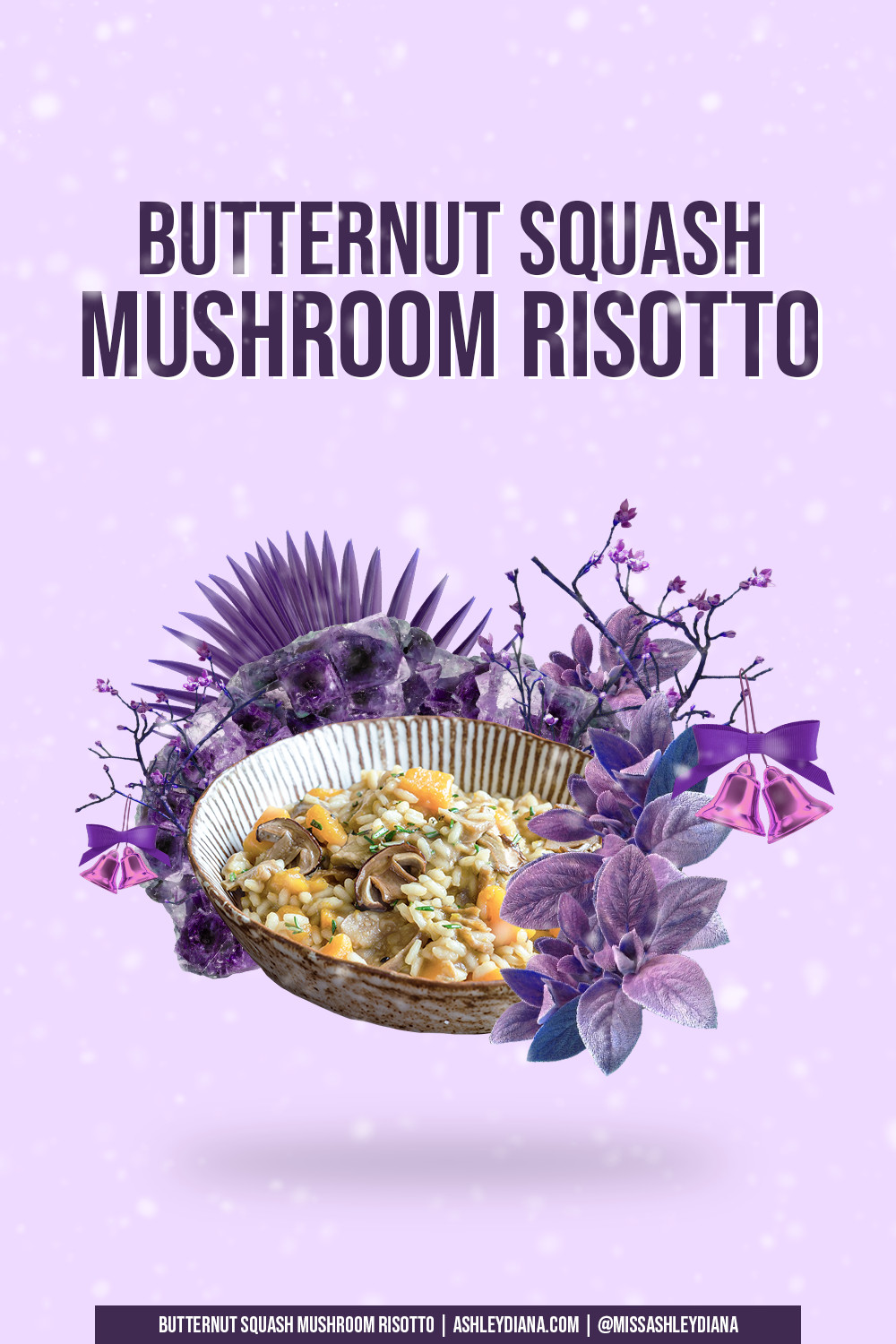 If you want to omit oil from this recipe you can definitely do so. I actually really love to "water sauté" my veggies, and in this recipe, I steamed / water sautéed the butternut squash, and only used the vegan butter with sauteeing the mushrooms as mushrooms soak up so much flavor.
If you aren't comfortable water sautéeing, I listed the ingredients using oil so the foods wont stick for you.
Also, it is worth noting that you MUST USE aborio rice for this. Aborio rice is wha creates the risotto texture. Although brown rice may contain more fiber, it is not going to give you the creamy texture that you are looking for. I always use brown rice, UNLESS it's something like this.
I hope you enjoy this, this is a new weekend winter recipe staple in our house. LMK if you like it.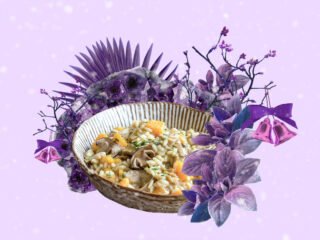 Butternut Squash Mushroom Risotto
INGREDIENTS
4

Cups

Veggie Broth

4

T

Olive Oil or Vegan butter

(optional & divided, water sautéeing is appropriate too)

1

Cup

Butternut Squash

small cubes

1

Cup

Crimini Mushrooms

brushed clean & sliced

1

T

Fresh Sage

finely chopped

1 large or 2 small Shallots

peeled & finely chopped

1

Cup

Aborio Rice

uncooked

1/4

Cup

Dry White Wine

(like Pinot Grigio OR Champagne)

1/4

Cup

Vegan Parmesan Crumbles

(or regular parm)
DIRECTIONS
In a small pot, heat the veggie stock until warm and keep on simmer.

In a separate large saucepan, add 1 T olive oil or vegan butter over medium heat. Add cubed butternut squash and sauté about 3 minutes. Add 2 T water and place lid on pan. Steam for 2 minutes until butternut squash is softened throughout. (You don't want it to mush, you just want it soft, but to still hold it's shape). Once cooked, remove from pan & set aside in a small bowl.

Using same large saucepan over medium heat, add 1 T olive oil or vegan butter (I recommend butter here as mushroom soak up so much flavor). Add mushrooms and sage, and sauté 5 minutes. Remove from pan and set aside in a small bowl.

Once again, using the same large saucepan over medium heat, add 1 T olive oil. Add chopped shallots and sauté for 3 minutes until slightly toasted

Add rice. Stir for 1 minute.

Add white wine to the rice and stir until wine is absorbed.

Using a 1/2 measuring cup at a time, add the warm veggie stock to the rice. Keep broth on simmer, and keep saucepan on medium. Add a little stock, stir, bring rice back to simmer, REPEAT. (As soon as the rice simmers, add more stock). This is a good time to sip a glass of wine while stirring and simultaneously listen to a podcast. 😉 This will take 20-30 mins.

Once rice is cooked, remove from heat, add 1 T of vegan butter if using. Add vegan parmesan, and lastly add the butternut squash and mushroom sage.

Combine all and serve warm!
♡ Recipe adapted from here & here.
♡ A good brand of vegan parm to buy pre-made is Kelly's. You can make vegan parm by combining nutritional yeast, salt, garlic powder, & cashews in a food processor.
♡ Also if you love fall & wintery recipes, take a look at Winter Glow Juice, Apple Butternut Squash Soup, or Sweet Potato Rosemary Smoothie.