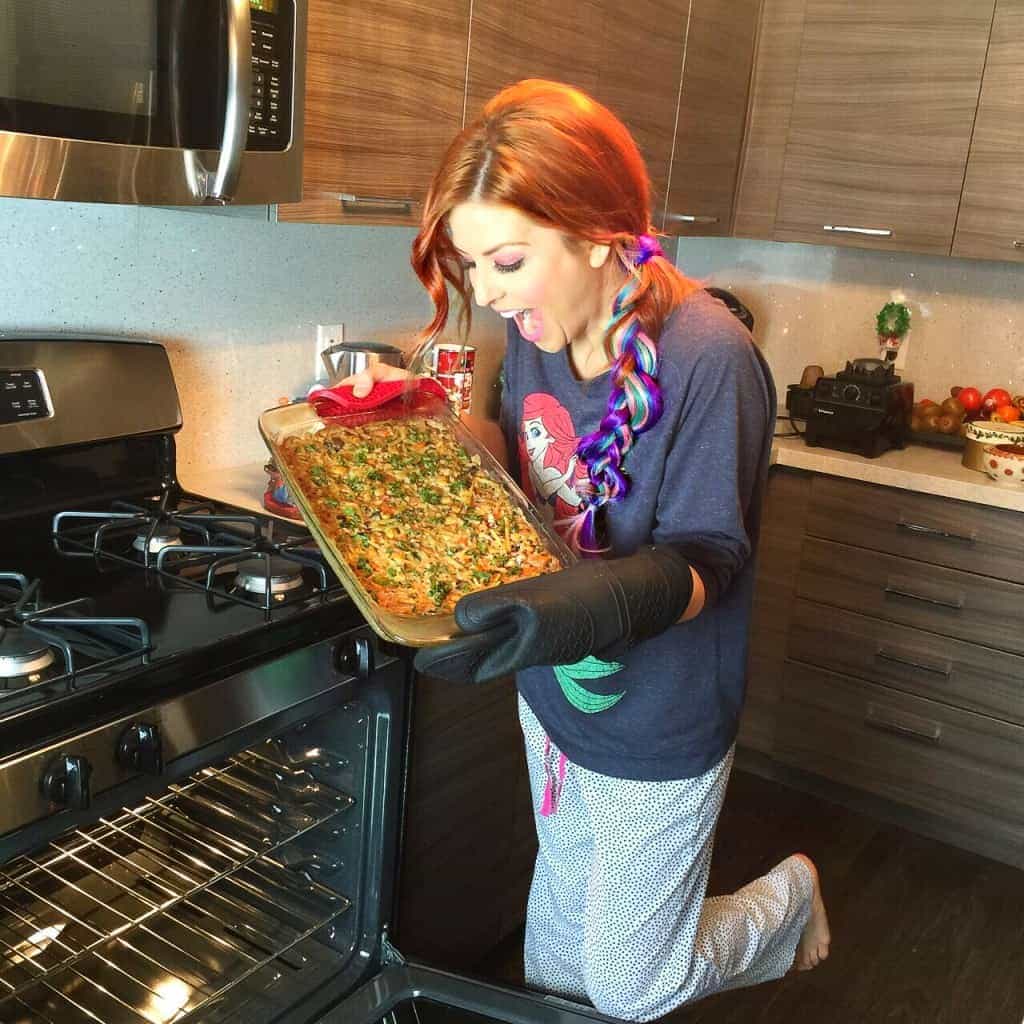 I have been saving this recipe for a while because I felt like there was one little thing missing that had not been able to pinpoint yet.  This weekend I tested this recipe a couple times and I realized the missing ingredient was my Walnut Sausage!  My hair salon asked if I would make a casserole for our December monthly meeting, and of course, I said YES, but I knew that this casserole had to be the greatest tasting thing ever because no one else in my salon is plant based.
I have an incredible passion for making plant based food tasting nothing less (and even better) and traditional recipes.  Nothing makes me more excited than when people try my food and they can't believe that its vegan (or plant based, whatever you want to call it!)  I have to be honest and say that I could tell that a few people were kind of leery to taste a "vegan" breakfast casserole, but to my delight everyone loved it!  THIS is a recipe that I encourage you to share with your non-vegan/vegetarian friends!  No one would ever know that this recipe is low in fat, free of dairy, oil, and also free of eggs!
If you want to get creative, try adding other types of greens or maybe even some broccoli to this casserole!  If you like it a little spicier, add more cayenne.  (I am kind of a baby when it comes to spicy food, so I always go very light on the hot stuff). 🙂
Put on your santa hats, get cozy in the kitchen, and please enjoy this recipe!  XOXO!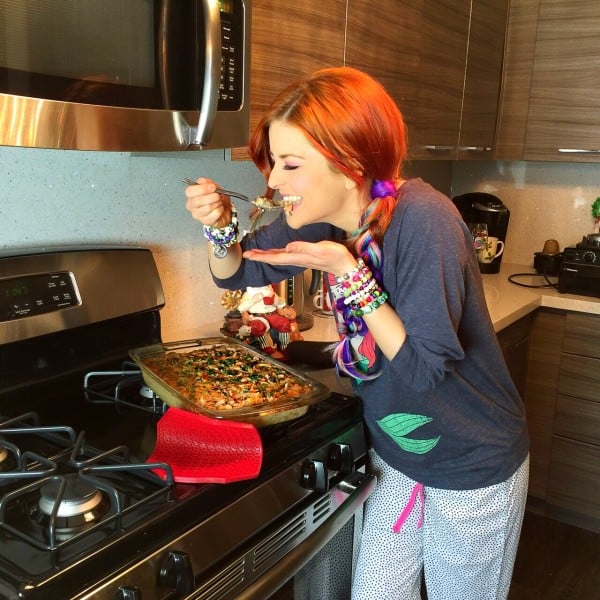 Healthy Hashbrown Casserole
Sauce Ingredients 1 Cup Soy Milk, unsweetened 3/4 Cup Nutritional Yeast 1/3 Cup Cashews 1 Tablespoon Dijon Mustard 2 Tablespoons Lemon Juice 1 Teaspoon Smoked Paprika 1/4 Teaspoon Cayenne Pepper 1 Teaspoon Salt Fresh Black Pepper to taste Casserole Ingredients 1/2 Cup Onion, chopped 1/4 Cup Celery, chopped 1/4 Cup Carrot, chopped 2 Tablespoons Garlic, minced 1 pound Frozen Hashbrowns, thawed, oil free 5 Kale Leaves, stems removed and chopped 1, 15 ounce can Garbanzo Beans, rinsed and drained 1 Cup Walnut Suasage
INGREDIENTS
Sauce Ingredients
1

Cup

Soy Milk

unsweetened

3/4

Cup

Nutritional Yeast

1/3

Cup

Cashews

1

Tablespoon

Dijon Mustard

2

Tablespoons

Lemon Juice

1

Teaspoon

Smoked Paprika

1/4

Teaspoon

Cayenne Pepper

1

Teaspoon

Salt

Fresh Black Pepper to taste
Casserole Ingredients
1/2

Cup

Onion

chopped

1/4

Cup

Celery

chopped

1/4

Cup

Carrot

chopped

2

Tablespoons

Garlic

minced

1

pound

Frozen Hashbrowns

thawed, oil free

5

Leaves

Kale

stems removed and chopped

1, 15

ounce

can Garbanzo Beans

rinsed and drained

1

Cup

Walnut Suasage
DIRECTIONS
Preheat oven to 350 degrees.

Place sauce ingredients in blender. Blend at high speed until smooth. Set aside.

Place a few tablespoons of water in a non stick pan over medium heat. Once water starts to sizzle, add the onion, celery, carrot, and garlic.

Water sauté until soft and fragrant, 5-7 minutes. Add more water if necessary to prevent sticking.

Place the hashbrowns, kale garbanzo beans, and walnut sausage in mixing bowl.

Add veggie sauté, and sauce to mixing bowl.

Combine all ingredients, and pour into a 9x13 baking dish.

Bake uncovered for 45 minutes.

Let cool for 10 minutes! 🙂