We just moved into a beautiful home, and we couldn't be more thrilled! The last house we were in… Ugh don't get me started – it was a total nightmare, but we are SO happy that we got out of out lease and found our perfect home.
The past couple months have been so exciting! LOTS happening.
Alex's dad came to visit from England, and his mom came to visit from Australia. His dad helped us pack up the old house and mom helped us unpack the new house! 🙂
We had three friends visit in August; Chelsea from Australia who is an incredible videographer, Tatum from Atlanta who is a travel blogger, and Noelle from NYC who is a holistic coach! I'll be sharing with you soon all the things we are working on together. It's very exciting stuff.
I also hired my first business coach, which I am beyond thrilled about! I am so ready to take my life & biz to the next level and I'm ready for a huge push. We have been working together for a couple weeks now and I already feel so much better about my business direction.
Cool cool cool shit. ????
Anyways, I thought I'd share a few pics of the house! It is by no means complete… We have actually barely started decorating and making it cute, but it's a start!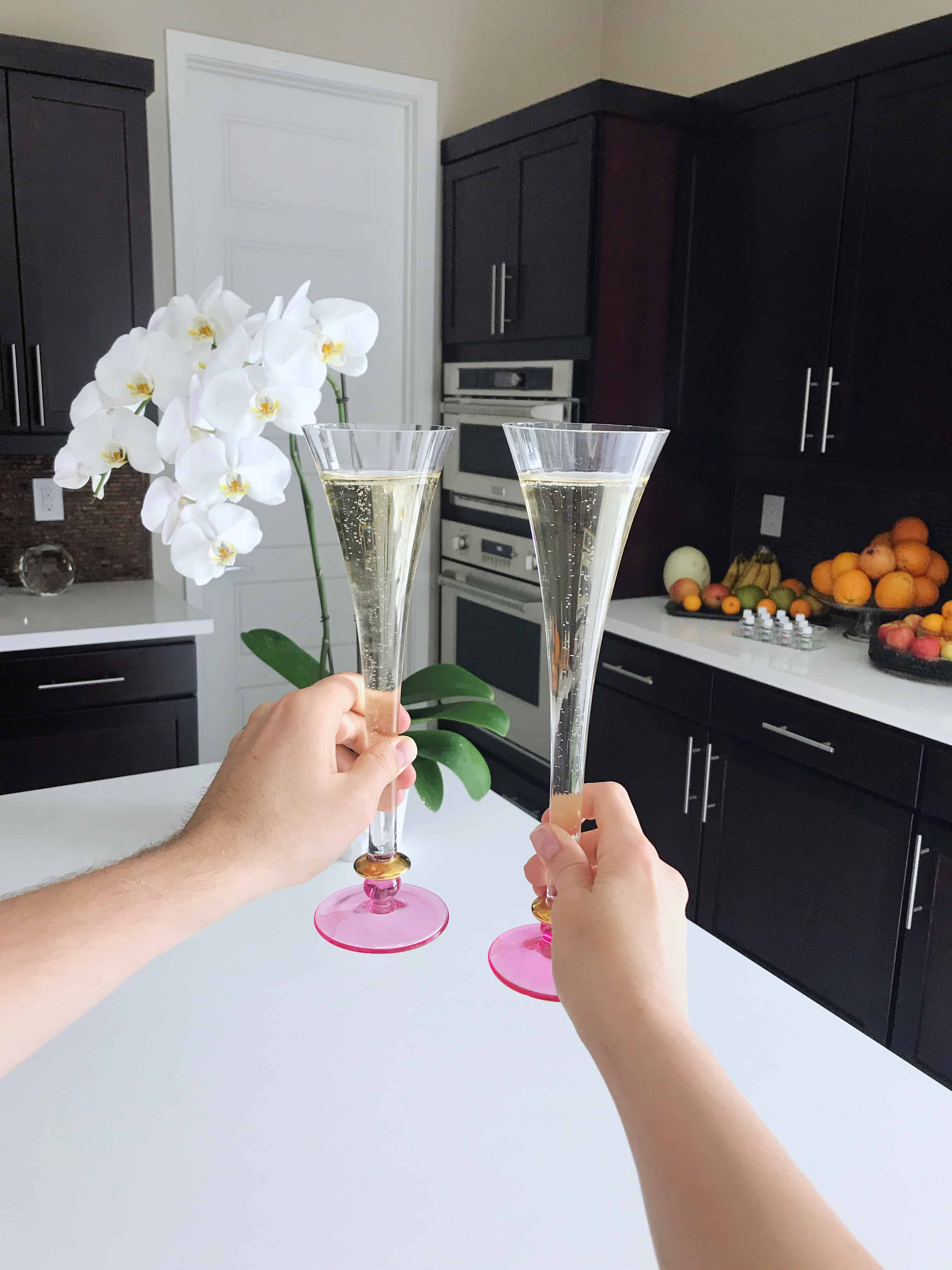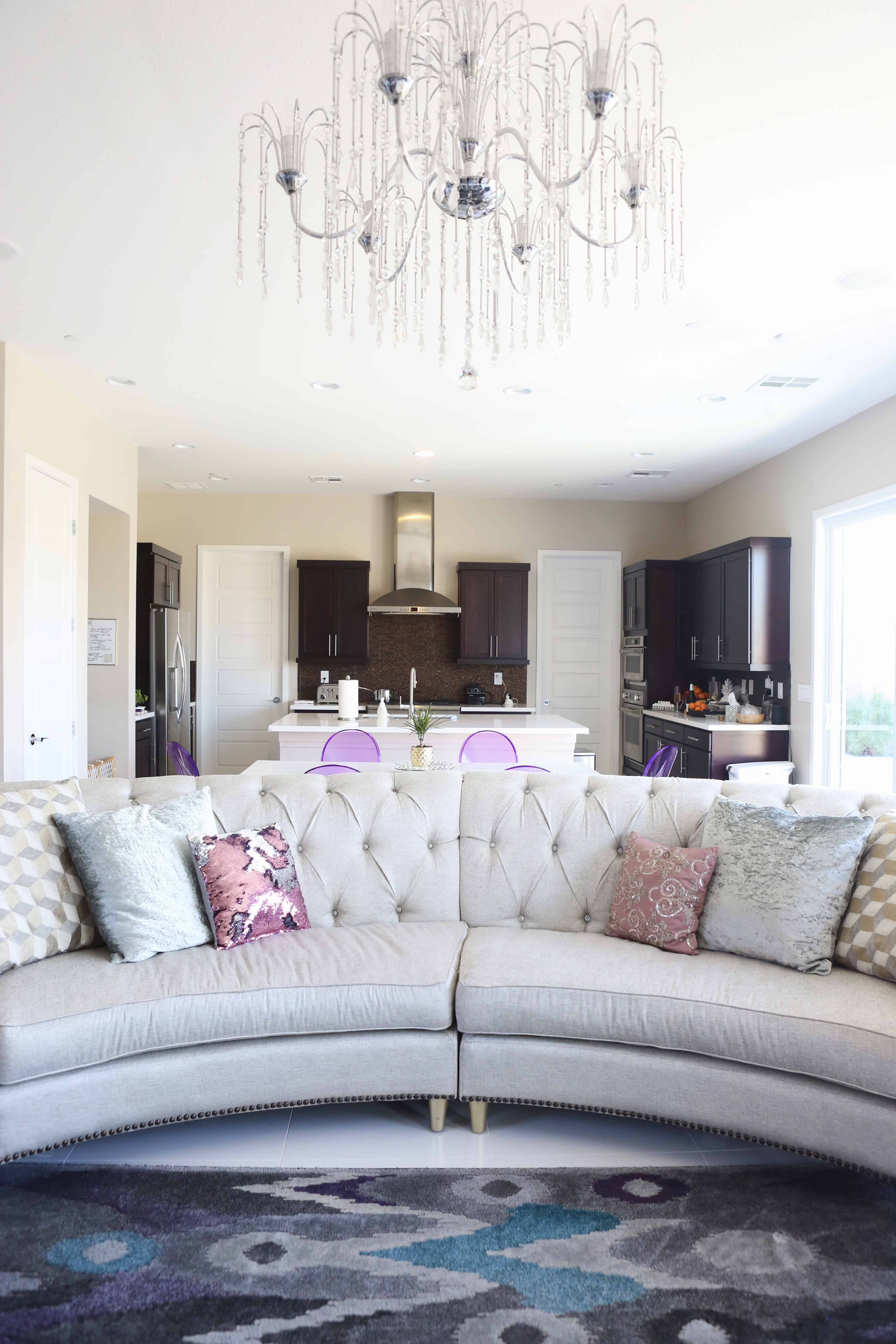 We bought our couch from RC Willey, which is a store located here in Las Vegas. I am so obsessed with it! It's so comfy too. We wanted something that was big enough to hold lots of people, cozy, and not too contemporary, but glam. I think we nailed it!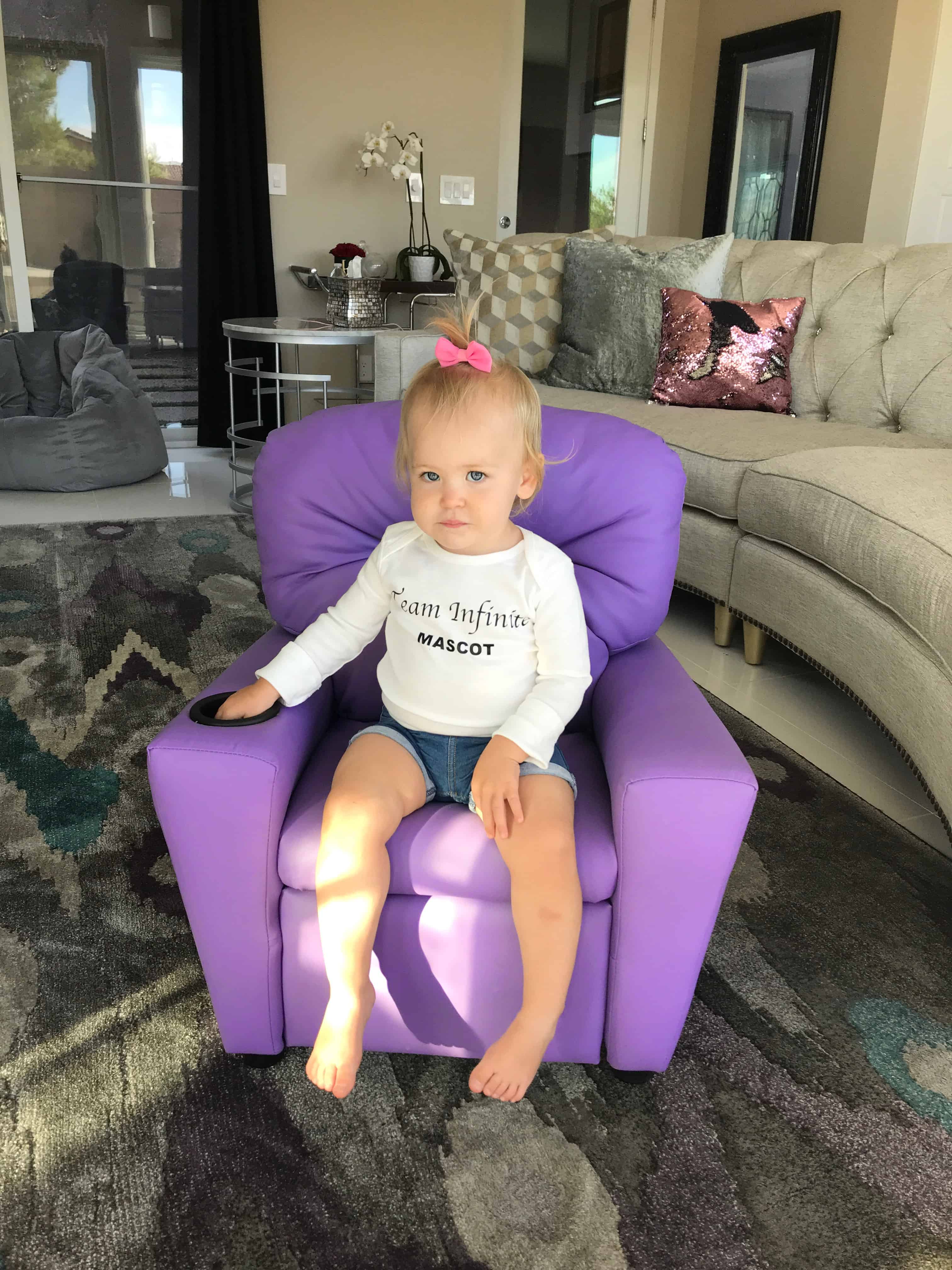 Little Miss Lil even has her own chair (it comes in lots of colors). We fill her little cup holder with her little puff snacks and she is one happy tot.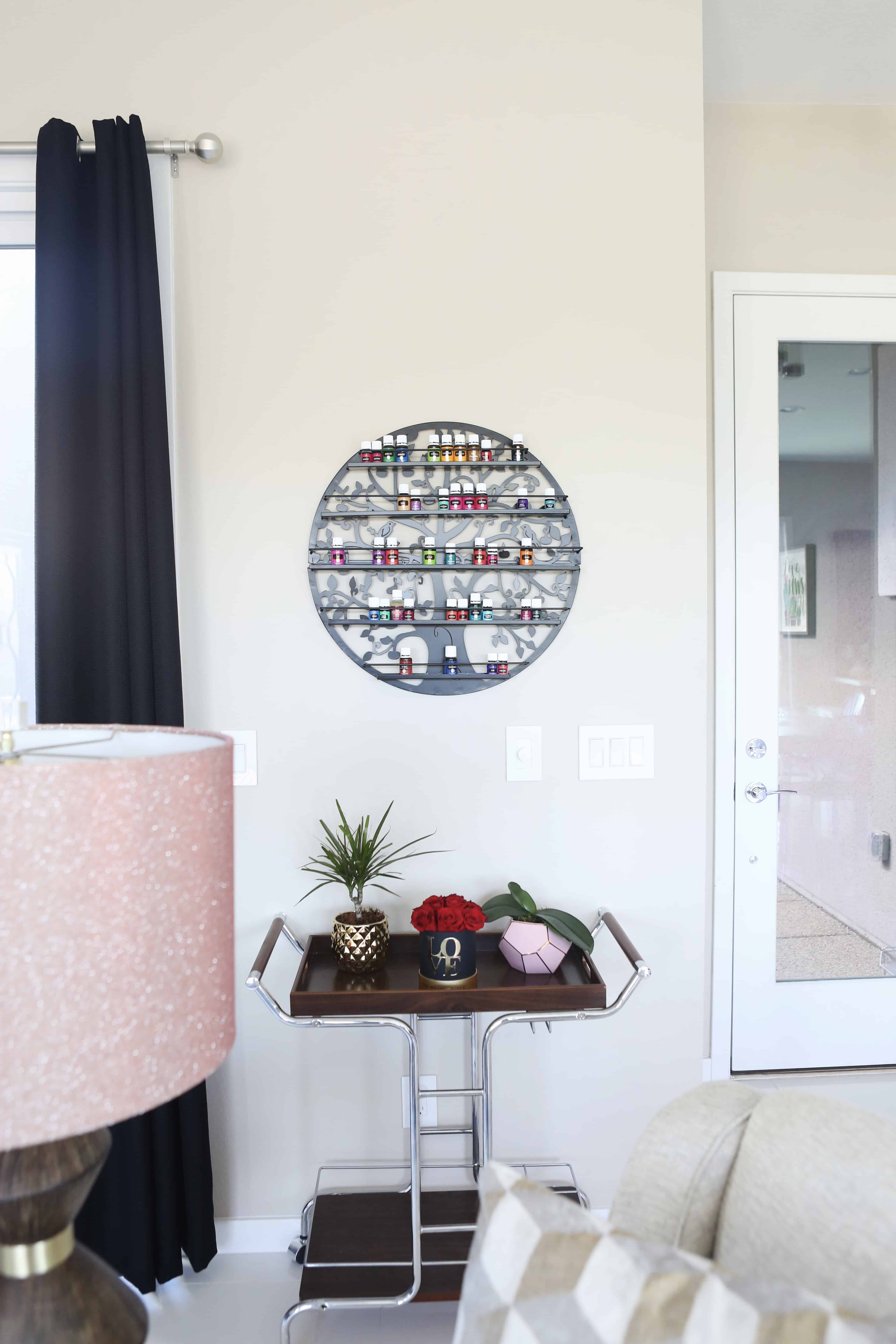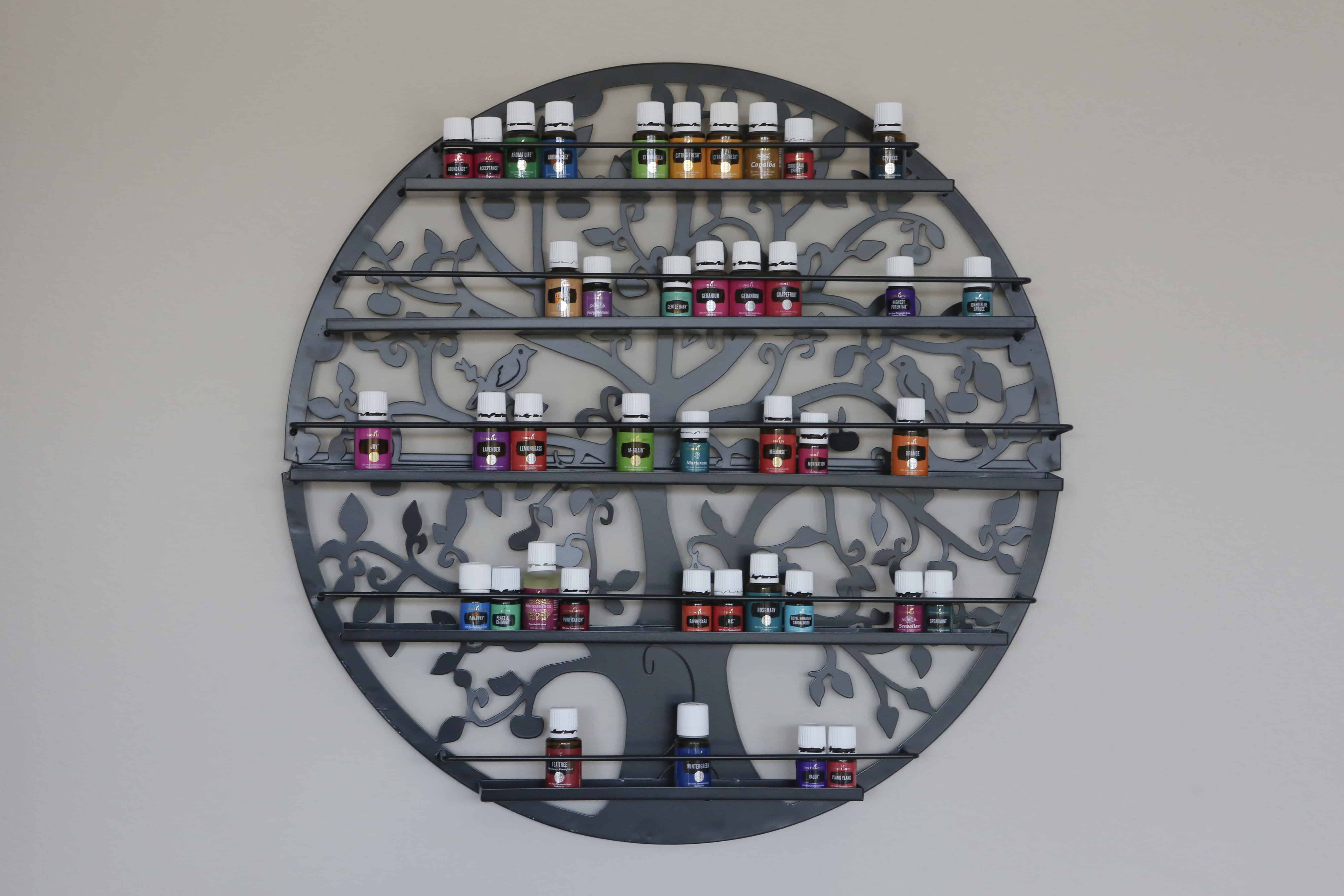 Do you use essential oils? We are OILY AF in this house. We have this essential oil display shelf upstairs and downstairs. We used to only have the one in the bedroom, but it was easier to have our stash downstairs too. My fave oils are Dragon Time (FYI hands down the one essential oil all women need – If you have period cramps, we need to talk bc this is a damn miracle oil) and Valor. Seriously message me on my personal FB and ill give you the lowdown.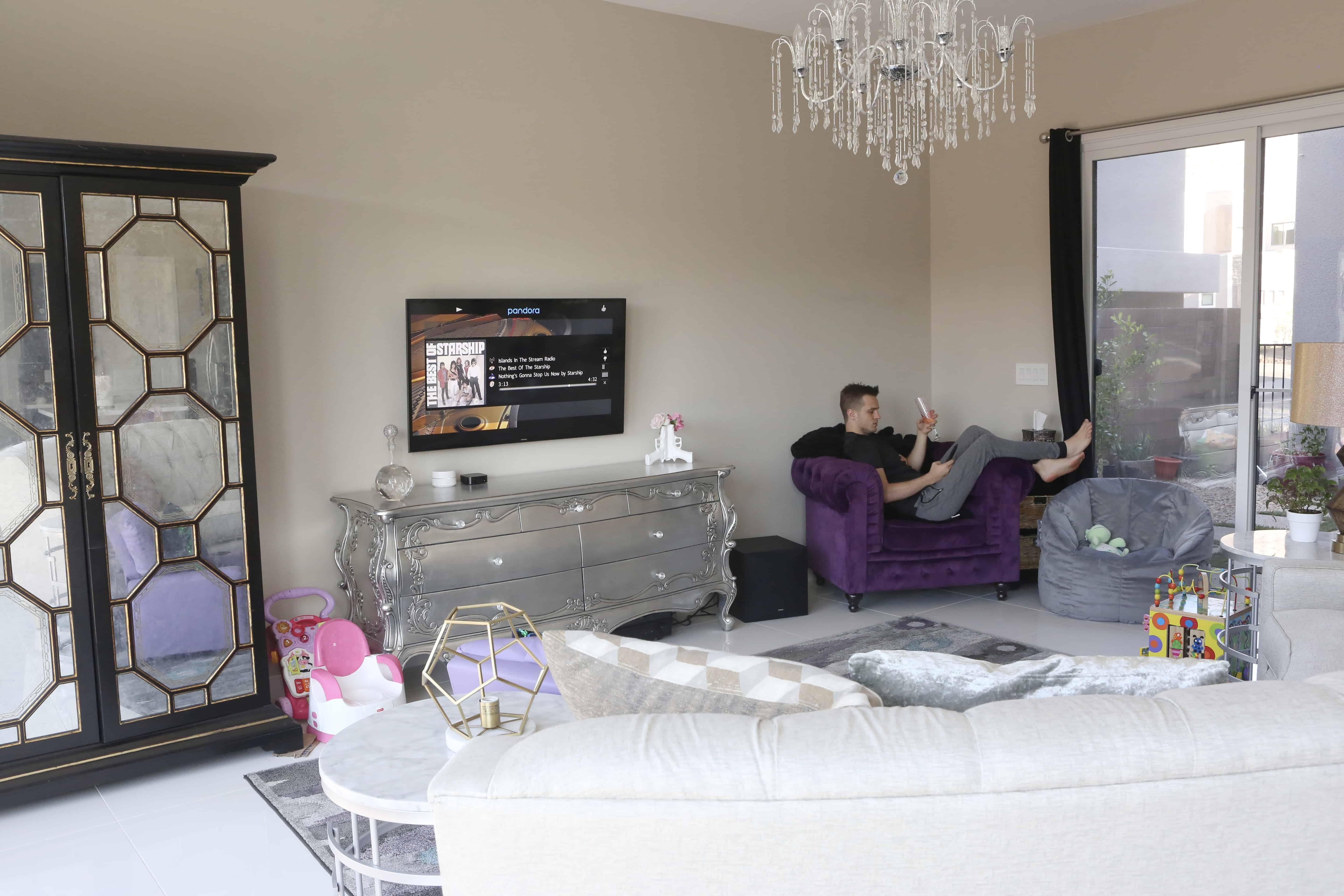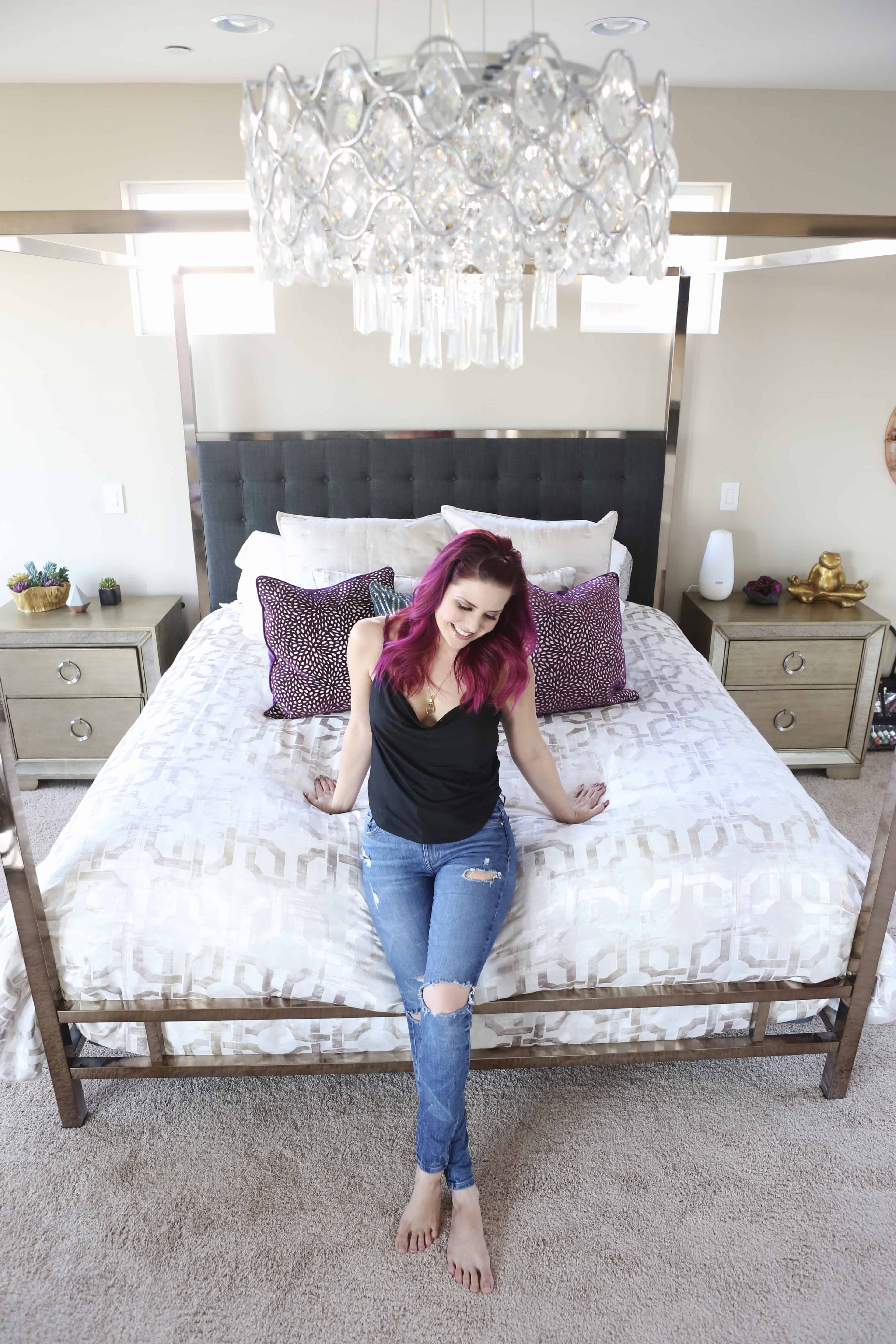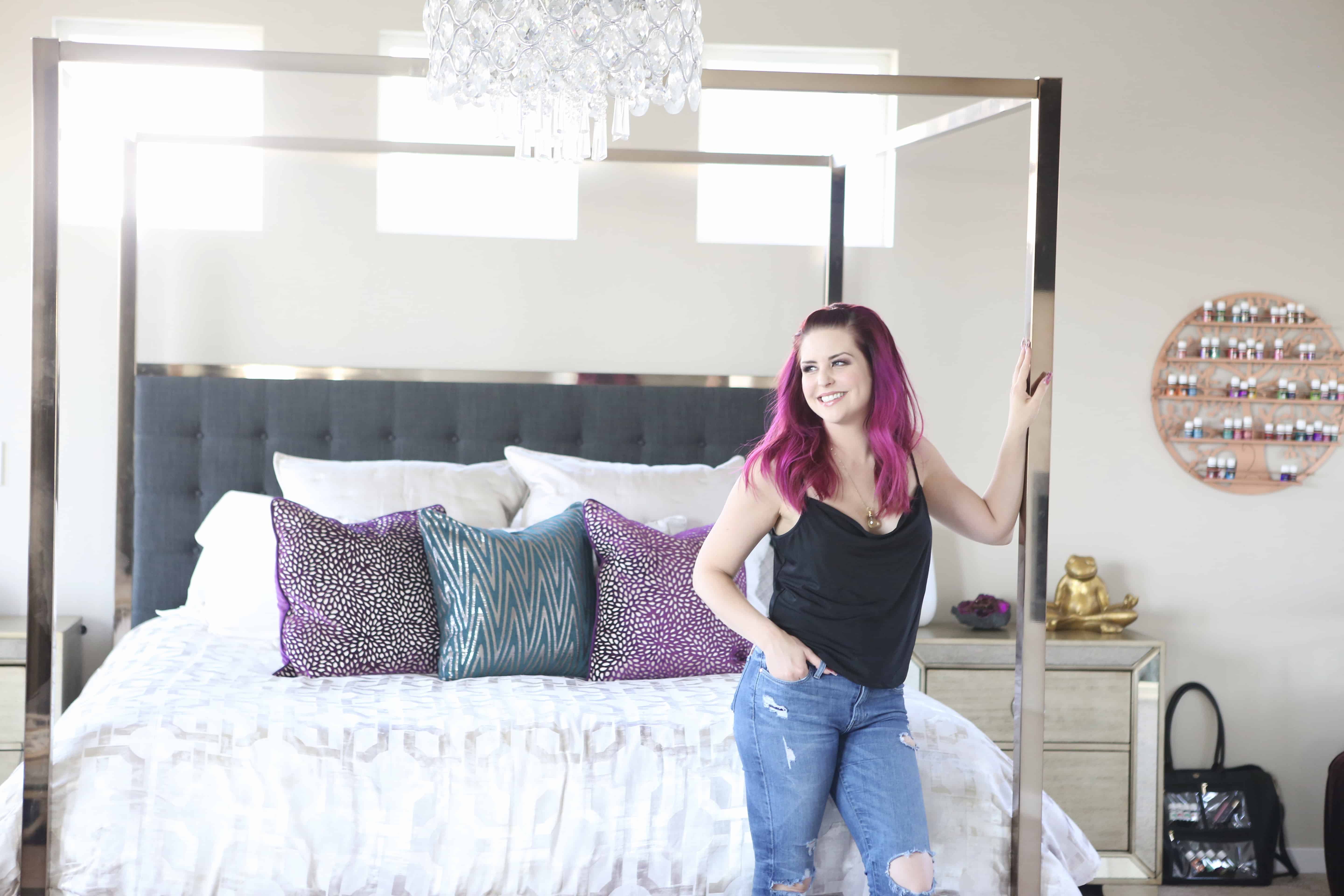 We also LOVE our bed so much. I found it on Wayfair (see more awesome canopy beds below), and I wasn't sure if it would be great in person, but it was even better than I expected! It's super sturdy, it was easy to put together (I mean, I didn't put it together, but I heard it was easy ha), and it was under $1K! I would have paid a lot more for this bed, but I'm happy it was such a great price.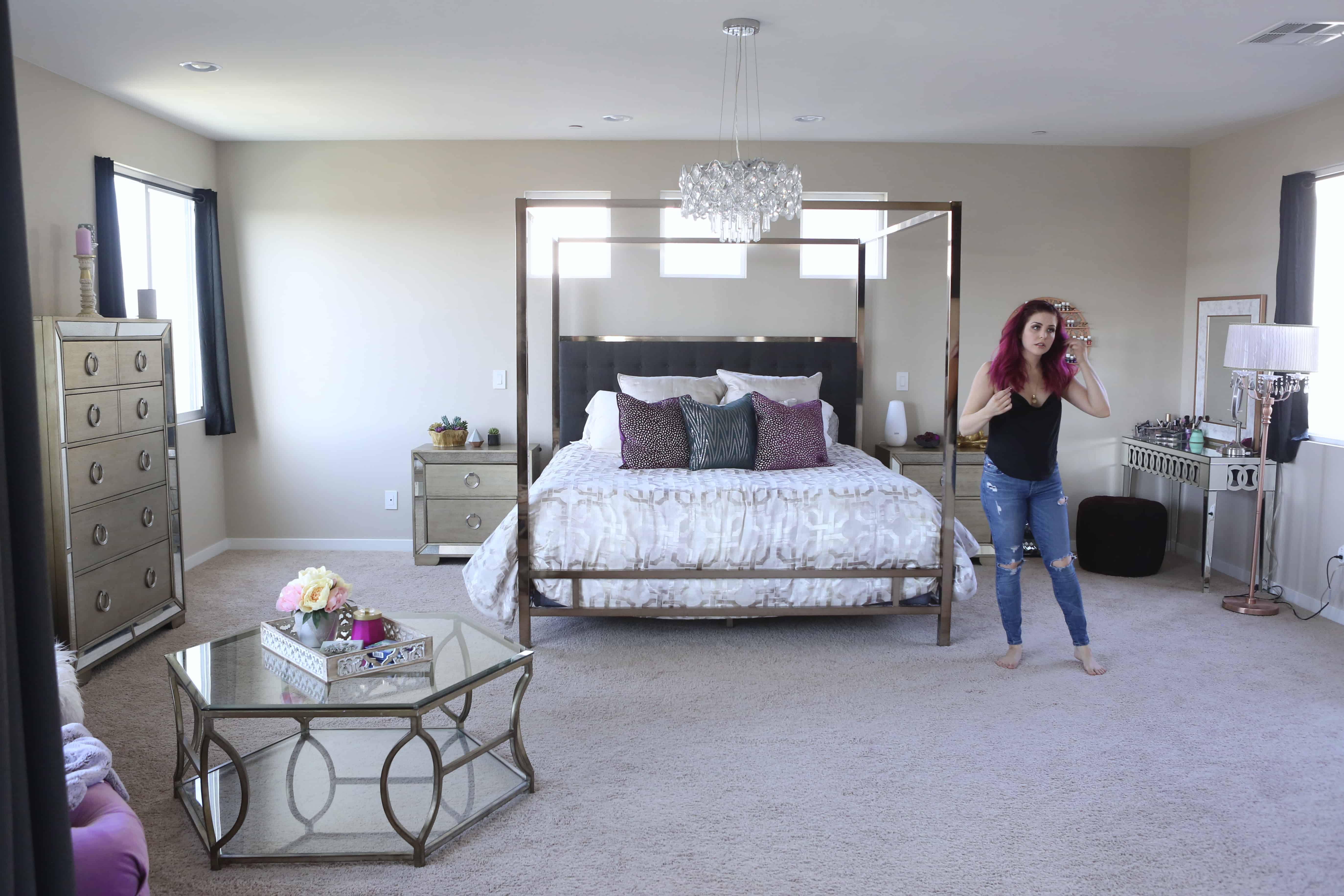 I love how the bedroom has lots of space, and it even had room for my pink couch and coffee table that we used to have in the formal room in the other house. I hang out in our bedroom a lot and work, so having the sofa in the bedroom works out perfect.
The one thing I need to do ASA-freaking-P is CURTAINS.
HOT DAMN I NEED CURTAINS.
The curtains were here when we moved in (which was nice!) but I need to take the time to find some aesthetically pleasing ones that match the bedroom. If you have any tips of where to find great curtains, let me know in the comments.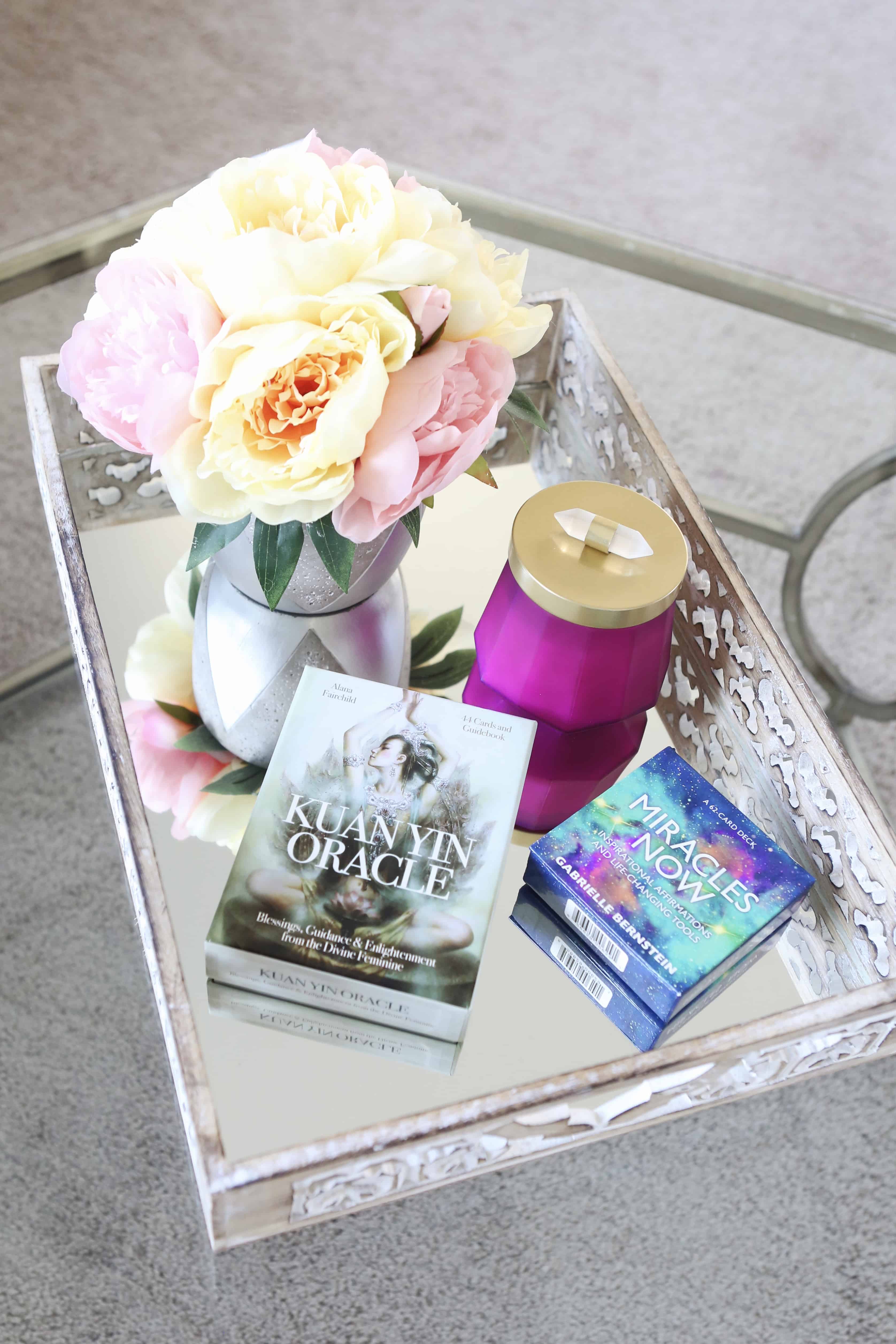 Anyone else love a good coffee table display? Mine needs some help, but it's hard to keep stuff cute when there's a Lilygoat running around tearing shit up . ????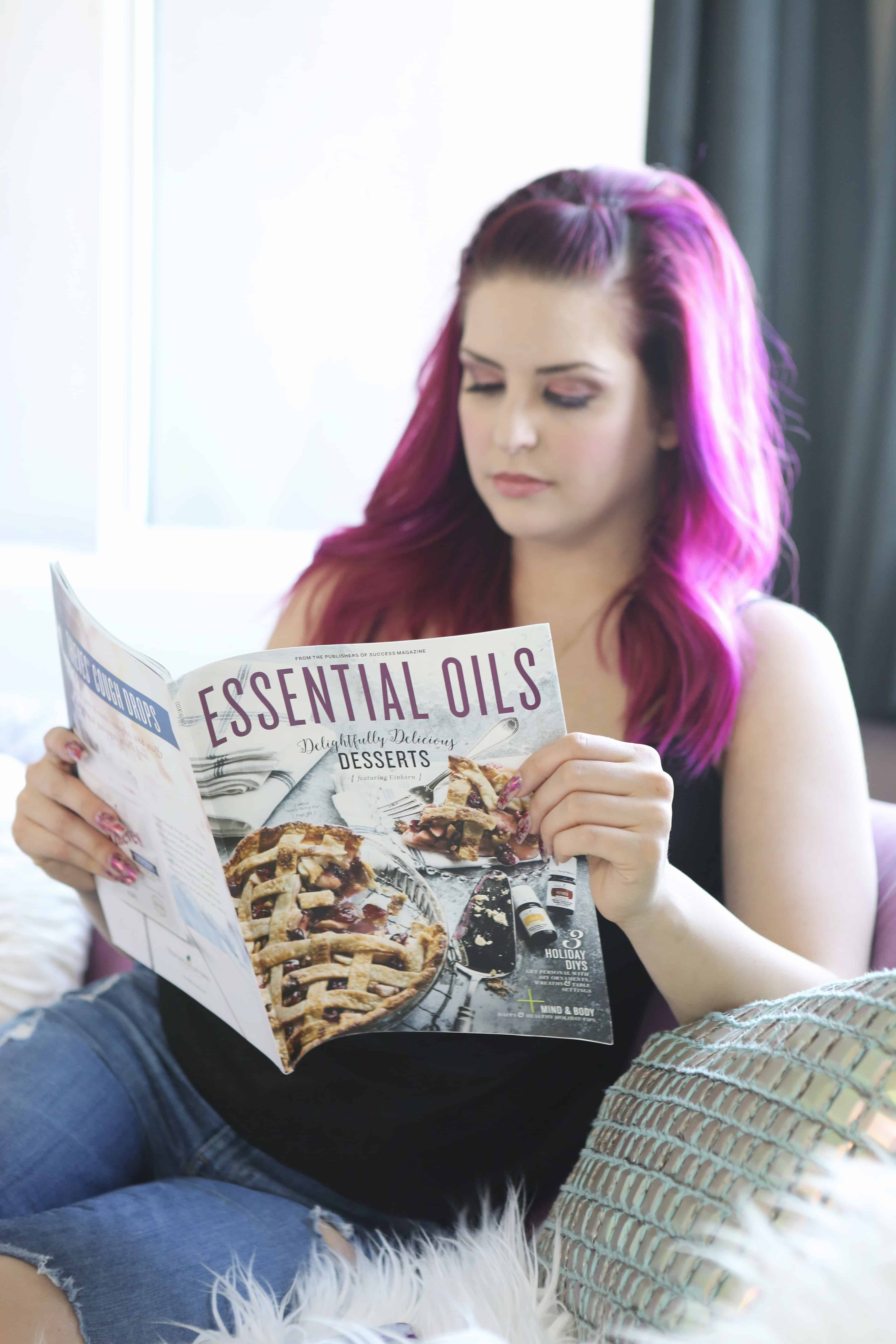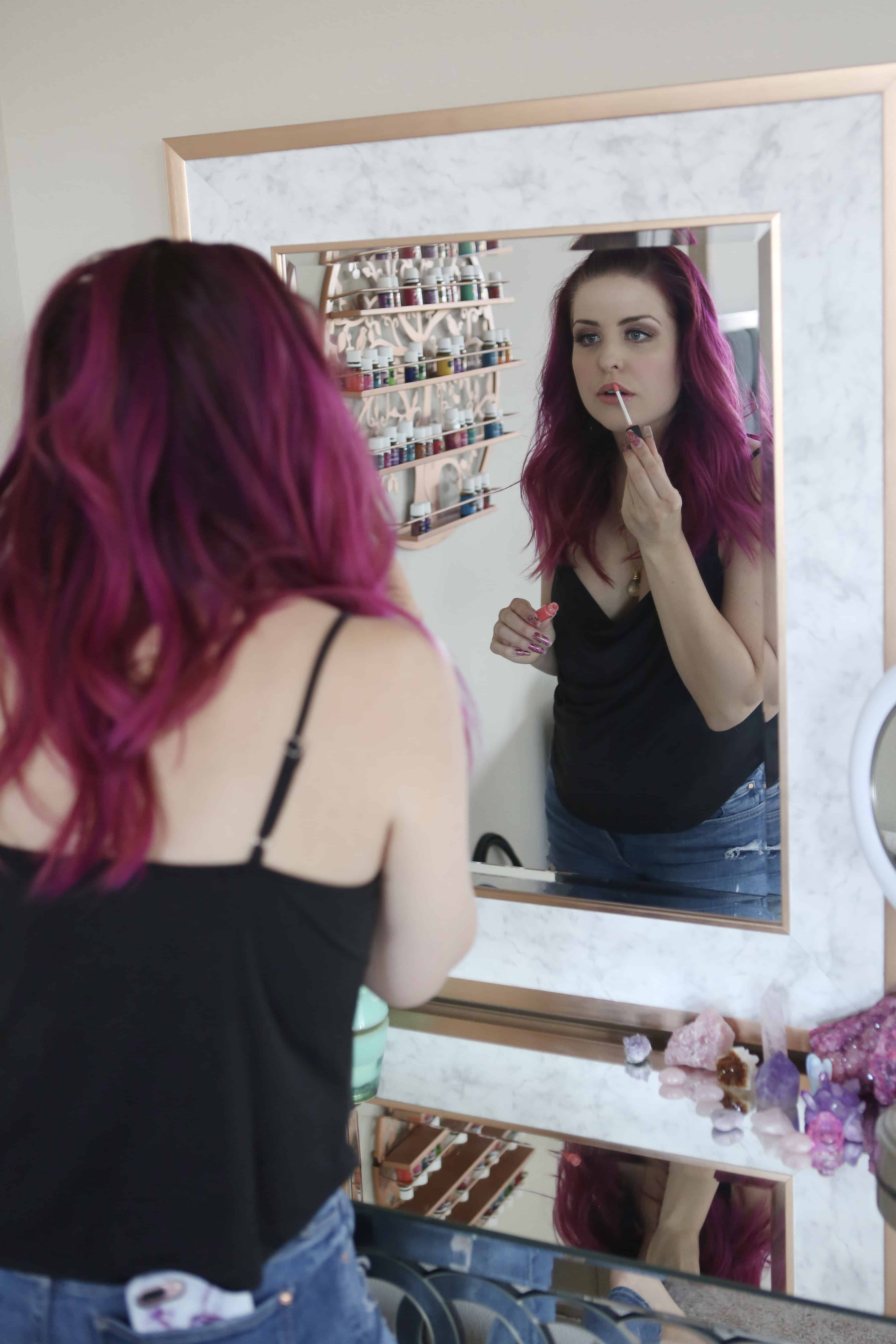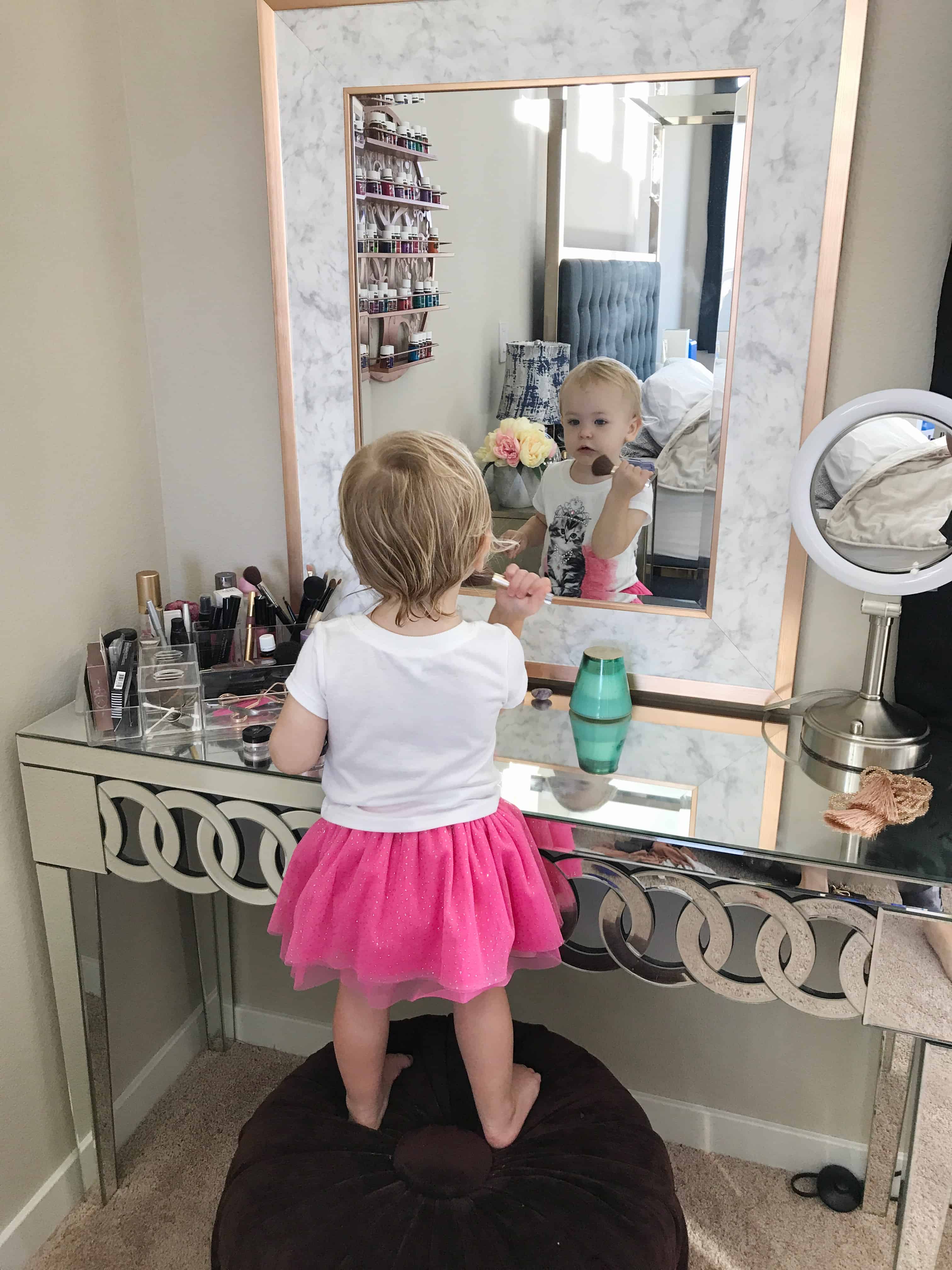 Can you believe this little nugget?! I about died when I saw her climb up here all by herself and start putting blush on!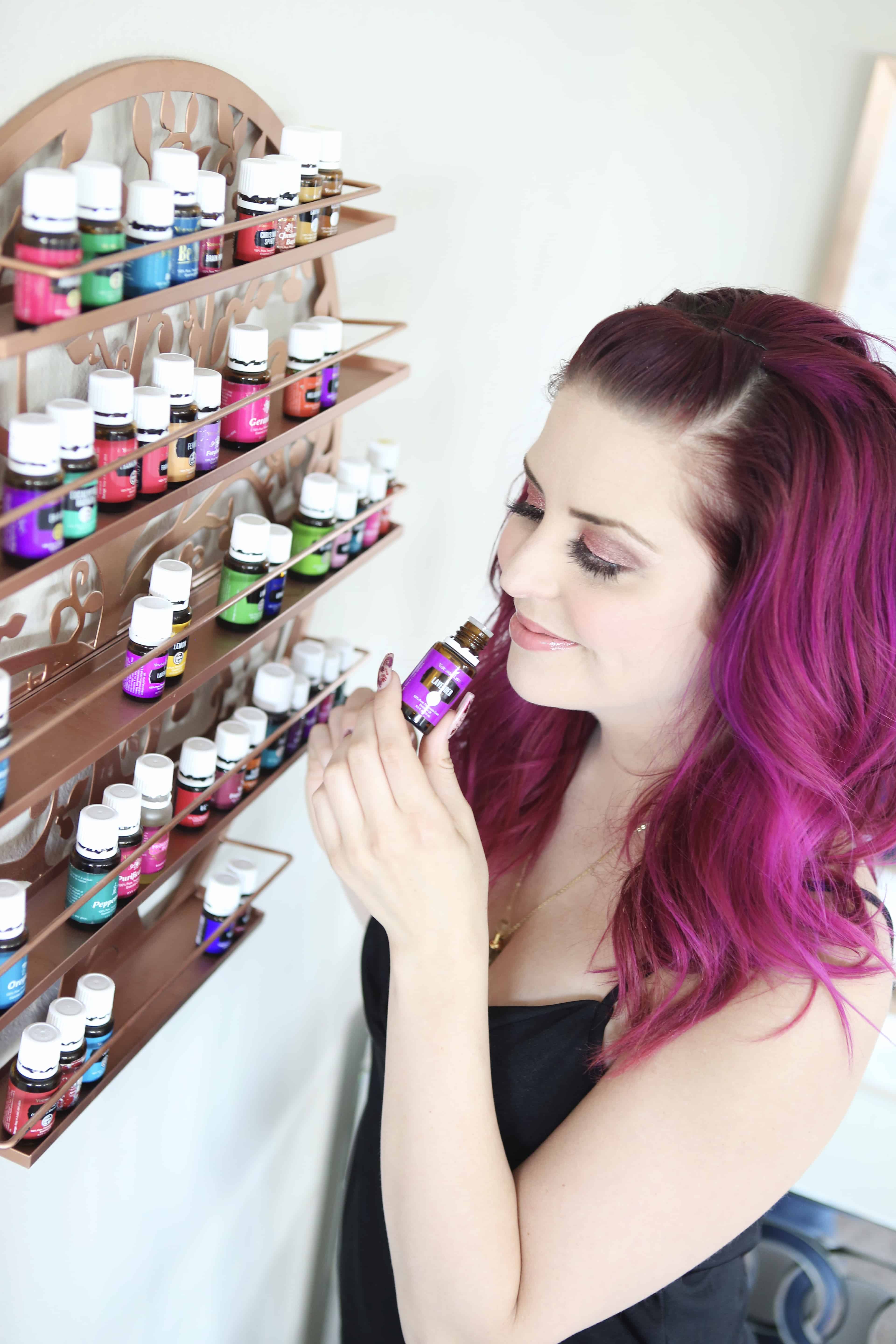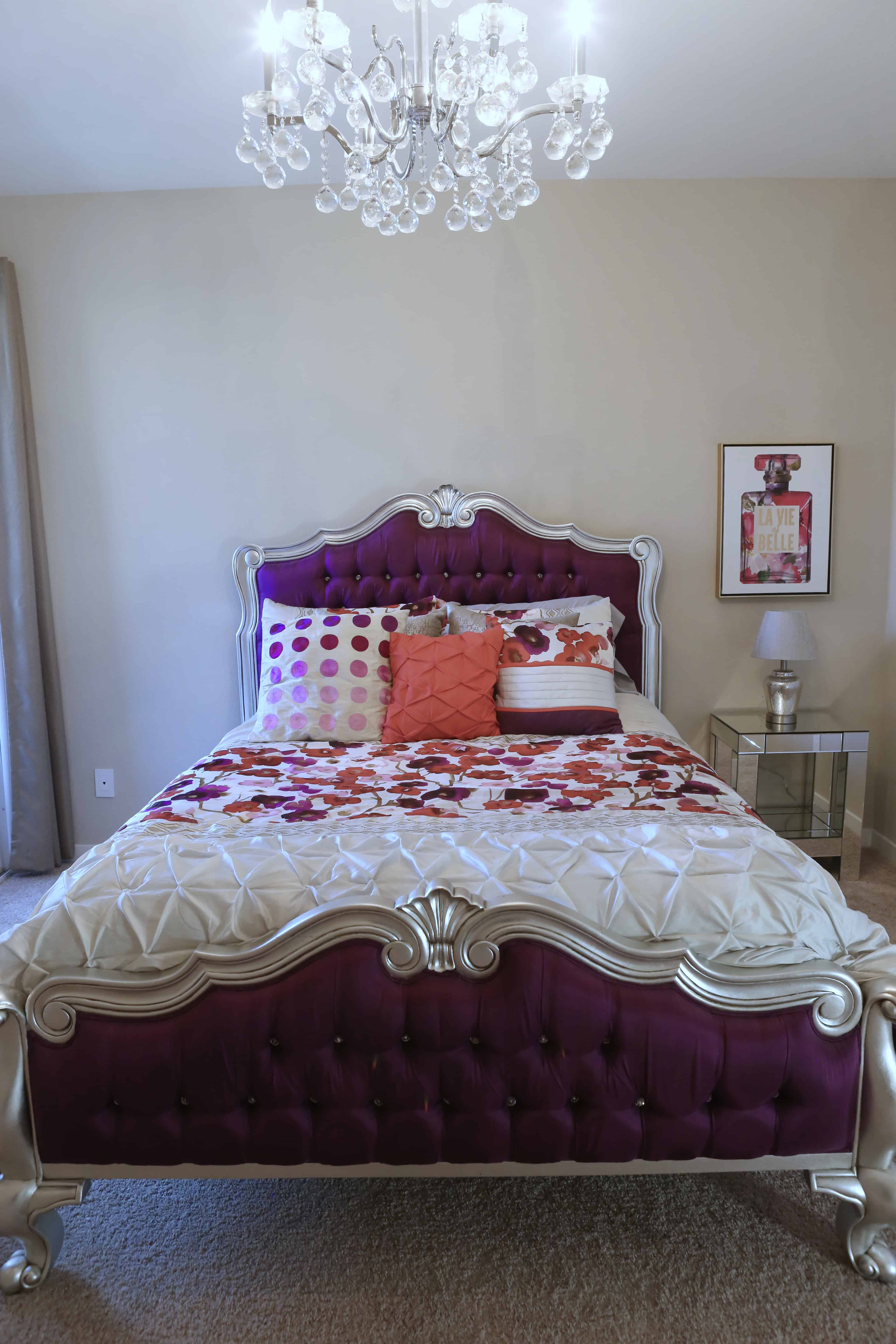 This is one of the guest rooms that now occupies my favorite purple bed! I told Alex he would have to get rid of me before he could get rid of this bed. ???? Ain't happening, honey!
If you like fabulous and outrageous furniture, you have to check out Fabulous and Baroque. They also make my silver dresser that was in pictures downstairs.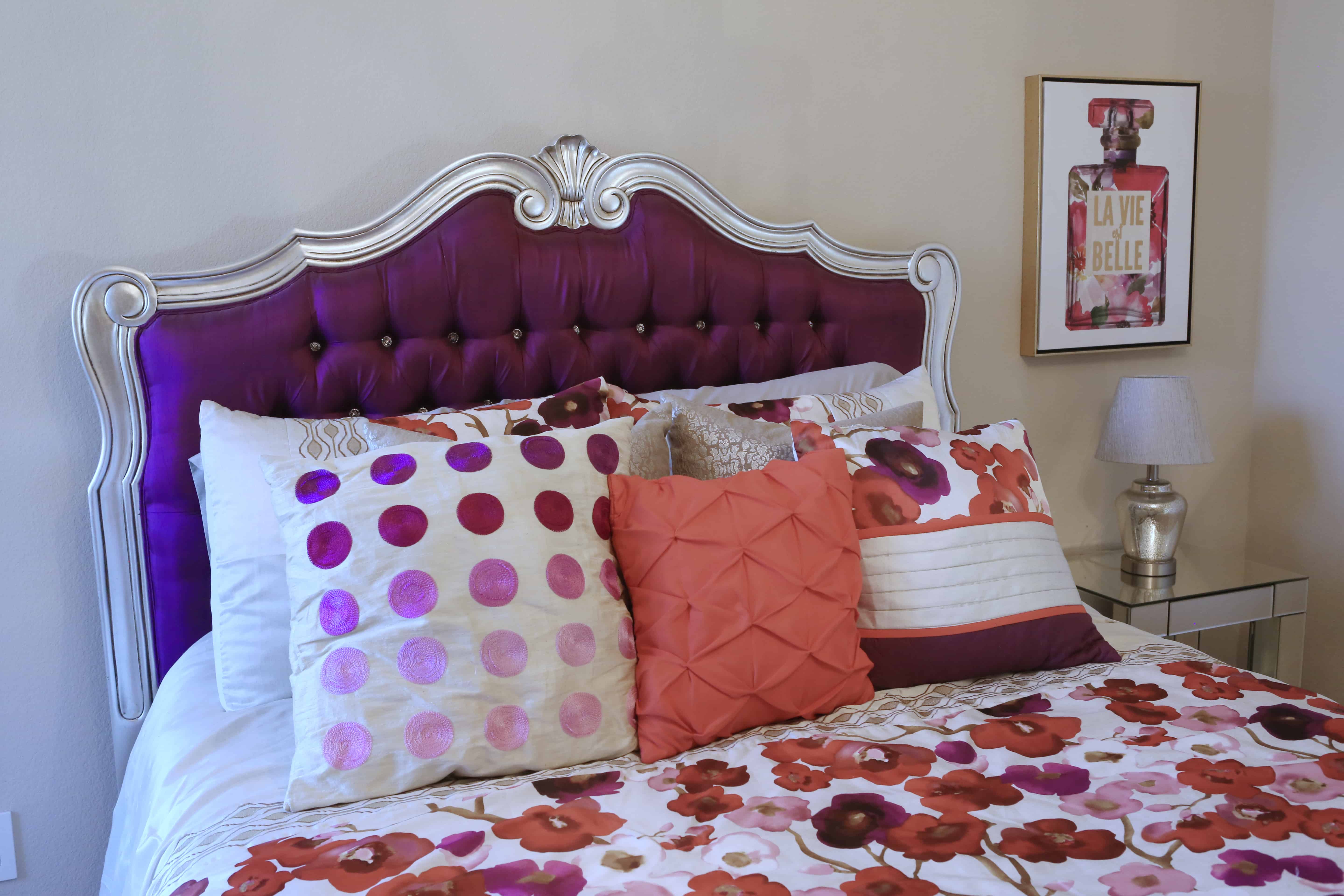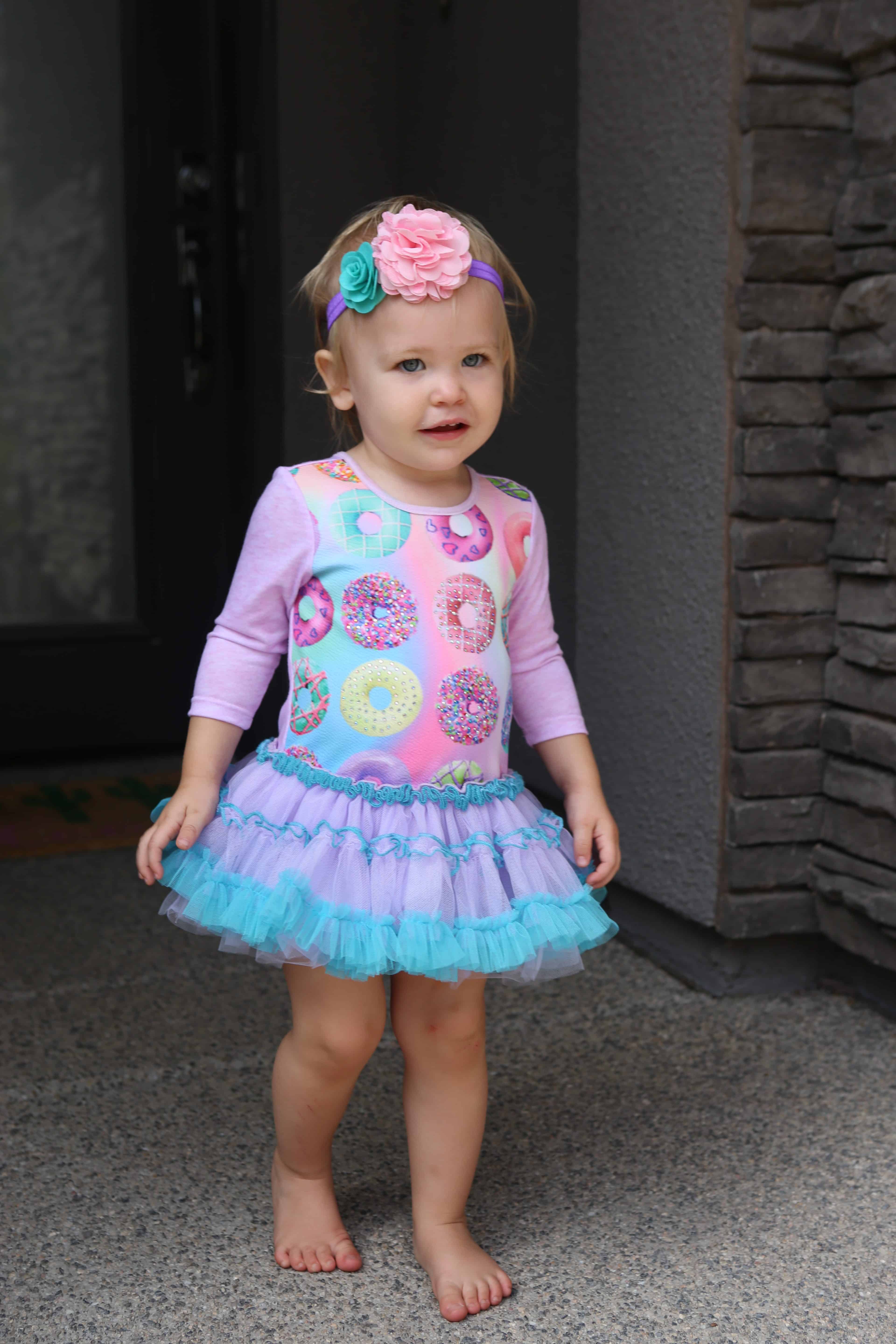 We've also had a lot of fun enjoying our pool over the past few months! We get in the pool almost every day with Lily. She is obsessed with the water!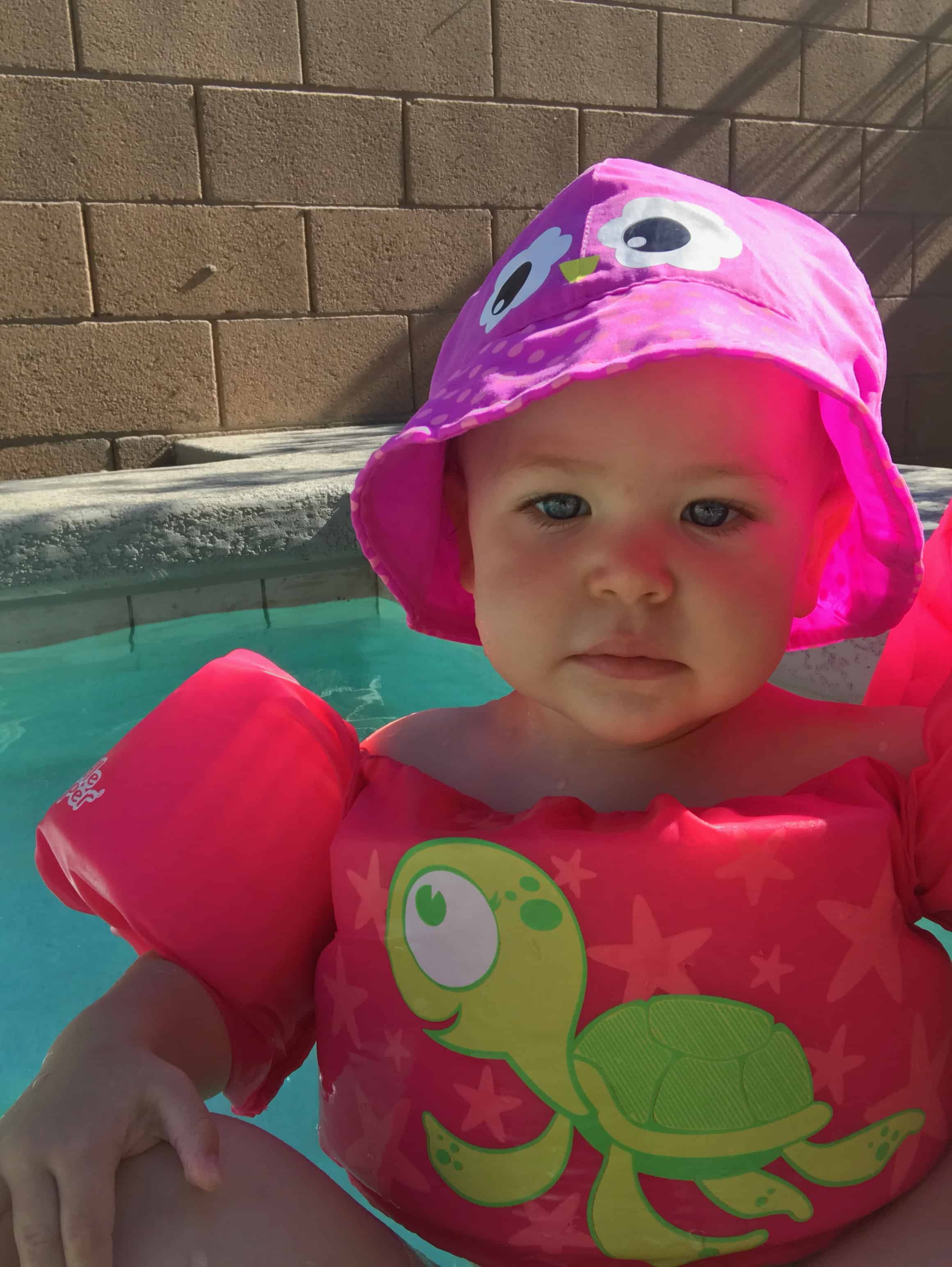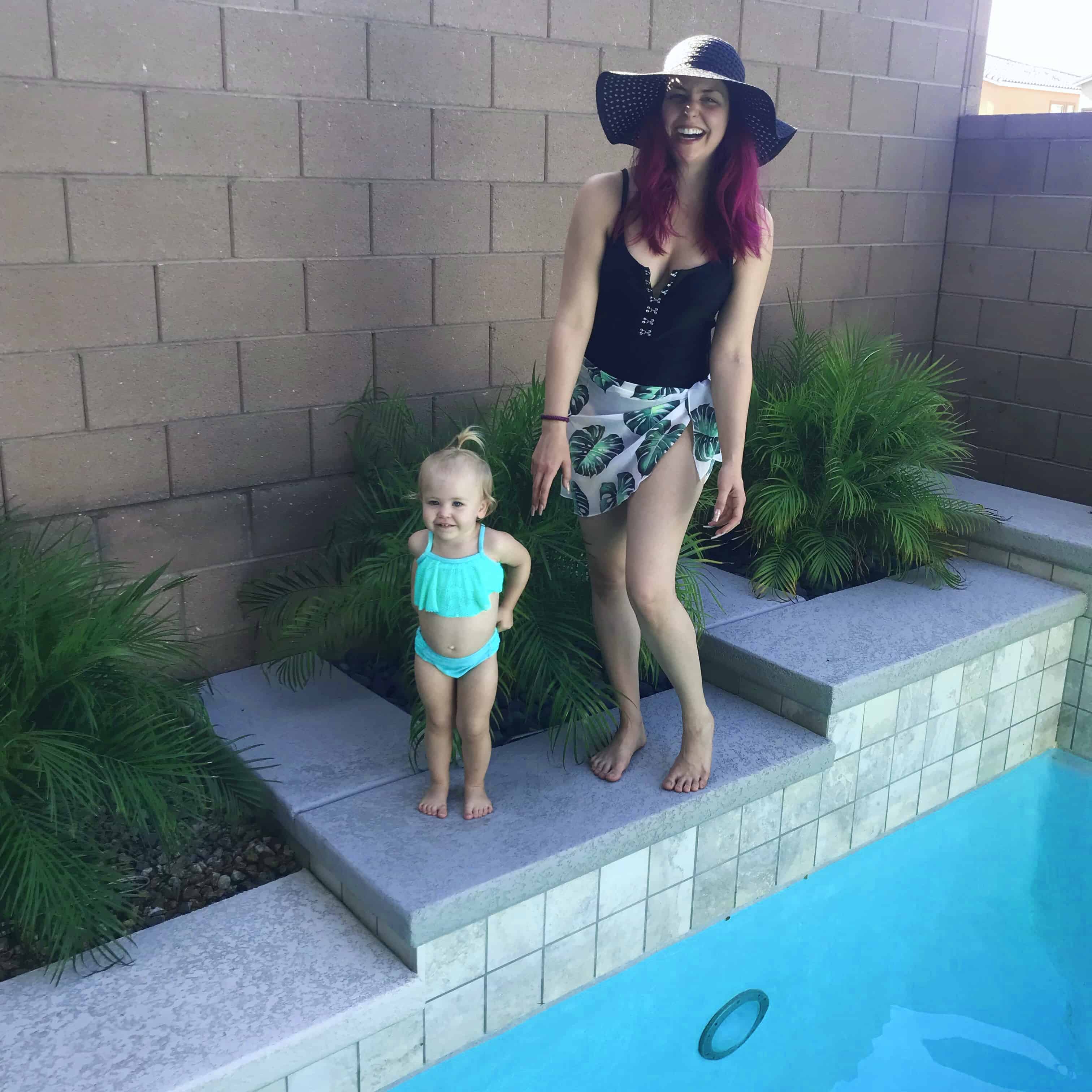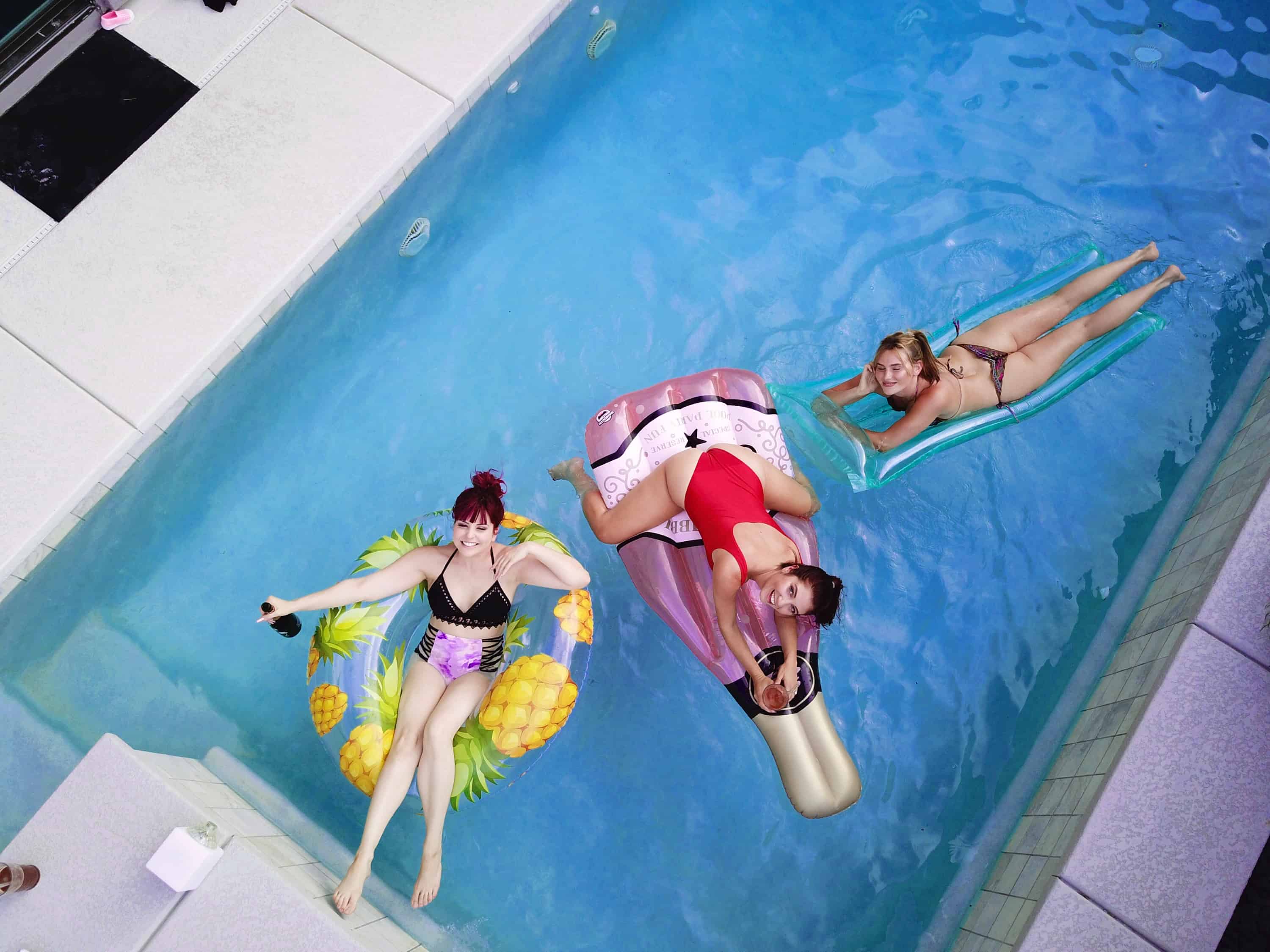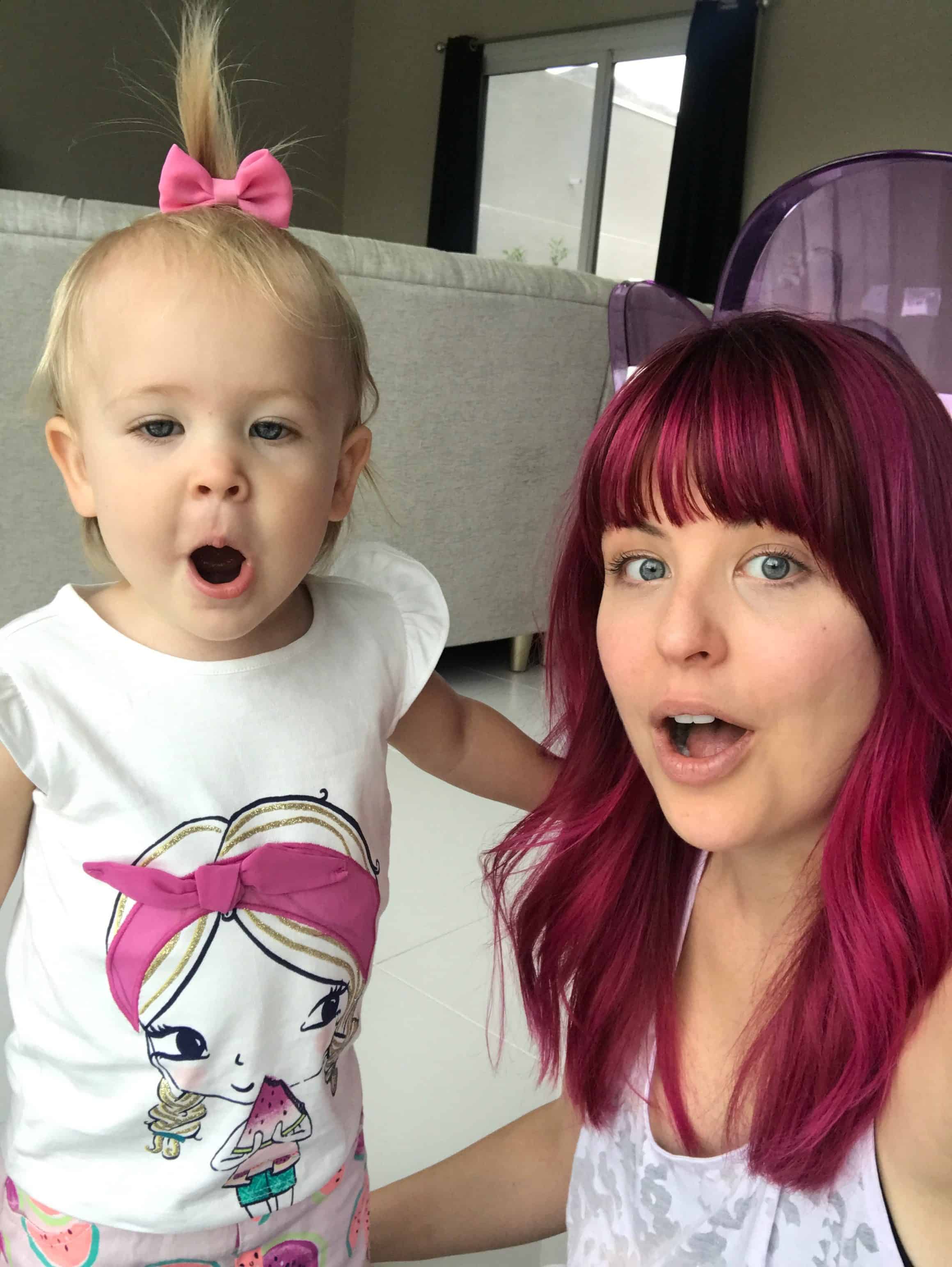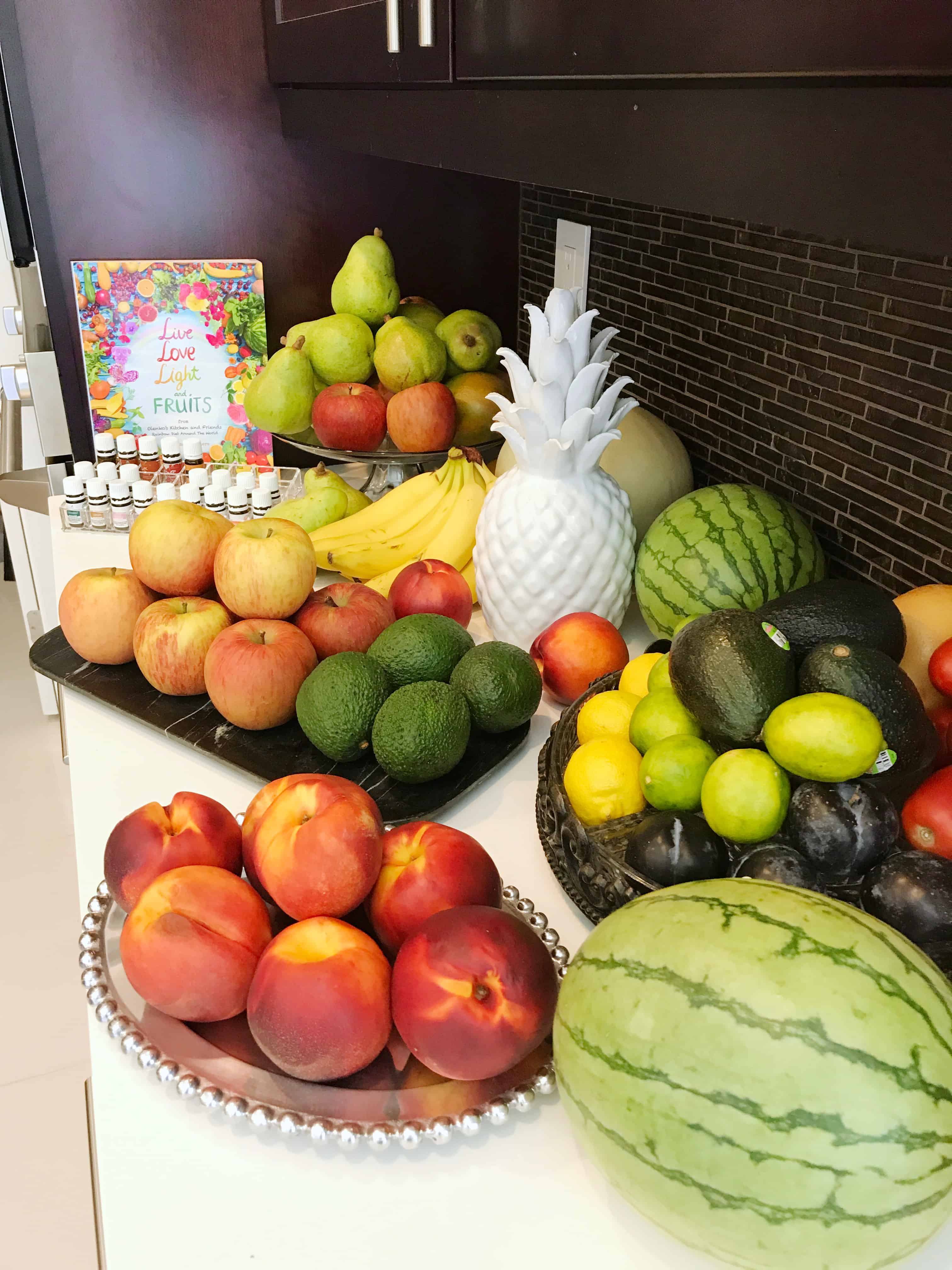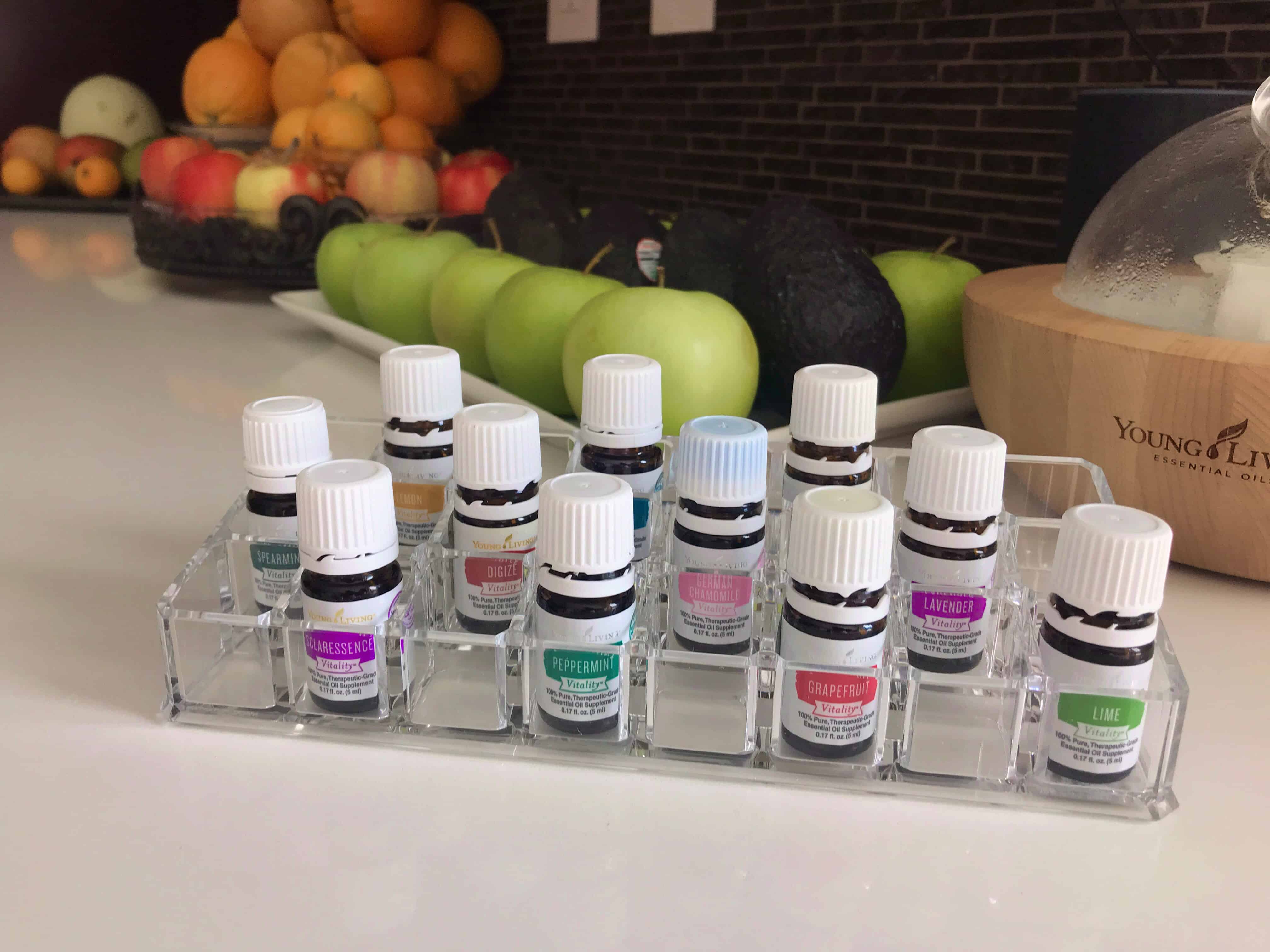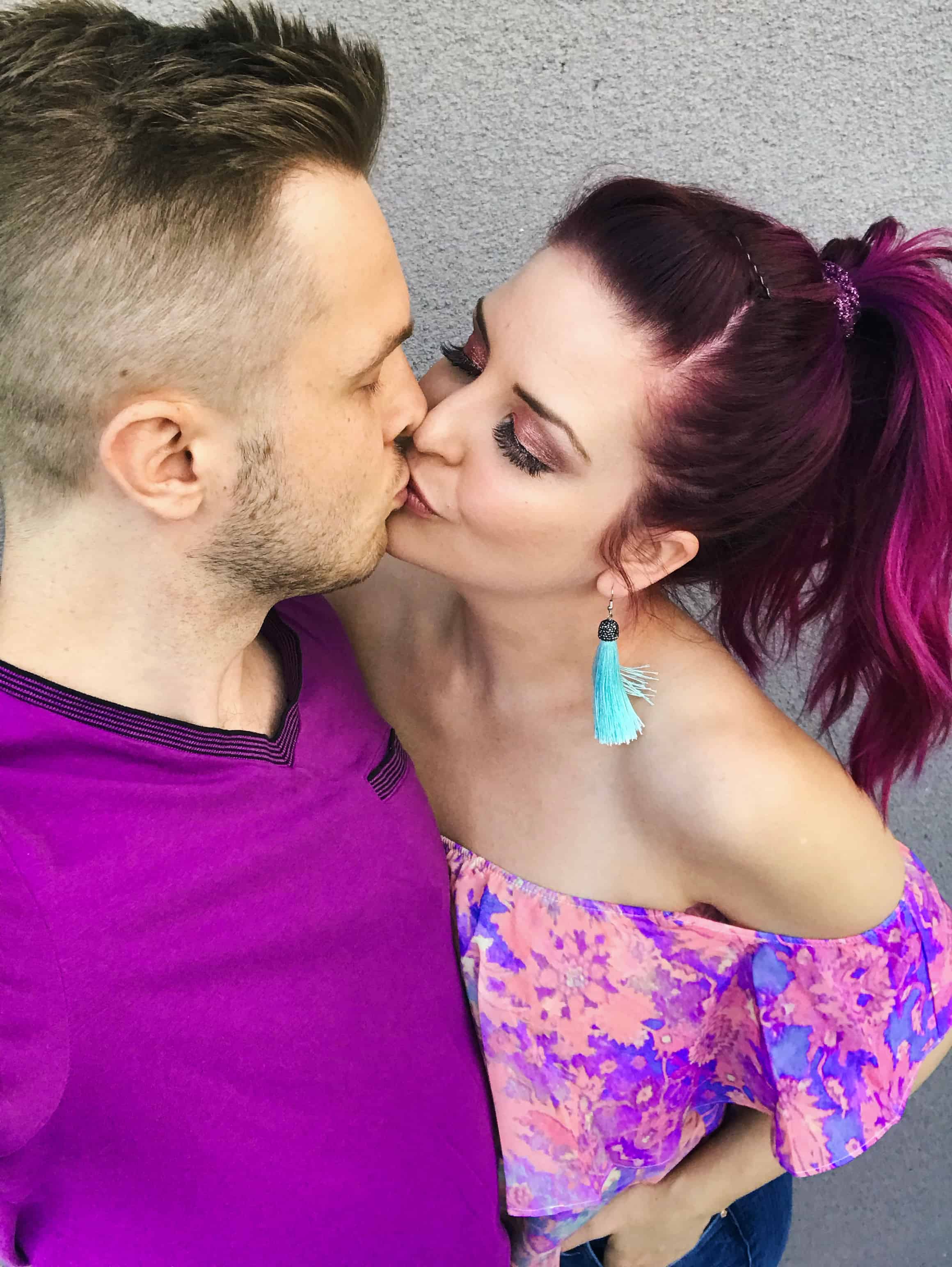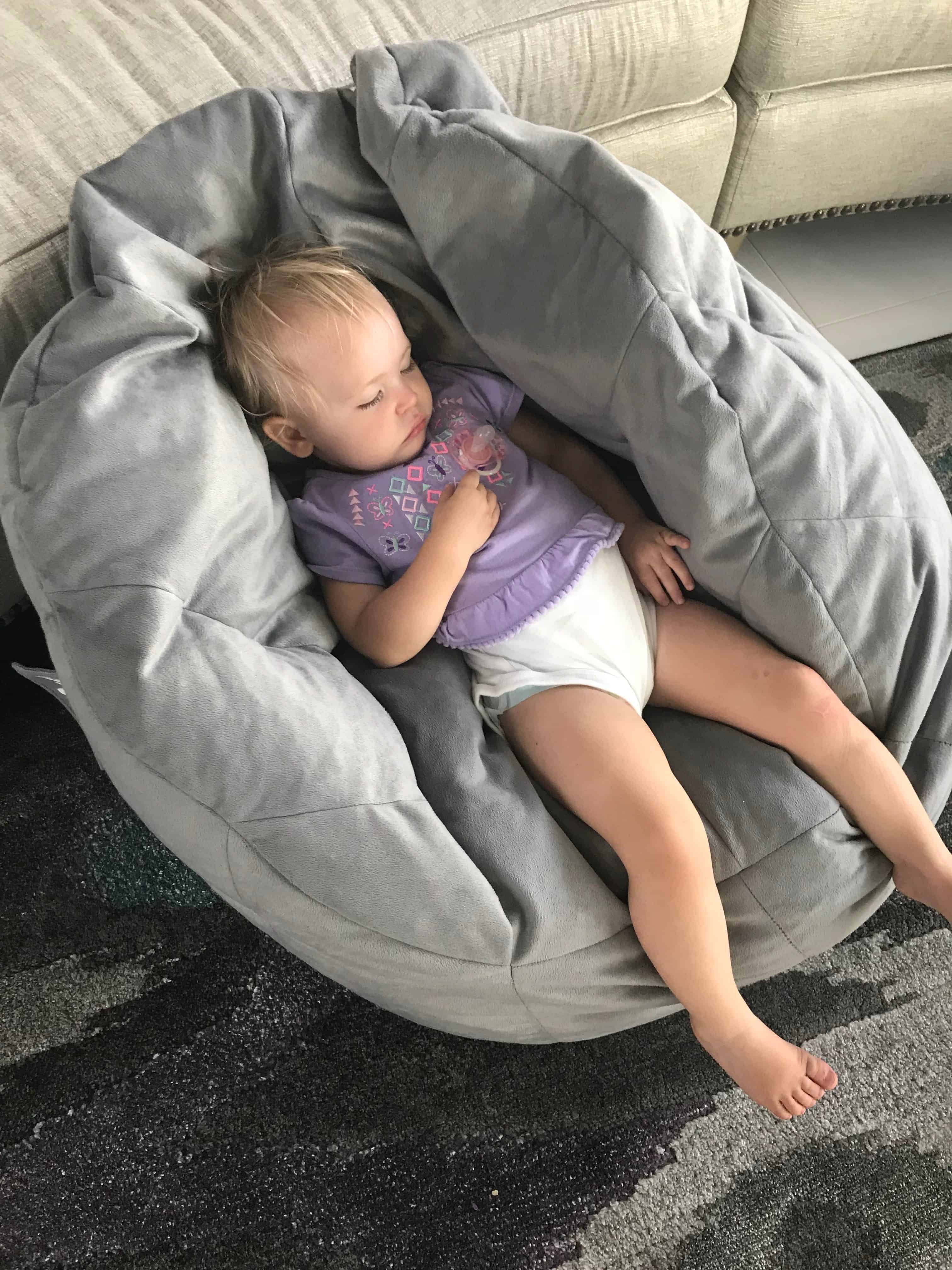 I hope y'all enjoyed the pics.
I HAVE SO MUCH MORE GOOD SHIT COMING TO THE BLOG THIS MONTH.
LOVE YA'LL. xo, Ash.
SaveSave
SaveSave
SaveSave
SaveSave
SaveSave
SaveSave
SaveSave