For real, can y'all believe it's September? Have you had a pumpkin spice latte? Be honest.
I haven't yet, BUT I did shamelessly play Christmas music last night – because in my world when it's September, it's basically Christmas.
We just had a great weekend at GVR casino to celebrate the beginning of a new month! I don't know about you, but the new month beginnings get me really excited. I even got a new 2018-2019 planner to start planning the months ahead to be super productive.
There have been LOTS of exciting things happening lately, and I'll share a couple of them with ya real quick before we dive into this new recipe.
First of all, we moved to a new house. I'll be sharing some house pics tmw. We loooove it!
Our Infinite Influence program has been kicking butt! As of yesterday, our program surpassed $100K in sales so far this year! LIKE WHOA. Over 500 women have decided to make a change in their lives, invest in their future, and say bye to their 9-5!
I also launched private coaching on Friday (6 more days left until enrollment ends)! This was something that kept coming up and I decided it was time for me to step up and offer this to ladies who are ready to break out of their comfort zones and take their biz to the next level.
Last but not least, I have a blog assistant; Alexa! THANK THE HEAVENS. It was about time. I majorly needed some assistance. ???? She's so awesome, and I'm so grateful for her! She and I just planned all the blog posts and recipes from TODAY until THE END OF THE YEAR. Get ready to be inspired and to feel good!
K. Now let's talk about kale.
Don't we all have a love hate relationship with kale?
Kale kinda sucks. It's so healthy though. So we need to make it tasty.
Massaging the shit out of some kale with Avo + Lemon + Salt is the best way to stuff your face with this gnarly leaf and actually enjoy the process!
So WHY THE KALE massage kale?
Well, it's because kale is a bitter green that has a really tough structure. When massaged with oils/healthy fats, it's tough structure will break down (aka wilt), making it much easier to chew. You'll notice the change as you massage the kale. It will shrink in size, the leaves will darken, and it will become softer.
My gf, Yvonne Ardestani, vegan chef extraordinaire, made me a massaged kale salad a few years ago for the first time ever! I was shocked at how easy and delicious it was!
I make this Massaged Kale Salad recipe every week. Anytime I have guests in town, I always make them this salad. When I have friends visiting, I don't like to waste much time in the kitchen. I want to enjoy their company, eat great food, and relax (or work… whatever it is we are doing). This recipe is perfect because it's delicious and REALLY easy.
I have the exact measurements below, but honestly, this salad can just be "eyeballed."
Just grab some kale. Smush it with avocado, lemon, salt, & garlic. Then top it with whatever beans or topping you like. FYI herbs are nice in this too. Sometimes I add dill or nutritional yeast.
Also ladies, this is a true beauty recipe! Raw greens are so high in nutrients that our bodies need to function properly and to keep you skin plump and glowy. Your skin is going to love this! Your gut is going to love this! Your mouth is going to LOVE this too!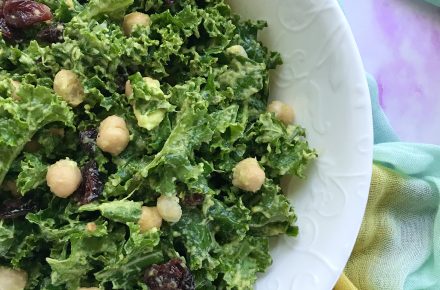 Massaged Kale Salad
INGREDIENTS
1 Head

Curly Kale

deribbed and stems removed

1/2

Ripe Avocado

2

T

Lemon Juice

1

T

Garlic Powder

1/4 - 1/2

tsp

Pink Salt

1

Cup

Garbanzo Beans

1/2

Cup

Dried Cranberries
DIRECTIONS
Tear kale into small pieces.

Place the kale, avocado, lemon, garlic, and salt into a mixing bowl.

Combine & smush with your hands until all ingredients are "massaged."

Top with garbanzo & cranberries.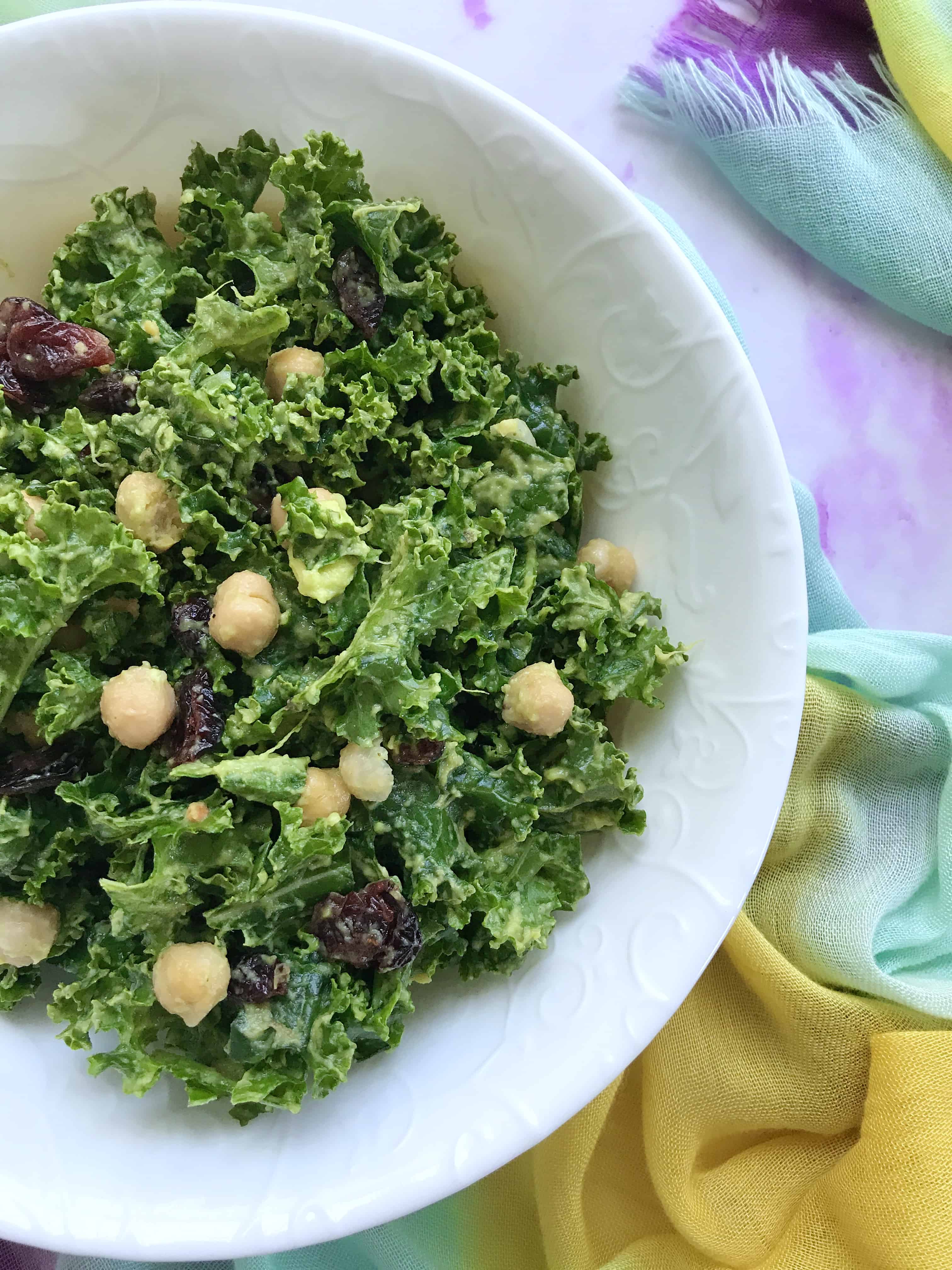 Comment below and let me know your favorite way to eat kale! Plz we need more tips! 🙂
SaveSaveSaveSaveSaveSaveSaveSave